Last updated on April 29th, 2021 at 06:10 pm
The Beaches in Greek islands rated among the top beaches in Europe and the world. You find them everywhere in this beautiful country.
You can find more than 1000 equally beautiful beaches scattered on a total length of almost 16.000km coastline.
So despite its small size Greece has the larger coast of all European countries and the 11th larger in the world.
Almost 500 of the more than a thousand beaches in Greece awarded the International blue flag.
The variety and scenery of Greece's beaches are unmatched, and therefore is very difficult to choose the best of them. After all the term Best is subjective. So we choose to describe the most famous because we don't want to be unfair with many equally lovely beaches not mentioned here.
The Diversified Greek scenery and the exotic beaches in Greece
The Greek landscape is constantly changing by the wild fury of nature and the intense geological activity. That's why the beauty of the beaches is almost unbelievable.
The country has the most diverse European land with magnificent sceneries.
The scene changes considerably from West to East and from North to South, and this is what makes Greece a very diversified country.
At the west of the country, you will find Islands with green mountains and beaches with emerald green calm waters. We are talking about the Ionian Islands and the Ionian coast.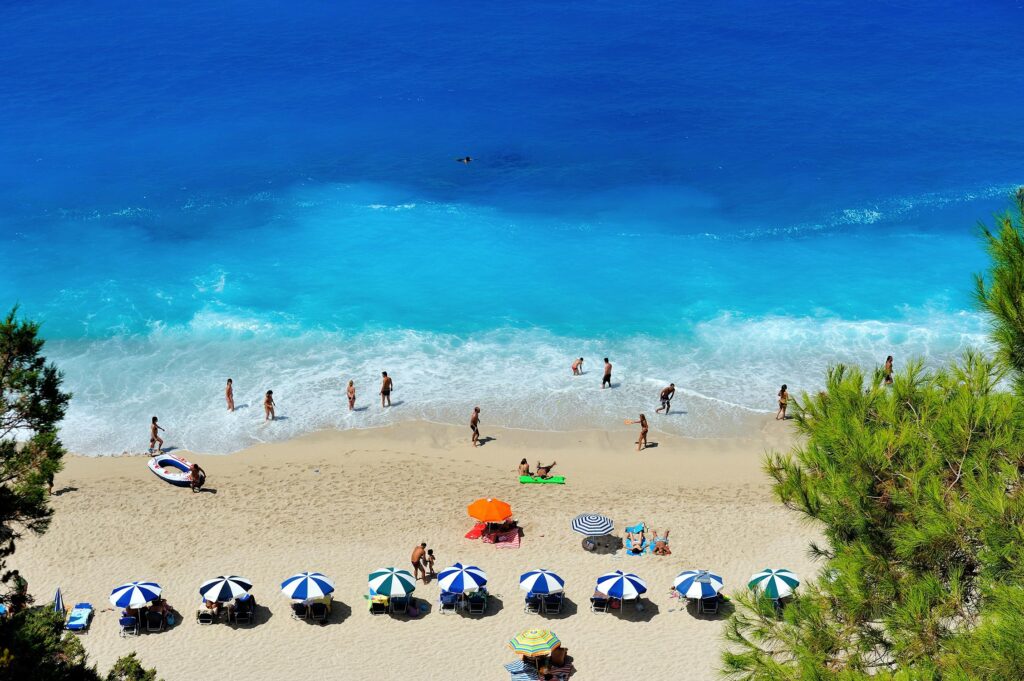 The landscape in the Aegean sea is completely different, with deep blue waters surrounding the volcanically formed islands. Here the vegetation is almost absent with bald mountains and volcanic soil-landscapes with almost no trees.
The Greek mainland dominated by high mountains and big valleys, it is a harsh land in general with not much available for agriculture. But some beaches on the mainland are even better than those on the islands and can leave you speechless.
But let's start to discover details and tips for you about the Best beaches in Greece, or better saying for the most famous of them.
Beaches in the Ionian Islands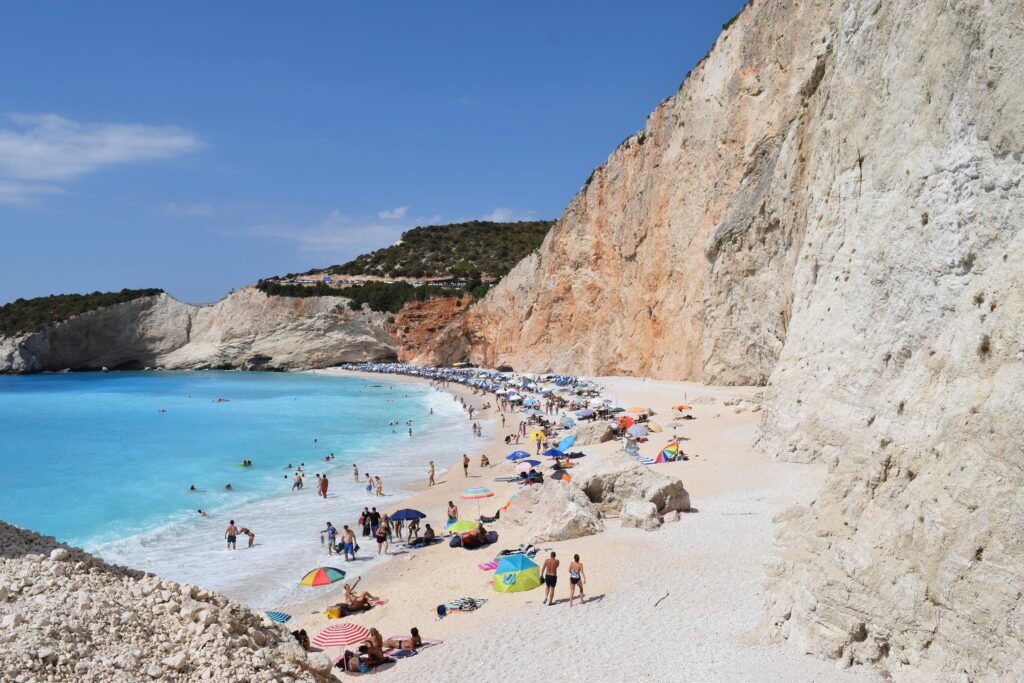 The Ionian Sea on the west coast of Greece houses some of the most beautiful Greek islands.
Seven large and hundreds of smaller islands form the Ionian islands or Eptanissa cluster, with Corfu, Paxos, Lefkada, Ithaka, Kefalonia, Zakynthos(Zante), and Kythera to be the larger.
These are the greenest islands of Greece. If you love green emerald and calm waters this is the place for you to visit. Here you can find some of the longest beaches in Greece as Halikounas in Corfu, the very famous and most photographed beach of Navagio in Zante, and some of the most beautiful beaches in the country.
Navagio(Shipwreck) Beach in Zakynthos
Myrtos Beach Kefalonia
Porto Katsiki Lefkada
Gerakas beach Zakynthos
Agios Gordios(Gordis) beach Corfu
Halikounas beach Corfu
Rovinia beach Corfu
Voutoumi beach Antipaxos
See all Ionian island beaches
The Aegean Islands beaches
The Aegean Sea lays between Asia Minor and the Greek mainland, with thousands of islands. These islands formed by dense volcanic activity for millions of years.
There are more than 6000 large and small islands for you to choose from, but only 227 of them are inhabited.
The vast majority of the Aegean Islands belong to Greece. The only large islands under Turkish authority are Imbros and Tenedos in the northeastern part of the Aegean sea. Hence Aegean is called the Greek archipelago.
Tip: The Aegean Islands are separated into 7 big island clusters, named Cyclades, Dodecanese, Islands of the Argosaronic gulf, North Sporades, Islands of the North and East Aegean, Euboea, and Crete.
The Cyclades islands and their beautiful beaches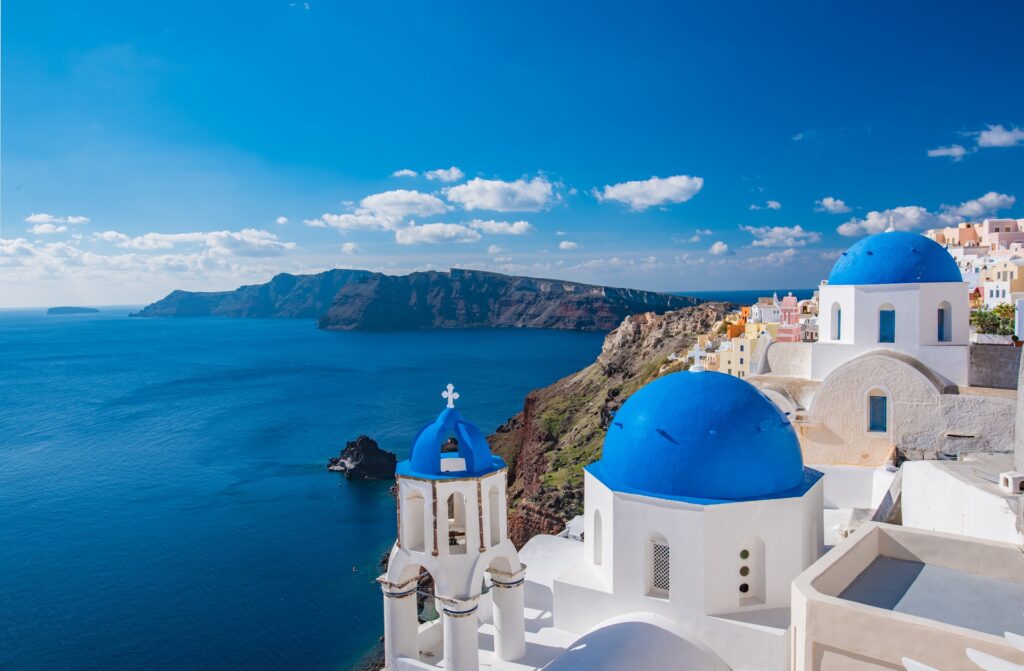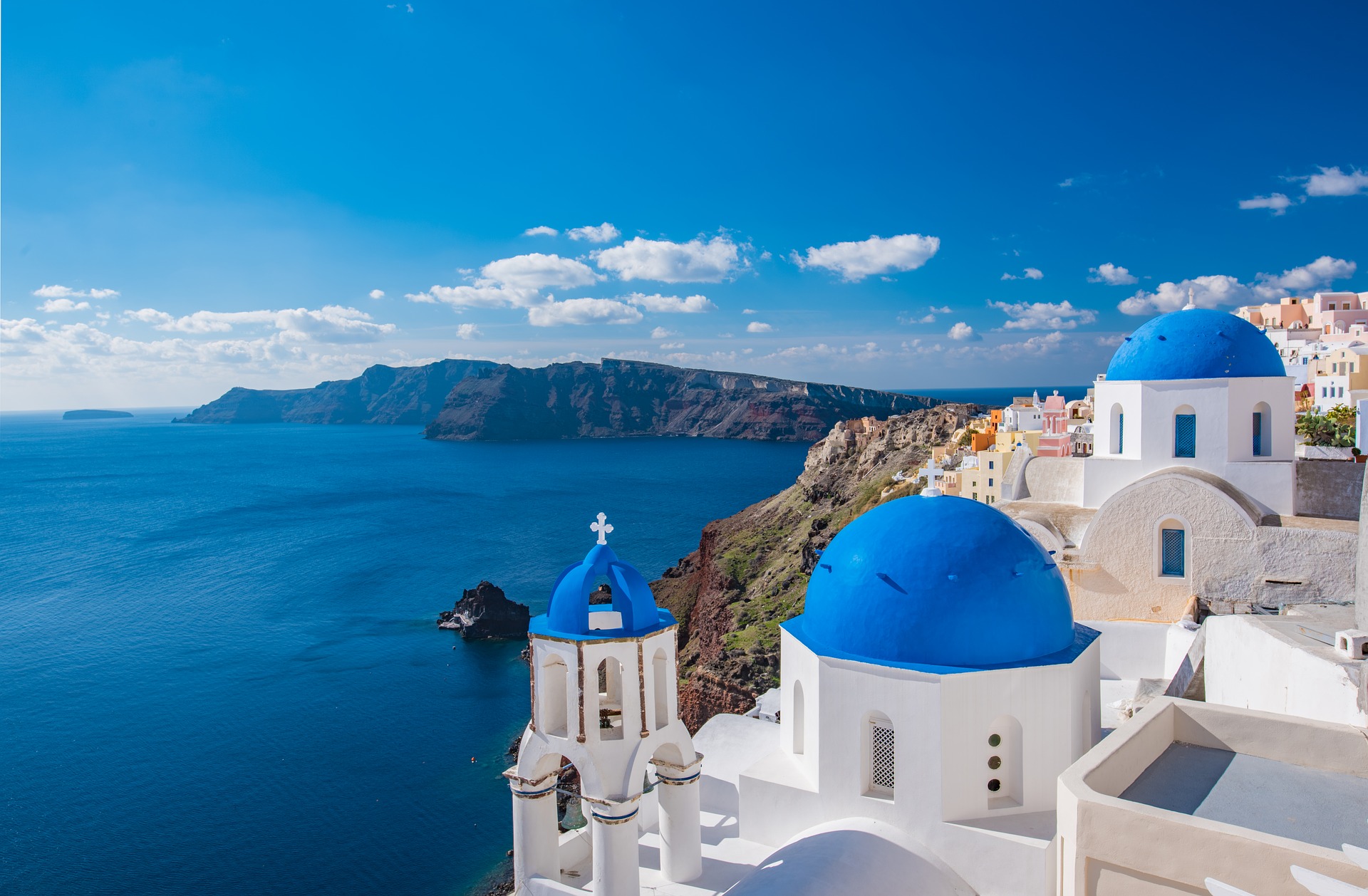 At the southern Aegean and north of Crete, here we have Andros, Santorini, Mykonos, Naxos, Paros, Antiparos, Delos, Ios, Kea, Kimolos, Kythnos, Milos, Amorgos, Anafi, Serifos, Sikinos, Sifnos, Syros, Tinos, Folegandros, and more. In these islands there are some of the most famous beaches worldwide and extremely popular among tourists and Greeks.
Tip: The oldest European civilizations developed in Cyclades and Crete from 3300 to 1100 BCE, ie 5000 years ago!
Super Paradise beach Mykonos
Elia beach Mykonos
Plaka beach Naxos
Agios Prokopios in Naxos
Tsigrado beach in Milos
Mylopotas beach in Ios
Kolymbithres beach in Paros
Red beach Santorini
Mouros beach in Amorgos
Kolona beach in Kythnos
See all beaches in Cyclades
Beaches in the Dodecanese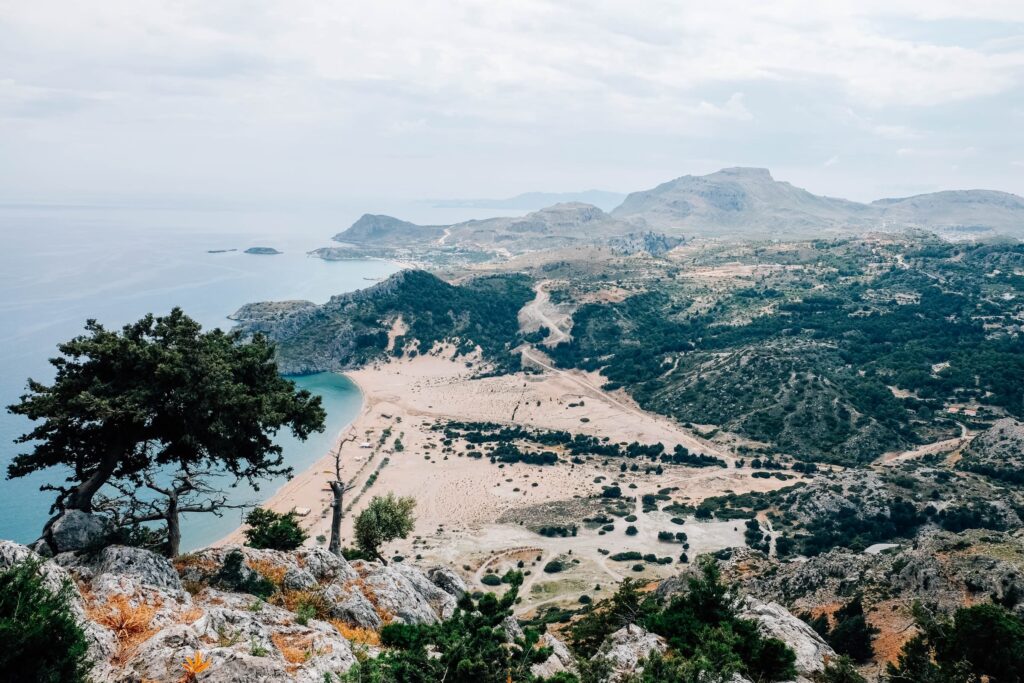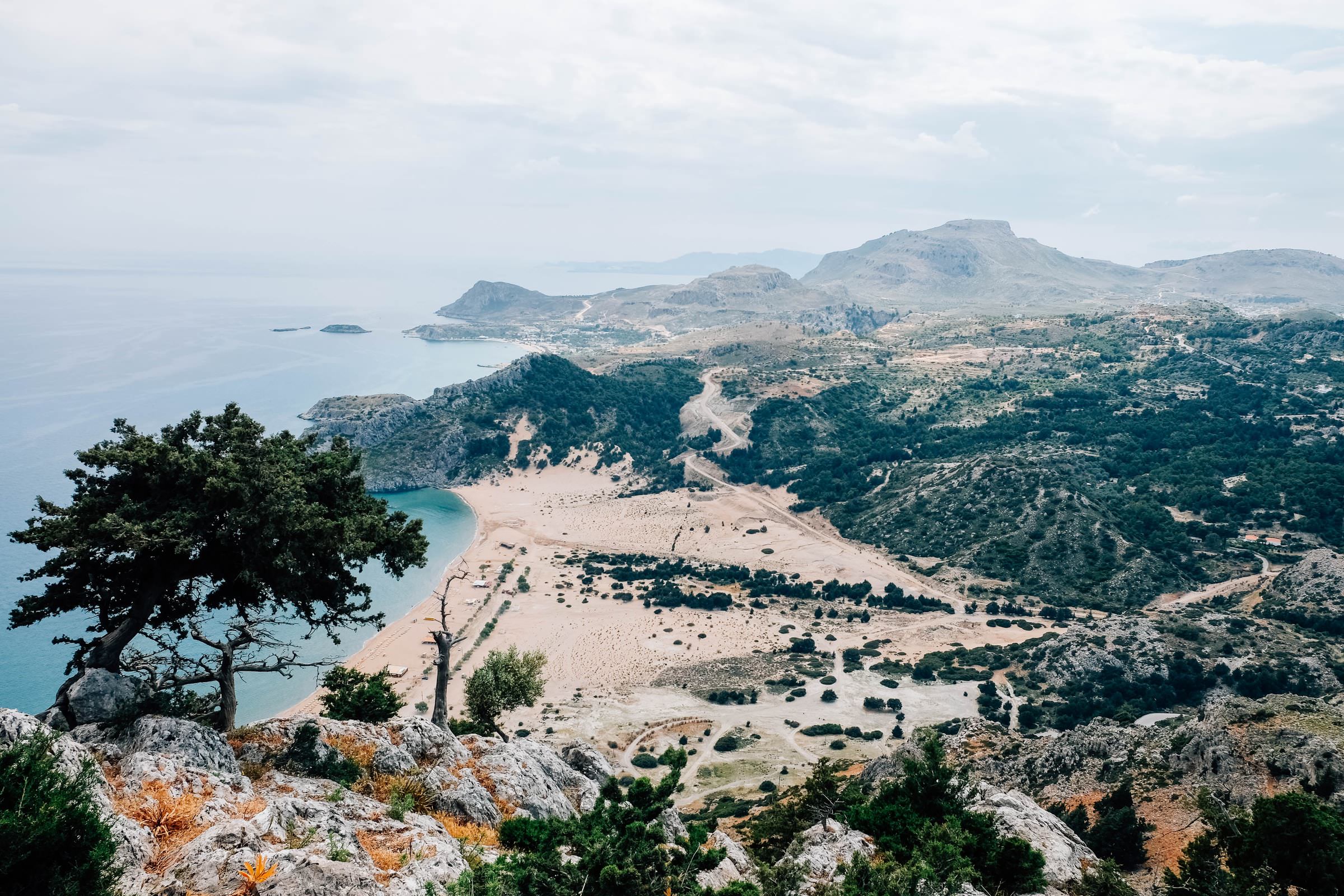 This island cluster has 12 big and hundreds of smaller islets at the east of the Cyclades and very close to the Asia Minor coast. Among them is Rhodes, Karpathos, Kos, Patmos, Astypalea, Leros, Kasos
Saint Paul's Bay Rhodes
Tsambika beach Rhodes
Kyra Panagia beach in Karpathos
Apella beach Karpathos
Achata beach in Karpathos
Thermes beach in Kos
Kefalos Beach in Kos
Myrties beach in Kalymnos
All beaches in Dodecanese
Beaches in the Islands of Argosaronic
Angistri, Aegina, Methana, Poros, Salamina, Spetses, Hydra are some of the islands here, very close to Athens and easy to visit.
Love Bay in Poros
Askeli beach in Poros
Skala beach in Agkistri
Halikiada beach in Agkistri
Marathon beach in Aegina
Beaches in the Islands of North and Eastern Aegean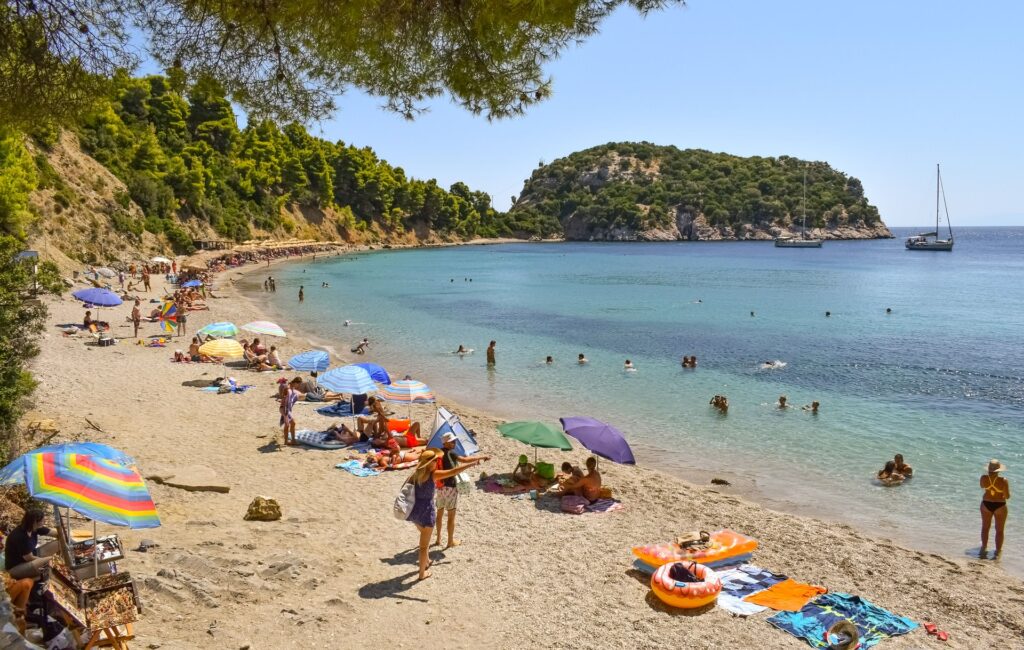 Beaches in Sporades Islands
Medium to small size islands close to the coast of Thessaly at the North Aegean, Alonissos, Skiathos, Skopelos, and Skyros is the most known islands offering beautiful beaches and holiday destinations.
Koukounaries beach in Skiathos
Lalaria beach in Skiathos
Panormos beach in Skopelos
Stafylos beach in Skopelos
Agios Dimitrios beach in Alonissos
East Aegean islands beaches
The most known islands here are Samothrace, Thasos, Lesbos, Limnos, Agios Efstratios, Samos,  Chios, Inouses, Psara, Ikaria.
Lemonakia beach in Samos
Tsamadou Beach in Samos
Livadi beach in Ikaria
Nas beach in Ikaria
Messakti beach in Ikaria
Emporios Mavros Gialos beach in Chios
Golden Beach in Thassos
Alyki Beach in Thassos
Petra beach in Lesvos
Keros beach in Lemnos
See all beaches
Euboea
The second bigger island of Greece, at the western Aegean and very close to the Greek mainland.
Beaches in Crete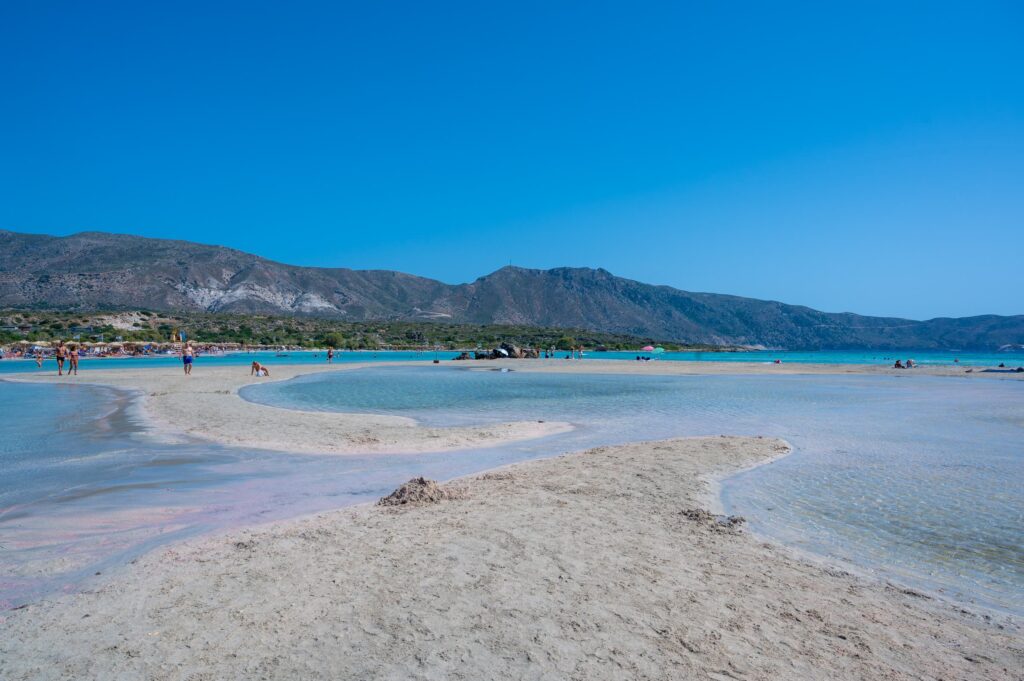 Being the largest of the Greek islands, Crete has plenty to offer. Many small islands around and especially some of the best beaches in Greece.
Balos beach Chania
Elafonissi beach in Chania
Falasarna beach Chania
Sougia beach in Chania
Glika Nera beach in Chania
Krios beach in Chania
Marathi beach in Chania
Loutraki beach in Chania
Preveli beach Rethymno
Rodakino beach in Rethymno
Plakias beach in Rethymno
Agios Pavlos beach in Rethymno
Matala beach Heraclion
Agiofaraggo beach in Heraclion
Tymbaki beach in Heraclion
Sissi beach in Lassithi
Agia Fotia beach in Lassithi
Makris Gialos beach in Lassithi
Vai beach in Lassithi
Istro beach in Lassithi
See all beaches of Crete
Beaches on the Greek Mainland
An endless coastline of almost 8.000km belongs to the Greek islands. This means that the Greek mainland offers another 8.000km full of more and equally lovely beaches, in almost every part of the land that touches the sea.
The beaches of mainland Greece have nothing to envy from the beaches of the islands, and there are plenty of them, all around Greece.
West Greece, Epirus, and Sterea Ellada
Starting from the west, across Corfu is the Epirus region, with beaches of great beauty like the famous Syvota that has very beautiful scenery to share, also Parga is a place worth visiting. In Parga, there is a beach in the town and very close is the beach of Valtos.
Further south we are in Sterea Ellada, the central region of Greece. On the west Ionian coast, there are some very interesting holiday resorts with nice beaches. With Nafpaktos, Itea, and Kammena Vourla to be nice places for family holidays.
Beaches in Macedonia
Beaches in Chalkidiki
In the region of Macedonia in Northern Greece you can find the best and more busy beaches in the tourist resort of Chalkidiki at the North Aegean sea.
Chalkidiki is a region south of Thessaloniki and consists of three legs that go deep inside the North Aegean, Kassandra, Sithonia, and Athos. Kassandra is the busier and most tourist development with many exotic beaches and hotels.
Athos, the third and easternmost peninsula, is an autonomous religious republic devoted to only male monks and can be visited only by men after special permission.
The best beaches in North Greece are in the first leg of Chalkidiki, named Kassandra where most of the eastern part is a large beach. The best beaches here are Sani, Armenistis, Kallithea, Hanioti, and Pefkohori.
Nea Potidea canal separates Kassandra from the rest of Chalkidiki, actually making it an island.
Beaches in Pieria
More beautiful beaches in Macedonia you will discover in Pieria, an area opposite Chalikidiki across Thermaikos gulf.
Here the beaches are sandy and long with tourist facilities, the best beaches are The Olympic Beach, Leptokarya, Paralia, and Platamonas.
Beaches around Kavala
Finally, some more beaches are in the region of Kavala, an industrial town in East Macedonia. Toska beach, Ammolofoi, Batis, Kalamitsa beach, and Nea Iraklitsa are very popular beaches here.
Tip: The area of Chalkidiki was first colonized by people from Evia (Euboea) in the 8th Century BCE and is famous for having been the birthplace of the philosopher Aristotle in 384 BC. It was part of the Hellenic Macedonian Empire.
Beaches in Thessaly
Thessaly region is between Sterea and Macedonia. Its coast meets the west Aegean and includes large towns as Volos and Larissa.
The coast is pretty rich in tourist activity and has plenty of sandy beaches, most of them are in the peninsula of Pelion mountain at the East of Pagasitikos gulf.
Pelion is a unique and spectacular tourist destination. Pelion mountain has dense vegetation and dominates the peninsula. You can enjoy some extraordinarily beautiful mountain villages here, like Tsagarada, Portaria, Makrinitsa, Miles, Vizitsa, and Chania, where there is a ski center, one of the favorite destinations for winter sports and vacations in Greece.
On the east coast of Pelion, we have some incredible beaches, with Agios Ioannis, Papa Nero, Mylopotamos, Horefto, Mourtias, and Fakistra to be some of the best.
Beaches in Peloponnese
The Peloponnese is the southernmost region of Greece, its old name was Morea. (Morias in Greek)
It joins the rest of the country through the isthmus of Korinth, but after the opening of the canal, it could be considered an artificial island.
The area is very mountainous but on its diverse coasts, there are beautiful tourist resorts with long beaches.
To be honest, here and especially on the southern coasts perhaps are the most beautiful beaches in Greece.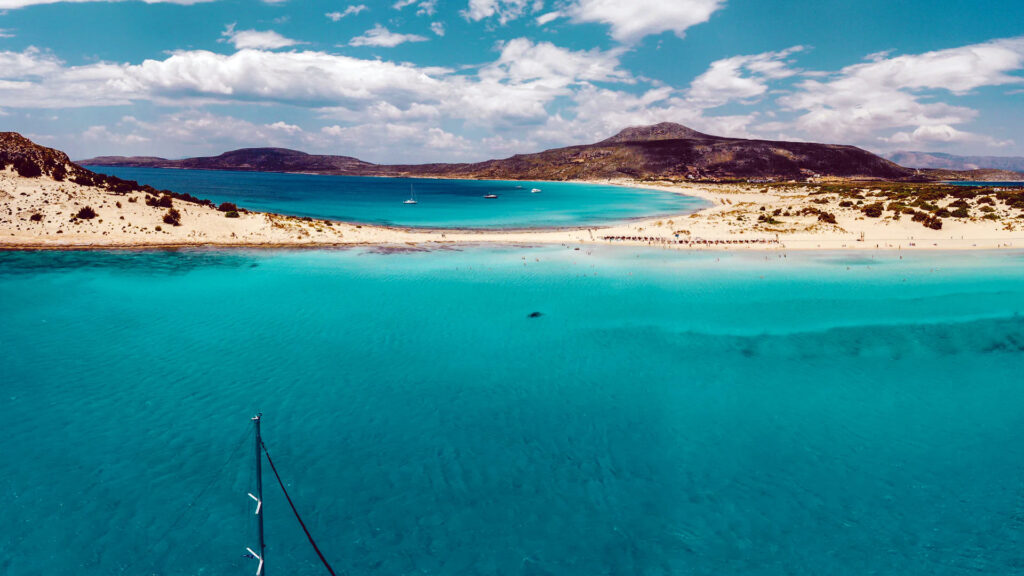 Saying this, immediately brings to mind Elafonissos beach, a small island south of the region of Laconia.
The island connects to the mainland through a sandy beach that creates an amazing landscape. For many, this is one of the most spectacular and beautiful beaches in Greece.
Equally beautiful beaches, however, are everywhere in the Peloponnese. Such as Mavrovouni beach in Gythio, Voidokilia beach in Pylos, the beaches in Methoni and Koroni, and some others in the beautiful small bays of Messinia.
Voidokilia beach in Pylos
This beach in Pylos of Messinia needs a special reference.
Voidokilia is one of the most beautiful beaches worth mentioning, it is almost a perfect cycle shape beach in stunning surroundings.
See at the photo, words can't describe the scenery the way a photo can do!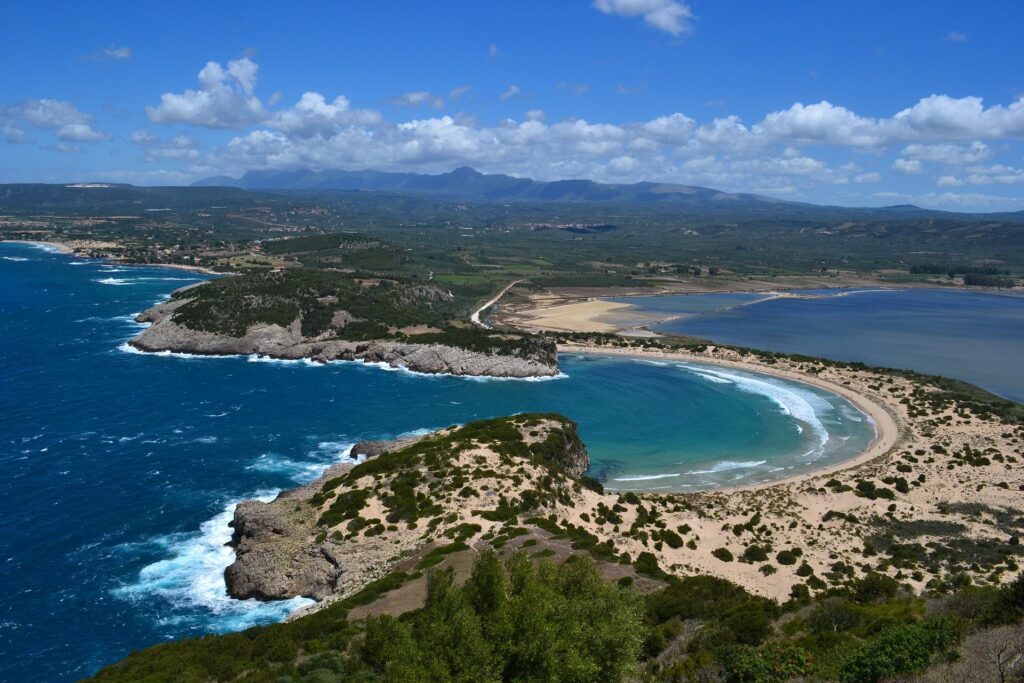 About the name? Better you shouldn't ask, cause Voidokilia means the 'belly of the ox', Yes.
Further north and east, in Argolida prefecture, well-known tourist destinations with popular beaches are Tolo, Ermioni, and Porto Heli.
Final words
These are only a glimpse of the best beaches in Greece. We hope that they will be enough for you to choose from. Just keep in mind that there are thousands more, equally nice and worth visiting, but difficult to fit them all on one page.
This land favored by nature with the best weather in Europe and the most islands that a country can have, this is a blessing and a curse.
Greece's 300 inhabited islands and their beauties have condemned the country to depend to a large extent on tourism. That's because it is not easy to develop infrastructures in so many islands without tourism.
It's like telling a man 7.2 feet tall that he can't play basketball!
More beaches in Greece