Last updated on 19th August, 2017 at 10:42 pm
Beaches between Paleokastritsa and Ermones
Under Paleokastritsa and to the south, the mountainous area of the west coast continues down to Ermones and further south until it joined with the mountain of Agion Deka in the center of the island.
It consists of high cliffs that end abruptly on the west coast and cut off the beaches from the mainland, so access is difficult and is mainly by the sea, but as a result of this, here we have perhaps the most beautiful hidden beaches of the island.
Surprisingly all these beaches are not sandy but rather a mix of pebbles with little of sand.
They are so isolated and difficult to reach that most people, even the locals, ignore them or they never visit them.
Starting from north to south we find the following:
Liapades beach
Liapades is a beach with turquoise waters located on the first small bay east of Paleokastritsa, just a short two kilometers distance from it.
Crystal clear waters in stunning scenery.
It is the beach of Liapades mountainous village located about 400 meters to the east and slightly south at the interior of the island.

Rovinia beach
Greenery in an idyllic landscape, isolation and blue waters characterize one of the most beautiful beaches in Greece, it is the beach of Rovinia.
Just short of Liapades Beach is located across from Paleokastritsa accessible, like most here, only from the sea.

Limni beach
Yet another beautiful and secluded beach below the village of Liapades, accessible mainly by sea and by land for good climbers.
It has the same morphology as the double beach of Porto Timoni in northwestern Corfu, there is a round peace of earth joined to the island by a small strip, this strip is the beach.
Iliodoros
Next to a beautiful promenade of land in the sea, at the cape Heliodoros.
A homonymous paradise beach accessible only by the sea, south and west of the village of Liapades.
.
Beach Paradise
Beach lives up to its name, and deserted paradise only accessible from the sea, located slightly south of beach Iliodoros.
It looks so much like the neighboring beach of Stelari that can be confused.

Stelari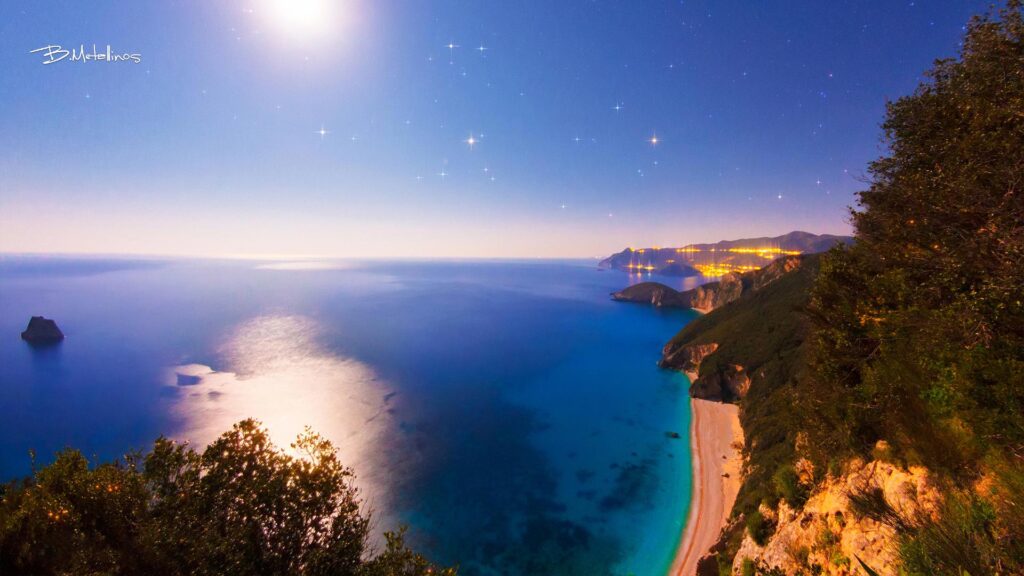 The largest beach of the area, yet another sandy paradise.
During the night the sand is illuminated only by starlight and slightly by the distant lights of Paleokastritsa.
The stars gave it`s Italian name, Stelari by the word Stela which is the Star in Italian.
It has all the features and more of previous beaches, idyllic, beautiful and moreover gives a sense of grandeur due to the scenery with the towering rocks.
Accessible only from the sea.
Picture of Stelari at night from the camera of artist photographer Basilis Metallinos.
Giali beach
Another secluded, idyllic beach near Ermones and the village of Giannades, accessible only by sea.
Paradise does not exist, it is here on earth and is the island itself