Last updated on June 1st, 2020 at 07:43 pm
Influence of the Greek(Hellenic) language in today's word
Hi, English speaking visitors to Greece.
The Guinness Book of Records ranks the Hellenic language as the richest in the world with 5 million words and 70 million word types! FACT!
Hellenic roots are often used to coin new words for other languages, especially in the sciences and medicine.
Mathematics, physics, astronomy, democracy, philosophy, athletics, theatre, rhetoric, baptism and hundreds of other words are Hellenic, this is a FACT
Greek words and word elements continue to be productive as a basis for coinages: anthropology, photography, telephony, isomer, biomechanics, cinematography, etc… this is a FACT
In a typical 80,000-word English dictionary, about 5% of the words are directly borrowed from Greek; (for example, "phenomenon" is a Hellenic word and even obeys Hellenic grammar rules as the plural is "phenomena"), and another 25% are borrowed indirectly.
So, about 24.000 words in modern English have direct or indirect origin from the ancient Greek language.
This is because there were many Hellenic words borrowed in Latin originally, which then filtered down into English because English borrowed so many words from Latin (for example, "elaiwa" in Greek evolved into the Latin "oliva", which in turn became "olive" in English).
So, 30% of English words are…Greek… this is a FACT
Hellenic and Latin are the predominant sources of the international scientific vocabulary, however, the percentage of words borrowed from Greek rises much higher than Latin when considering highly scientific vocabulary (for example, "oxytetracycline" is a medical term that has several Hellenic roots)… this is another FACT
And finally, had you ever wondered how the world was going to be if the Greek language never existed?
Most of this article is borrowed from this website, so greetings belong to them.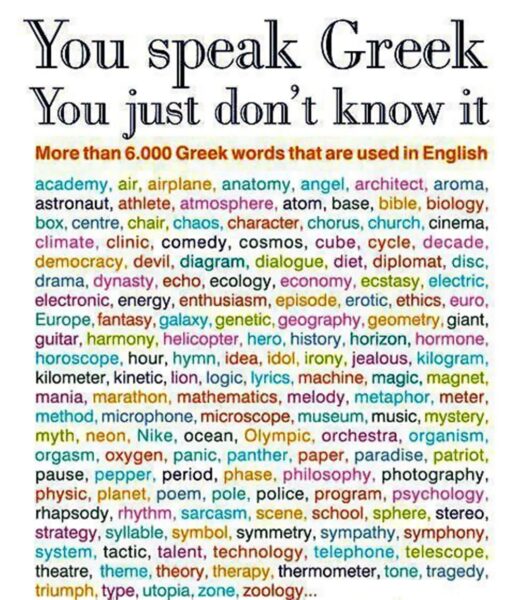 Have you heard of these words? of course, you have
Star, atlas, chaos, chronological, erotic, herculean, hypnotic, muse, nectar, anti, arch, auto, bio, centro, chromo, cyclo, demo, dys, eu, graph, hydro, hypo, hyper, logo, macro, mega, meta, micro, mono, paleo, para, philo, photo, poly, pro, pseudo, psycho, pyro, techno, thermo, zoo, idiot, metropolis, acrobat, bacterium, cemetery, dinosaur, hippopotamus, rhinoceros, history, dialogue, economy, metaphor, planet, schizophrenia, technology, grammatical, syntax, sarcasm, sycophant, telescope, telephone, television, photo, third, fifth, six, nine, cosmos, …hey, we must stop here, impossible to write down all the 24.000 Hellenic words that you use in English!
They are all Hellenic
According to one estimate, more than 150,000 words of English are derived from Greek words…source:www.britishcouncil.org
Now that you have seen how many Hellenic words you know, You should not feel stranger when you visit Hellas, you are a native Greek-speaking person, you just don't know it yet! Learn about this fact and admit it.
Thanks for Reading!
Related posts