Last updated on September 15th, 2023 at 08:42 pm
Influence of the Greek(Hellenic) language in today's word
How many Greek words are in the English language
The Guinness Book of Records ranks the Hellenic language as the richest in the world with 5 million words and 70 million word types!
Hellenic roots are often used to coin new words for other languages, especially in the sciences and medicine.
Mathematics, physics, astronomy, democracy, philosophy, athletics, theatre, rhetoric, baptism, and hundreds of other words are Hellenic(Greek), this is a FACT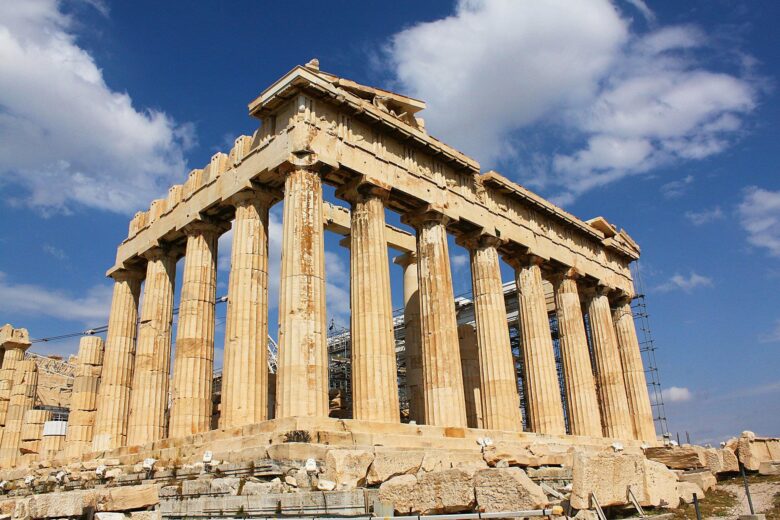 Greek words and word elements continue to be productive as a basis for coinages: anthropology, photography, telephony, isomer, biomechanics, cinematography, etc…
In a typical everyday 80,000-word English dictionary, about 5% of the words are directly borrowed from Greek; (for example, "phenomenon" is a Hellenic word and even obeys Hellenic grammar rules as the plural is "phenomena"), and another 25% are borrowed indirectly.
So, about 150,000 words in modern English have direct or indirect origins in the ancient Greek language.
This is because there were many Hellenic words borrowed from Latin originally, which then filtered down into English because English borrowed so many words from Latin (for example, "elaiwa" in Greek evolved into the Latin "oliva", which in turn became "olive" in English).
So, 30% of English words are…Greek!
Hellenic and Latin are the predominant sources of the international scientific vocabulary, however, the percentage of words borrowed from Greek rises much higher than Latin when considering highly scientific vocabulary (for example, "oxytetracycline" is a medical term that has three Hellenic roots).
And finally, had you ever wondered how the world was going to be if the Greek language never existed?
Most of the ideas in this article are borrowed from this website, so greetings belong to them.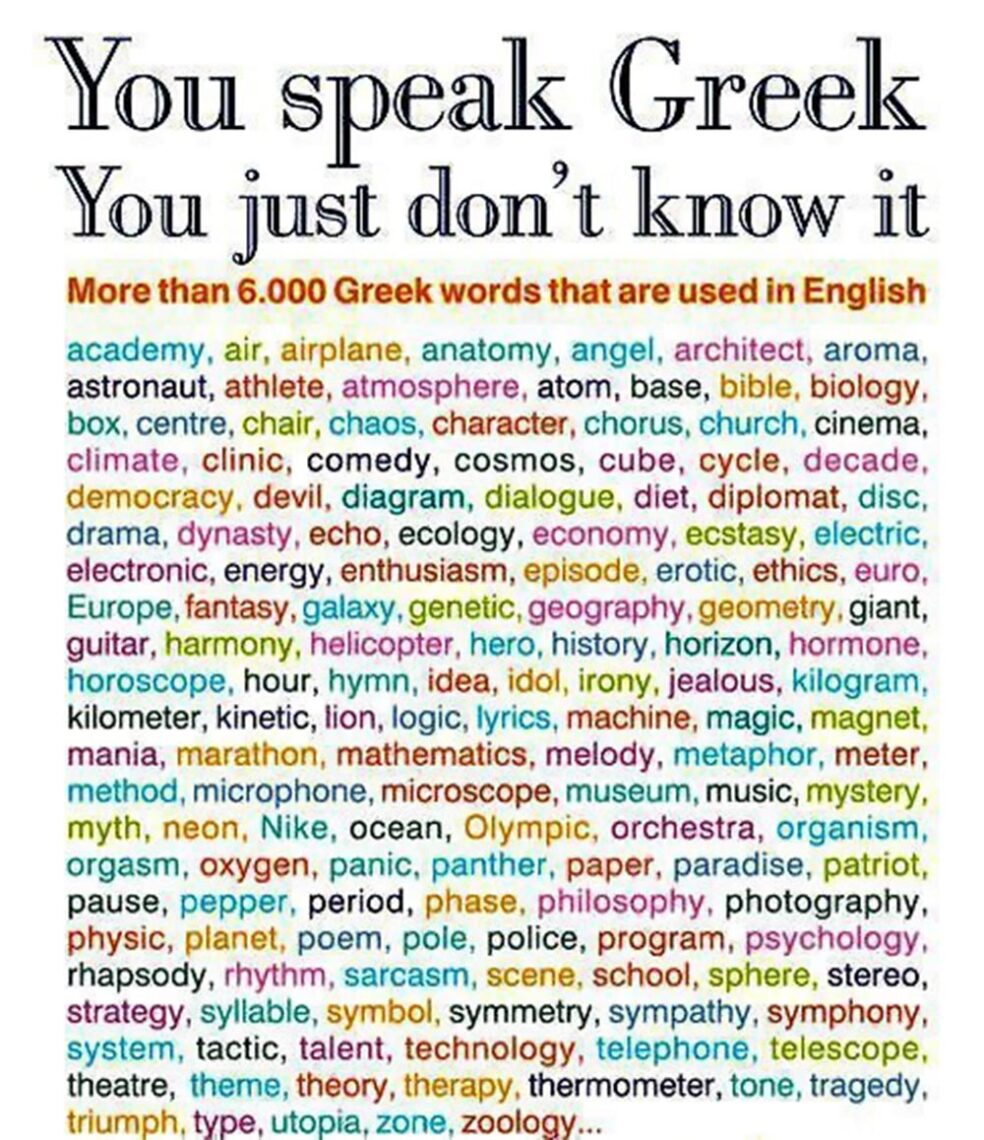 Learn 100 Greek words in 10 minutes!
List of Greek words in English
Only an example of a few words of Greek origin is below with their writing in the modern Greek language and their spelling with Latin characters. Practically unchanged since antiquity.
NOTE: The words on this list are not clickable,  if you click on them simply nothing will happen!
Academy = Ακαδημία (Akademia)
Acrobat = Ακροβάτης (Akrovates)
Air = Αέρας, Αήρ (Aeras)
Airplane = Αεροπλάνο (Aeroplano)
Anatomy = Ανατομία (Anatomia)
Angel = Άγγελος (Aggelos)
Abnormal = Ανώμαλος (Anomalos)
Anti = Αντι (Anti)
Archaeo = Αρχαιο (Archaeo)
Architect = Αρχιτέκτων (Architekton)
Aroma = Άρωμα (Aroma)
Astronaut = Αστροναύτης (Astronaftis)
Athlete = Αθλητής (Athleetees)
Atlas = Άτλας (Atlas)
Atmosphere = Ατμόσφαιρα (Atmosphera)
Atom = Άτομο (Atomo)
Auto = Αυτο (Afto)
Bacterium = Βακτήριον (Vakterion)
Base = Βάση (Vasee)
Bible = Βίβλος (Veevlos)
Bio = Βιο (Veeo)
Biology = Βιολογία (Viologia)
Box = Βοξ (Vox)
Cemetery = Κοιμητήριο (Keemeeteerio)
Centre = Κέντρο (Kentro)
Centro = Κέντρο (Kentro)
Chair = Καρέκλα (Karekla)
Chaos = Χάος (Chaos)
Character = Χαρακτήρ (Characteer)
Chorus = Χορός (Choros)
Chromo = Χρωμο (Chromo)
Chronological = Χρονολογικό (Chronologiko)
Cinema = Κινημα (Kinima)
Climate = Κλιμα, Κλιματικό (Klimatiko)
Clinic = Κλινική (Kliniki)
Comedy = Κωμωδία (Komodeea)
Cosmos = Κόσμος (Kosmos)
Cube = Κύβος (Kyvos)
Cycle = Κύκλος (Kyklos)
Cyclo = Κυκλο (Kyklo)
Decade = Δεκάδα (Decada)
Demo = Δημο (Deemo)
Democracy = Δημοκρατία (Deemokrateea)
Devil = Διάβολος (Diavolos)
Diagram = Διάγραμμα (Diagrama)
Dialogue = Διάλογος (Dialogos)
Diet = Δίαιτα (Dieta)
Diplomat = Διπλωμάτης (Diplomates)
Dinosaur = Δεινόσαυρος (Dinosavros)
Disc = Δίσκος (Diskos)
Drama = Δράμα (Drama)
Dynasty = Δυναστεία (Dynasteia)
Dys = Δυσ (Dys)
Echo = Ηχώ (Echo)
Ecology = Οικολογία (Ekologia)
Economy = Οικονομία (Ekonomia)
Ecstasy = Έκσταση (Ekstasi)
Electric = Ηλεκτρικό (Elektriko)
Electronic = Ηλεκτρονικό (Eelektroniko)
Energy = Ενέργεια (Energeia)
Enthusiasm = Ενθουσιασμός (Enthousiasmos)
Episode = Επεισόδιο (Episodeio)
Erotic = Ερωτικό (Erotiko)
Ethics = 'Ηθη (Ethe)
Eu = Ευ (Ef)
Euro = Ευρώ (Evro)
Europe = Ευρώπη (Evropee)
Fantasy = Φαντασία (Fantasia)
Galaxy = Γαλαξίας (Galaxias)
Genetic = Γενετικός (Genetikos)
Geography = Γεωγραφία (Geographia)
Geometry = Γεωμετρία (Geometria)
Giant = Γίγαντας (Gigantas)
Grammatical = Γραμματικό (Grammatiko)
Graph = Γραφ (Graph)
Guitar = Κιθάρα (Kithara)
Harmony = Αρμονία (Armonia), the "h" is rejected in modern Greek.
Helicopter = Ελικόπτερο (Elikoptero), the "h" is rejected in modern Greek.
Hercules = Ηρακλής (Eraklees), the "h" is rejected in modern Greek.
Hero = Ήρως (Iros), the "h" is rejected in modern Greek.
Hippopotamus = Ιπποπόταμος (Ipopotamos), the "h" is rejected in modern Greek.
History = Ιστορία (Eestoreea), the "h" is rejected in modern Greek.
Horizon = Ορίζοντας (Orizontas), the "h" is rejected in modern Greek.
Hormone = Ορμόνη (Ormonee), the "h" is rejected in modern Greek.
Horoscope = Ωροσκόπιο (Oroskopio), the "h" is rejected in modern Greek.
Hour = Ώρα (Ora), the "h" is rejected in modern Greek.
Hydro = Υδρο (Ydro), the "h" is rejected in modern Greek.
Hymn = Ύμνος (Ymnos), the "h" is rejected in modern Greek.
Hypo = Υπο (Ypo), the "h" is rejected in modern Greek.
Hyper = Υπερ (Yper), the "h" is rejected in modern Greek.
Hypnotic = Υπνωτικό(Ypnotiko), the "h" is rejected in modern Greek.
Idea = Ιδέα (Idea)
Idiot = Ιδιώτης (Idiotes)
Idol = Είδωλο (Idolo)
Irony = Ειρωνία (Ironea)
Jealous = Ζήλεια (Zelia)
Kilogram = Χιλιόγραμμο (Chiliogrammo)
Kilometer = Χιλιόμετρο (Chiliometro)
Kinetic = Κινητικό (Kinetiko)
Lion = Λέων (Leon)
Logic = Λογικό (Logiko)
Logo = Λογο (Logo)
Lyrics = Λυρισμός (Lyrismos)
Machine = Μηχανή (Mechane)
Macro = Μακρο (Makro)
Mega = Μεγα (Mega)
Magic = Μαγικό (Magiko)
Meta = Μετα (Meta)
Metaphor = Μεταφορά (Metaphora)
Metropolis = Μητρόπολις (Metropolis)
Micro = Μικρο (Mikro)
Mono = Μονο (Mono)
Muse = Μούσα (Musa)
Mystery = Μυστήριο (Mysterio)
Myth = Μύθος (Mythos)
Nectar = Νεκταρ (Nektar)
Neon = Νέον (Neon)
Nike = Νίκη (Nike)
Nine = Εννέα (Enea)
Ocean = Ωκεανός (Okeanos)
Olympic = Ολυμπιακός (Olympiakos)
Orchestra = Ορχήστρα (Orcheestra)
Organism = Οργανισμός (Organismos)
Orgasm = Οργασμός (Orgasmos)
Oxyzen = Οχυγόνο (Oxygono)
Paleo = Παλαιο (Paleo)
Panic = Πανικός (Panikos)
Panther = Πάνθηρας (Pantheras)
Paper = Πάπυρος (Papeeros)
Para = Παρα (Para)
Paradise = Παράδεισος (Paradeisos)
Patriot = Πατριώτης (Patriotes)
Pause = Παύση (Pafsi)
Pepper = Πιπέρι (Peperi)
Period = Περίοδος (Periodos)
Phase = Φάση (Phasee)
Philo = Φιλο (Philo)
Philosophy = Φιλοσοφία (Philosophia)
Photo = Φωτο (Photo)
Photography = Φωτογραφία (Photografia)
Physic = Φυσική (Physike)
Planet = Πλανήτης (Planeetes)
Poem = Ποίημα (Peema)
Pole = Πόλος (Polos)
Poly = Πολυ (Poly)
Pro = Προ (Pro)
Program = Πρόγραμμα (Programma)
Pseudo = Ψευδο (Psevdo)
Psycho = Ψυχο (Psycho)
Psychology = Ψυχολογία (Psychologia)
Pyro = Πυρο (Pyro)
Rhapsody = Ραψωδία (Rapsodia)
Rhythm = Ρυθμός (Rythmos)
Rhinoceros = Ρινόκερως (Rinokeros)
Sarcasm = Σαρκασμός (Sarkasmos)
Scene = Σκηνή (Skene)
Schizophrenia = Σχιζοφρένεια (Schizophrenia)
School = Σχολείο (Scholeeo)
Sphere = Σφαίρα (Sphera)
Star = Αστήρ (Asteer)
Stereo = Στέρεο (Stereo)
Strategy = Στρατηγική (Strategiki)
Sycophant = Συκοφάντης (Sykophantes)
Syllable = Συλλαβή (Syllavee)
Symbol = Σύμβολο (Symvolo)
Symmetry = Συμμετρία (Symmetria)
Sympathy = Συμπάθεια (Sympatheia)
Symphony = Συμφωνία (Symphonia)
Syntax = Σύνταξη (Syntaksi)
System = Σύστημα (Systeema)
Tactic = Τακτική (Taktikee)
Talent = Ταλέντο (Talento)
Techno = Τεχνο (Techno)
Technology = Τεχνολογία (Technologia)
Telescope = Τηλεσκόπιο (Teleskopio)
Telephone = Τηλέφωνο (Telephono)
Television = Τηλεόραση (Teleorasi)
Theatre = Θέατρο (Theatro)
Theme = Θέμα (Thema)
Theory = Θεωρία (Theoria)
Therapy = Θεραπεία (Therapia)
Thermo = Θερμο (Thermo)
Thermometer = Θερμόμετρο (Thermometro)
Third = Τρίτο (Treeto)
Tone = Τόνος (Tonos)
Tragedy = Τραγωδία (Tragodia)
Triumph = Θρίαμβος (Thriamvos)
Type = Τύπος (Typos)
Utopia = Ουτοπία (Utopeea)
Zone = Ζώνη (Zonee)
Zoo = Ζωο (Zoo)
Zoology = Ζωολογία (Zoologia)
Also, almost all words that start with "PH" are of Greek origin!
We must stop here, these are already very good samples, and is impossible to write down all the 150,000 Greek words used in English! But if you click this Wiktionary link you can discover thousands more Greek words in English than you ever imagined.

So, If you are one of those who say "It's all Greek to me" it's time to reconsider it, it will help if you follow a couple of simple tips.
Most important, the Latin sound of "C" is "K" in Greek. For Greeks, the sound of "C" is written and pronounced always as "S".
Keep in mind that the "TH" sound is written with the letter "Θ" in Greek.
The ancient Greek B originally sounded like what B sounds like in English today, but in modern Greek, it is written with "MΠ" (M+P), and the letter "Β" sounds like "V".
All ancient Greek words that start with the "H" sound, History, for instance, were written with aspiration in the first letter, this aspirate remained in English but was replaced with the letter 'H'.
This aspiration is abolished in modern Greek and the sound of "H" is not pronounced.
Anywhere you see an "Ω" or "Ο" both pronounced as "O". There are some more minor differences, but slowly you will find out that you start to make sense.
Differences in the alphabets are minor, the Latin alphabet, after all, is the natural evolution of the Greek Euboean alphabet which in turn is a transformation of the Phoenician alphabet with the additions of vowels.
Finally, you will see that saying "is all Greek to me" is a non-sense expression, therefore for something completely unknown it's more appropriate to say "it's all Chinese to me".
After all, the so-called Indo-European languages have something in common, the Phoenician alphabet which is the common ancestor for all alphabets in Europe.
They are all Hellenic(Greek)
According to one estimate, more than 150,000 words of English are derived from Greek words…source:www.britishcouncil.org
Now that you have seen how many Greek words you know, You shouldn't feel stranger when you visit Greece, you are a native Greek-speaking person, you just don't know it yet! Learn about this.
Learn 100 Greek words in 10 minutes!