Last updated on October 18th, 2023 at 01:24 pm
If you're one of the many YouTube vloggers who travel the world to create stunning content, or even if you're just trying to travel for leisure, the Greek Islands are worth the trip.
The Greek Islands are home to some of the most beautiful beaches in the world. Relaxing on a Greek beach is one of the finest ways to enjoy your holidays in Greece. The majority of Greek beaches are located along the coast, with some islands having sandy beaches and others rocky or pebbly. Greece has miles and miles of beaches, but which ones are the prettiest?
With so many to choose from, it's a challenge to know which ones to visit. The beaches of Greece are a paradise for beach lovers. So, we've put together a list of our favorite Greek beaches to help you make the most of your time in this beautiful country.
1.   Sarakiniko, Milos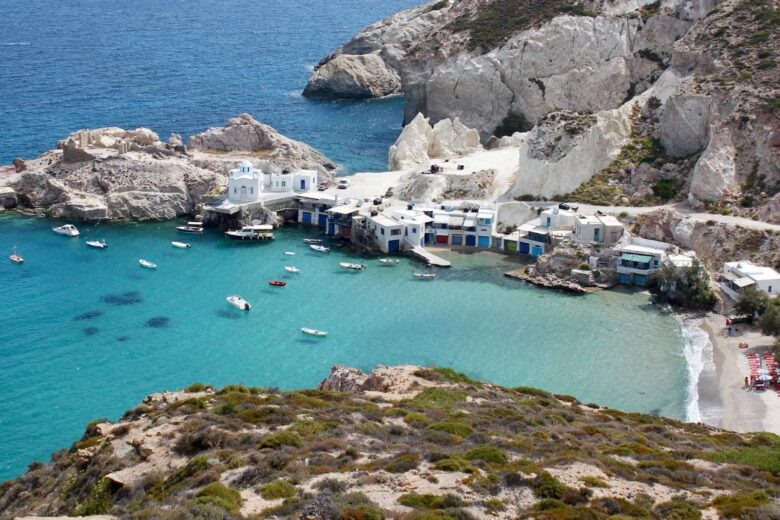 This picturesque beach is without a doubt one of the most Instagrammed beaches in Greece and probably the most popular on the island of Milos as well. It's ideal for unwinding and relaxing, as well as having fun and being adventurous, with its striking white rock formations and turquoise waters.
Sarakiniko's bright white rock serves as a magnificent canvas for nature's brushes at sunrise and sunset. This incredible beach is transformed into something you might find on Mars, the moon, or in a dream by a kaleidoscope of colors. When the sun sets, few people realize how beautiful the beach is at night, so you're likely to have the beach to yourself.
2.   Kolymbithres Beach, Paros
Kolymbithres Beach, Paros, is one of the finest beaches in Greece. It's located on the north side of Paros and it offers clean sand and crystal-clear water. A well-organized beach has sunbeds and umbrellas, so you can sunbathe or relax under an umbrella if you prefer shade. Kolymbithres Beach also has a few taverns where you can enjoy local dishes and drinks. The beach has sand at low tide but it becomes rocky at high tide.
The area around Kolymbithres Beach is full of restaurants where you can taste delicious Greek food or enjoy a drink with friends while listening to live music. There are also plenty of shops and cafes around for shopping lovers who like to spend their day shopping after having fun at the beach!
3.   Myrtos, Kefalonia
It is situated on the north-western side of Kefalonia island, at a distance of about 29 kilometers from Argostoli, the capital city of Kefalonia. It is located near the village of Myrtos, and it is well-known for its crystal-clear waters and its picturesque views. It is also worth mentioning that Myrtos Beach has been awarded the Blue Flag year after year. The Blue Flag beaches have exceptionally clean waters and well-preserved environments. It was named one of the most beautiful beaches in the world by Lonely Planet and Cosmopolitan magazine.
When you arrive at the beach, take a moment to appreciate the color of the water and the large white pebbles. The water is crystal clear between May and October. The colors are enticing and all you want to do is dive into the endless blue. Sunsets at Myrtos Beach are breathtaking. During the sun's setting in the ocean, pinks and oranges fill the skies to create a mystic atmosphere, which you should not miss when visiting this enchanting beach.
4.   Elafonisi, Crete
Elafonisi is one of the most picturesque beaches on the island of Crete. Every year, thousands of visitors come to enjoy the clear blue waters, pink sand, and unique landscapes. It has been named one of the most beautiful beaches in the world. Because of its unique natural beauty, it is part of the Natura network, along with the surrounding shores.
Elafonisi Beach was once a well-kept secret, known only to a select few Cretans. Until 2014, when it was named one of the world's top beaches. It has grown in popularity over the last eight years, with tourists from all over the world. These tourists want to enjoy the sun, sea, and sand while relaxing on their holidays.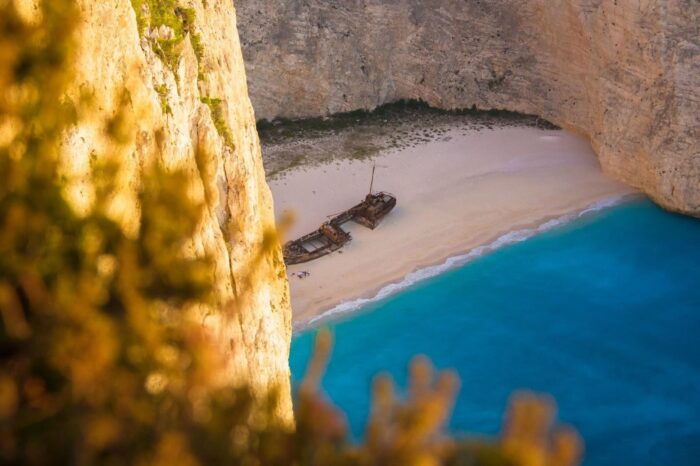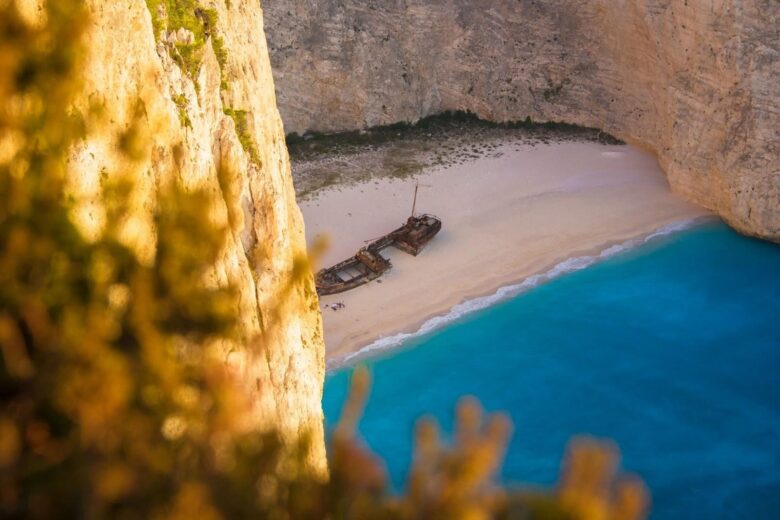 The Navagio (Shipwreck) beach is a beach on the southern coast of Zakynthos Island. The beach got its name from a shipwreck that happened there in 1980, near Cape Skinari. The wreck was of a freighter carrying contraband cigarettes and alcohol, which ran aground in rough weather. The ship was abandoned by its crew and has remained there ever since.
This stunning Greek beach is surrounded by brilliant blue ocean water, and many visitors travel to Zakynthos specifically to visit this amazing Greek beach. This world-renowned location is even more impressive in person and you will undoubtedly leave with some jaw-dropping photographs and unforgettable memories.
Wrapping Up
The beaches in Greece are some of the most picturesque places you can visit. The water is crystal clear and the sand is white. The temperature is warm enough for swimming and sunbathing.
If you ever find yourself visiting Greece, make sure that you carry your camera along with you so that you can capture some amazing moments on camera. You can also take some photos, but capturing them on video will give them more meaning than taking them as photos only because videos let us see everything around us from different angles rather than just one angle like when we take photos only. With the help of a video maker, you can turn your shots into stunning videos that you can show to your loved ones back home. This will inspire them to come to visit as well.
More Beaches