Last updated on July 30th, 2023 at 02:19 pm
The beautiful beaches of Dodecanese islands in Southeast Aegean in Greece are here. This island cluster has 12 big and hundreds of smaller islets at the east of the Cyclades and very close to the Asia Minor coast.
Among them is Rhodes, Karpathos, Kos, Patmos, Astypalea, Leros, Kasos
1- Saint Paul's Bay Rhodes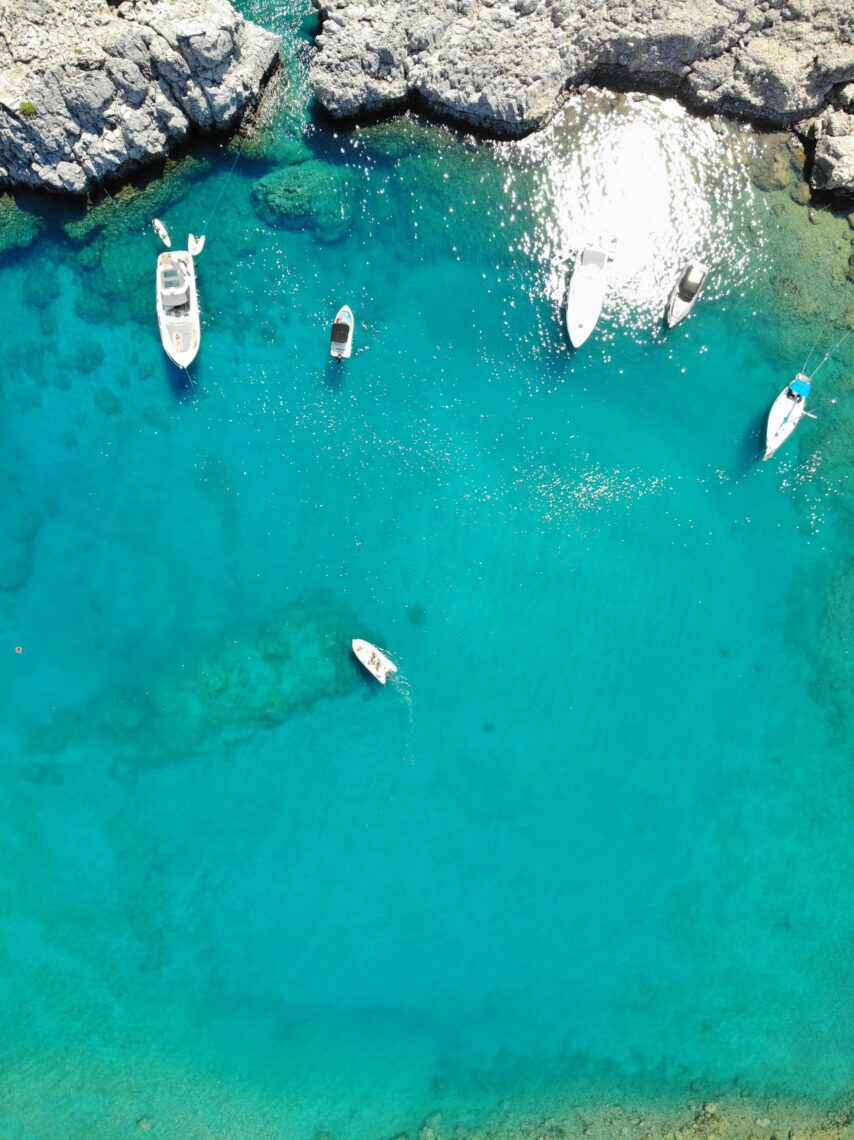 Pebble bays in Rhodes, Dodecanese
Two small bays are forming the beach of Saint Paul in Rhodes. A beautiful beach next to Lindos is visited by locals and tourists.
The right part of the beach is organized with sunbeds, food, and music, while the left part is offered for moments of relaxation.
It is a sandy beach with little pebbles and rocks where you can climb and dive in the clear waters.
You will have to leave the car before you reach the beach, and then you must walk to reach it.
The beach is easily accessible by foot from nearby Lindos.
Tip: Scenes from the movie "The Guns of Navarone" were shot at the nearby Laki location, if you wish ask some boatmen to take you there.
2- Tsambika beach Rhodes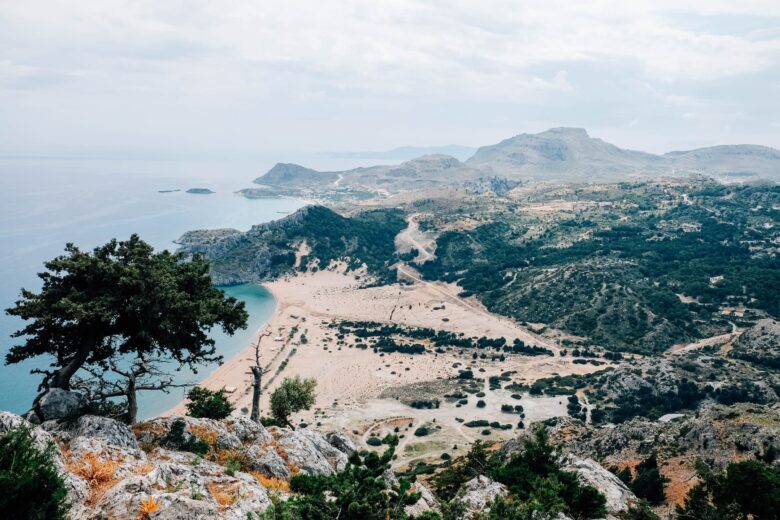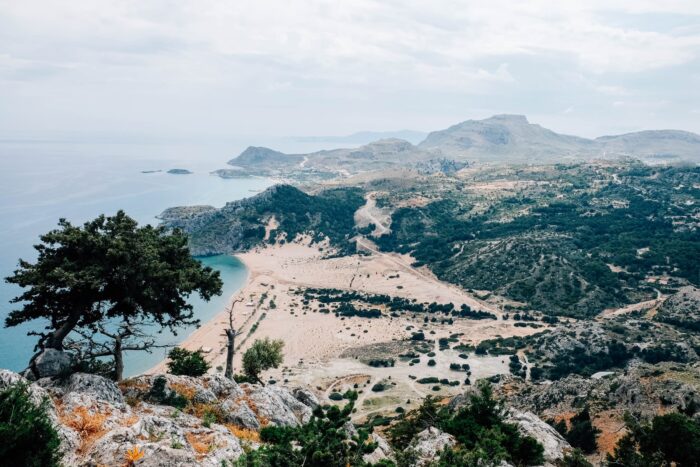 Sandy beach in Rhodes, Dodecanese
Tsampika is one of the most popular beaches in Rhodes located 26 km southeast of the city of Rhodes and 5 km from Archangelos.
It is a natural beach, that is located under the rock that hosts the famous monastery of Panagia Tsambika of Psili to which it owes its name.
This large beach has golden sand and shallow waters located in a magnificent landscape. All this makes it suitable for families with young children but also for young people of all ages and requirements.
Tsampika is quite well organized with umbrellas and sunbeds for rent, a shower, a beach bar to enjoy your coffee or drink as well as to eat something casual, and taverns to dine when you want. There are also several possibilities for water sports as well as inflatable toys for children!
You can reach it by car or bus, or by the boats that make day cruises from the city of Rhodes.
3- Kyra Panagia beach in Karpathos
4- Apella beach Karpathos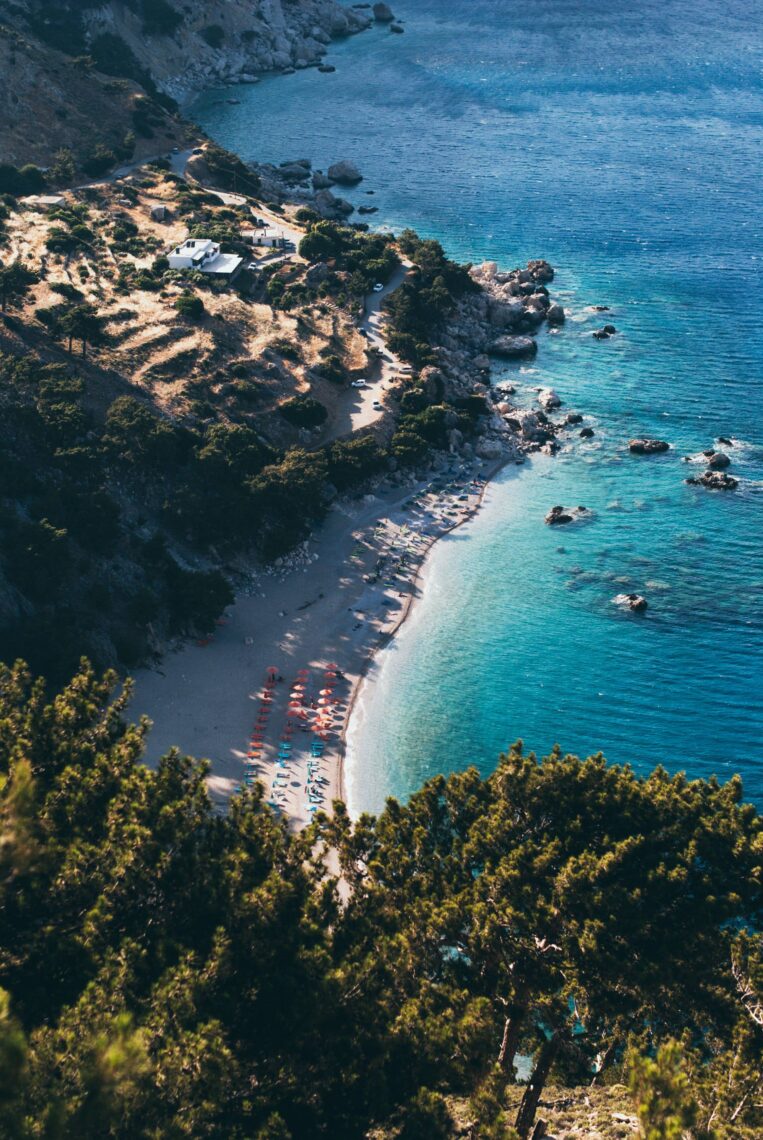 Pebble and sand remote beach in Karpathos, Dodecanese
Apella is the beach that stands out of all beaches in Karpathos.
It's a beach with clean white sand, some pebbles, and crystal clear waters in a magnificent environment full of pine trees.
The beach is about 16 km away from Pigadia. While the nearest settlement is Myrtonas at a distance of about two kilometers. It is partially organized with some sunbeds at the center.
Apella is also accessible by small boats from Pigadia.
The crystal clear waters are ideal to enjoy swimming. Rocks and pines blend harmoniously creating one of the most beautiful settings in Karpathos.
5- Achata beach in Karpathos
6- Thermes beach in Kos
7- Kefalos Beach in Kos
8- Myrties beach in Kalymnos