Last updated on November 7th, 2023 at 10:01 am
The Cyclades islands
At the southern Aegean and north of Crete is the big group of Cyclades islands.
Here you can find islands such as Andros, Santorini, Mykonos, Naxos, Paros, Antiparos, Delos, Ios, Kea, Kimolos, Kythnos, Milos, Amorgos, Anafi, Serifos, Sikinos, Sifnos, Syros, Tinos, Folegandros, and more.
On these islands there are some of the most famous beaches worldwide and are extremely popular among tourists and Greeks.
Tip: The oldest European civilizations developed in Cyclades and Crete from 3300 to 1100 BCE, i.e. 5000 years ago!
1- Super Paradise beach Mykonos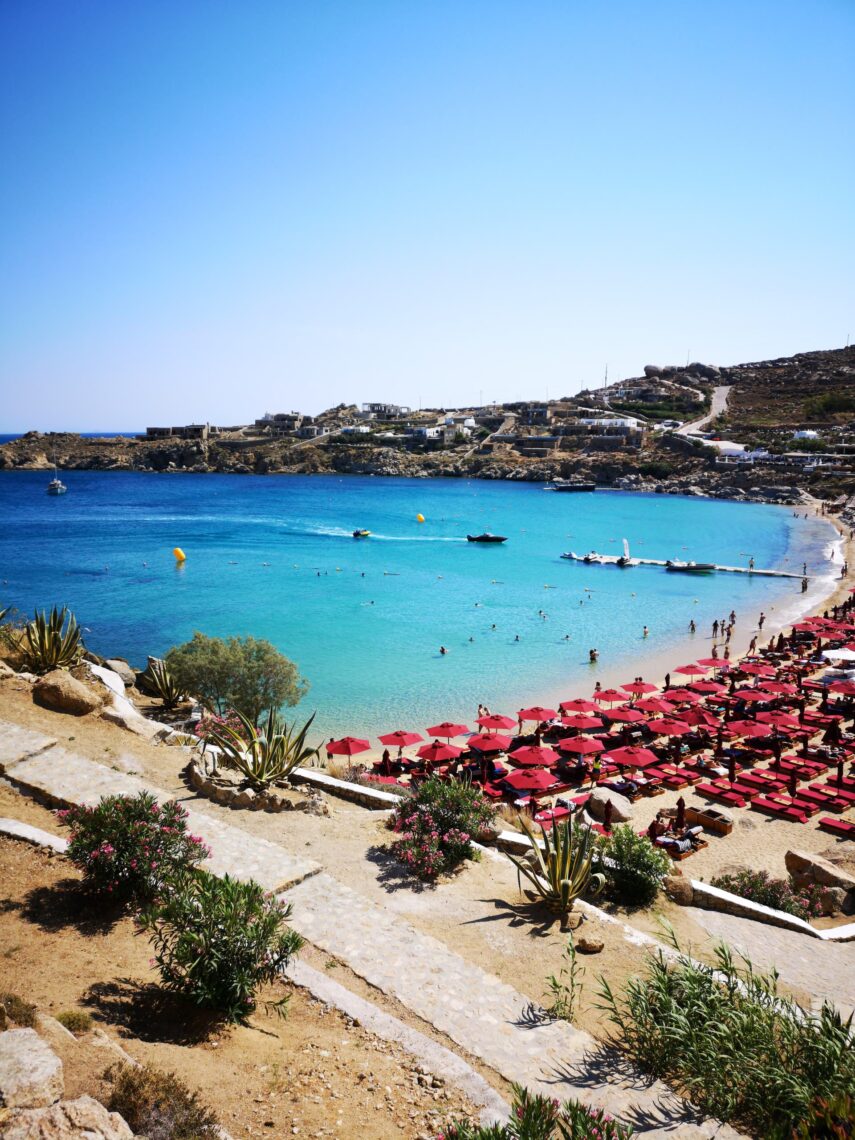 Sandy Cosmopolitan party beach in Mykonos, Cyclades islands. A beach almost exclusively for young people.
Super Paradise is the most characteristic beach and the meeting point of Mykonos. Probably the most cosmopolitan beach in Greece.
It is the meeting place of the VIPs and a beach where the crazy parties take place. Elements that made the island the most important attraction for young people.
It's always crowded here, with extreme clubbing and eccentricity in all its glory. If you suddenly see a popular artist next to you, do not be surprised.
If you want to live a unique experience with fun without limits, you will find it in its clubs.
Super Paradise is located about 7 km away from Chora and is accessible by private vehicle or by boat from the sea.
2- Elia beach Mykonos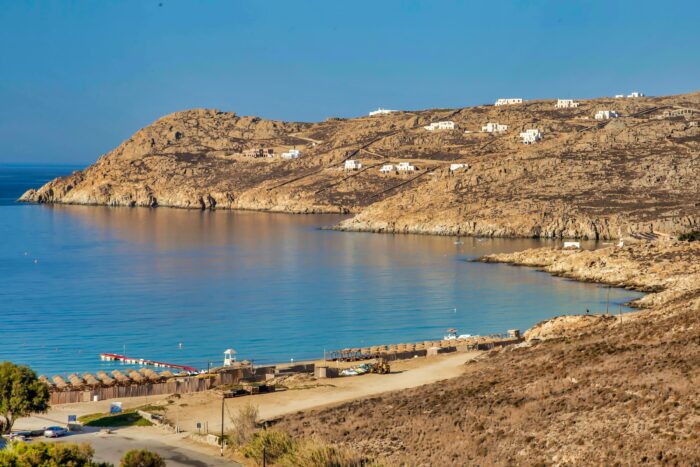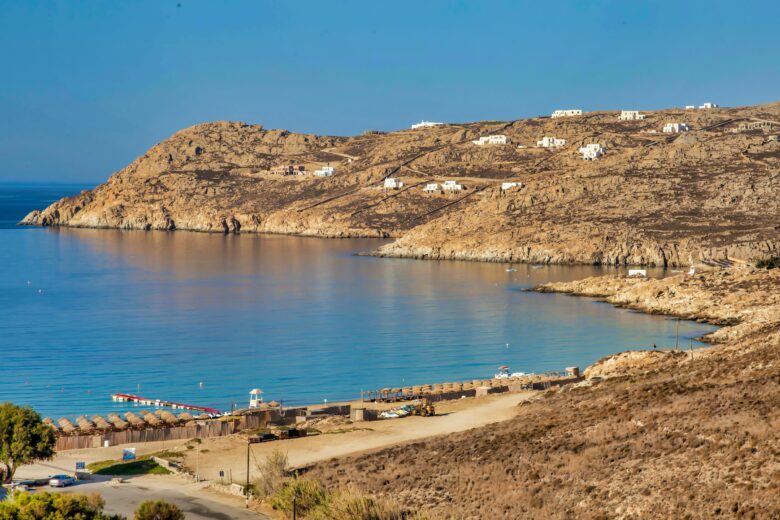 The most beautiful sandy beach in Mykonos, Cyclades islands
One of the largest and most beautiful beaches of Mykonos in the southwest of the island, with turquoise transparent crystal clear waters and distant views of the neighboring island of Naxos.
Elia is a picturesque beach and one of the most cosmopolitan, with endless golden sand, and a beautiful natural environment around it, beauties that if you are in Mykonos you shouldn't miss.
It is fully organized with sunbeds and umbrellas for rent, beach bars for cocktails and snacks, lifeguards, toilets for the disabled, shower, mini market restaurants, free parking, and all facilities for water sports such as water skiing, parasailing, windsurfing, windsurfing, etc.
In addition, is a "Gay-friendly" beach. There are also specially designed areas for nudists on the right side.
Distance from the town of Mykonos is 12 km and you can visit it either with your own vehicle or with a bus that takes 30 minutes and costs 2 €. From Platys Gialos and Ornos, you can visit the beach by boat.
3- Plaka beach Naxos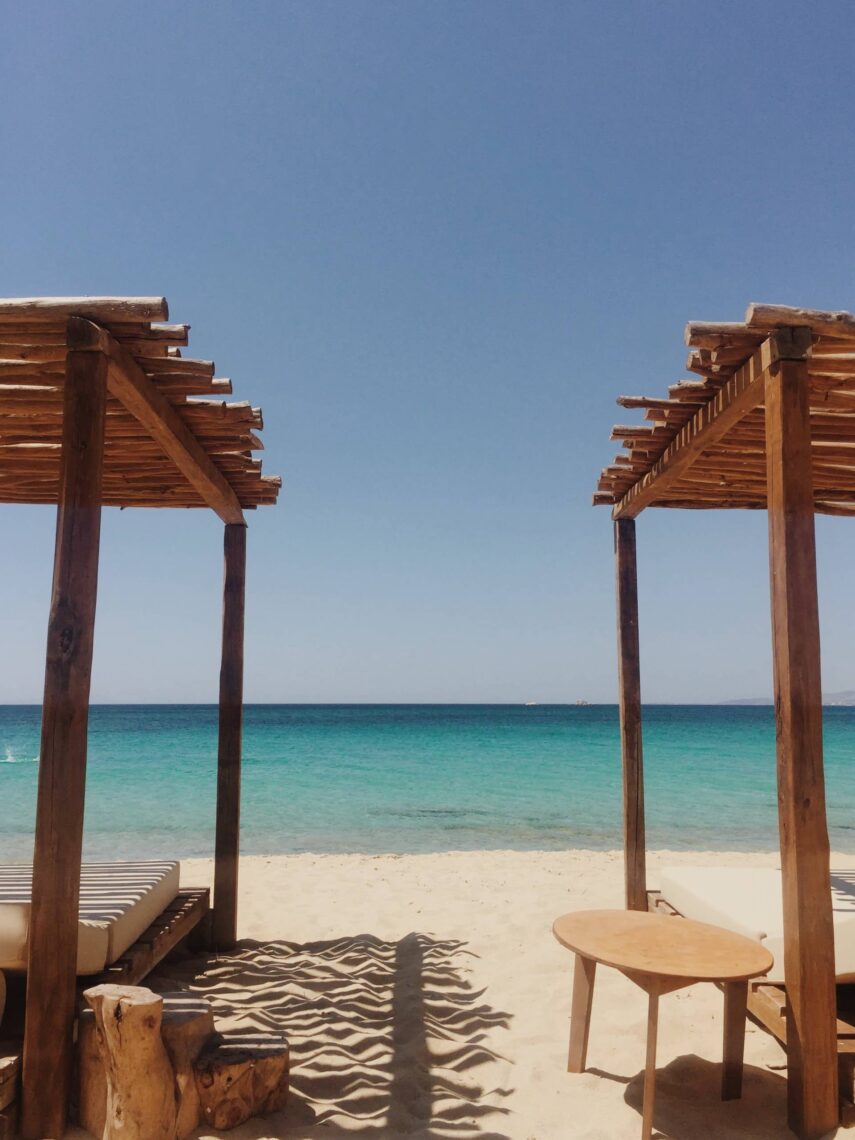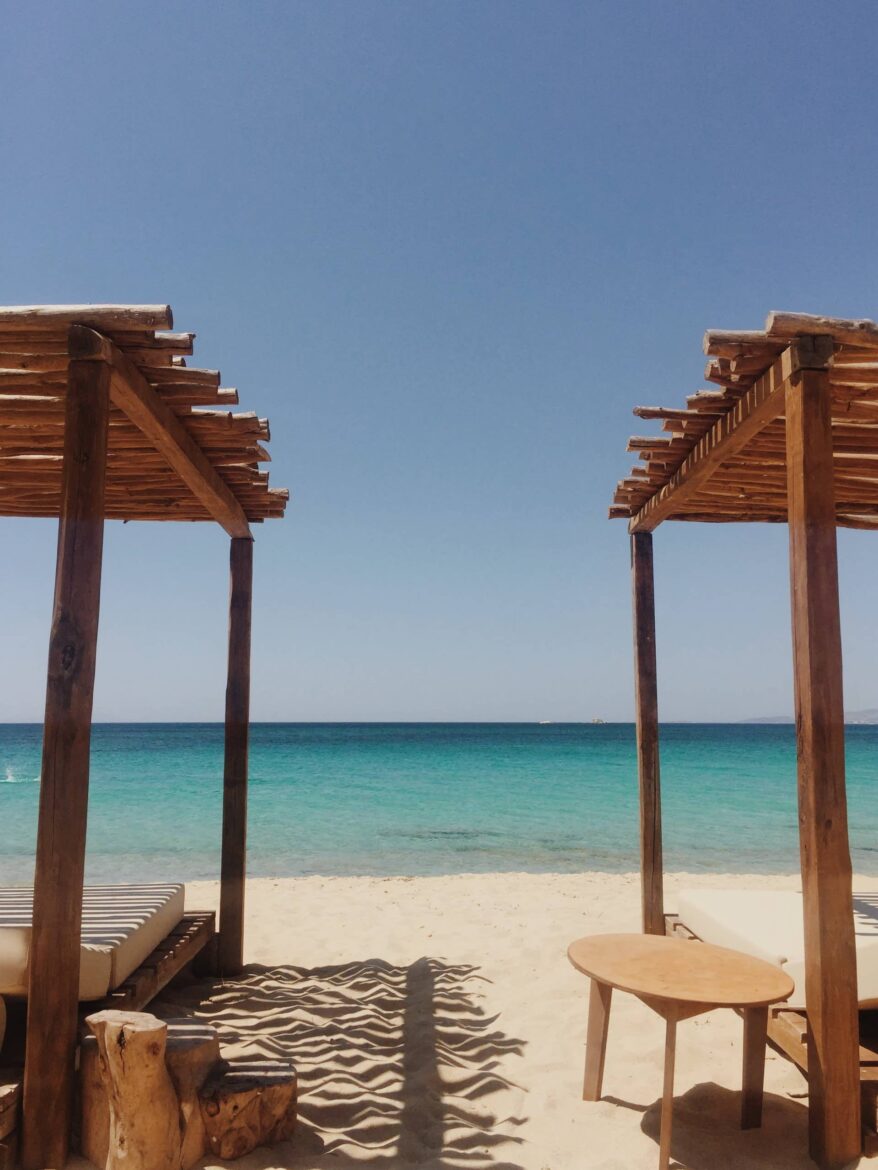 The larger sandy beach in Naxos, Cyclades islands
Plaka beach is the largest beach in Naxos with a length of almost 4 km.
It is located in the center of the west coast of the island in an open bay and at a distance of about 10 kilometers from Chora, the capital of Naxos.
From here you can see Glaronissia and Paros. It was a hippie destination in the 1970s.
It is a vast golden sandy beach with shallow turquoise waters and is a favorite destination for all ages and ideal for families with children. In some parts, nudism is allowed.
There are cafes, beach bars, and taverns to enjoy Greek and international cuisine after your swim.
Tip: The enchanting scenery of the beach and the wonderful sunset overlooking Paros will surely be unforgettable !!!
4- Agios Prokopios in Naxos
5- Tsigrado beach in Milos
6- Mylopotas beach in Ios
7- Kolymbithres beach in Paros
8- Red beach Santorini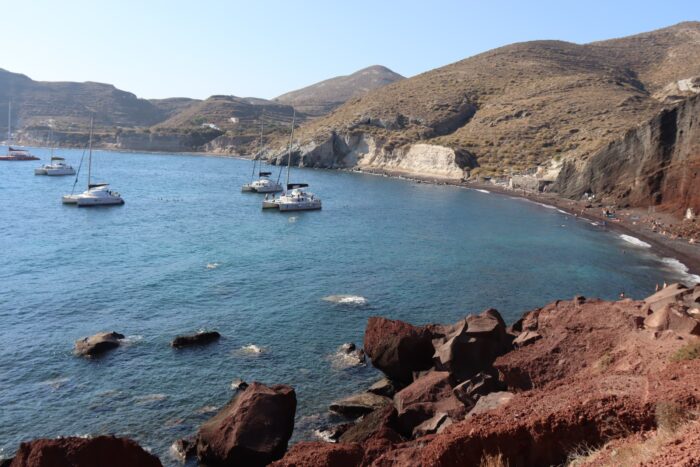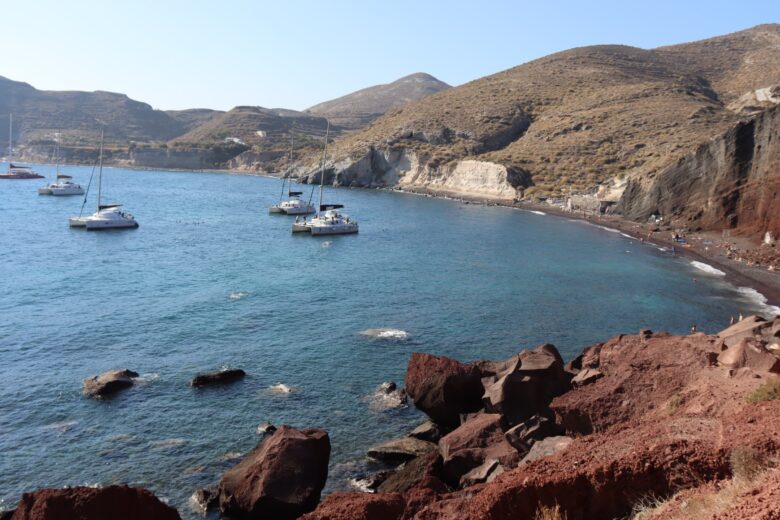 Red volcanic Sandy Beach in Santorini, Cyclades islands
Santorini is not famous for its beaches but rather for its scenery.
Despite this though, Red Beach in Santorini is one of the top beaches in Greece and among the most famous beaches in the world.
It is located on the southwest coast of the island, at a distance of 12 km from Thira and 23 km from Oia.
Its name is due to the red color of the rocks in the area, and this rare scenery is complemented by the black volcanic pebbles that make up the beach.
The beach is not fully organized, although there are umbrellas and sunbeds in which you rarely can find a place. For this reason, we suggest you get to the beach early.
You should also keep in mind that the space even for a beach towel only, may be insufficient due to the crowds.
It is a good idea to have a water mask with you as the underwater rocks are also impressive! Also, be prepared for high temperatures on Red Beach because it is protected from north winds, so there is no cool breeze.
Tip: Your visit to Red Beach can be combined with a tour to the nearby archeological site of Akrotiri, where the famous prehistoric settlement was discovered buried under the volcanic ash.
Akrotiri settlement is Greece's Pompeii, the only difference is that Akrotiri was destroyed 1600 years before Pompeii!
9- Mouros beach in Amorgos
10- Kolona beach in Kythnos
More Beaches in Greece