Last updated on October 4th, 2023 at 12:29 pm
Corfu boasts an abundance of beautiful and expansive beaches. While most are sandy and can get quite crowded, there are also peaceful and remote options for those seeking tranquility.
These secluded spots are often found in small bays like Erimitis on the northeast coast and the beaches south of the stunning Palaiokastritsa on the northwest side of the island.
Corfu offers a variety of beach experiences, from the endless, long sandy stretches along the west coast to the tourist-frequented pebble beaches on the eastern coast.
Many of these beaches have been recognized with blue flags, a testament to their crystal-clear waters.
Some of the best beaches in Corfu can be found on the southwest coast, featuring the largest sandy expanses on the island.
If you're staying in one of the tourist resorts in the middle or southeast of Corfu, you'll have easy access to these stunning beaches.
Whether you travel by car, bus, or bike, it takes only 10-20 minutes to reach them. Once there, you'll be captivated by their vast size, pristine sands, and the ever-changing beauty of the landscape.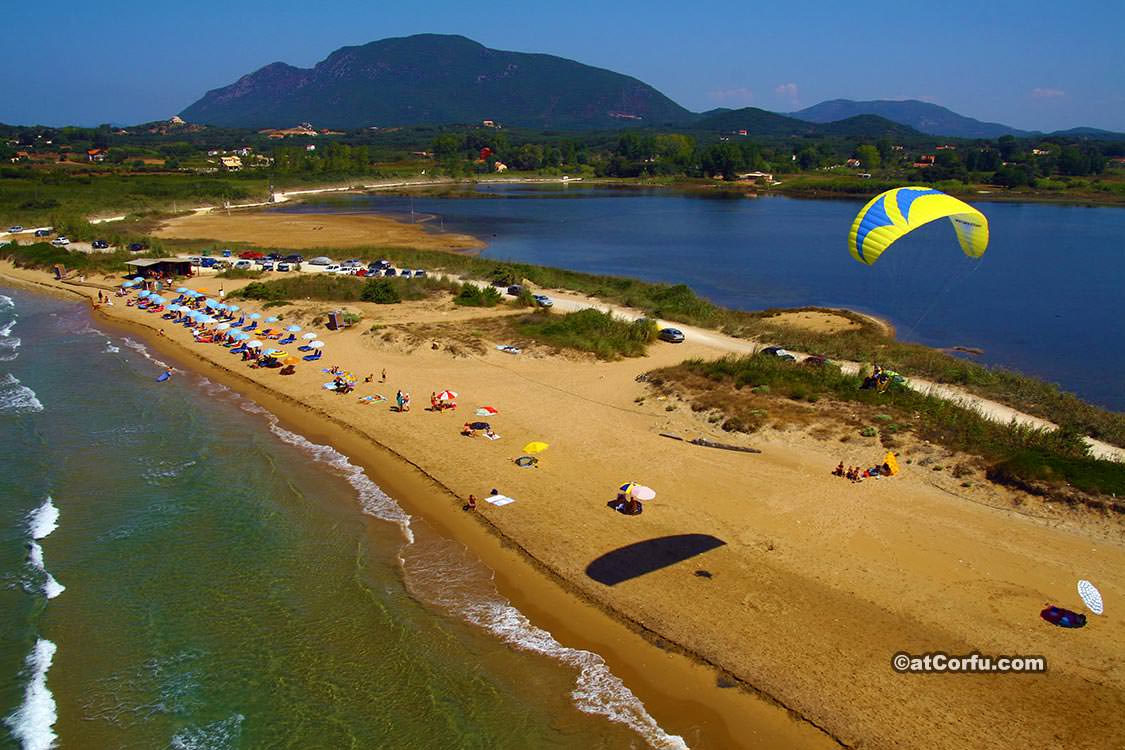 Beaches in the Town of Corfu
While Corfu Town offers a multitude of attractions, it's not the top choice for those seeking a pristine swimming experience.
Within the town's confines, you'll discover a handful of smaller beaches, but it's worth noting that these tend to be somewhat snug and perhaps not the most suitable option for families with children.
Among these options are Faliraki, The NAOK Facilities, Anemomylos, and Mon Repos Beach, which stand out as the four most recognized options for a dip within town limits.
For a deeper dive into the particulars of Corfu Town's beaches, a more comprehensive overview can be found on the dedicated page highlighting the array of Beaches in Corfu Town.
Northwest Corfu Beaches
1) Sidari and Canal D'amour beach
Sidari boasts a substantial, well-organized sandy beach that is not only family-friendly but also offers a variety of water sports and diving opportunities. Situated on the captivating northwest coast of the island, this beach is positioned approximately 35 kilometers away from the bustling hub of Corfu town.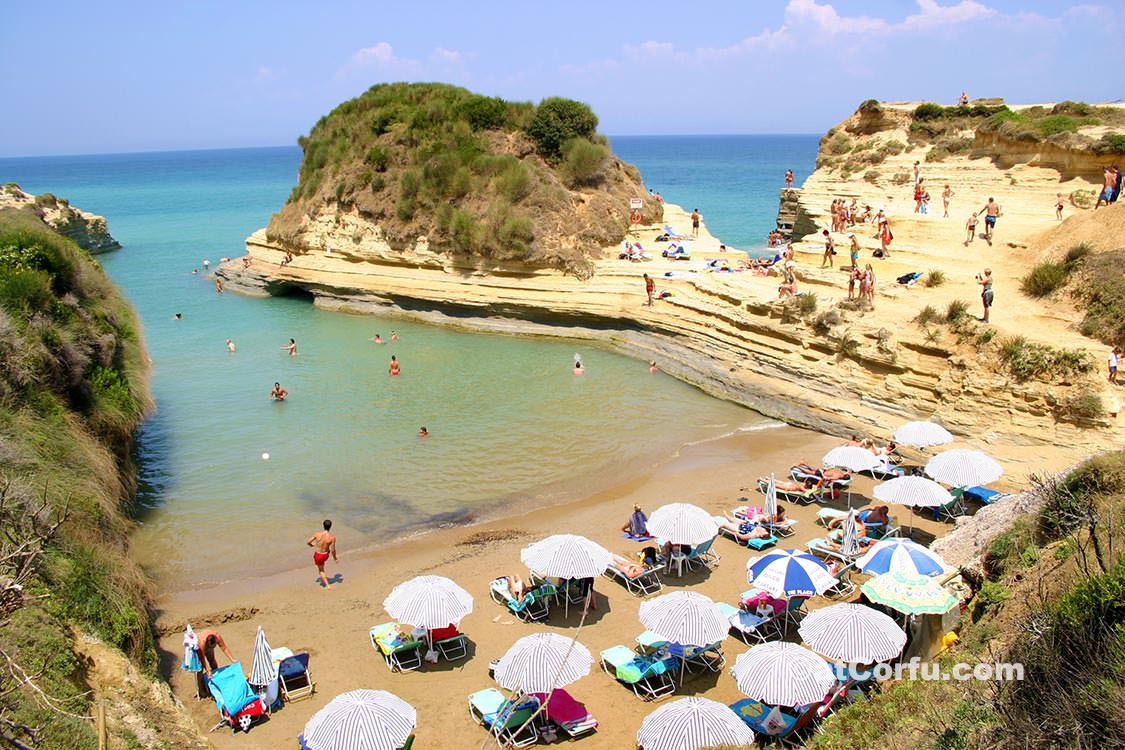 Sidari boasts an expansive sandy shoreline characterized by a gradual depth increase, making it an ideal choice for families seeking a safe and enjoyable beach experience. The beach is thoughtfully organized, offering various amenities and water sports activities that cater to different preferences.
To the western edge lies the enchanting Canal D'amour, a unique rocky formation renowned for its romantic allure and diving opportunities. This natural wonder holds equal appeal for individuals of all ages, making it a delightful spot for both the young and the young at heart.
A captivating local legend surrounds the area: It is believed that those who encounter their true love beneath these very rocks will be blessed with an everlasting bond that defies the passage of time.
Beaches in Sidari and the Canal D'amour
2) Peroulades and Loggas majestic beach
Loggas Beach, nestled on Corfu's northwest coast, boasts a narrow sandy expanse framed by captivating scenery. Just 37 kilometers from the town, it offers organized amenities and a serene setting for relaxation.

Nestled beneath towering cliffs in Peroulades, you'll discover the exquisite sandy haven of Loggas Beach.
This geological marvel, adorned with imposing steep rocks, exudes a majestic aura that captures the senses. While offering full beach facilities and water sports, its slender expanse may be temporarily engulfed by waves during rough seas.
Catering to romantics, the beach promises breathtaking sunsets and beckons the adventurous at heart.
See more about Peroulades and Loggas
3) Agios Stefanos
Large organized Sandy Beach for families

The large sandy beach of Agios Stefanos on the northwestern end of the island attracts many people. There are often quite big breakers here, but the water stays shallow for quite a long way.
Ideal Beach for families and relaxing.
More for San Stefanos Beach
4) Porto Timoni beach
Unorganized and distinctive, this dual-sided pebble beach beauty lies on Corfu's western fringe, just 30km from the town.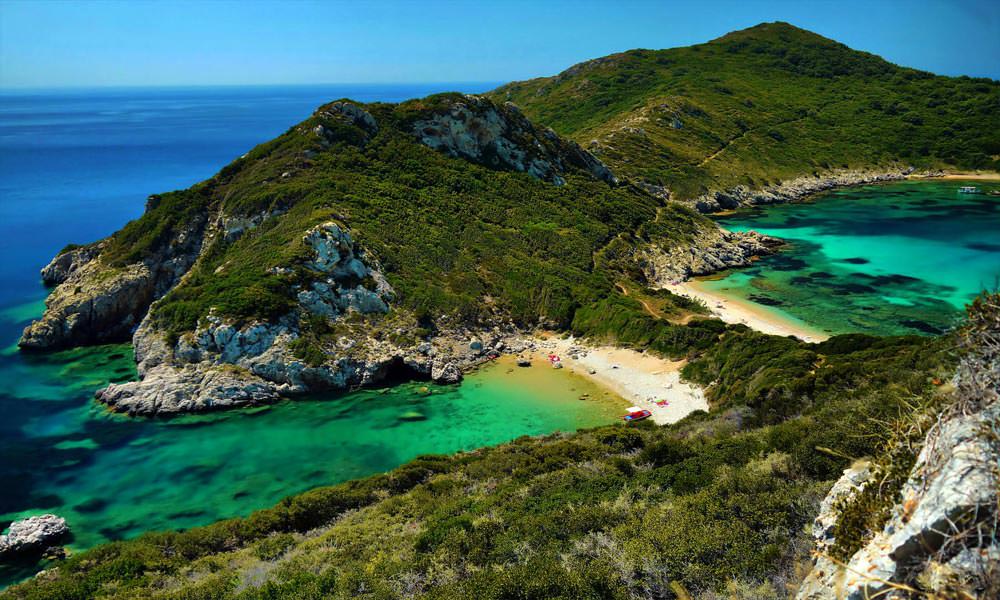 Porto Timoni is a mesmerizing twin beach located between the Gulf of Saint George of Pagoi and Afionas. This unique setting features a slender isthmus that elegantly links Corfu with a petite landmass that might have otherwise stood as an independent island. However, a minor drawback is its exclusive accessibility solely by sea.
For enthusiasts of nature's beauty, Porto Timoni stands as a haven of tranquility and an embodiment of scenic purity. The unspoiled charm of the landscape, coupled with the pristine azure waters, offers an idyllic escape from the bustling world. The beach's serene sandy stretches and the rhythmic whispers of gentle waves create an ambiance of calm, allowing visitors to wholly immerse themselves in the splendor of the natural world.
Porto Timoni excels not only as a sanctuary for those seeking a peaceful retreat but also as a sanctuary for relaxation. The melodious interplay of the waves and pebbled shoreline orchestrates a soothing symphony that washes away the strains of modern life. Be it a moment of introspection or a rejuvenating experience, Porto Timoni extends an open invitation to all, presenting its captivating charm.
In a realm where concealed paradises grow scarcer by the day, Porto Timoni remains a testament to nature's enduring magnificence. This exceptional beach isn't merely a destination; it's a living embodiment of Corfu's awe-inspiring landscape.
More on Porto Timoni
5) Agios Georgios of Pagoi
Large organized Sandy Beach with watersports for families

It is a spectacularly beautiful beach inside a huge horseshoe-shaped bay. It is fringed with small hotels, bars, and tavernas along the length of the sand and shingle beach?
A very laid back, relaxed resort, not overly commercial, and appealing to those wanting a quiet holiday, but with things going on that they can join in if they choose.
A family beach and resort.
At the northern end, the cliff rises and a village can be seen at the top. Afionas, with spectacular sunset views and some excellent tavernas- but a steep climb.
More for Agios Georgios Pagon
6) Beaches inside Paleokastritsa
Paleokastritsa, gracing the northwest side of the island, unfolds its captivating beaches at a distance of 25 kilometers from Corfu town.

Nestled within the Paleokastritsa settlement are seven distinct beaches, each nestled between round-shaped capes.
These beaches boast refreshing, crystal-clear waters that are perfect for swimming and water sports enthusiasts.
You'll find convenient amenities such as taxi boats, sunbeds, umbrellas, and the option to rent motorboats and canoes on most of these beaches.
Beaches inside paleokastritsa
Ampelaki Beach is the first on the line starting from West.
Agios Petros beach, very close to the first, inside the first cove.
Palaiokastritsa or Agios Spiridon, the central beach, in between the two capes. Voted inside the 10 best beaches in Corfu.
Alipa Beach, where there is a small harbor, is the Alipa port, suitable for small yachts, speed, and fishing boats. From this port, you can hire a boat to visit the neighboring isolated beaches and remote caves south of Paleokastritsa.
Platakia beach.
Agia Triada Beach.
The beach of La Grotta, the easternmost. Opposite the beach of Liapades a couple of miles to the East.
See all Palaiokastritsa beaches
7) Rovinia Beach
A remote and exquisite beach often hailed as one of the most breathtaking in all of Corfu.
Rovinia Beach boasts a unique charm, featuring a small petal-shaped expanse adorned with fine pebbles and a touch of sand.
The turquoise sea that graces its shores is exceptionally clear, creating a captivating contrast against the backdrop of towering rocks on either side.
Adding to its allure is a compact yet stunning cave situated to the south of the beach.
Widely regarded as one of the area's most exquisite treasures by tourists, Rovinia Beach stands as a testament to untouched natural beauty.
Accessible both by sea and a land route via a short 600-meter path with steps, this secluded paradise captures the hearts of all who visit.
More about Rovinia beach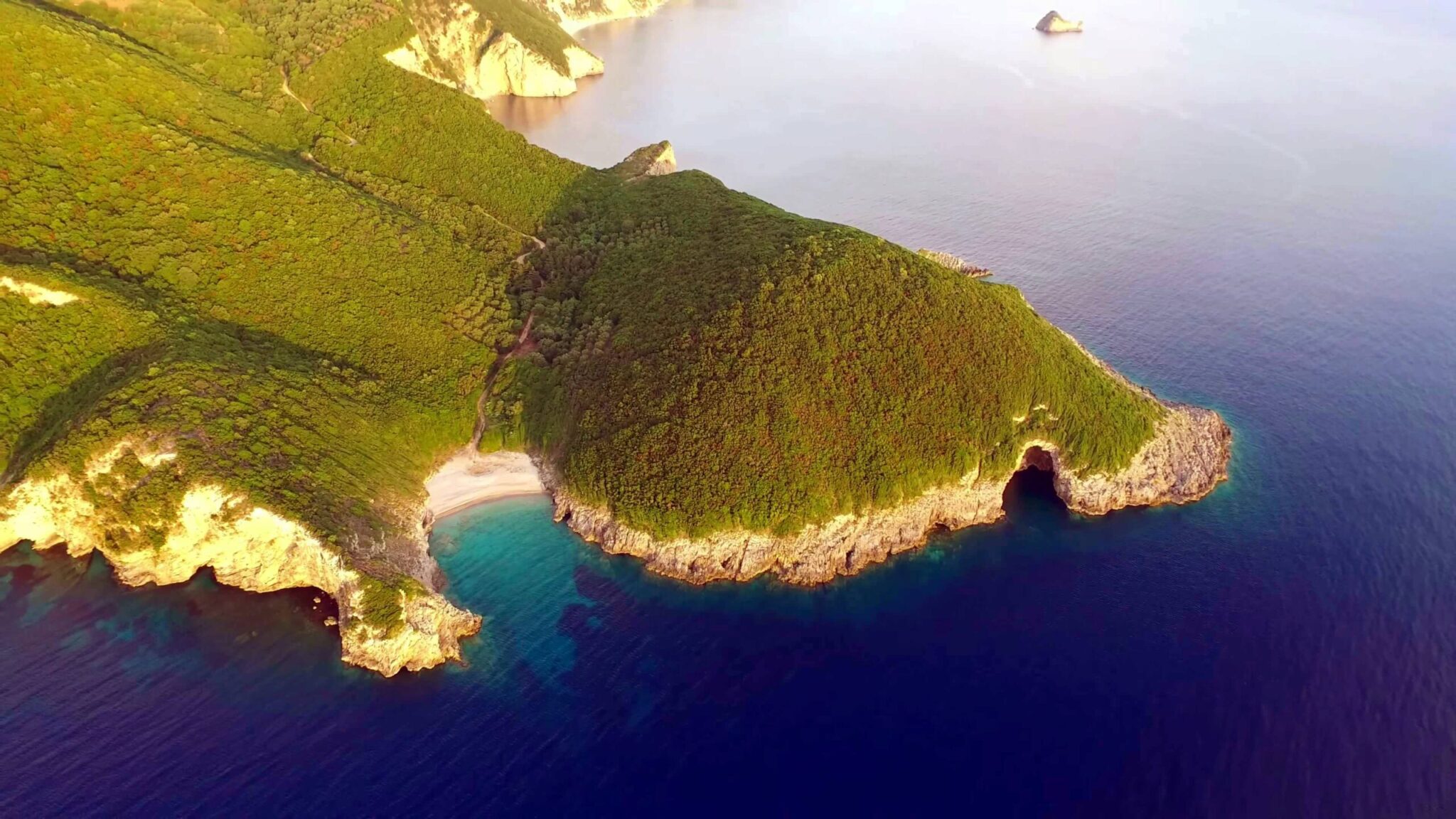 8) Ermones
Organized shingle Family Friendly beach


Just below Paleokastritsa is Ermones. This beach is made up of sand and shingles and can be found on the edge of the Ropa valley. It lays 15 km northwest from the town.
This dramatic cove on the west coast of Corfu is one of the places claiming to be the place where Odysseus landed. Here he found the lovely Princess Nausika and her ladies washing their clothes.
If he arrived now he would find a wide choice of places to stay- all of the high quality. The large hotel on the cliff top has been joined by several boutique establishments. Set in attractive grounds and spread across the bay.
It is a favorite place for golfers to stay, as the golf course in the Ropa Valley is only a few minutes away. So they can indulge their hobby whilst other family members enjoy the clear blue sea or pool. There is a welcoming clubhouse serving drinks and food. The course is challenging enough to occupy many golfers who return annually.
More about Ermones
West Corfu Beaches
9) Myrtiotissa Nudist Beach
Situated at the heart of Corfu's western side, this sandy beach offers a partly organized haven that welcomes nudist enthusiasts. Just 16 kilometers from the town, its central location makes it easily accessible for those seeking a liberating and nature-infused beach experience.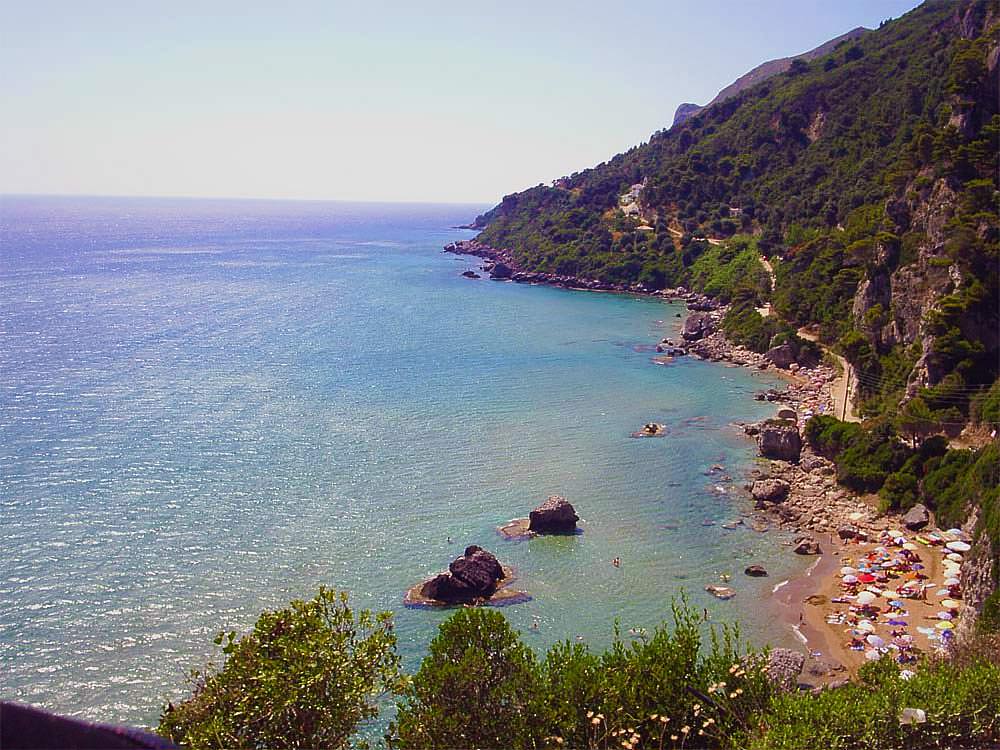 Renowned as one of Europe's most stunning beaches, Myrtiotissa holds the distinction of being the sole beach on Corfu where nudism is officially embraced. Its secluded beauty can be accessed via a steep path or by the sea, offering a sense of adventure to those who seek it.
Nestled just north of Glyfada, this small sandy gem is discreetly tucked away, separated from its counterpart by a towering rock formation.
The allure of Myrtiotissa extends beyond its natural beauty—it's widely regarded as one of the finest beaches in Corfu. Unlike its counterparts, this beach remains untouched by hotels, apartments, or restaurants, preserving its unspoiled charm amidst the lush surroundings.
See more of Mirtiotissa beach
10) Glyfada Beach
Situated along the vibrant western coast of Corfu, this organized and cosmopolitan beach boasts golden sands and a plethora of water sports activities. A mere 15 kilometers from the heart of the town, it offers both convenience and a lively atmosphere for beachgoers seeking a blend of relaxation and excitement.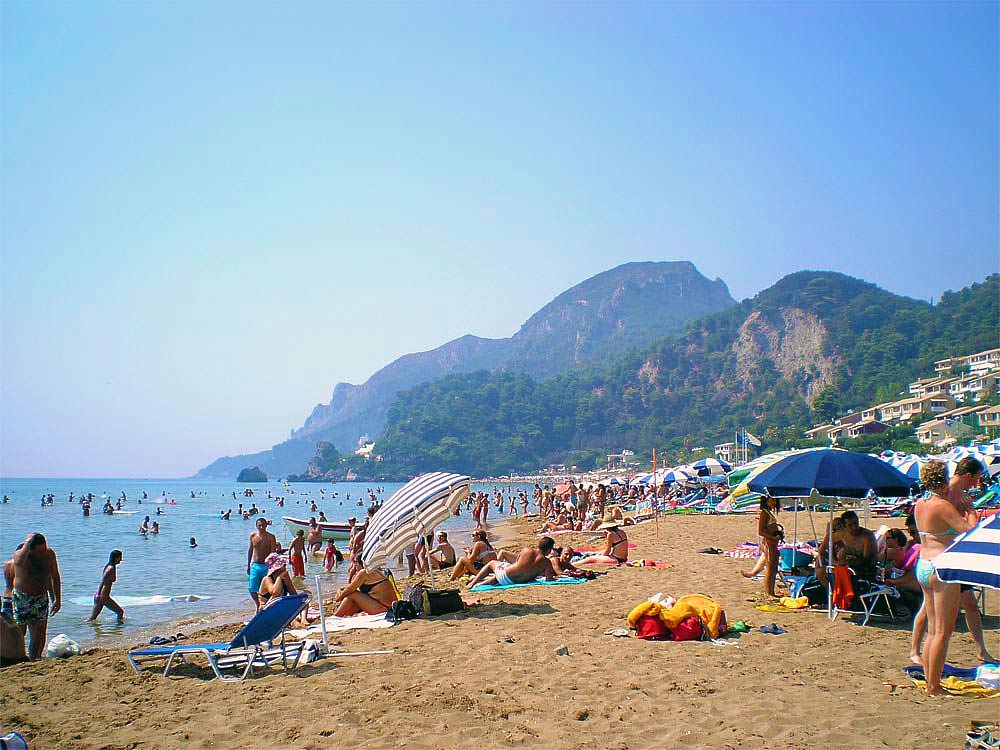 Glyfada stands as a cosmopolitan haven, appealing to individuals of all ages who are eager to forge new connections. Undoubtedly, it ranks among the finest beaches that Corfu has to offer, promising an unparalleled experience.
At Glyfada, a profusion of lodging options, apartments, and dining establishments await. Moreover, it boasts some of the island's most renowned nightclubs, rendering it an ideal destination for those seeking after-dark entertainment.
Effortless connectivity is ensured, with buses conveniently transporting visitors from Glyfada to Corfu Town. This route takes passengers through Aqualand, the island's largest water park, and close to the lush green expanse of the Ropa Valley golf course.
More about Glyfada beach
11) Pelekas and Kontogialos Beach
Kontogialos Beach, south of Glyfada and a mere 15km from Corfu Town offers a family-friendly haven with its sandy expanse and water sports, all set against a backdrop of organized amenities.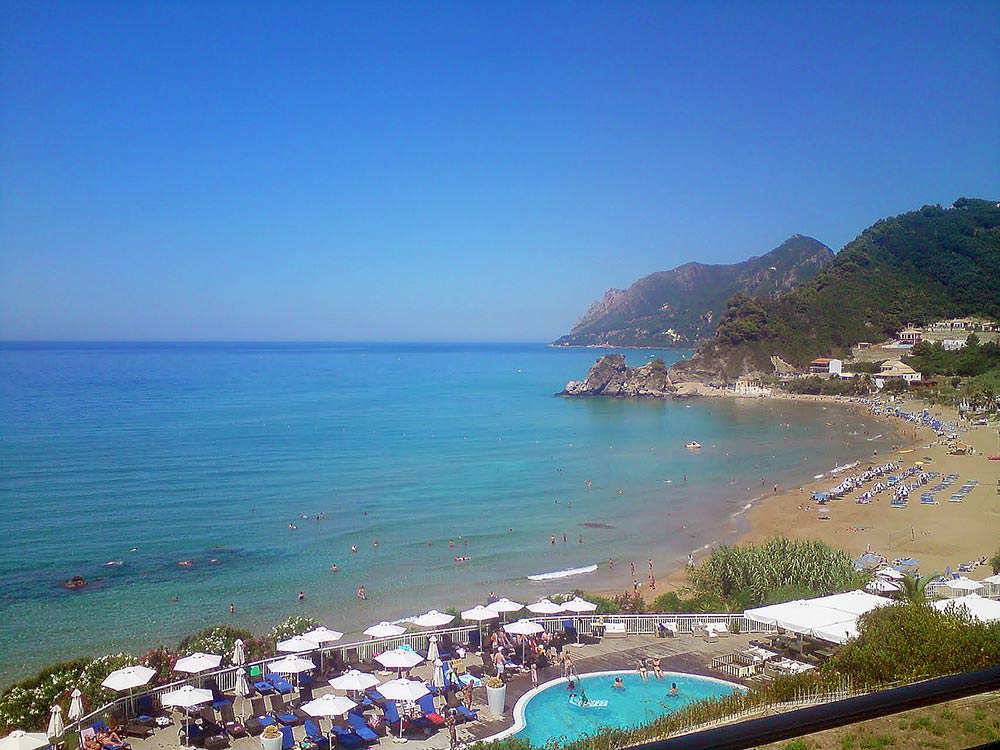 Nestled beneath the renowned village of Pelekas, Kontogialos Beach carries a rich history that echoes with the free-spirited vibes of the '60s, when it became a cherished refuge for the bohemian souls of the hippie era.
Stretching out as a vast expanse of meticulously organized sandy beauty, this beach is more than just a picturesque sight; it's an invitation to bask in serene moments of relaxation and tranquility.
Perched atop the hill, where the enchanting Pelekas village graces the landscape, a breathtaking viewpoint awaits. With a history steeped in legend, it's whispered to be a favorite haunt of Kaiser Wilhelm 2nd, who would often traverse from the splendid Achilleion Palace in Gastouri to savor its vistas.
From this vantage point, the panorama unfolds, an awe-inspiring canvas that encompasses the charismatic Corfu Town, the tranquil bay of Gouvia, and the sweeping coastline that unfurls towards Nissaki. Meanwhile, the foreground is adorned with the verdant meadows of the Ropa Valley, a sight that adds a touch of magic to the tapestry of Corfu's treasures.
More about Pelekas and Kontoyalos beach
12) Gialiskari Beach
Sandy, Remote, not organized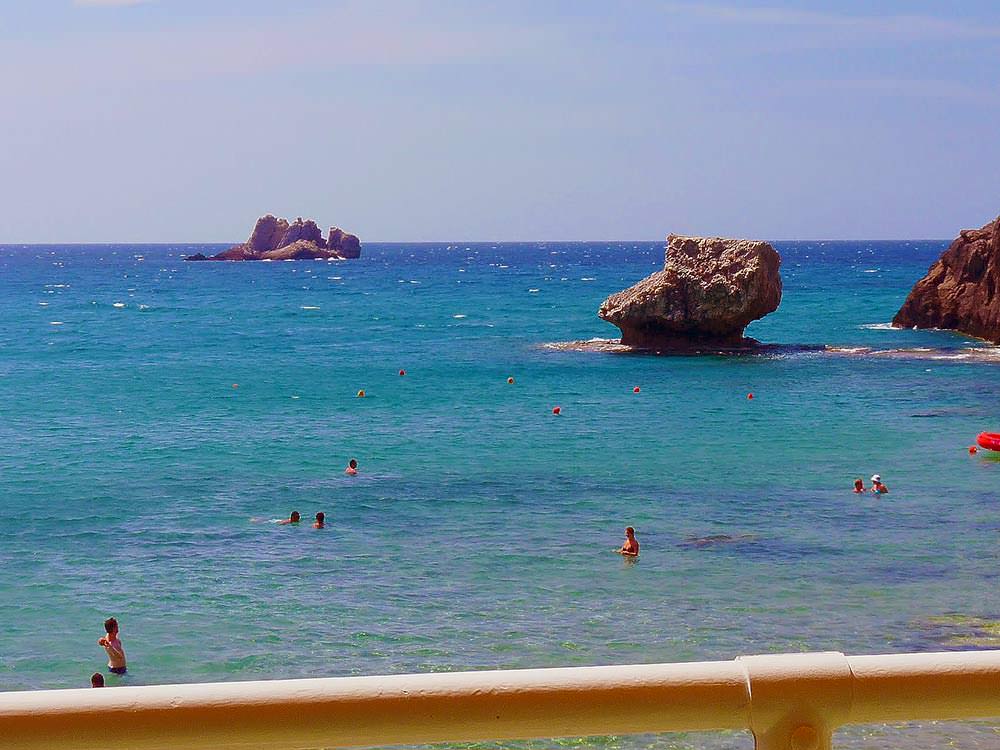 Gialiskari is further south. A small beach yet quiets sandy beach well-organized with sunbeds and umbrellas. A place surrounded by woods which keeps the temperature low especially in the summer. Rather like natural air conditioning.
Nice beach for nature lovers and relaxing.
On the beach, there are water sports facilities for the more adventurous types.
The background is rocky and magnificent. It offers natural shade and the wider area guarantees peace. Just behind the beach, there are several hotels and restaurants.
13) Agios Gordios Beach
Large Sandy, family-friendly, water sports, organized
Nestled on Corfu's western coast, the expansive Agios Gordios beach offers a sandy haven that culminates at the striking Ortholithi rock.
Similar in some aspects to Glyfada, Agios Gordios has a unique character, catering to both young visitors and families.
With soft sands and gentle waves, it's perfect for sunbathing, swimming, and water sports.
As one of Corfu's finest beaches, Agios Gordios features restaurants, bars, and a relaxed ambiance, making it a must-visit destination. Just 15 kilometers from Corfu, it's a convenient and captivating escape.
All about the beach of Agios Gordios
Southwest Corfu Beaches
14) Vagonaki, Paramonas, Prasoudi, Kanouli, Gardiki, Alonaki
Not organized small remote sandy beaches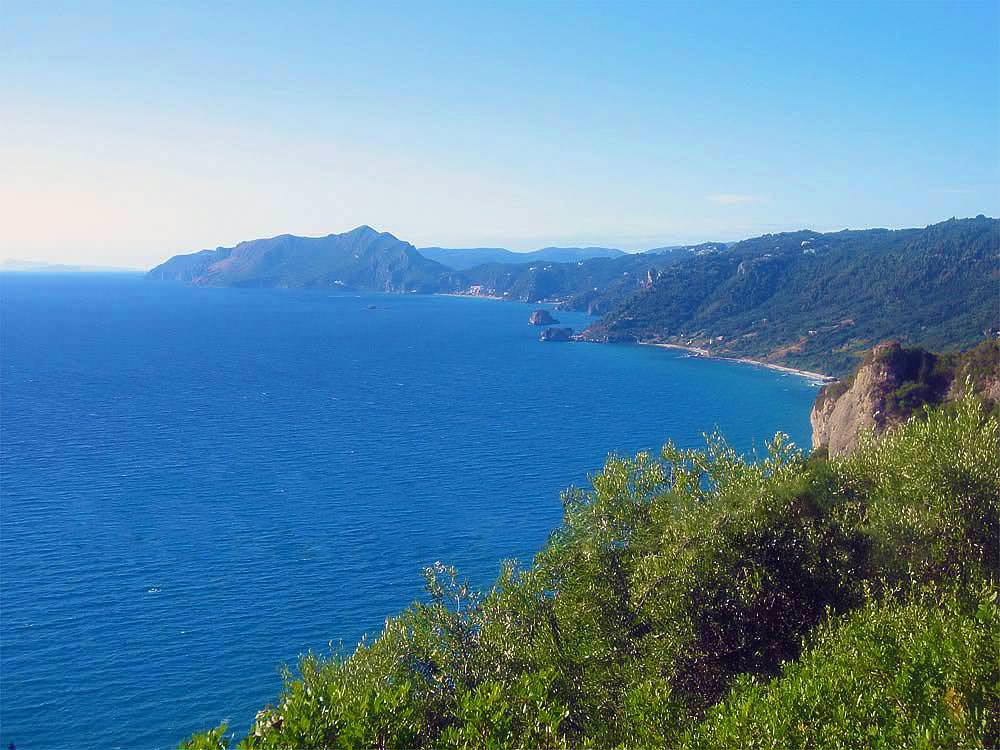 Vagonaki and Paramonas follow further south, then Prasoudi, Kanouli, Gardiki, Alonaki.
All small peaceful beaches in small bays. Some are hard to reach and many are quiet, on the west to the South part of the island, good for relaxing.
15) Chalikounas Beach
Nestled on the southwest coast of Corfu, this vast and semi-organized sandy beach is a haven for paragliding and water sports, attracting adventure enthusiasts. Situated approximately 20 kilometers from the town, it offers a unique blend of excitement and serenity.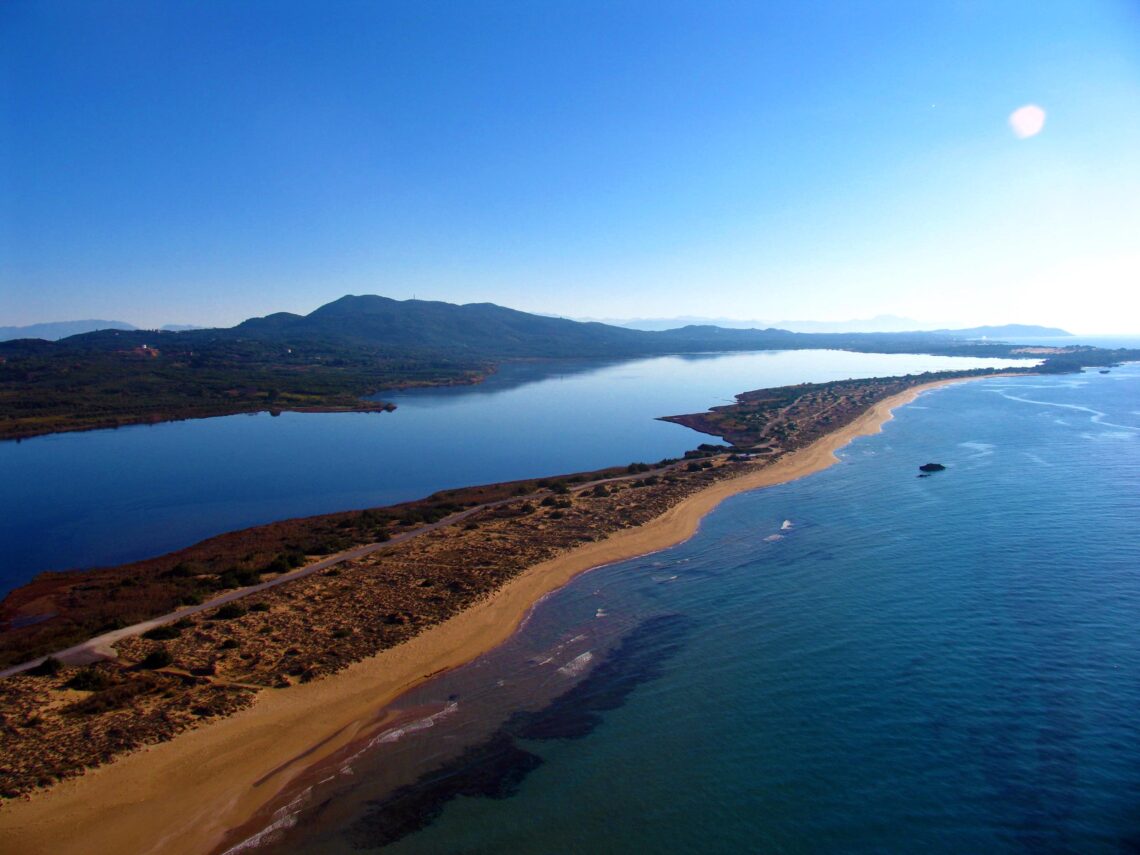 Undoubtedly, Chalikounas stands among the finest sandy beaches of Corfu, closely followed by the inviting shores of Issos to the south.
Chalikounas boasts expansiveness, and diverse landscapes, including a forest and a lagoon behind the sand dunes.
Importantly, it retains its unspoiled beauty, devoid of excessive tourist structures, making it a serene escape.
This part of the island might even evoke comparisons to the allure of the Sahara Desert right here in Corfu.
Click to go to Chalikounas beach
16) Issos Beach
Expansive sandy beach located in the southwestern part of Corfu, nestled between Chalikounas and St. George, with a distance of approximately 20 km from the town.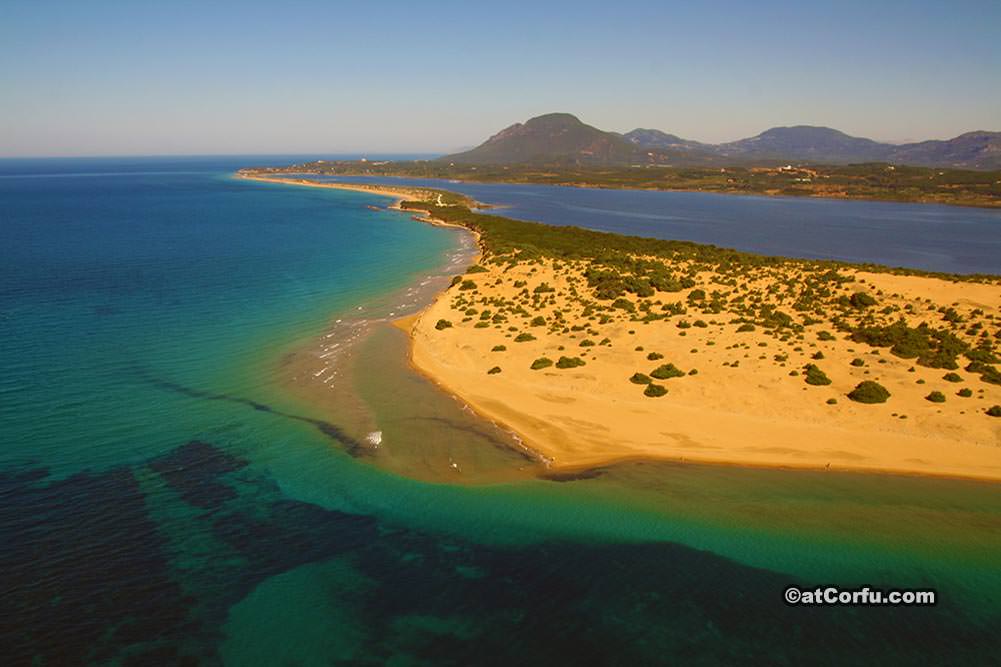 The Issos sandy beach seamlessly continues, matching its expanse and beauty. It stands proudly among the finest beaches in Corfu.
An alternative access point to the beach can be found off the main road, immediately following the long, linear pathway of Linia. We earnestly hope this location's current state endures through time; the photographs vividly capture the landscape's exceptional nature.
Collectively, the Issos and Chalikounas sandy beaches extend over a distance exceeding 10 kilometers. Their golden sands and perpetual waves create an optimal setting for activities like surfing, windsurfing, and paragliding.
Fortuitously, their proximity to the Korission lagoon, as well as the extensive 3 km cedar forest, ensures their designation as protected regions. In harmony with the surroundings, lodging and dining establishments have refrained from emerging in this locale.
Take me to Issos beach
17) Saint George Beach South at Argyrades
Well-equipped expansive sandy beach, perfect for families and offering water sports facilities, situated on the western coast at a distance of approximately 20 km from Corfu airport.
Saint George in Argyrades remains incredibly charming and continues to rank among the finest beaches in Corfu.
This expansive sandy haven boasts finely textured sand and is meticulously arranged with amenities such as umbrellas, sunbeds, and an array of water sports facilities.
Should you prioritize the convenience of shops and restaurants, a visit to this beach is highly recommended.
Read more about St George beach
18) Marathias and Santa Barbara
Well-arranged sandy beaches featuring water sports options, located along the western coast near the southern tip; the distance from Corfu center is approximately 30 km.
Marathias and Santa Barbara lie to the southern expanse of Saint George, comprising a duo of contiguous sandy beaches stretching an impressive four kilometers in total length. This exquisite coastline secures its position within the island's top 10 beaches.
Ideal for unwinding, catering to families, as well as couples seeking serenity. The northern section answers to Marathias, while the southern counterpart assumes the name Santa Barbara.
Should you encounter a sign on the main road directing you to Malta or Marta Beach, it's important to note that this refers to the identical location, distinguished only by the nomenclature preferred by the local residents.
Read more about Marathias beach
19) Megas Choros
An unorganized, secluded sandy beach located to the south of the island, positioned shortly after Marathia Beach and prior to Gardenos. It stands at a distance of 38 km from the town of Corfu.
This secluded sandy expanse bears the name Megas Choros, which translates to "Great Dance" (Choros=Χορός=Dance), supposedly derived from the pirates' celebratory dances in this expansive area following their successful looting, as local legend recounts.
Alternatively, another interpretation attributes the name to "Great Space," stemming from the word Choros=Χώρος=Space.
Irrespective of its etymology, this beach remains a picturesque, vast, and untouched destination. Accessible via a narrow dirt road traversing the village of Vitalades, your journey will be rewarded with the serenity of the landscape and the pristine, untouched beauty of the sandy shoreline.
20) Vitalades beach of Gardenos
Well-equipped, expansive sandy beach offering water sports facilities, situated in the southern region of Corfu, at a distance of 38 km from the airport.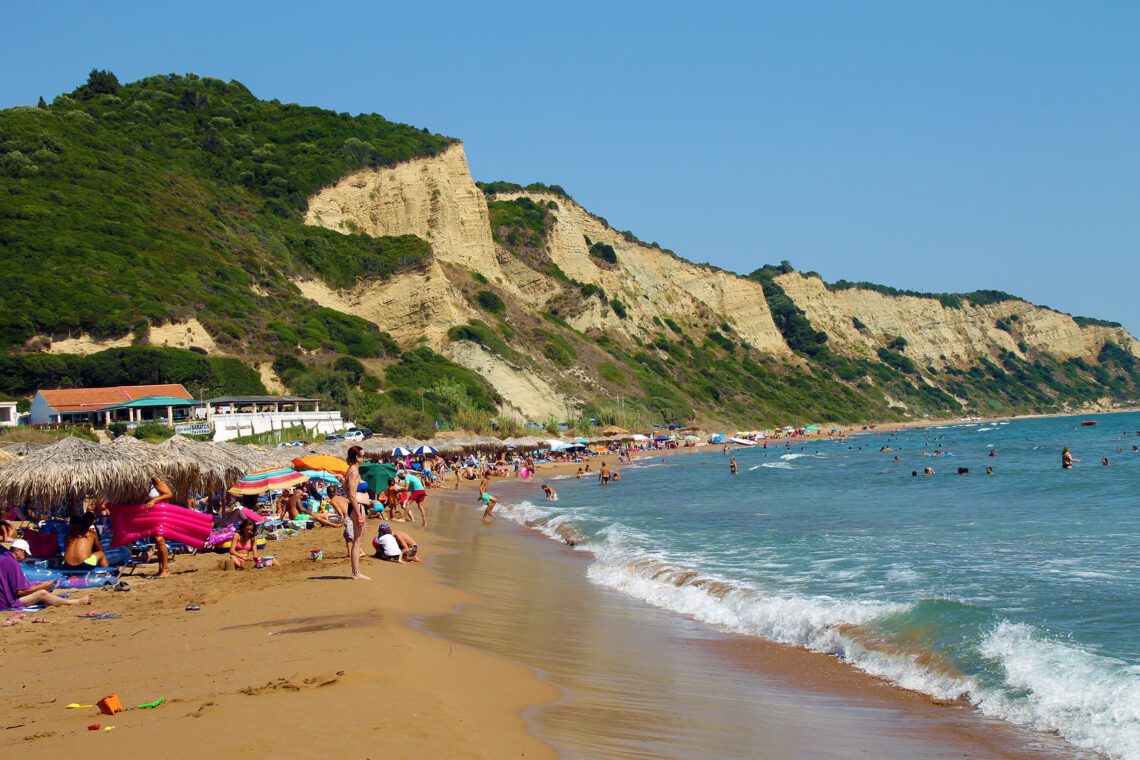 Continuing further south lies the exquisite, expansive sandy beach of Gardenos in Vitalades. This beach is a haven for sand enthusiasts, catering to both couples and families.
The nomenclature of the area is derived from a petite river that gracefully meanders across the beach.
Read more about Gardenos
21) Megali Lakka (Kanoula beach) or Agios Gordios of South
Not organized Sandy remote beach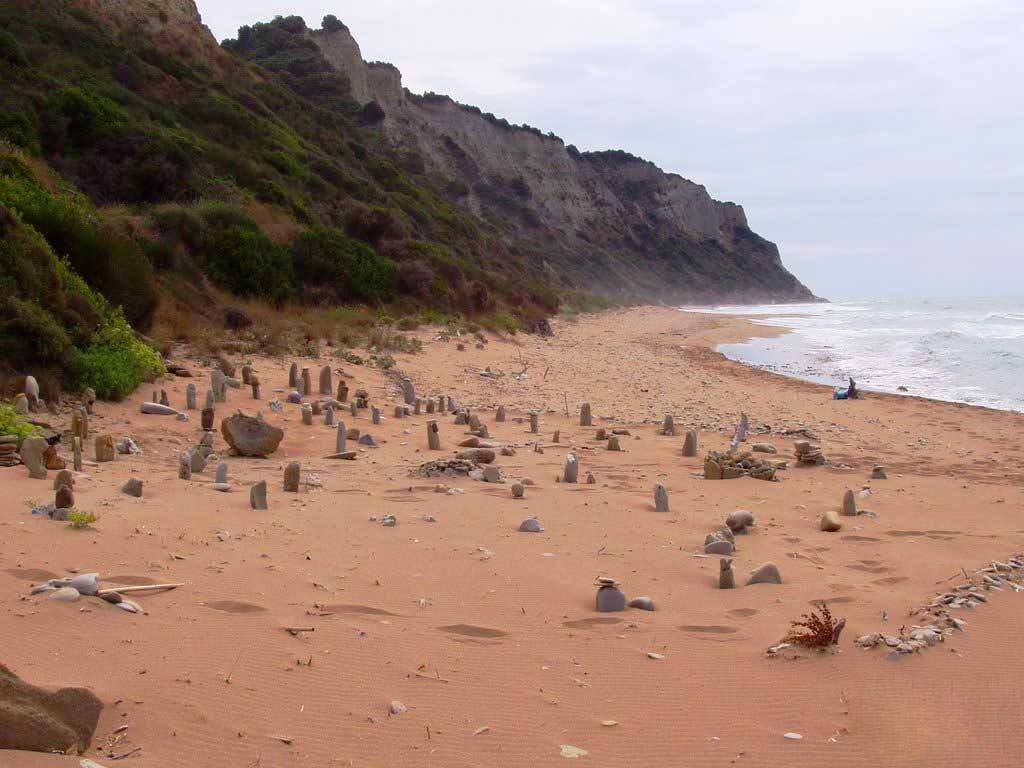 This magnificent beach is just before one of the southern capes of Corfu named Arkoudila.
About 44 km from Corfu town is the beach of Lakka or Agios Gordios of South or else Kanoula. Under the traditional villages of the Lefkimi area, Paleochori, Neochori, and Dragotina. But there is only a narrow road to drive down there. Another way to get to it is to walk from Gardenos.
It is the natural continuation of Gardenos beach, a remote beach with golden sand. There is absolutely no tourist infrastructure there. So you must have with you the necessary equipment to enjoy swimming.
22) Arkoudillas Beach
Partially organized and predominantly sandy, the vast expanse remains untouched, nestled within a breathtaking landscape nestled between Corfu's two southern capes: Arkoudillas and Asprokavos. The beach is located 44 km from the airport.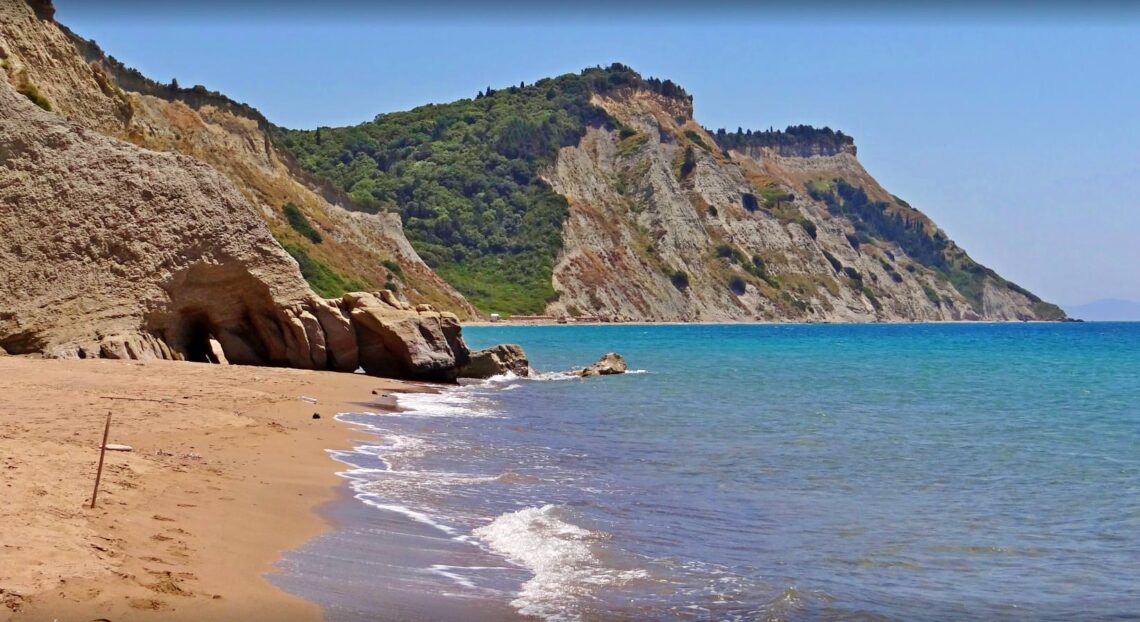 Arkoudila stands as the remotest, grandest, and most majestic beach within Corfu's dramatic and untamed landscape.
This locale can be aptly described as an exotic paradise ensconced in an awe-inspiring setting, characterized by towering seaside cliffs and verdant expanses on the opposite side. Coupled with the sprawling, naturally sculpted golden beach, it stands as, in our estimation, the epitome of Corfu's beaches, devoid of exaggeration.
Owing to its challenging access and primarily due to its considerable distance from the island's central hub, Arkoudila remains relatively obscure; however, this obscurity has proven to be its blessing, leaving it untouched by human influence.
Within this realm, nature crafts masterpieces upon sands and rocks, forming galleries and peculiar erosions, all untouched by human interaction.
For those yearning to witness the true essence of Corfu's unique landscape, an excursion to Arkoudila is imperative for an accurate and unbiased portrayal.
Read more about Arkoudillas
Southeast Corfu Beaches
23) Kavos
Organized, sandy, Cosmopolitan, youth-friendly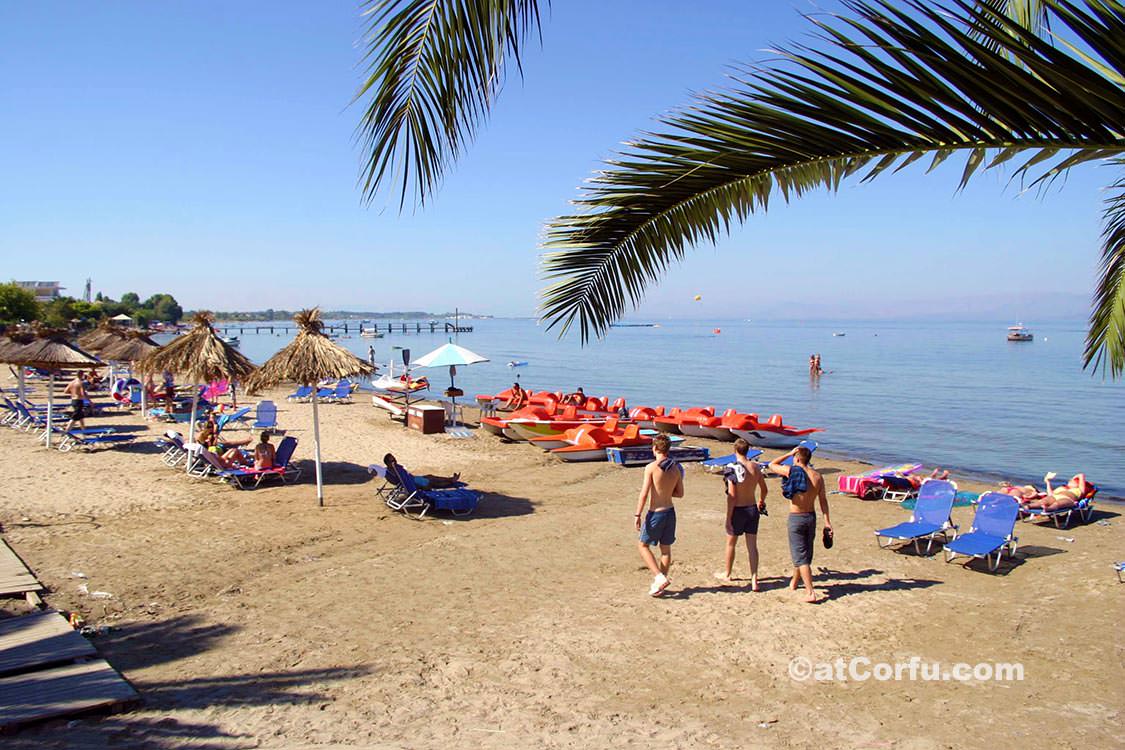 Kavos is on the southernmost edge of Corfu, in the region of Lefkimi and 45 kilometers distance from Corfu town. Currently is one of the most popular tourist destinations on the island.
A Beach for parties and young British tourists, not recommended for relaxing or families.
Preferred mainly by young British tourists because of its rich and notorious nightlife. Offered by the many nightclubs which offer cheap drinks. Also due to the very cheap accommodation offered compared to other destinations.
In the area, there are approximately 15,000 beds divided between cheap hotels, apartments, or studios. But also there are some more expensive hotels outside the noisy settlement.
In Kavos, nobody sleeps before 06-07 in the morning.
Read more about Kavos
24) Messonghi
Organized sandy, cosmopolitan beach with many Water sports
Messonghi lies about 20 km south of Corfu airport and is one of the most popular tourist resorts in Corfu.
Only a river separates it from Moraitika. It offers natural charm and beauty, hidden among green hills and olive groves, and boasts a beautiful beach. Messonghi is a place for families looking for a relaxing holiday.
The beach is sandy with some shingles. Very well organized with sunbeds and parasols as well as plenty of water sports.
More facilities include showers and changing huts. Along the beach, there are many restaurants and Bars.
The sea is clean and calm, perfect for water activities. Suited to families, couples, and especially small children as the waters are very shallow even at large distances from the shore. Therefore very safe.
There is a school for scuba diving run by a friendly Anglo-Greek couple. It's the Nautilus Diving School on the shore of the Messonghi beach hotel. Also recognized as a British Sub Aqua Club (BSAC) school.
They also organize trips for qualified divers and equipment for hire is also provided.
Read more about Messonghi
25) Moraitika
A well-arranged sandy beach exudes a cosmopolitan atmosphere and offers an array of water sports activities. Situated along the southeast coast of Corfu, this beach is conveniently positioned 18 km from the airport.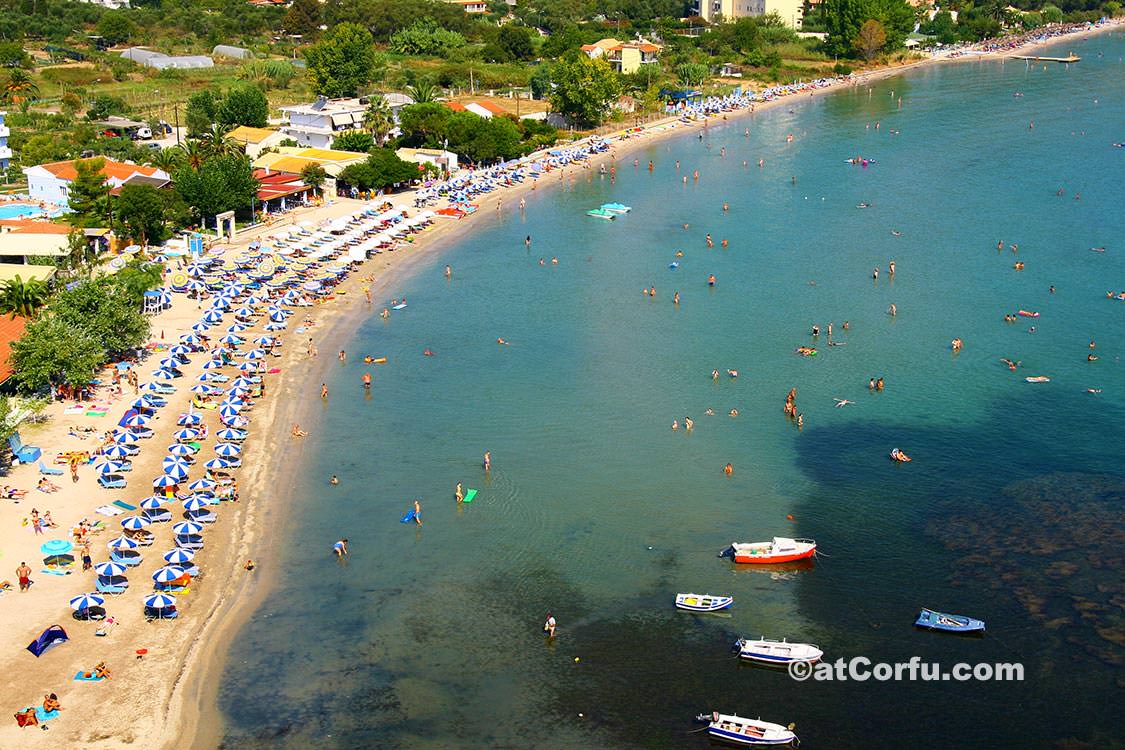 The bustling resort of Moraitika arguably boasts the finest beach on the East Coast for children.
With a blend of sand and pebbles, the seabed gradually slopes deeper, ensuring a gentle and safe transition.
Families revisit repeatedly, rekindling friendships with local Corfiots they have befriended over the years, all while unwinding in the bars and tavernas that grace the beachfront.
Learn more about Moraitika
Central Corfu Beaches
26) Beach at Agios Ioannis Peristeron
Organized shingle beach with Water sports.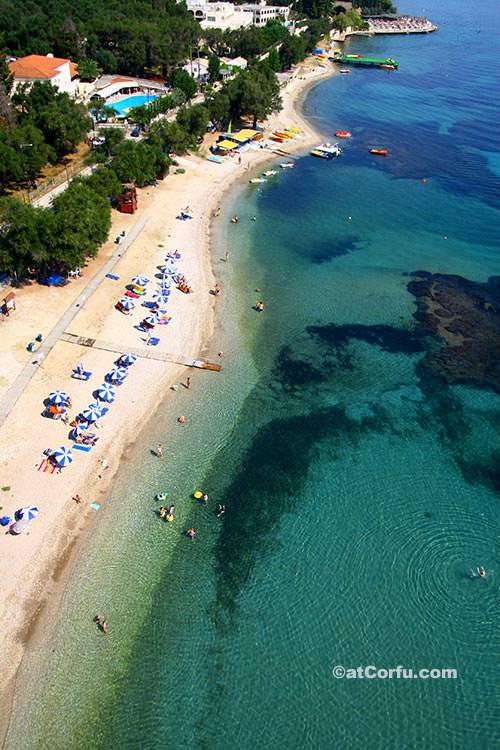 Three kilometers south of Benitses is Agios Ioannis Peristeron (St John of the Pigeons).
The seacoast is a mix of sand and pebbles similar to that of Benitses. It's very popular among the Corfiots, especially at the weekends.
See more
27) Benitses
Organized shingle beach with Water sports.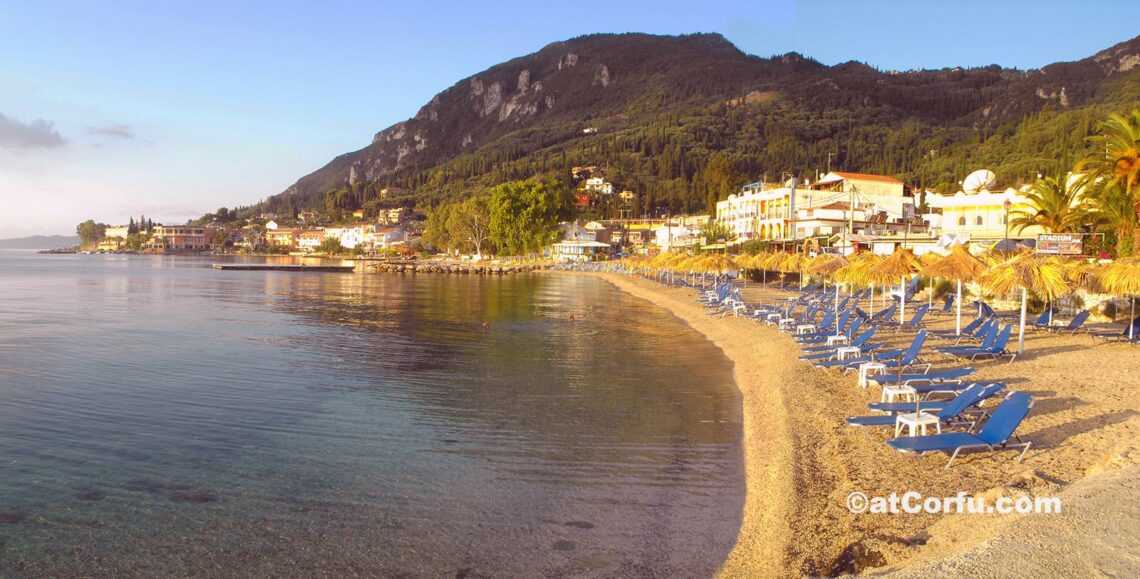 And of course, after your journey, the beaches in Benitses are always here waiting for you..!!
Benitses is one of the original holiday resorts in Greece. A charming combination of mountains and sea, 8 miles from Corfu town.
Benitses is the ideal place for swimming, sailing, and water sports.
There is a beach at the north entrance of the village called Laopetra beach, with shallow and warm waters.
Another beach is next to the new port at the center of the Skaloma settlement, close to most shops and restaurants.
The busier beach with water sports is the Chontrakia or Loutrouvia. It extends from Potamaki hotel up to the bay of Koutsomaroula, which is a natural fishing port.
See more about Benitses Beaches
28) Perama Corfu
Perama is the seaport of Gastouri. A popular seaside tourist resort for many decades, especially during the `80s and `90s.
Beaches in Perama are basic. But still a good choice for those who love to relax and watch the plane's landings and take-offs at the nearby airport.
Today the area still has many hotels and accommodation, surrounded by olive groves. It boasts several beautiful pebble beaches.
Perama has the privilege of the best possible view of the Mouse island and the monastery of Vlaherna. Some restaurants and bars at the beginning of the bridge to Kanoni are the best places to watch plane landings and take-offs to and from Corfu Airport.
Most visitors to Corfu pass through Perama. Although nowadays fewer stay there than in the '80s when it was one of Corfu's most popular resorts.
Situated between Corfu Town and Benitses. Several of its hotels and coffee bars enjoy uninterrupted views of Corfu's most photographed sight, Mouse Island (Pontikonissi).
Read more about Perama
Northeast Corfu Beaches
29) Dassia
Organized shingle beach with Water sports.

Dassia, 8km north of Corfu town, was the site of Europe's first Club Mediterranee. Its promontory now empty and awaiting development by its new owners.
The sand and shingle beach is popular with families
See more about Dassia
30) Ipsos
Organized shingle beach with Water sports.
Ipsos lies in a large bay at the foot of Mount Pantokrator, Corfu's highest peak.
9 km north of Corfu town, it is a lively resort and long pebble beach with mostly English tourists. With water sports and a diving school, and dolphins are often spotted frolicking out at sea.
At the southern end is a small harbor with fishing boats
Read more about Ipsos
31) Barbati and Nissaki
A well-arranged pebble beach offering water sports activities. The distance from Corfu town is a mere 12 km.
Barbati is a rocky beach cherished by Corfiots who used to come for picnics in the olive groves on weekends. A sudden wave of construction has transformed it into a bustling, dynamic resort that has gained immense popularity among vacationers.
The beach primarily consists of pebbles and offers crystal-clear waters.
Read more about Barbati
32) Agni
An organized pebble beach with Water sports and some restaurants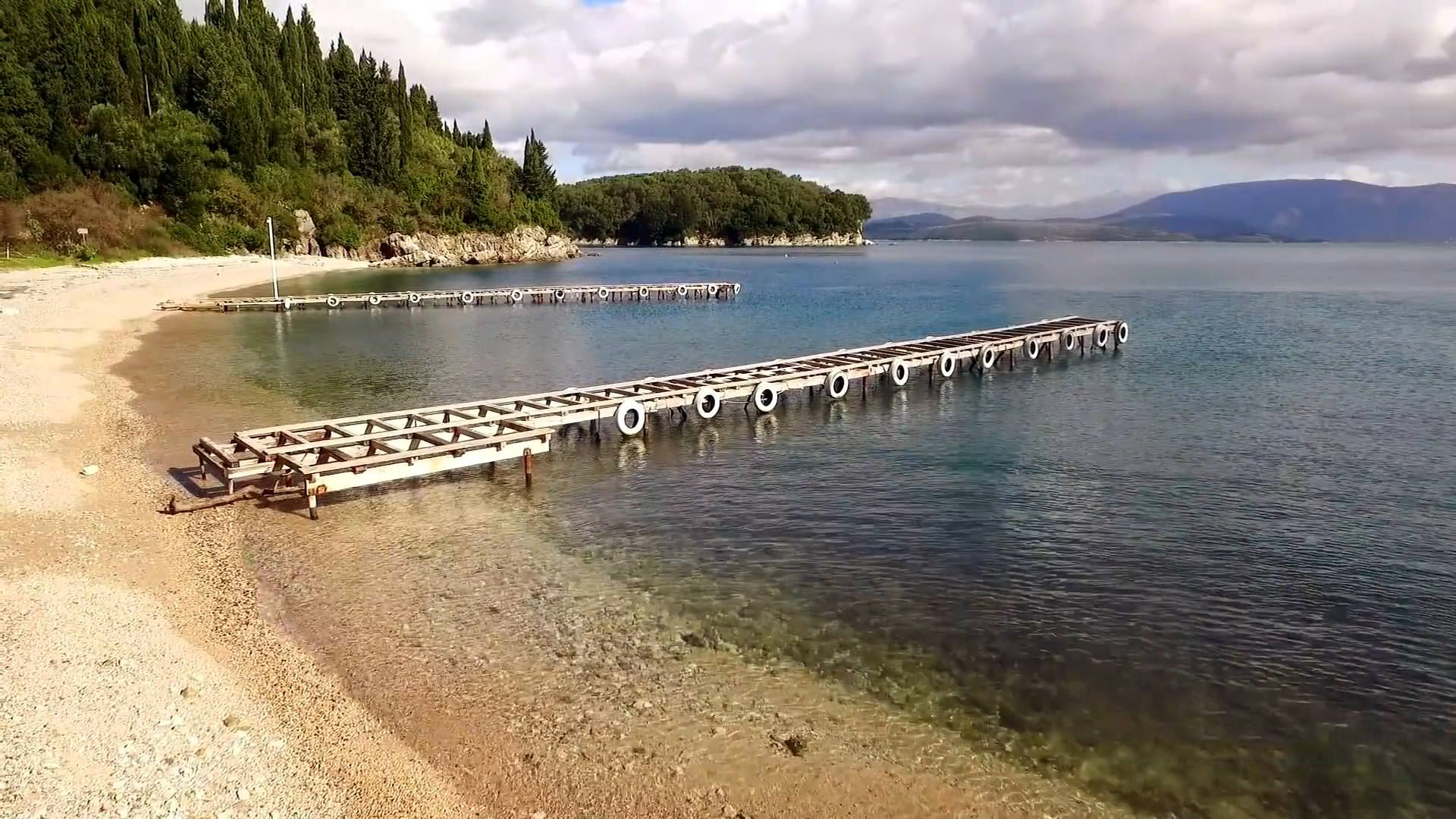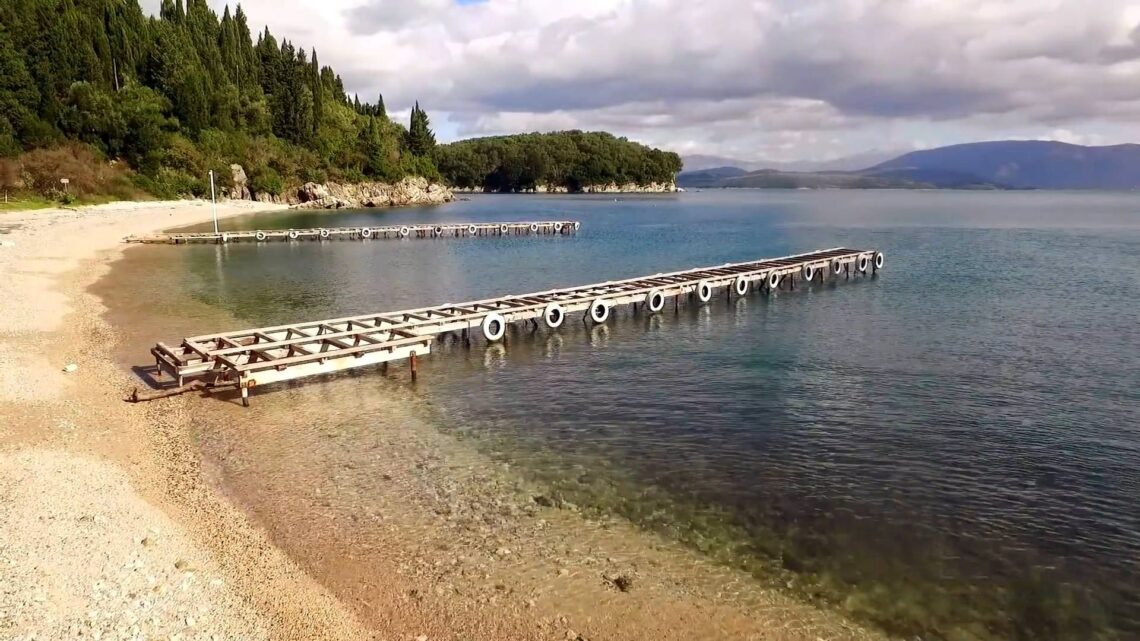 Situated on the North East Coast inside a small bay about 30 km from Corfu town.
Olive groves are on either side of the bay.
There are only three tavernas, each with its jetty for mooring. And some houses for the locals. So you cannot say that it is a tourist destination rather than a peaceful location.
The beach is with pebbles and the waters are crystal clear. It is a good place for relaxing and eating during the day.
33) Kalami
An organized pebble beach with Water sports and restaurants

Kalami, the village where Lawrence Durrell lived in the 1930s. It has grown into a small resort, with several tavernas. One of which is in the house where Durrells lived- the White House.
It is an attractive bay with water deep enough in the middle for yachts to moor.
34) Kouloura
Round shaped port, nice landscape.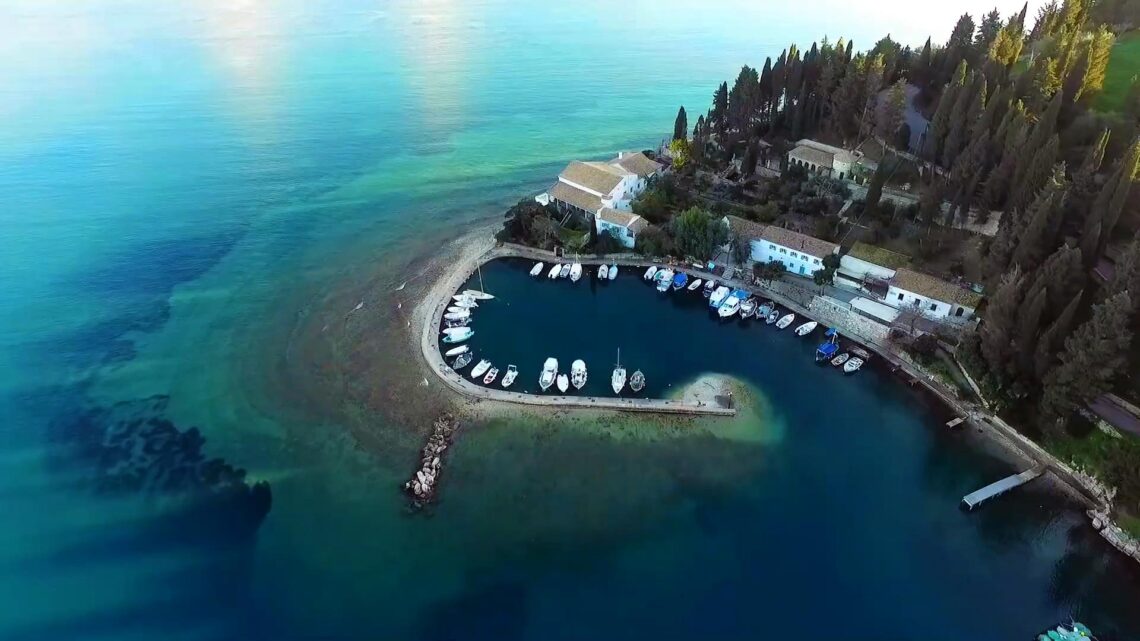 Kouloura is probably the prettiest cove on Corfu. Its ancient fortress house protecting the horseshoe-shaped harbor. With one simple taverna.
There is a viewpoint on the main road looking down on the bay and over to the Albanian coast. There another fort, identical to Kouloura's, has been allowed to fall into decay.
35) Kerasia Beach
Partially organized pebble beach located approximately 32 km from the airport, near the northeastern tip of the island.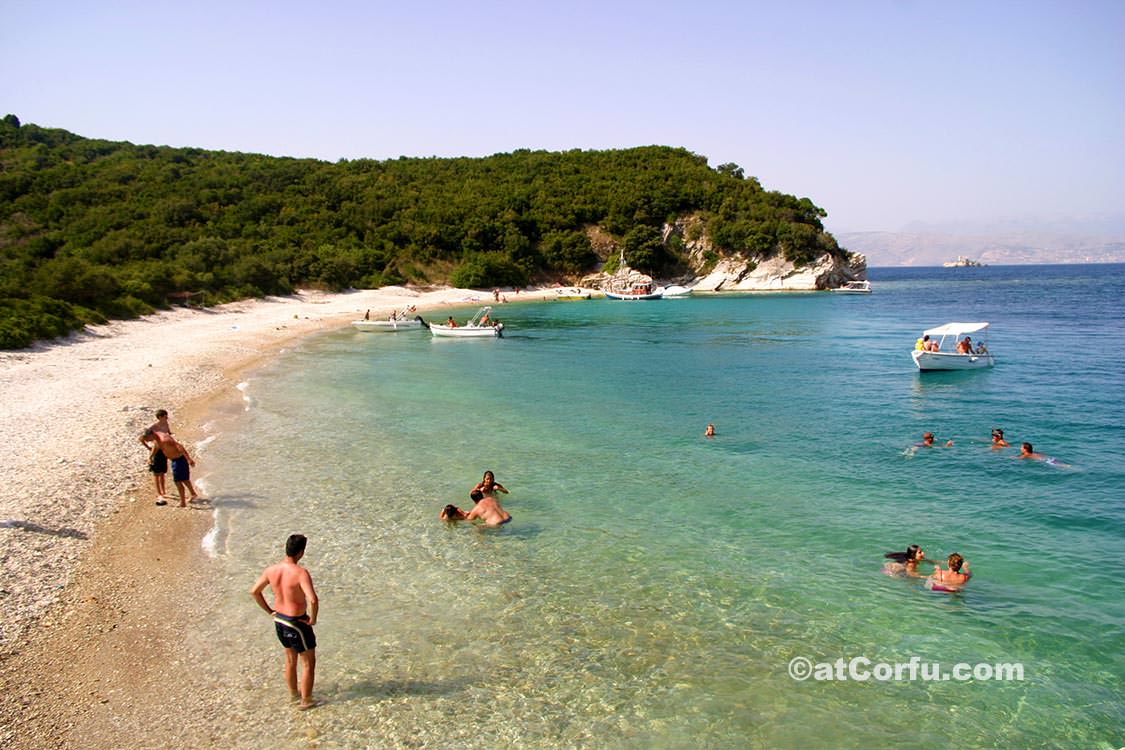 Kerasia is an expansive beach bordered by trees and adorned with several unassuming bars and tavernas.
It's a destination best suited for daytime visits, as it doesn't provide accommodations like a typical resort would.
36) Agios Stefanos of Sinies
A port for small yachts and fishing boats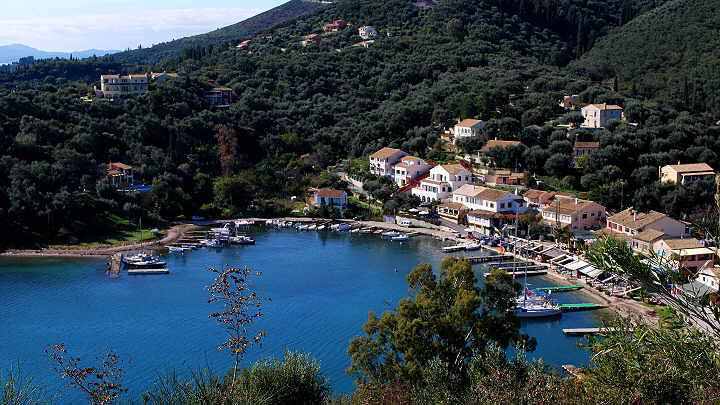 Agios Stefanos (Sinies) is much more sophisticated. Catering for the occupants of the luxury villas which can be seen all along this coastline. Some on the coast itself, but many hidden in the olive covered slopes above.
It is a lively yacht harbor, with tavernas along the waterfront. And it is difficult to imagine that in relatively recent times this was a forbidden area. Permits were needed- as it is situated on the narrowest part of the Corfu Channel, only 1.5 km away from Albania.
Read more about Sinies
37) Corfu Beaches of Erimitis area
Secluded pebble beaches showcasing untamed beauty can be found at the northeastern tip of the island. The distance from the town is approximately 37 km.
There are a total of 11 small, secluded, and untouched beaches in the Erimitis area.
Briefly mentioning them in sequence to the east of Kassiopi:
Avlaki
Vouvalomantria Beach
Vrachli Beach
Tzoufaka
Arias Beach
Akoli
Vromolimni
Kaminakia Beach
Korfovounia
Aspalathras
Xylokeratia Beach.
All beaches on Erimitis area
38) Kassiopi
Organized shingle and sandy mixed beaches, water sports, restaurants


Kassiopi is on the northeast tip of Corfu. Looking across the narrow channel to the Albanian port of Saranda.
There are nice beaches here although the village is more known for its port. In the north of the port they are sandy and in the south of it are mostly rocky with spectacular landscapes.
Kassiopi played a major role in the island's history. As can be seen by the impressive ruins of the castle overlooking the harbor.
It is said that Nero watched a play in the theater. Antony and Cleopatra stayed here before the battle of Actium, where they suffered a huge defeat.
The castle was a major stronghold in Byzantine and Venetian times. One of four around the island. With watchtowers in between so signals could be rapidly exchanged.
Read more about the Beaches in Kassiopi
39) Acharavi
Organized Sandy huge beach with Water sports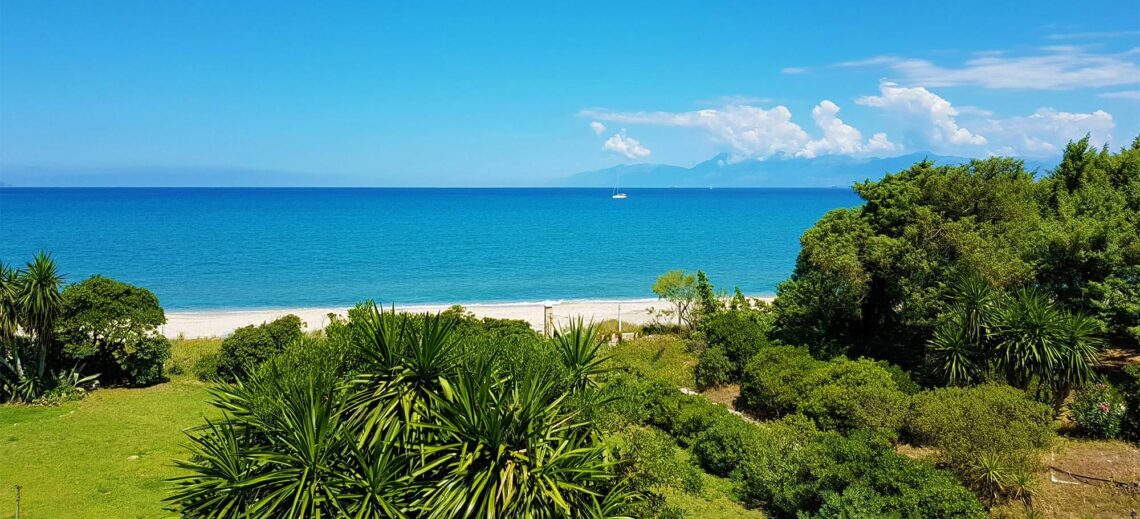 This was once a small village, clustered around the well in the middle. But it is now a small town, with banks, supermarkets, schools, etc.
The old village can be found but has to be searched out. Hidden behind the modern buildings fronting the main road. It ends on the lanes leading down to the sandy beach.
Acharavi beach is very long, it covers about 30% of the north coast of Corfu. Therefore in some parts, it is sandy and in other parts shingle. It is suitable for families and relaxing holidays.
There are many tavernas, bars, and shops here. So many local people no longer need to make trips to Corfu Town. Almost everything can be found on their doorstep!
Read more about Acharavi
40) Roda
A well-organized sandy beach offering water sports activities situated along the northern coast of Corfu, at a distance of 38.5 km from the airport.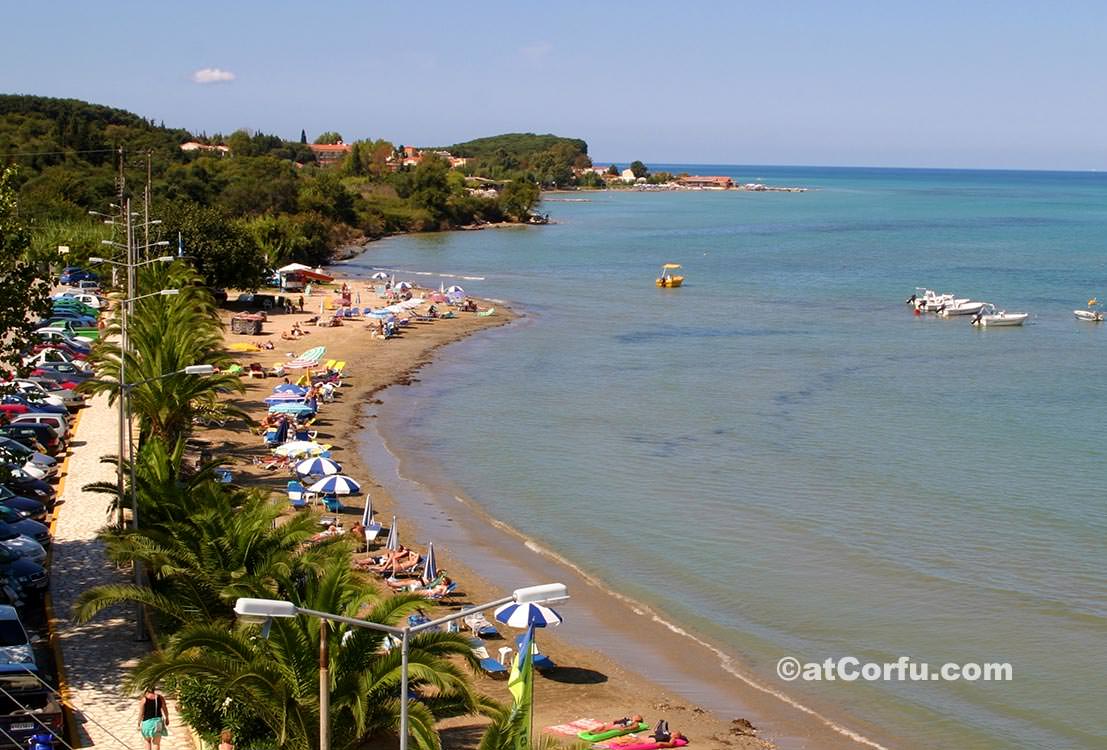 Roda stands as one of the longstanding villages along the northern coast, with a well-established tourism presence spanning numerous years.
The central focus of the village undeniably lies in its sandy beach, embellished by an array of shops, bars, and tavernas. This expansive sandy expanse is particularly suitable for relaxation and families.
More about Roda beach
Is there a Map of Corfu beaches?
Below is a map displaying the locations of nearly all the renowned beaches in Corfu.
This informative map showcases a variety of beach types, including extensive sandy beaches, well-organized sandy beaches, organized pebble beaches, blended beaches featuring both sand and pebbles, as well as smaller, secluded sandy or pebble beaches.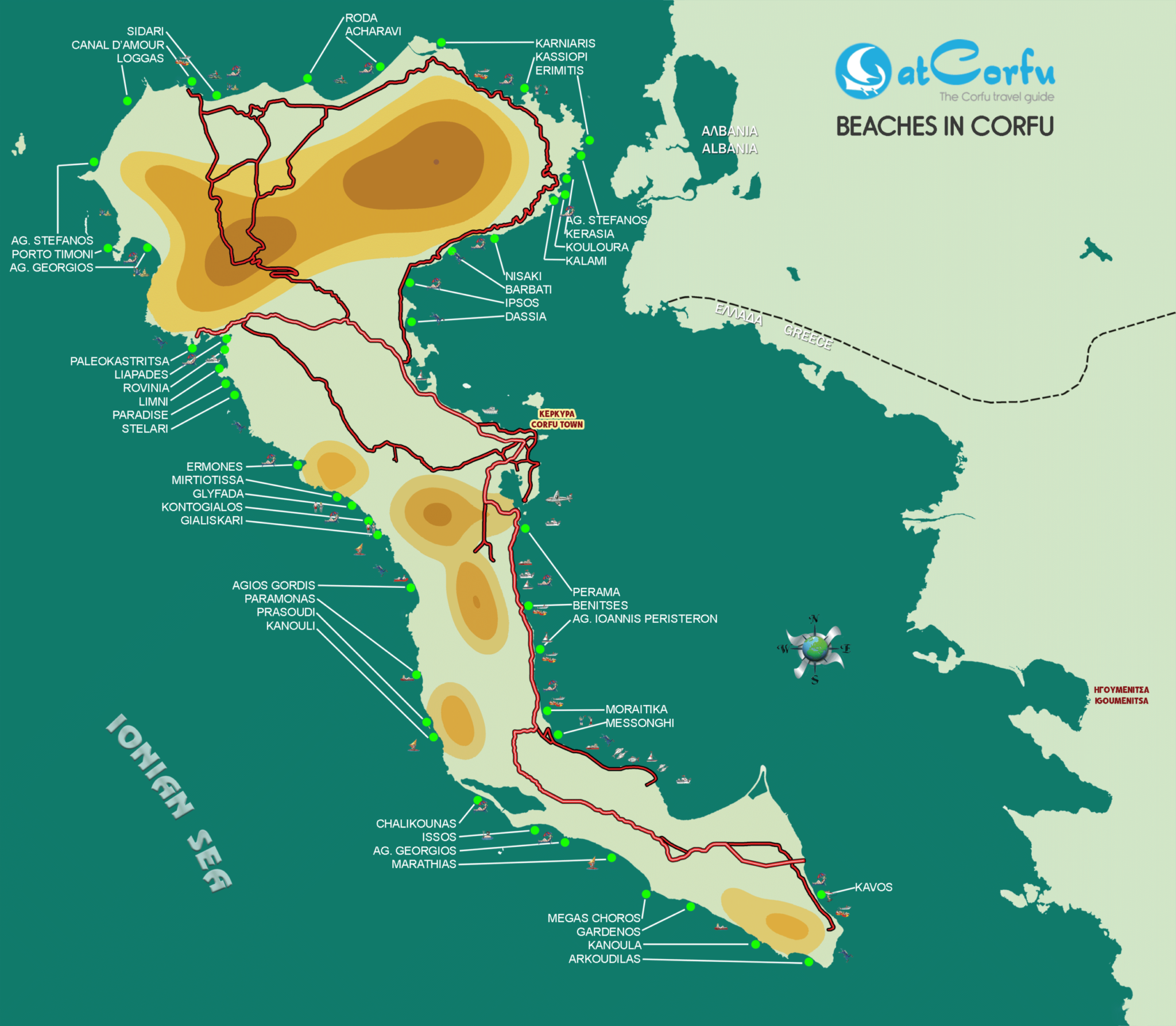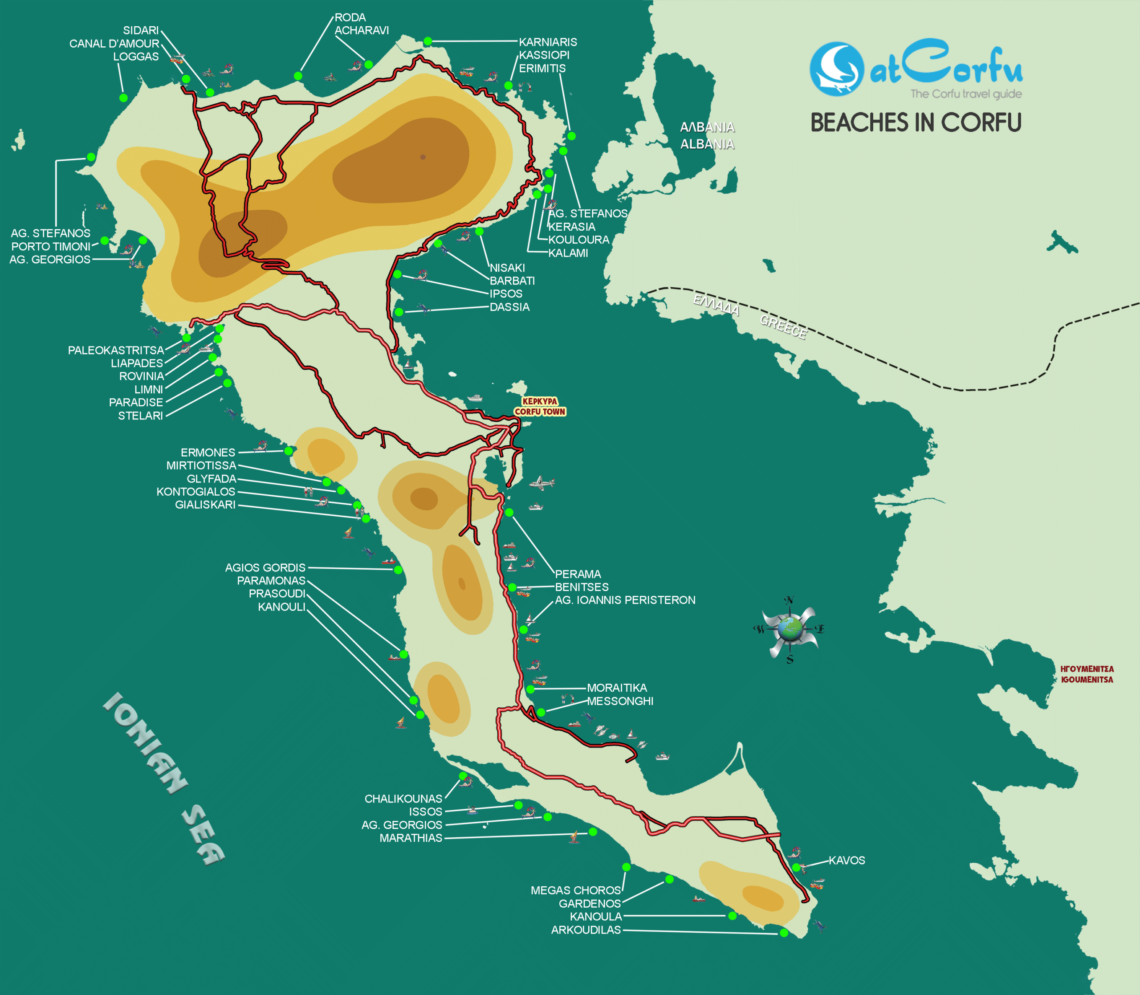 Conclusion
The count of Corfu's beaches is practically limitless, as wherever the sea and land converge on the island, a swimming beach can be found.
In our presentation, we have highlighted primarily the largest and most widely recognized beaches for the general public's awareness. Nevertheless, there exist numerous additional beaches; every minor inlet along the east, north, and west coasts of the island forms a beach.
On the whole, the most outstanding sandy beaches in Corfu are predominantly located on its western and northern shores. There are, of course, exceptions, such as the secluded beaches beneath Paleokastritsa, which are predominantly pebbled in nature.
Turning attention to the eastern shoreline, one can anticipate pebbled beaches primarily due to the tranquil waters. One notable departure from this pattern, however, occurs in the areas of Messonghi and Alykes of Lefkimi, where sandy beaches dominate the landscape.
Also, take note of the 7 paradise beaches under Paleokastritsa, which are regrettably not featured here.