Last updated on February 7th, 2023 at 06:13 pm
Porto Timoni lies on the Northwest Corfu coast, it is on the edge of the northern promontory of Saint George's of Pagon gulf and close to Afionas village, it stands out for its stunningly clear aquamarine waters and pristine white sand mixed with pebbles, making it an idyllic spot to spend a day on either side of the beach.
If you're looking for a perfect and beautiful beach getaway, then look no further than Porto Timoni beach in Corfu, Greece. With its crystal-clear waters and breathtaking views, Porto Timoni beach is sure to be an unforgettable experience. In this blog post, we'll explore the beauty of Porto Timoni double beach and share with you some tips for making the most of your visit.
Porto Timoni is a Standout Beach in Corfu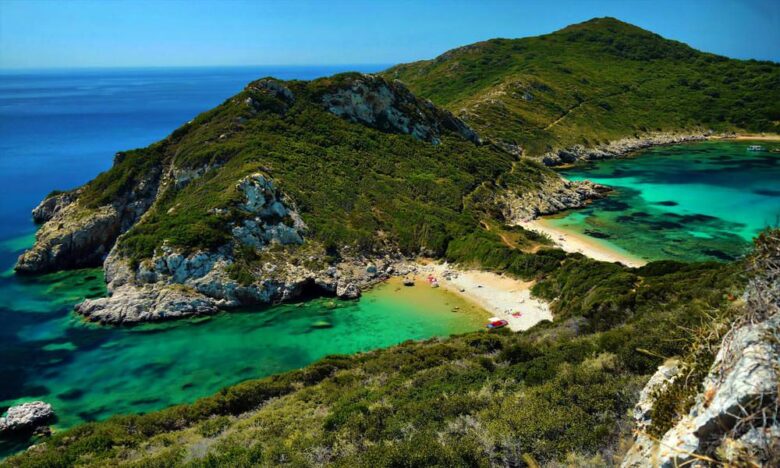 Of course, the fact that is the only double-sided beach in Corfu makes it a uniquely looking beach of mixed sand and shingles, on a magnificent lush landscape.
Porto Timoni itself is very green and it is secluded, there is no road but a small and difficult path to get there on foot, so the best way to visit it is by the sea on a small(or bigger) boat. This is good fortune, we could say, otherwise, the beach would become spoiled.
Those looking for a peaceful spot to relax on Corfu's northwest coast will find it at this secluded beach.
Whether you're striving to get the perfect tan or simply want to escape the hustle and bustle of other beaches, Porto Timoni is a great option to consider and enjoy the tranquility of the beach.
Its location near a picturesque village such as Afionas and a large tourist resort such as San Stefanos allows visitors to explore more of the Corfu coastline while still enjoying the beauty of Porto Timoni.
That is because the northwest Corfu beaches are a great option for travelers looking to explore the beauty of Corfu. With stunning views, clear waters, and a variety of activities on offer, northwest Corfu beaches are sure to provide a memorable experience for all visitors.
When and How to Visit Porto Timoni
Visiting Porto Timoni during the summer months is ideal, as this is when the beach is most accessible and the water temperature is warmest, making it the perfect spot for visitors who want to take a break and soak up some sun.
Additionally, visiting during the summer means that you're sure to get plenty of sunshine and have more activities available to do before and after spending time at the beach.
If you want you can try to reach the beach by walking from Afionas village on the hill. But, try it early in the morning, because the sun after 12 o'clock is ruthless and you don't want to be there without a shadow.
The walking distance can take up to an hour through a difficult and rough path, but we do not recommend it because there is always the risk of injury, which is quite unpleasant in this isolated area.
On the beach you won't find anything for rent, no umbrellas, nothing to eat or drink, so bring with you what you may need and above all a lot of water because around midday the heat and sun are relentless and you can only survive inside in the water.
Be sure to bring underwater goggles and an underwater camera, the sea is so clear and the fish among the beautiful rocks under the water so many that it would be a shame not to capture them to remember this experience.
Water temperature marginally differs between the north and south beaches, with the north being slightly colder by 0.5 to 1° C, not a big deal anyway. In August temps can reach up to 28° but usually around 25° C while in January drops to 15° C.
The Natural Beauty of the Beach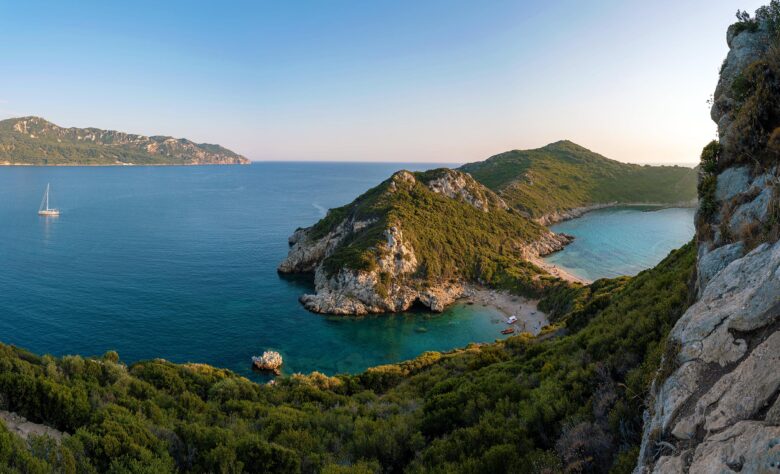 Corfu is well known for its stunning beaches, which offer some of the most breathtaking natural beauty in Europe. One of the most scenic beaches for visitors is Porto Timoni, this secluded beach offers scenery that will take your breath away.
With its exquisite sand, towering cliffs, strangely beautiful shape, and gentle waves, you can enjoy a peaceful day lounging on the shore with your friends and family. Whether you are looking for a romantic setting or just something to do on the weekends, Porto Timoni is the perfect beach to visit in Corfu.
An Overview of Recreational Activities Available
Porto Timoni beach offers one side with calm, shallow waters, ideal for children and families, and the opposite side with rougher waves perfect for more experienced swimmers.
Additionally, Porto Timoni beach provides plenty of space to relax and sunbathe while taking in the stunning views of Corfu's shoreline. With its diverse landscape and ample amenities, the double-side beach is sure to provide a memorable experience for visitors of all ages.
The secluded beach of Porto Timoni, with its clear turquoise waters and gentle winds, is suitable for more relaxed activities with swimming, underwater exploration, snorkeling, fishing, and kayaking included, provided, of course, that you have brought all necessary equipment with you.
Visitors can sunbathe and take in the beauty of the shoreline while they enjoy a peaceful day at the beach receiving unparalleled experiences that will leave them with lasting memories.
Nearby places to Eat and Drink
The famous Agnanti in Agios Georgios is very close. You can sample traditional Greek dishes like moussaka and tzatziki, or freshly caught seafood, all while enjoying the stunning views of the glimmering Mediterranean Sea.
Enjoy a sundowner by the beach and chill out to the soothing sounds of waves lapping on the shore while you devour a plate of scrumptious Greek delights.
Finally, accessibility to a variety of excellent dining and beverage options is another great benefit to visiting Corfu's beaches.
That said, some of the best places to eat and drink near Porto Timoni beach include Spiros Beach Bar in Agios Gordis, Taverna Vassos on Pelekas Beach, and Taverna Panorama in Paleokastritsa – all offering unrivaled views of the sea, incredible food, super-friendly service and plenty of drinks to choose from.
Safety Tips for Visitors
When visiting the beaches of Corfu, it's important to remember a few important safety tips. Before laying out your towel and heading into the water, be sure to carefully check for any warning flags or signs indicating there may be dangerous riptides or other hazardous conditions. Some of the most popular beaches on Corfu and especially remote beaches with wildlife such as Porto Timoni have powerful undertows, so it's always important to take extra caution.
Familiarize yourself with the rules of your particular beach before getting in the water. It's also important to remember to always wear protective eyewear when swimming in the sea. Taking these safety tips into consideration will ensure a safe and enjoyable experience at any of Corfu's lovely beaches.
Swimmers should not enter certain areas of the beach due to hazardous conditions or unexpected wildlife that could present a risk. Similarly, take care to safely enjoy the beach.
Final Say
In conclusion, Porto Timoni beach is a gorgeous slice of paradise that offers an unprecedented experience.
Whether you're looking to relax and unwind or explore the local sights, this stunning beach is a must-visit place. With its crystal-clear waters, white sand, and breathtaking views, Porto Timoni beach is sure to be an unforgettable experience. So pack your bag and get ready to make memories that you'll cherish forever at Porto Timoni beach in Corfu, Greece.