Last updated on November 7th, 2023 at 11:35 am
The village of Pelekas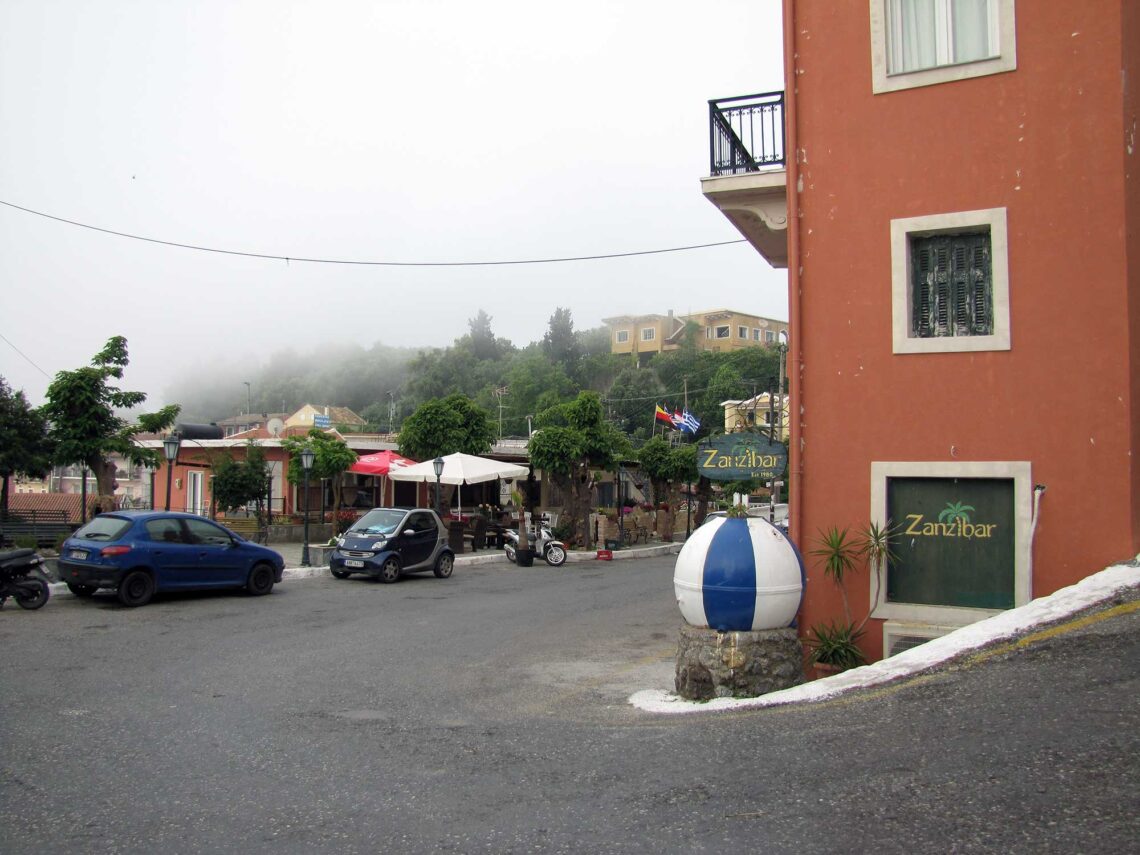 Pelekas, a charming village nestled on the west coast of the idyllic island of Corfu, just 13 km away from the town, stands as a testament to the island's natural beauty and rich cultural heritage.
This picturesque village is perched atop a verdant hill, offering breathtaking panoramic views of the surrounding landscape and the Ionian Sea beyond.
Now, let's talk panoramas. Up at the tip of the hill, there's a magical viewpoint that's said to have been a favorite of none other than Kaiser Wilhelm 2nd. Legend has it, he'd stroll over from his palace in Gastouri just to soak in the scenery. From here, the view is like a postcard come to life. You've got Corfu Town, the shimmering Gouvia Bay, and the coastline stretching all the way to Nissaki. And in the foreground? The lush Ropa Valley's meadows, are a sight that's bound to make you sigh in appreciation.
Pelekas exudes a traditional Greek charm, with its narrow winding streets, white-washed houses adorned with vibrant flowers, and welcoming locals who take pride in their heritage. The village square, a central gathering place, buzzes with activity, especially during the summer months when tourists and locals come together to savor the local cuisine and partake in lively festivities.
One of the village's highlights is the Church of St. Spyridon, a beautiful Orthodox church with an elegant bell tower that graces the skyline. Inside, visitors can admire the intricate frescoes and soak in the tranquil ambiance. This church plays a central role in the village's religious and cultural life.
Now, let's head down the hill to the village square. Pelekas isn't just picturesque; it's vibrant and full of life. You'll find charming bars and tavernas beckoning you to sit down, relax, and take in the village's infectious energy.
Speaking of energy, Pelekas has always been a magnet for the young crowd. It's a place that's alive and buzzing, with a plethora of rooms and apartments available for rent. And guess what? A leisurely downhill stroll from the village will lead you straight to one of the island's most fantastic sandy beaches. It's like a little slice of paradise waiting for you.
Pelekas also boasts a rich history that has left its mark on the village. The ruins of the 17th-century Angelokastro Fortress, perched high on a nearby hill, are a testament to the island's storied past and offer a glimpse into its strategic importance.
The village's proximity to some of Corfu's most splendid beaches adds to its allure. The famous Glyfada Beach, with its golden sands and crystal-clear waters, is just a short drive away, making Pelekas an ideal base for beach lovers. Additionally, the nearby Myrtiotissa Beach, often considered one of the most beautiful on the island, beckons with its pristine shoreline and lush surroundings.
Pelekas is not just a place of scenic beauty; it's a destination where visitors can immerse themselves in the timeless rhythms of Greek village life. Whether you're exploring its historic sites, savoring traditional Greek dishes at local tavernas, or simply gazing at the mesmerizing sunset from the Kaiser's Throne, Pelekas promises an authentic and memorable experience on the enchanting island of Corfu.
Kontogialos Beach


Kontogialos Beach is a stunning sandy beach located on the western coast of the island of Corfu, Greece. This beach is renowned for its natural beauty, crystal-clear waters, and vibrant atmosphere, making it a popular destination for both tourists and locals alike.
Here are some key features and highlights of Kontogialos Beach:
Sandy Shoreline: Kontogialos Beach boasts a wide stretch of golden sand, providing ample space for sunbathing, relaxation, and beach activities. The soft sands make it an ideal spot for families and beachgoers seeking a comfortable place to unwind.
Clear Waters: The waters of Kontogialos Beach are exceptionally clear and inviting, making it a fantastic spot for swimming and snorkeling. The gradual slope of the seabed ensures that even novice swimmers can enjoy a dip in the sea.
Water Sports: For those seeking more active pursuits, Kontogialos Beach offers a range of water sports and activities, including jet skiing, parasailing, and paddleboarding. There are rental shops and instructors available for visitors looking to try their hand at these exciting activities.
Beachfront Tavernas: Along the beach's edge, you'll find a selection of charming tavernas and beach bars where you can savor traditional Greek cuisine and refreshments while enjoying the sea views. It's a great place to sample local dishes and seafood.
Sunsets: Kontogialos Beach is known for its breathtaking sunsets, providing a perfect backdrop for a romantic evening or a relaxing stroll along the shoreline as the sun dips below the horizon.
Scenic Surroundings: The beach is surrounded by lush greenery and rugged cliffs, adding to its natural beauty. The backdrop of cliffs and vegetation creates a dramatic contrast against the azure waters of the Ionian Sea.
Accessibility: Kontogialos Beach is easily accessible by road and is just a short drive from the village of Pelekas. Visitors can also take public transportation from Corfu Town to reach the beach.
Lively Atmosphere: During the peak summer months, Kontogialos Beach comes alive with visitors from various parts of the world. The beach exudes a lively and friendly atmosphere, making it an excellent place to meet fellow travelers.
Amenities: The beach offers various amenities such as sunbeds and umbrellas for rent, changing facilities, and nearby parking options, ensuring that visitors have a comfortable and convenient experience.
Kontogialos Beach is not only a place to soak up the sun and enjoy the sea but also a hub of activity and relaxation where you can immerse yourself in the natural beauty of Corfu's western coastline while experiencing the warm hospitality of Greece. Whether you're an adventure seeker, a sun worshiper, or a food enthusiast, Kontogialos Beach has something to offer every type of traveler.
And oh, the sunsets! Trust me, they're the stuff of dreams. As the sun does its graceful dip into the sea, the hills put on a show, turning shades of purple that make you feel like you're in a fairy tale. This spectacle is so enchanting that it gathers a crowd night after night. What's better than enjoying this natural wonder? Doing it from one of the welcoming tavernas, of course.
How to get there
One more thing – getting to Pelekas is a breeze. A short bus ride from Corfu Town, you'll find yourself transported to this relaxed village that makes you feel like you're on top of the world. So, if you're in the mood for captivating views, lively vibes, and an all-around fantastic time, Pelekas is calling your name. Trust me, you won't want to miss out on this slice of heaven.
Pelekas was a favorite destination for the tourists of the 60s
Step into the time machine, my friend, and let's travel back to the groovy '60s. Among the kaleidoscope of destinations that held the hearts of adventurous souls, there was one shining star: Pelekas. This picturesque village, became the ultimate playground for the free-spirited travelers of that era.
Imagine a place where the air was thick with a sense of liberation and the spirit of exploration. Pelekas was more than just a village – it was a haven for those seeking something different, something off the beaten path. The village had a magnetic pull that drew in the free-thinkers, the dreamers, and the seekers of unconventional experiences.
And at the heart of this enchantment was none other than Kontogialos Beach, nestled beneath the village's watchful eye. Back then, it wasn't just a beach; it was a canvas of possibilities. Hippies flocked to its shores, finding solace in the warm sands and the shimmering waters. Kontogialos became a haven for those who wanted to escape the norms and embrace a simpler, more harmonious way of life.
The beach wasn't just a place to lay down a towel and soak up the sun; it was a gathering spot for kindred spirits. Conversations flowed freely, music filled the air, and a sense of unity connected those who ventured there. The waves echoed with laughter, and the horizon seemed to stretch infinitely, mirroring the boundless possibilities of the era.
Pelekas today
Today, Pelekas has evolved, and its charm still resonates. The echoes of those '60s adventures can still be felt in the air. While the village has embraced modern amenities and a new era, the spirit of that magical time continues to linger.
So, as you walk the same paths that those free-spirited travelers once trod, remember that Pelekas isn't just a village; it's a living testament to a bygone era of freedom, exploration, and a shared sense of adventure. It's a reminder that some destinations leave an indelible mark on the soul, and Pelekas is undoubtedly one of them.
More Resorts in Central Corfu