Last updated on August 2nd, 2023 at 09:29 pm
Corfu Green Bus is a public transportation service on the Greek island of Corfu.
It operates a network of buses that provide transportation for residents and tourists across the island and other towns in Greece including Athens.
The main station lies about 2 miles south of the center of Corfu town on Eptanisson Avenue, a road leading to the South of the island. At the station, you can book tickets for any destination that the service covers.
The buses are known for their distinctive green color, hence the name "Green Bus." The service connects various towns, villages, and popular tourist destinations on the island, offering a convenient and affordable way to explore Corfu.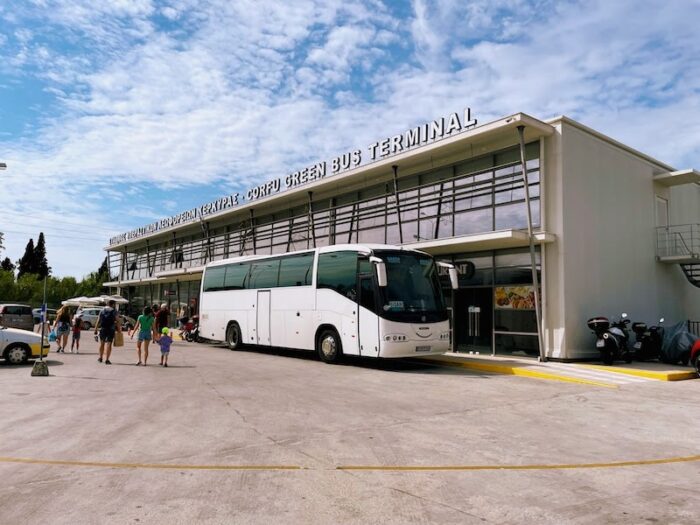 Click on the button for a full timetableGreen Bus Timetable-2023
Igoumenitsa to Corfu Transportation
You can get to Corfu in many ways.
Either by plane or by a combination of ship and car or bus, you may come by boat from Patras or Italy, but also directly by seaplane from Ioannina, Kefalonia, Ithaca, Lefkada, Patras, Kastoria, and if you wish even from Athens.
Ferry Routes
To get to Corfu from anywhere on the mainland you will end up in Igoumenitsa from where you will get the ferry to Corfu town.
With large boats, which are usually used, the trip is taking less than two hours. Prices are about 9€ per person – plus 38.00€ for a car – For a Bus (50 sits) the price is 65.00€ plus 6.5€ per person in the group.

Corfu – Igoumenitsa (Daily routes)
07.30
08.30
09.30
11.30
14.30
15.30
18.30
22.30
Corfu – Igoumenitsa (Weekends)
07.30
09.30
11.00
13.30
15.30
17.00
18.30
22.30
Igoumenitsa – Corfu (Daily routes)
04.00
07.30
10.30
13.30
16.30
18.30
20.15
22.30
Igoumenitsa – Corfu (Weekends routes)
04.00
07.30
10.30
13.30
16.30
18.30
20.15
22.30
From Igoumenitsa also there is a frequent ferry connection to the port of Lefkimi at the south end of the island.
Lefkimmi – Igoumenitsa (Daily routes)
06.30
09.30
12.00
16.00
17.00
Igoymenitsa – Lefkimmi (Daily routes)
08.00
11.00
13.30
17.30
20.30

See Line Albania – Corfu
From Corfu harbor, there is permanent transportation to the port of Agioi Saranta in Albania. The trip is made by flying dolphins (Corfu flying dolphins) and small ships and lasts about 30 minutes.
The ticket prices are around 15 euros (a one-way trip).
Departures from Corfu to Agioi Saranda at 9 am and departure from Agioi Saranda to Corfu at 10.30 PM.
Consortiums of intercity buses
The Green Corfu intercity buses are associated with many Greek cities such as Athens, Thessaloniki, Patras, Agrinio, Arta, Larisa, Ioannina, Corinth, and others.
Also, intercity buses from these other areas have their routes to Corfu.
For 2016 schedules and prices have developed as shown in the following tables:

Corfu to Athens routes
Saturdays
8:15, 13:15, 20:15

Sundays
8:15, 13:15, 20:15

Athens to Corfu routes
Daily
7:00, 11:00, and 20:30

Saturdays
7:00, 11:00, and 20:30

Sundays
7:00, 11:00, and 20:30

The trip takes about six hours but you must add one and a half hours on the ferry to Igoumenitsa.
Ticket price:
48.40 €
Corfu to Athens Through Lefkimmi
Departure from the port of Lefkimmi

Athens to Corfu Through Lefkimmi
Arrival at the port of Lefkimmi

The trip takes about six hours but you must add one and a half hours on the ferry to Igoumenitsa.
Ticket price:
48.40 €
Corfu to Thessaloniki itineraries
Thessaloniki to Corfu itineraries
The trip takes about 4 hours but you must add one and a half hours on the ferry to Igoumenitsa.
Ticket price:
38.50 €
Corfu to Larissa itineraries
Larissa to Corfu itineraries
The trip takes about 4 hours but you must add one and a half hours on the ferry to Igoumenitsa.
Ticket price: 30.40 €

Route information +3026610 28900
Boxoffice Tickets Corfu +3026610 28920 +3026610 28928
Boxoffice Tickets Athens +30210 5129443
Boxoffice Tickets Thessaloniki +302310 595409
Information for intercity routes in the following sources:
Corfu KTEL: tel: +30 26610 30627, 39985
Athens Bus: Tel: +30 210 5129443 (Bus Kifisos)
Thessaloniki Bus: Tel: +30 2310 510110 (Bus near the Central Railway Station)
Patras Bus, tel: +30 2610 222271
Ioannina Bus : tel: +30 26510 26404
There is also the official Greek consortiums intercity buses website here: www.ktel.org
Either with your own car or the bus, the distances are:
From Athens about 500 km, the time needed is 5 to 8 hours
From Thessaloniki, is about 450 kilometers but because of the new Egnatia highway the trip takes only 3 hours.
From Patras, the road distance is 350 km.
From Ioannina about 120 kilometers.
Ferries from Patras and Italy
The island is connected daily with large ships to Italy and Patras.
The line is Patras – Italy with a staging post at Corfu's port, naturally all these ships are car transporters is well.
The ports that these routes catch in Italy are Bari, Brindisi, Ancona, and Venecia,
For more information and tickets check the following phone numbers and websites.
Corfu Port: tel: +30 26610 32655, 39513, 30481
Igoumenitsa Port: tel: +30 26650 22235, 26921
Patras Port Authority, tel: +30 2610 341002, 341046
Corfu Consortium:
Corfu office: tel: +30 26610 22275, 20675 – Igoumenitsa office, tel: +30 26650 21000
Corfu lines: Corfu office: tel: +30 26610 23874, 23876
Fragline ferries: tel: +30 210 8214171
Ventouris ferries: tel: +30 210 4828001-4, website: www.ventouris.gr
Minoan lines: tel: +30 210 4145745, website: www.minoan.gr
Anek lines: tel: +30 210 4197430, 4197420, website: www.anek.gr
Agoudimos lines: tel: +30 210 4141301 -6
Flights by Domestic Plane Routes
Corfu is internally connected directly to the airports "Eleftherios Venizelos" and "Macedonia" of Thessaloniki through the international airport "Ioannis Kapodistrias".
The flight from Athens lasts about 50 minutes and the routes are 3-4 times a day with either "Olympic Airways" or the "Aegean Airlines", the flight from Thessaloniki lasts approximately 40 minutes.
The routes may change depending on the traffic, here are the necessary phones and websites that you can use for more authoritative information.
Olympic Airlines: Tel: 801 11 44444, website: www.olympicair.com
Aegean Airlines: tel: 801 11 20000, website: el.aegeanair.com
Corfu Airport "Ioannis Kapodistrias" tel: +30 26610 30180
Athens Airport "Eleftherios Venizelos": Tel: +30 210 353 0000
Thessaloniki Airport "Macedonia", tel: +30 2310 985000
Flights to Corfu by International Airlines
Corfu airport receives hundreds of flights from abroad, charter flights organized by major travel agencies, also regular airline flights from major European cities connect Corfu worldwide.
Last decade, first Easyjet and then Ryanair began new routes to the island, offering low-cost flights which benefitted both visitors who liked coming out of the main season, and also Corfu residents wishing to go in the other direction.
Additionally, these companies began flights to other parts of Europe- Oslo, Milan, etc. and a new market began to build up.
These flights start early and go on later than most traditional charter companies.
Also, you can find Cheap Flights to Greece on CheapOair.
Seaplanes
Seaplanes from the marina of Gouvia connect Corfu on short-haul flying daily to Brindisi in Italy, Kefalonia, Ioannina, Ithaca, Lefkada, Patra, Paxi, Kastoria, and Athens.
It is a new handsome and fast approach to and from neighboring islands, for people coming from northern Greece, and the Peloponnese.
There are some limitations on the maximum weight of luggage that seaplanes can carry though, with some extra charges for excessive.
For information and tickets about seaplanes flights check here: Seaplanes Corfu
Various small ferries and private transporters
If you are already in Corfu you can visit the neighboring Diapontian islands in the northwest with Wessels from Sidari.
Also visit Paxos and Antipaxos at the south of Corfu with many boats which depart daily from both the port of Corfu, from Lefkimi port, and from the new Marina at Benitses.
Mooring spots in Corfu
For those who come to Corfu with private vessels, there are dozens of mooring spots, such as the main marina at Gouvia where there are many amenities, in Benitses Marina and in the harbor of the Corfu naval sports club (NAOK ) under the imposing shadow of the old fortress in Corfu town.