Last updated on October 23rd, 2020 at 06:15 pm
Corfu island has holiday resorts for everybody, but there are some special places suitable for families with kids or couples seeking relaxing vacations.
In fact, most of the Corfu seaside resorts are ideal for families.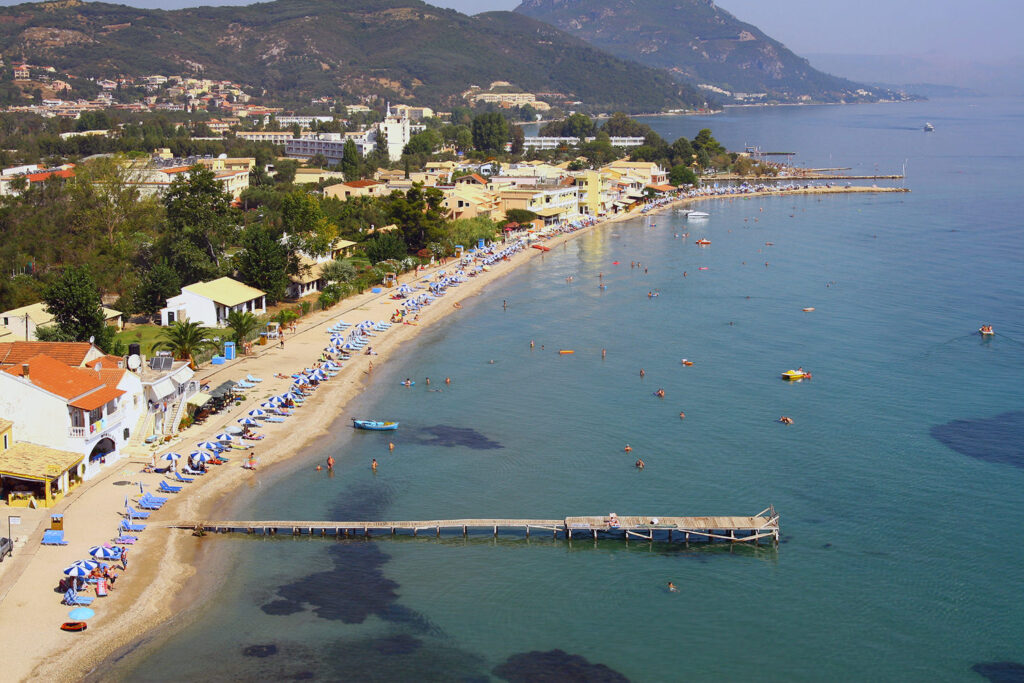 The best resorts for families with children should be those that provide safety, beaches where the sea deepens slowly and waters remain almost always calm, able to offer some activities for children, resorts near children's playgrounds, and places providing relaxing holidays for the rest of the family.
Unwind! Relax! Breathe! You deserve a holiday
Enter your dates and choose out of 2,116,000+ properties worldwide!
Book online now your Hotel or apartment!
Disclaimer: If you purchase through this Booking form or the link below, we receive a small commission. This will not cost you an extra dime. We appreciate your support!
Help us maintain our website, Just start your Booking from here! See Why to book through our blog
These are the best Corfu resorts for families according to our opinion.
Agios Georgios Pagon at the northwest

Agios Georgios Pagon is a large horseshoe-shaped naturally protected bay, with plenty of good accommodation and many shops and restaurant choices.
It is not a very crowded resort and offers a large sandy beach with lots to discover.
Sea is excellent and children will love it.
Arillas
Another good family beach close to Agios Georgios.
Acharavi and Roda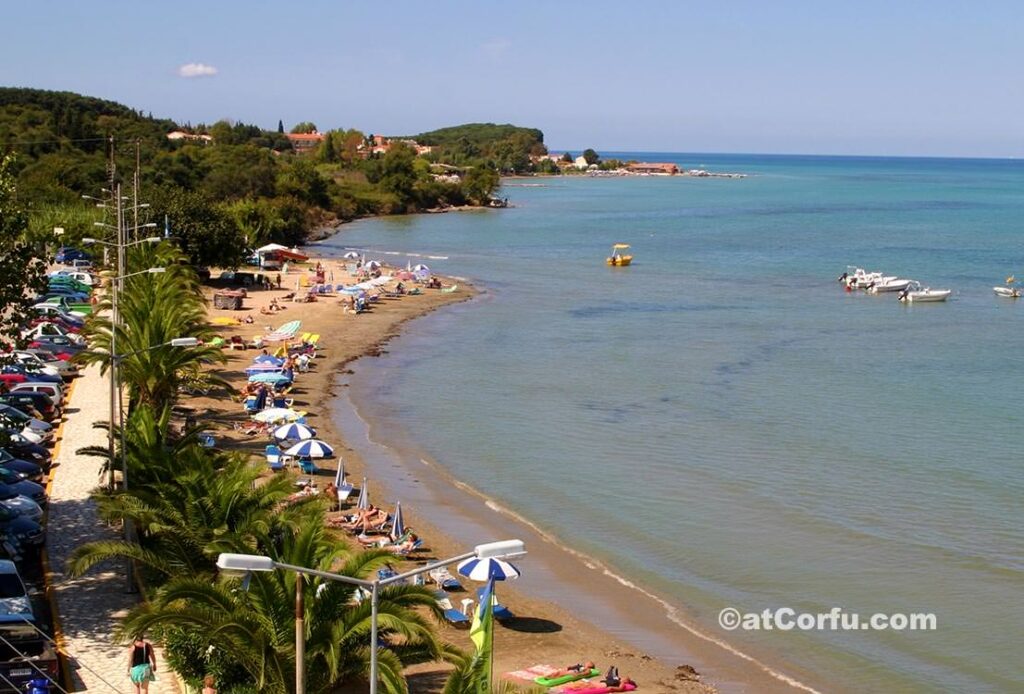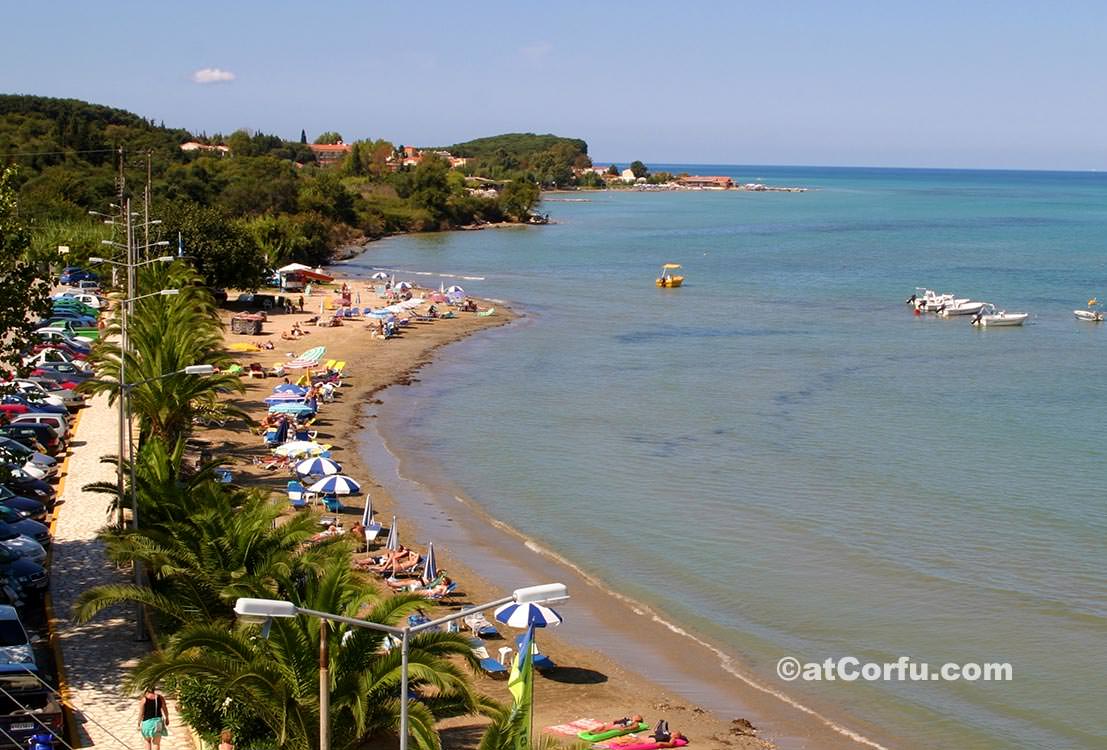 Acharavi and Roda are long stretched sandy beaches, one next to each other on the North coast, both have modern and good accommodation, clean beaches, and many amenities, a very good choice for family holidays
Kassiopi at Northeast
Kassiopi lays opposite the coast of Southern Albania, A very good choice for families and young couples, with very clean beaches and pleasant nightlife around the picturesque port.
Sidari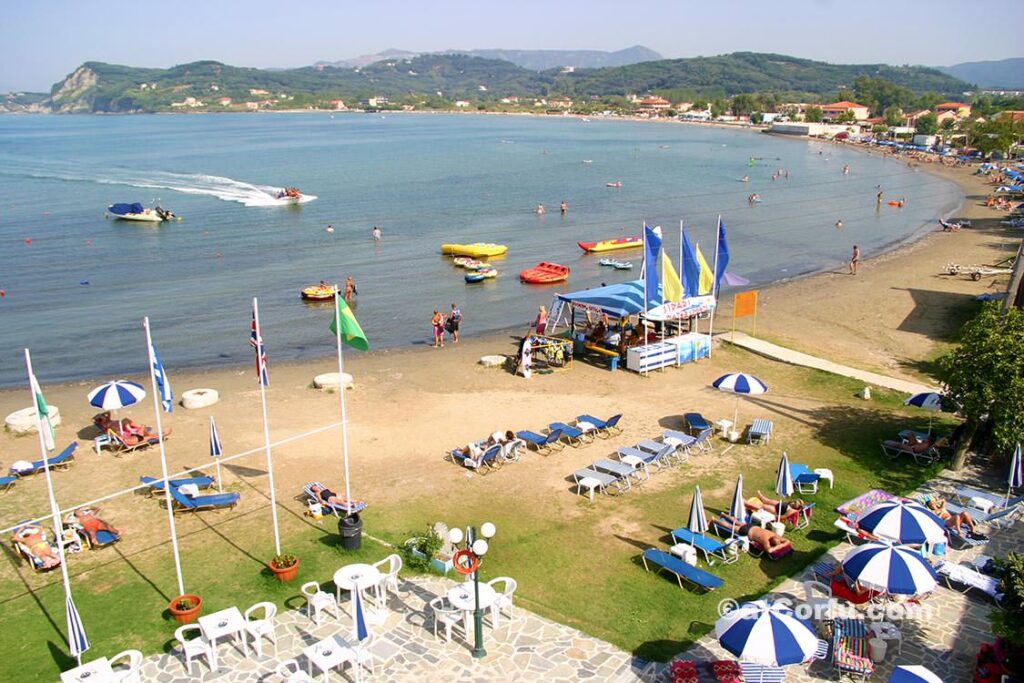 Sidari at the northwest of Corfu has a lively nightlife and many bars but not something crazy and the resort with the beach is very family-friendly with lots of water sports.
Canal D'amour is a beach and an amazing rocky formation which will be loved by couples, while to the East continues a long stretched sandy beach perfect for children.
Benitses in the middle of the East coast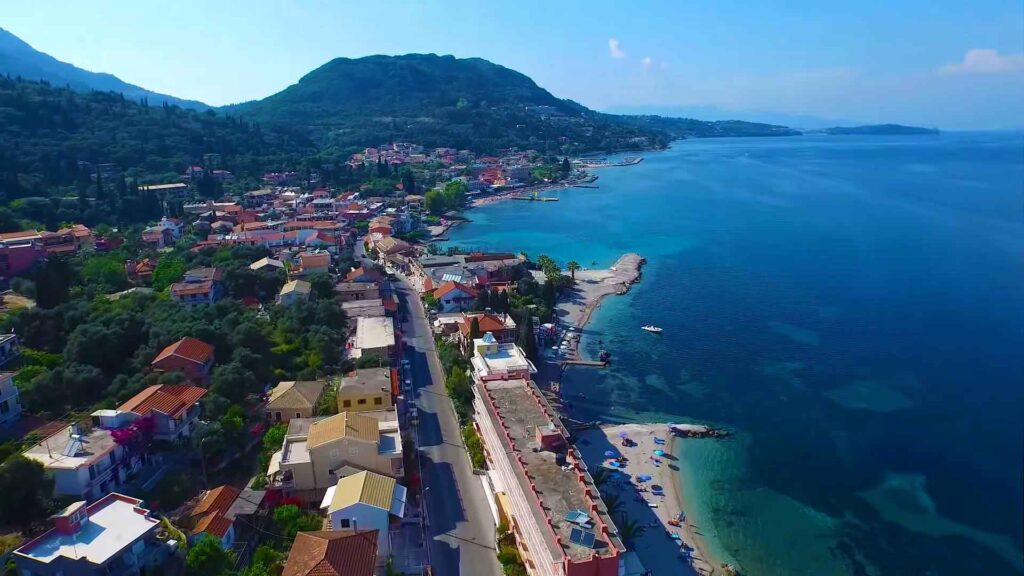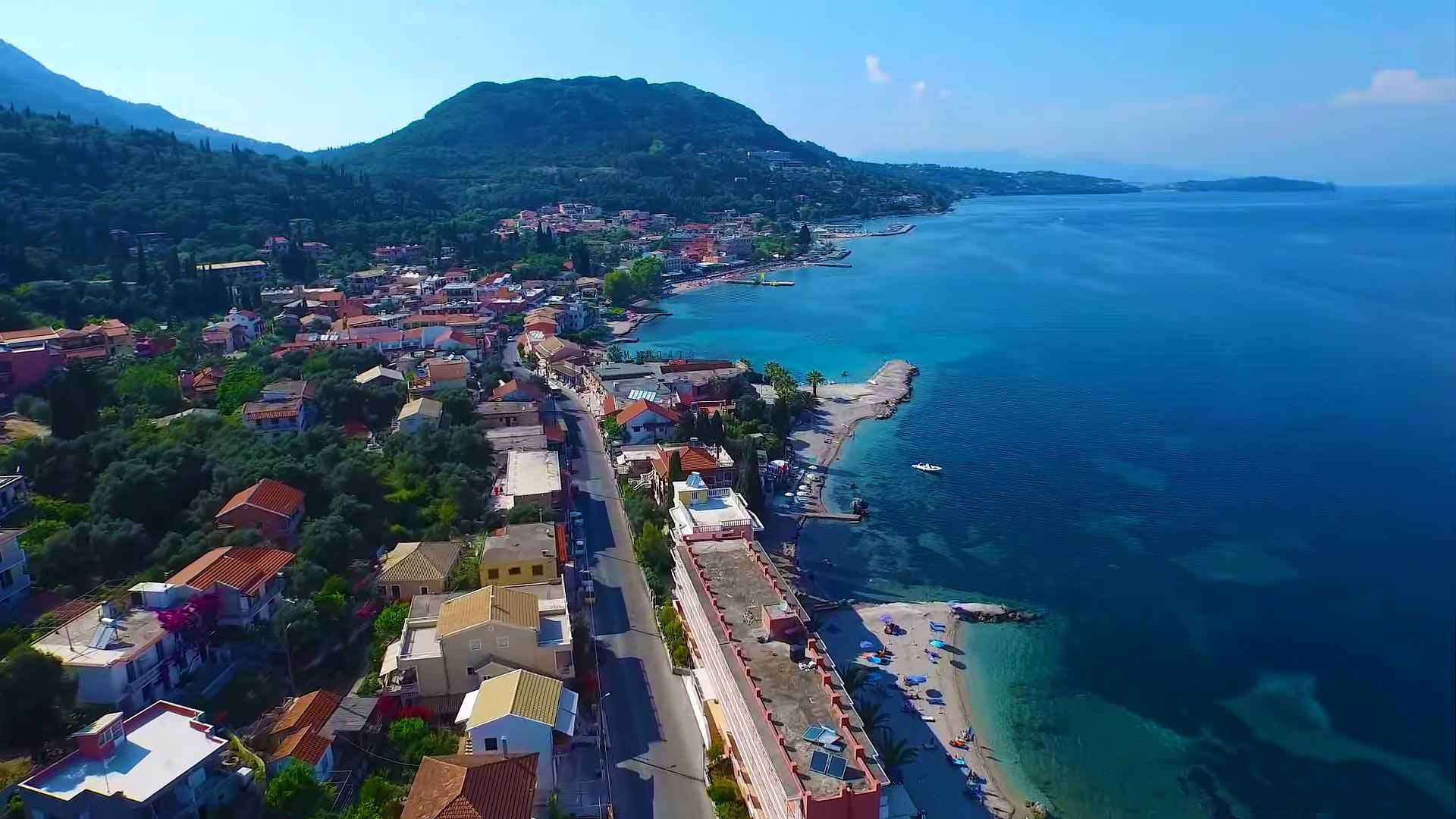 Benitses may lack the beautiful beaches that you can find elsewhere but it is a very safe resort and gathers many advantages.
It has beautiful scenery combining mountains and sea and it is very close to the town of Corfu.
Benitses has the richest variety of restaurants, a low key but pleasant nightlife without the hassle of drunk youngsters, a large playground for children at the center of the village, a sea museum which will be loved by children.
Benitses is close to the best beaches of the west coast, in reality, it is a center for excursions to the rest of Corfu island as well as to the Greek mainland.
It has the second large yachting marina in Corfu, and the mooring, by the time, is free!
It also is very close to Achilleion palace.
Here nobody has to worry about a parking lot because there are the most parking areas of all resorts on the island.
Messonghi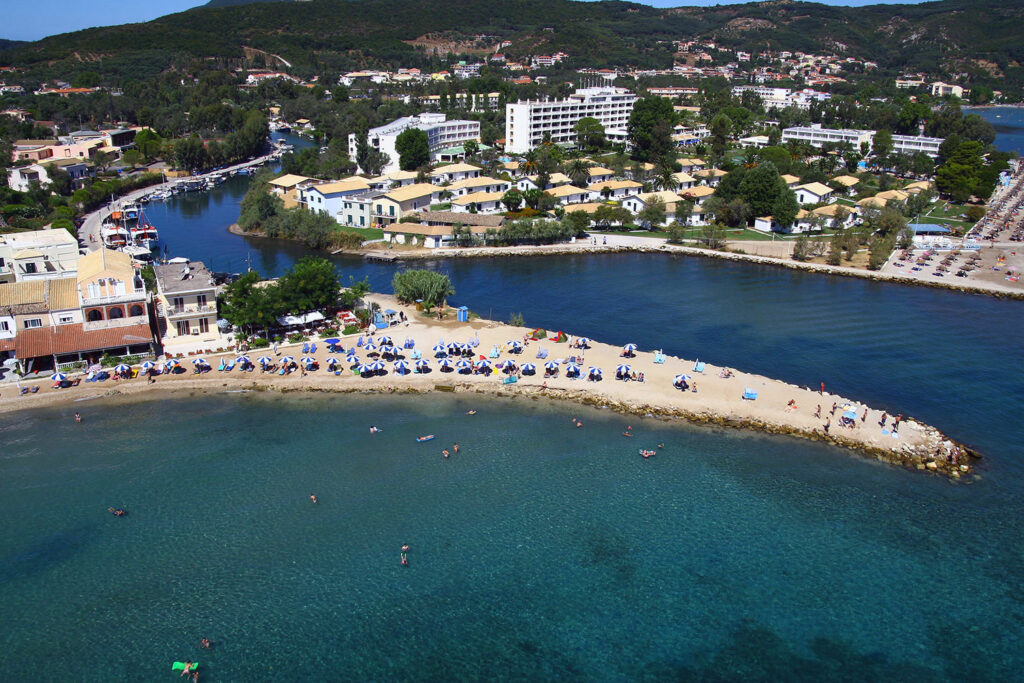 Messonghi is 10 miles to the south of Benitses and next to a river and Moraitika village with which they share the same beach.
With large hotels and plenty of small bars and taverns along the beach.
Messonghi has the largest and safer beach with the shallowest waters on the island, they remain shallow even hundreds of yards after the coast.
Therefore maybe the Best choice for families with children.
Also is the only resort of the east coast with sandy beach.
Palaiokastritsa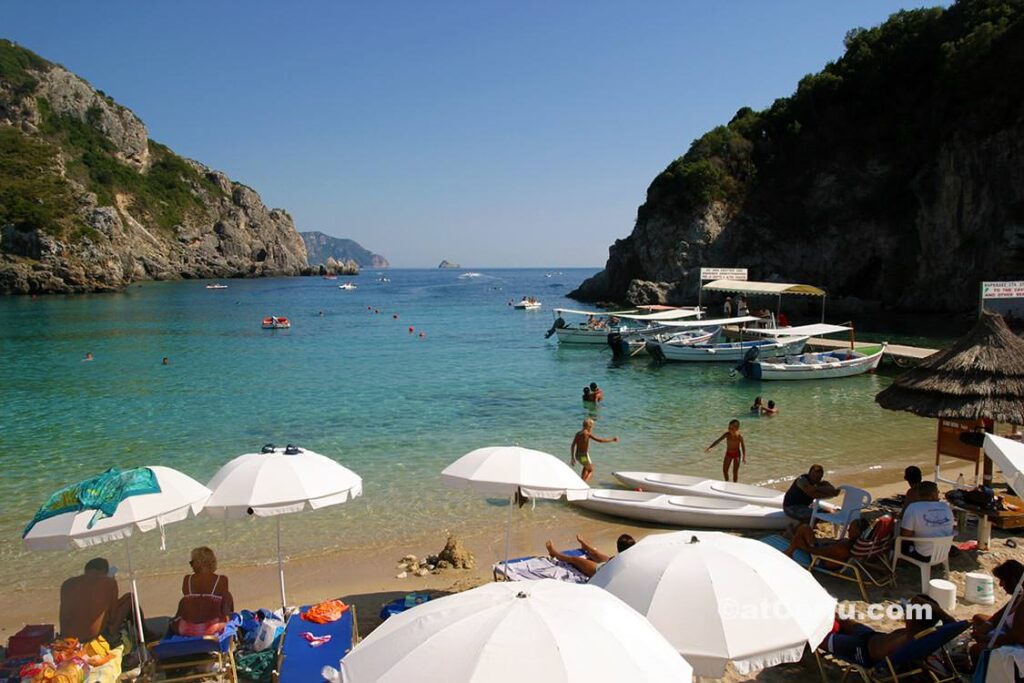 A very safe resort for children and families, although with little freezing water due to an underwater stream.
For some people it is the nicest resort of Corfu, with 5 main beaches inside the village and many remote hidden beaches around, 2 round-shaped capes separating the beaches, and some stunning views from the above mountain village of Lakones.
Also, a large port in which many yachts are mooring.
We must mention Aqualand, a large water park, a few miles from Paleokastritsa in the interior of the island, loved by small and older children.
Also, many more places are suitable for family holidays in Corfu, like Saint George of the south at the southwest coast, Glyfada, Agios Gordios and Pelekas at middle west, Ipsos and Dasia at the East, Nissaki and the whole northeast side of the island are also good choices for relaxing family holidays in Corfu.
These are the largest, but of course, there are many more destinations suitable for families, scattered around the island.
Island hop
Corfu, despite what others believe, gives you the opportunity to island-hop, maybe not at the large degree of the Aegean islands but there are many small island clusters around Corfu which you can visit easily.
The Diapontian islands at the Northwest and Paxos and Antipaxos at the South are very close to Corfu, with daily transportation, they can offer exotic experiences, and are very good choices for families.
See more Resorts