Last updated on November 7th, 2023 at 11:34 am
Sidari Beach Resort in Corfu


Sidari is located on the northwest end of Corfu land. A large tourist resort and a long stretch of golden sand ending at the famous beach of Canal d'Amour. It is one of Corfu's great tourist destinations.
The distance from Corfu town is about 30 miles and it is easily accessible by car.
Until the late 80s, Sidari was a beautiful but almost deserted beach, that belonged to the residents of Avliotes village which is nearby in the island's interior. Back then the road was in very bad condition.
Sidari was visited only by tourists from other tourist areas to swim in its stunning golden seashores.
But in the 1990s, things changed. Landowners from the traditional village of Avliotes started boisterous tourism development. This has made Sidari almost a city that offers many and varied pleasures for tourists.
Large hotels were built and the huge empty areas were filled with large restaurants and bars. Much larger and more comfortable than other already established tourist areas.
Sidari's main street nowadays is consistent with bars and tavernas offering everything. From 'karaoke' to Greek music and food from most parts of the world is on offer.
What is Sidari Resort for
Sidari resort is an ideal choice for those looking to relax, enjoy the sun and sea, and have a chance to eat out in a different place every evening.
Also for young people looking for fun, the nightlife here offers many options.
Whilst it is well placed for exploring the north and northwest of the island, Sidari is not an ideal base for those wishing to venture further afield. It is about as far from Corfu Town as it is possible to be. And to explore the rest of Corfu on public transport you have to go there first.
The Beaches in Sidari
Of course, daytime activities revolve around the beach, one of Corfu's longest and loveliest which slopes gently into the sea. This makes it an ideal place for children to learn to swim. And, when they tire of the water, to make sandcastles and play on the firm sand.
Looking out to sea, the islands of Erikoussa, Othoni, and Mathraki can be seen. The Diapontia islands, belong to Greece but are set on the way to Italy. Regular boat trips can be enjoyed, giving the visitor a chance to explore them.
The Amazing Rock Formations of Canal d'Amour Beach
A gentle stroll along the coast brings the visitor to the famous beach at Canal d'Amour. Where people can swim through an archway of sand into the open sea beyond.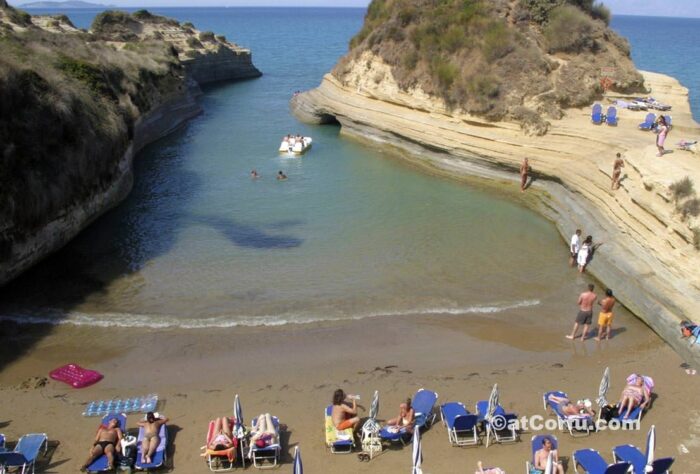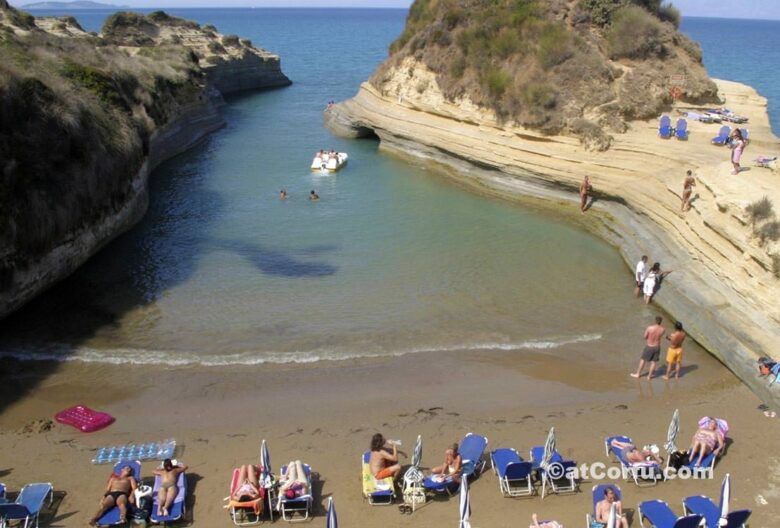 Canal d'Amour is the French name for the Channel of Love. A very famous and nice natural formation of sandstone rocks, corrosive by waves and winds. This makes it one of the best and most unique beaches in Corfu.
A natural beautiful beach, difficult to find elsewhere in the world.
The main part of Canal d'Amour is a small beach between two long capes made of sandstone. From these rocks, you can dive into the turquoise waters and swim to the near small rocks that look like submarines. They are scattered almost everywhere, you can climb up to them and get a short time rest, it is a unique experience.
There are also some caves and bights as well as small holes in the surrounding rocks.
The beach and the rocks at Canal D'amour are very crowded. Keep in mind that the Channel of Love is visited daily by thousands of people. So to find some space, it is better to visit it early in the morning or later in the evening. You must be patient and consider that every tourist on the island wants and will visit it at least once.
Tradition says that if you meet someone while swimming between these rocks you will fall in love and this love will last forever.
This legend has made Sidari a popular honeymoon destination, and many weddings and anniversaries are celebrated here.
The beach is constantly busy and the shallow waters are ideal for families with small children, as well as couples.
It is also a great spot for snorkeling and other water sports activities.
There are plenty of umbrellas and sun loungers for hire, and many bars, restaurants, and cafes nearby, making it the perfect stop for a fun and relaxing day out.
Canal D'amour is located in the middle of Sidari and Peroulades. This matter is not yet completely clear and is still a reason for a dispute between the two settlements.

The Hinterland and Neighboring Places
Sidari has close links to its neighbors- Arillas, and Agios Stefanos – and buses go between the three resorts, giving the visitor more choices and variety. Most people who come here, however, go for the sun and sand by day and the lively nightlife after dark and do not stir far away!
Going inland the coastal development soon gives way to small farms as the land here is very fertile. The animals graze, and grapes are tended, often by the older generation who have been doing this all their lives.
It is strange to imagine their lives, close to the soil, and reliant on the weather for their crops. And contrasting them with those of their grandchildren now working in bars and tavernas. Or, as educational opportunities have expanded so much in the last 30 years, studying abroad for a profession.
At least once during their stay in Sidari people go to the nearby village of Peroulades to enjoy the spectacular sunset view from the top of the cliff there. This attracts people from far away, who sit sipping a drink and watching the great golden sun sink into the blue sea.
The village itself repays exploring, there are some superb old buildings there. It was here and in Avliotes, where the people of Sidari lived in the days gone by when seaside houses were only occupied in summer.
Photos from Sidari
Sidari Map
This is the map of Sidari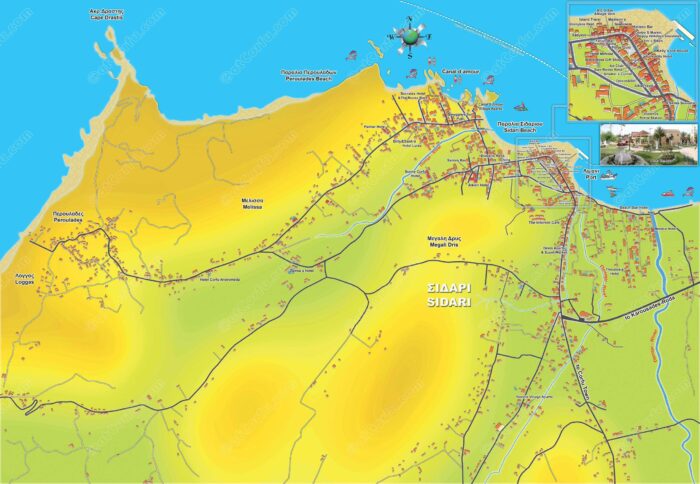 Wrapping Up
All in all, Sidari in Corfu has one of the best beaches in Corfu and is the perfect destination for a relaxing day in the sun. With crystal clear waters and an array of activities, restaurants, and lively nightlife, it's no wonder that this beach gets thousands of visitors each year.
Whether you're visiting solo or with a crowd, be sure to make the most of your time at Sidari and explore what this incredible place has to offer.

More in Northwest Corfu