Last updated on November 7th, 2023 at 10:15 am
Sinies area
Sines is the whole of Northeast Corfu, mountainous and coastal named after the old village of Sinies which is laying up on the slopes of the huge mountain of Pantokrator and starts from ​​Barbati in the South and continues up to Kassiopi at the northern edge.
A large area, known for its stunning natural beauty, with picturesque mountainous landscapes and beautiful beaches.
The area is relatively quiet and less developed compared to some of the more touristy regions on the island, making it an ideal destination for those seeking a more peaceful and tranquil experience.
Mountainous villages and settlements in Sinies
The area is dominated by Mount Pantokrator, the highest mountain in Corfu. This mountain provides opportunities for hiking and exploring, with stunning panoramic views of the surrounding landscape and coastline.
In Sinies region, there are several traditional villages situated on or near the Mountain which is the largest and highest on the island, perched on the slopes of the mountain amidst lush vegetation.
These villages offer a glimpse into the local culture, architecture, and way of life. Some of the notable traditional mountainous villages in the area include:
Spartilas: Located on the northern slopes of Mount Pantokrator, Spartilas is a charming village with narrow winding streets and traditional stone houses. It offers panoramic views of the surrounding landscape and the Ionian Sea.
Strinilas: Situated on the southeastern slopes of Mount Pantokrator, Strinilas is a picturesque mountain village known for its beautiful natural surroundings and traditional character.
Old Perithia: While not directly on Mount Pantokrator, Old Perithia is an ancient mountain village located in the foothills of the mountain. It is one of the oldest villages on the island and is known for its well-preserved Venetian architecture.
Lafki: Lafki is another mountain village in the Sinies region, known for its tranquility and traditional charm. It offers stunning views of the surrounding countryside.
Some smaller mountain settlements on the slopes are:
Viglatsouri, Apolisies, Katavolos, Gimari, Exeria, Santa, Kremythas, Vlachatika, Agios Georgios, Porta, Vigla, Kokkini, and the oldest village of Corfu, the renovated Old Peritheea, close to Pantokrator top.
Seaside tourist Beaches
Sinies is home to several charming seaside villages, each with its own unique appeal. Places like Kassiopi, Nisaki, Agios Stefanos, and Kerasia offer a relaxed atmosphere, traditional architecture, and beautiful beaches, making them ideal for a peaceful getaway.
The beaches in Sinies are a major draw, known for their crystal-clear waters and lush greenery, making them perfect spots for relaxation and swimming.
From pebbled shores to sandy bays, there are plenty of options for sunbathing, swimming, and water activities.
Starting with Barbati in the South, we meet beaches such as Nisaki, Kaminaki, Krouzeri, Agni, Kalami, Kouloura, Kerasia, the small port of Agios Stefanos, Avlaki, and the whole area of Erimitis bordering ΚassiopΙ.
These beaches offer crystal-clear waters and are surrounded by lush greenery, making them perfect spots for relaxation and swimming.
Nisaki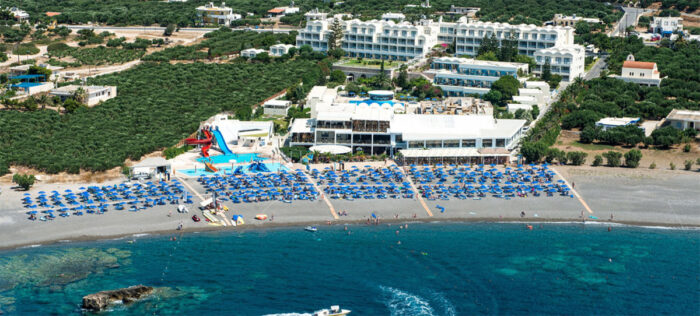 Nisaki is a peaceful village known for its crystal-clear waters and small pebble beaches. It is an ideal spot for relaxation and enjoying the serene surroundings.
Agios Stefanos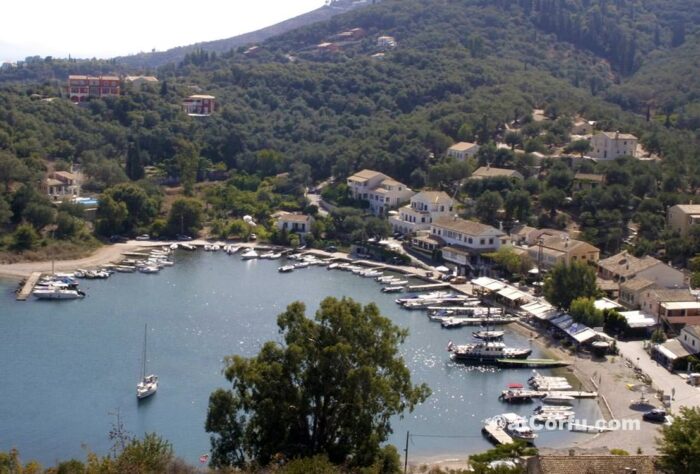 Agios Stefanos (Sinies) is much more sophisticated, catering to the occupants of the luxury villas which can be seen all along this coastline, some on the coast itself, but many hidden in the olive-covered slops above. It is a lively yacht harbor, with tavernas along the waterfront, and it is difficult to remember that in relatively recent times this was an area where permits were needed- as it is situated on the narrowest part of the Corfu Channel, where only 1.5 km divides Greece from Albania.
Kerasia
Kerasia is famous for its beautiful bay and stunning beach. Surrounded by green hills, it's a perfect spot for sunbathing and swimming in pristine waters.
Avlaki
Avlaki is a scenic bay with a long pebble beach and clear blue waters. It's a great place for water sports enthusiasts, such as sailing and windsurfing.
Kalami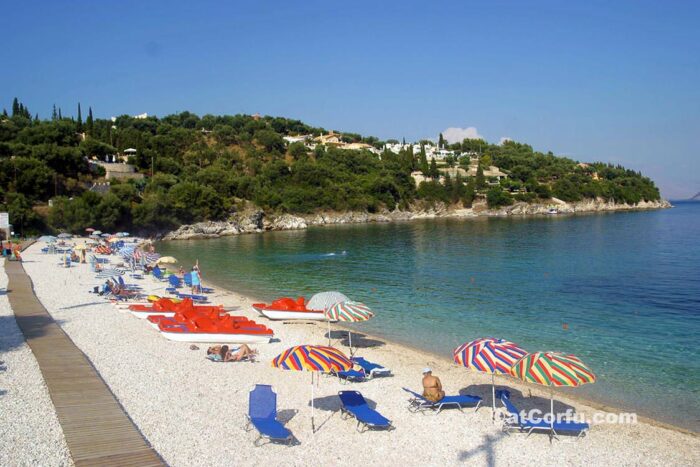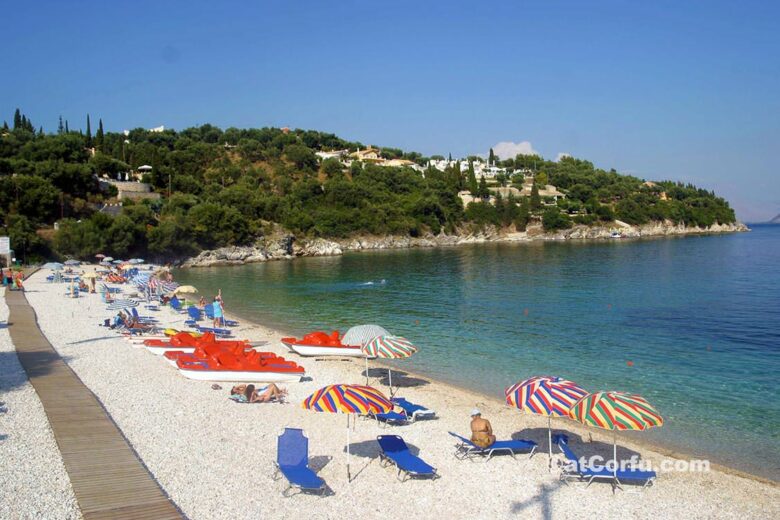 Kalami gained fame as the former residence of the British author Lawrence Durrell. It's a charming village with a crescent-shaped pebble beach and a laid-back atmosphere.
Kouloura

Kouloura is undoubtedly one of the most picturesque coves in Corfu and boasts an enchanting horseshoe-shaped harbor protected by an ancient fortress house.
Nestled along the coastline, this charming cove offers a serene ambiance and is adorned with just a single quaint taverna. From a viewpoint on the main road, visitors can gaze down upon the idyllic bay and even catch glimpses of the Albanian coast.
Interestingly, another fortress, resembling the one at Kouloura, can be seen across the waters, but regrettably, it has been left to succumb to the ravages of time and neglect.
Agni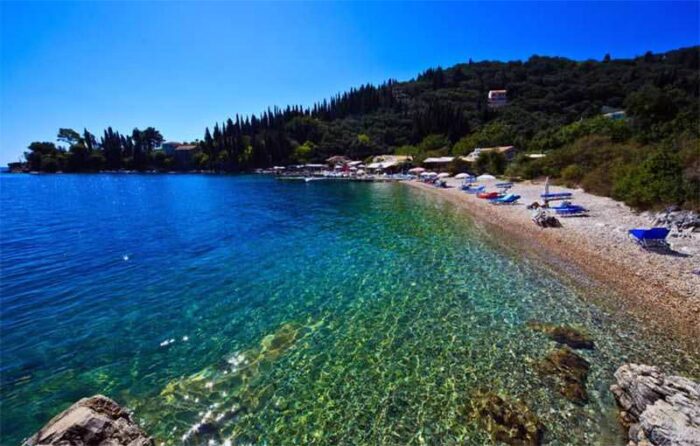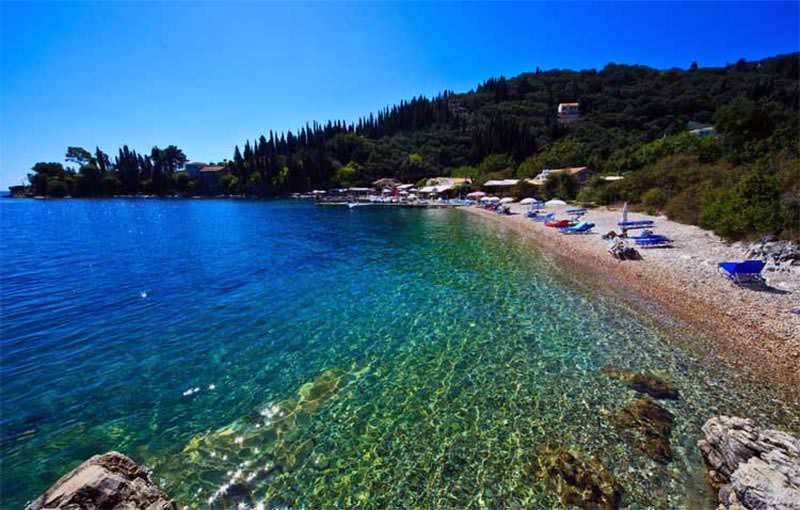 Agni is a delightful fishing village known for its excellent seafood tavernas. The bay is also popular among yachters who enjoy its clear waters.
Barbati
While not technically part of Sinies, Barbati is located nearby and is worth mentioning for its stunning beach and various water sports facilities.
The authentic, rural side of Corfu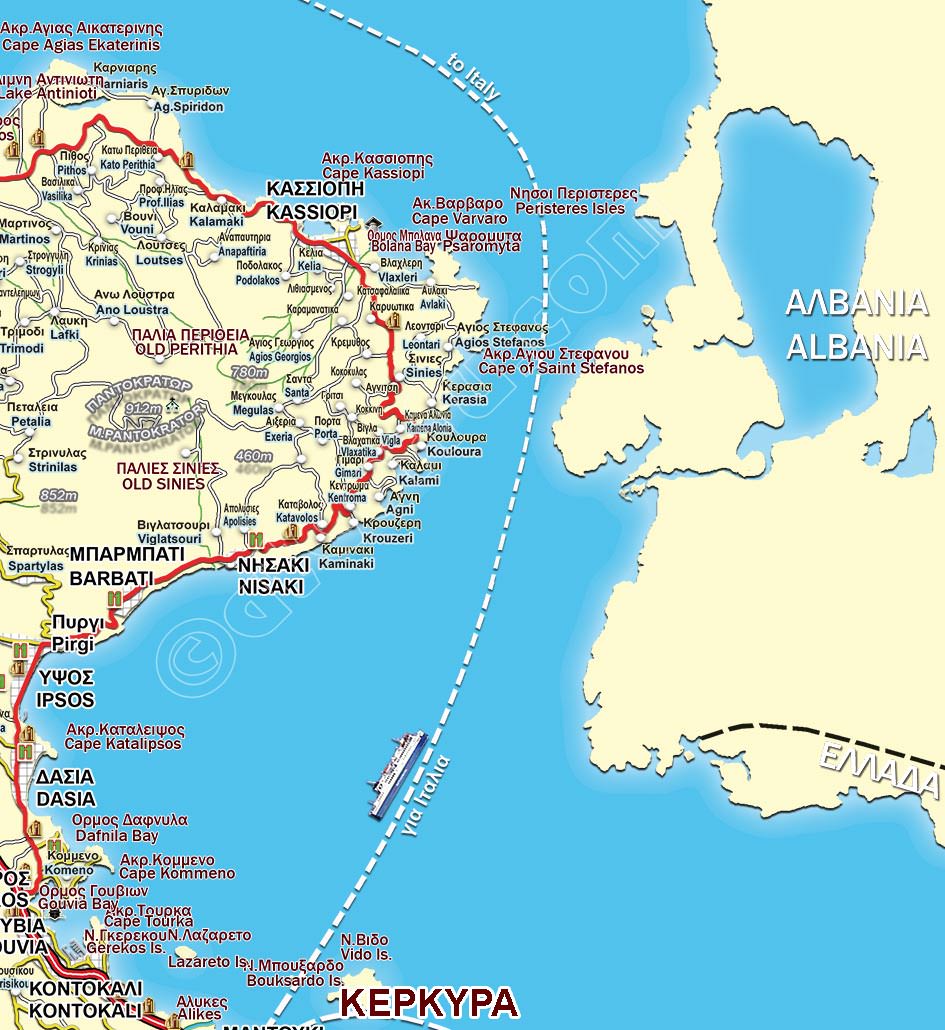 Visiting these mountainous villages in the Sinies area can be a rewarding experience, as they offer a chance to escape the crowds and explore the authentic, rural side of Corfu. You'll have the opportunity to immerse yourself in the local culture, enjoy breathtaking views, and perhaps taste some traditional Greek cuisine in local tavernas.
Sinies is also characterized by its traditional villages, such as Sinies village itself, as well as Nisaki and Spartilas. These villages provide an authentic glimpse into the local way of life and offer opportunities to explore traditional architecture and local cuisine.
For nature enthusiasts, the area provides various opportunities for hiking and exploring the surrounding hills and mountains, offering breathtaking views of the coastline and the sea.
Wrapping Up
The Sinies area, located in the northeastern part of the island of Corfu (Kerkyra), Greece, is renowned for its natural beauty, stunning coastline, and traditional charm.
Overall, it offers a more serene and less touristy experience compared to some of the more popular destinations on the island.
The area is dominated by Mount Pantokrator, the highest mountain in Corfu. This mountain provides opportunities for hiking and exploring, with stunning panoramic views of the surrounding landscape and coastline, therefore Sinies is characterized by its lush green landscapes, rolling hills, and picturesque beaches.
The region is dotted with olive groves, cypress trees, and other Mediterranean flora, providing a captivating backdrop for travelers.
More in Northeast Corfu