Last updated on July 30th, 2023 at 09:59 am
The Beaches at Erimitis
Erimitis area is the Northeastern tip of Corfu island, very close to Albanian shores.
It starts from the Agios Stefanos area in the East and stretches up to Kassiopi borders on the North Coast.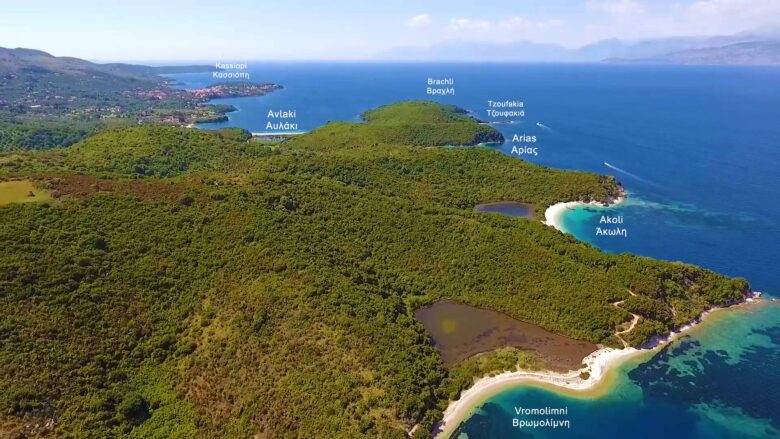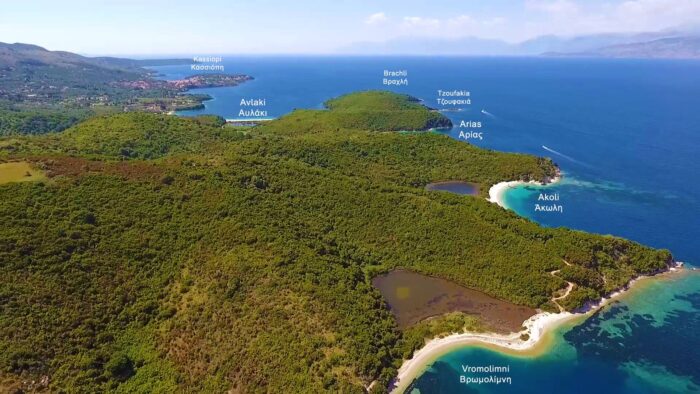 An unspoiled paradise is full of small cute coves separated by small promontories that give beautiful scenery to the landscape.
Every cove here is a small pebble beach of unique beauty, all of which are isolated and can be visited only by the sea.
Starting from Kassiopi and going to the east we find the following cute tiny beaches: Avlaki, Vouvalomantria Beach, Vrachli Beach, Tzoufakia, the Arias Beach, Akoli, Vromolimni, Kaminakia Beach, Korfovounia, Aspalathras, and Xylokeratia beach.
Let's note that all these beaches are pebble and no sand, the waters are extremely clear and clean.

Avlaki beach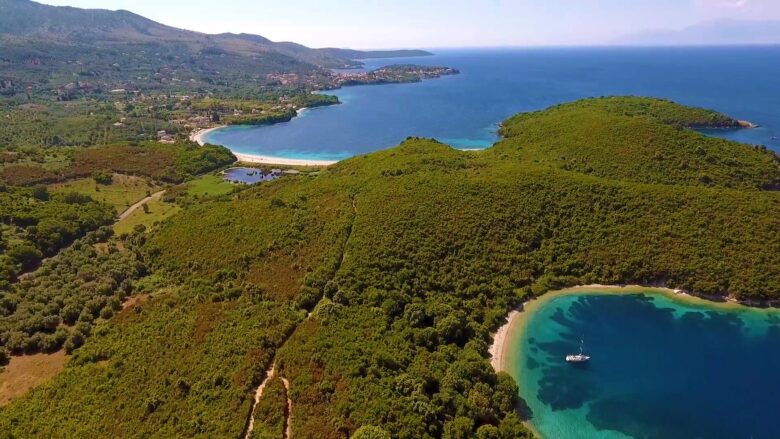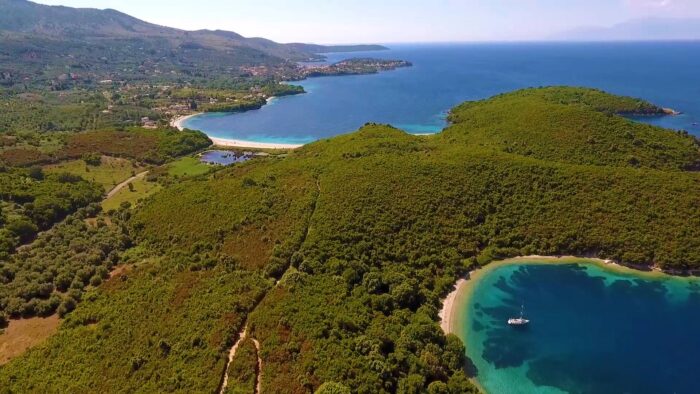 Avlaki is the biggest beach in the area, close to Kassiopi, and in visual contact with it.
It is separated into two parts, the west and the east Avlaki which is much smaller.
On the east side of the west Avlaki, there is another small lake behind it which sometimes dries out.
There are some houses and apartments on the west part of the beach, the busier of all, as it is easily accessible by road.

Vouvalomantria beach
At the north tip of Erimitis, a very small and secluded beach is available only by sea.

Vrachli beach
A Lovely beach facing east, the only one without a small lake behind it.

Tzoufakia beach
A Tiny beach next to and south of Vrachli, completely isolated.

Arias beach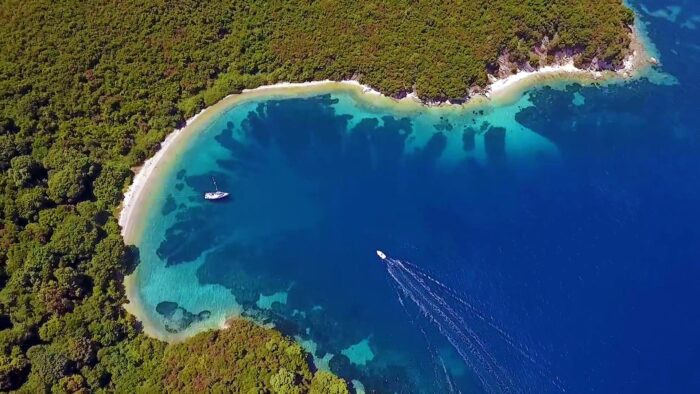 Another beauty is the isolated pebble beach a little south of Tzoufakia.

Akoli beach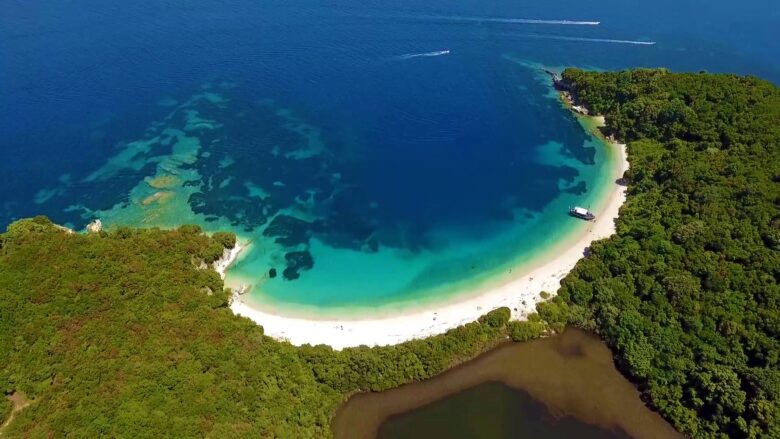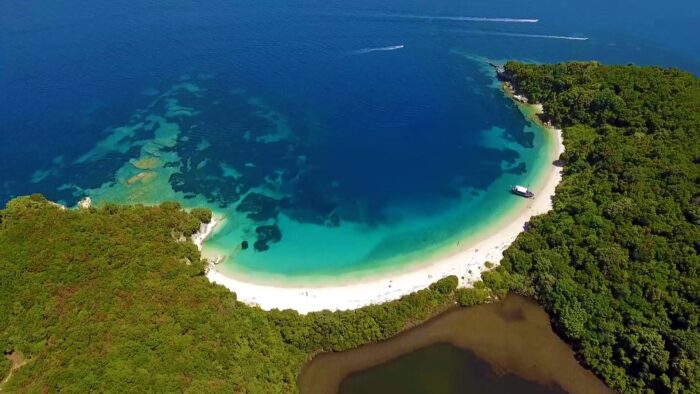 One of the few beaches in the area is reachable by foot through a small path.
The name is due to the lake behind the beach which is believed to be very deep.
Although the lake, in reality, is not deep, the name means literally "bottomless", α-κωλη, in Greek this is from the deprivation α = χωρίς(without), and the word κώλος, in ancient Greek κώλος means bottom,
(while in modern Greek means ass). In this case, the word has an ancient meaning and means bottomless, used for deep seas or lakes.

Vromolimni beach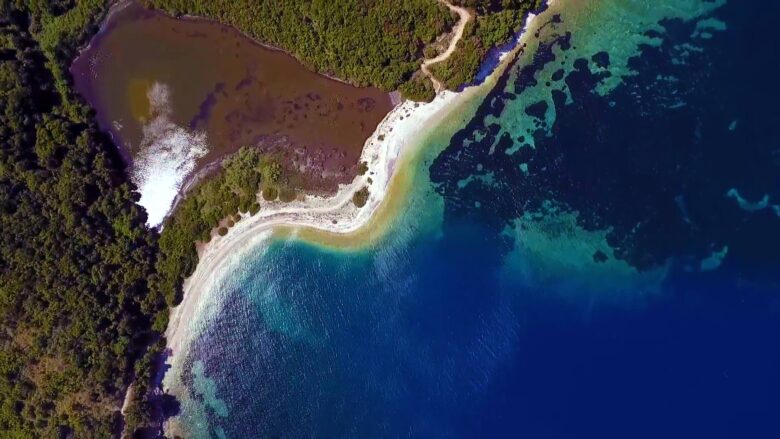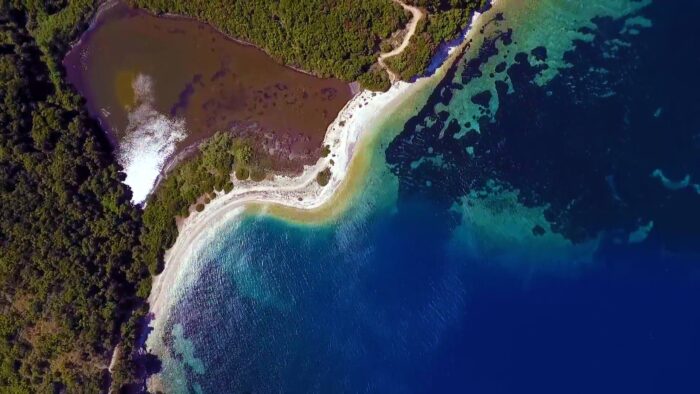 Another beach with a lake behind it, the name "Vromolimni" means Dirty lake, it is dirty indeed compared to the clean waters of the sea.

Kaminakia, Korfovounia, Aspalathras, and Xylokeratia beaches
Between Vromolimni and the small harbor of Agios Stefanos, we find these small diamonds respectively.
All are very tiny and isolated from each other but can be reached too by small pathways.