Last updated on July 30th, 2023 at 08:46 am
The Corfiot Cuisine
What we call Corfu cuisine is the gastronomic tradition that was shaped in Corfu and all the Ionian Islands and which is a special category of Greek cuisine with complex recipes and dishes with delicious Corfu food.
The 411 years of Venetian occupation influenced the cultural identity of Corfu in all areas of both culture and everyday life.
So, Corfu food has been catalytically influenced by the Venetians as were architecture, poetry, literature, and language.
All recipes of Corfiot cuisine came from Venice, adapted to the local products and the climate of the island.
The Venetians had a kitchen based on meat, fish, and hunting with a large dose of spices and, of course, pasta, and they enriched the limited to a few fish, oil, wine, and a few greens Mediterranean cuisine of the islands with their elaborate and complex tastes.
The Venetians brought here many unknown, until the early Byzantine years, products such as tomato, beans, peppers, corn, coffee, chocolate, and some others like sugar and expensive spices.
They also brought here the olive tree. Until then the island was dominated by vineyards, most of which were replaced by olive groves that produced plenty of good oil, which was also exported to Venice since the climate there did not favor the cultivation of the olive tree.
So, the Venetian cuisine adapted to these products and especially to the oil, in order to form the Corfiot cuisine.
The ingredients of Corfu food
So, in Corfu cuisine are used many products arrived on the island of Corfu in the 20th century. Local pasta products were also produced by three factories that unfortunately closed a few decades ago.
It was the milling-pastry factory of I. Dalietos & Baklis, the Kallivokas factory, and the pastry factory of Zafiropoulos.
The gastronomy of Corfu can, therefore, be said to be the Mediterranean but with substantial peculiarities due to the Italian influences.
Corfu food may be based on the same ingredients, but it is spicier and contains many more calories.
Of the characteristics of the Corfiot cooking style is the marinade for several hours and the slow cooking on a mild fire, in order to enhance the variety of flavors.
In addition to spices, many local herbs such as oregano, garlic, onion, parsley, basil, dill, peppermint, and spearmint are used.
The process of making food in the homes until a few years ago was time-consuming and resembled a ritual, especially on Sundays. The Pastitsada was the main dish of the day, Pastitsada with rooster and not beef.
If we try to describe it in a few words, the food of Corfu cuisine is spicy and yummy, for people who love and enjoy strong flavors.

What is Corfu food? – Recipes of Corfiot cuisine
The recipes that make up what we call Corfiot cuisine and Corfu food are many and delicious, Pastitsada to be the No 1, and Bourdeto, Bianco, and Sofrito among the most famous local dishes.
Pastitsada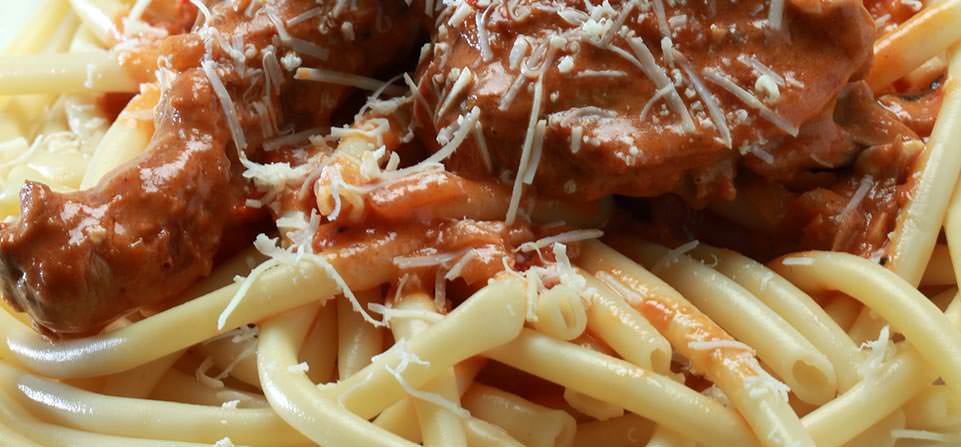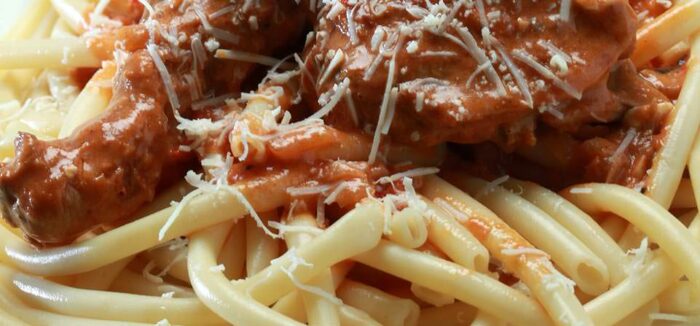 Corfu's No 1 recipe for official meals and celebrations. Until a few years ago was not missing from the Sunday table in any home.
The traditional dish is made with rooster, but can also be made with veal meat.
The rooster or the meat is cooked together with oil, a special mix of spices called Spetseriko, onions, and a little garlic that is not necessary, some wine, cinnamon, laurel, nutmeg, fresh tomato, pulp, and a little sugar are added.
The dish is served with thick pasta that is top chopped with kefalotyri.
Pastitsada recipe
Pastitsio Dolce – A dish from ancient Rome!
Very rare recipe coming from ancient Rome, difficult to impossible to find in any restaurant today.
On top of a layer of dough, well-cooked pieces of beef are spread, also roe, lamb, pork, hunting (usually woodcocks or hatcheries), sausages, boiled egg rolls, hams, salad, and corn with pasta with grated cheese and dill, all covered with tomato sauce, pepper, sugar, grated cheese and another layer of dough.
Over the dough another layer of sauce with pepper and grated cheese!
Result; a feast of tastes but more than 1000 calories a portion, we said before: the Corfiot cuisine is not for people on diet!
Wild greens
It was the humble food of the poor families, today these wild greens are eaten as a salad, cooked with oil and lemon.
Bianco fish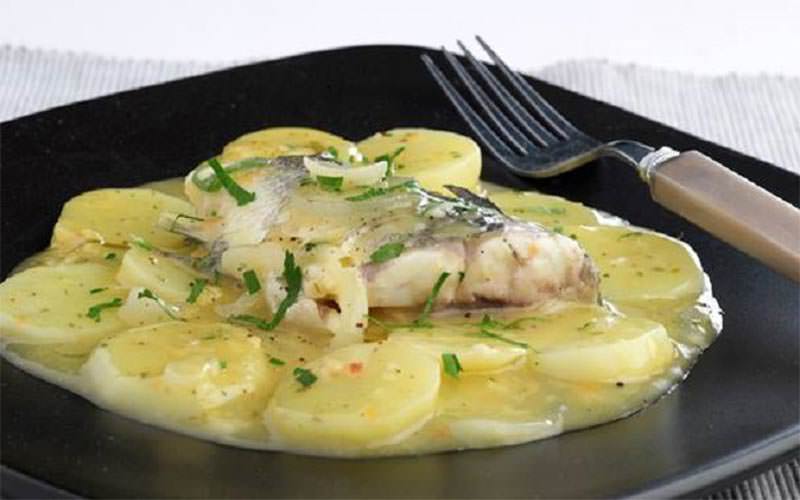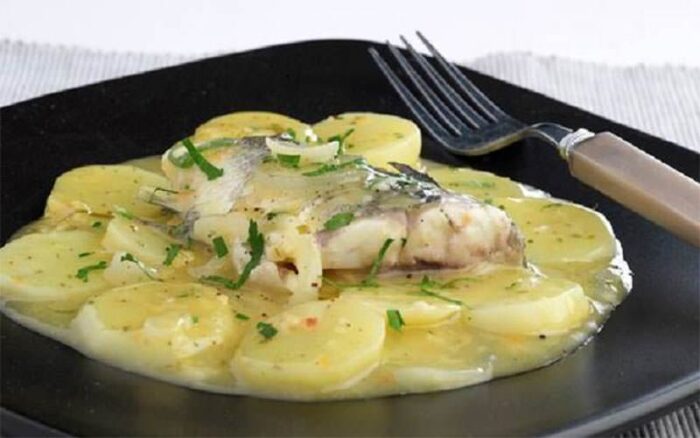 A type of fish soup that is not a soup, however, the fishes are cooked with garlic, oil, black pepper, and lemon juice.
In Bianco onion is not used.
Bianco recipe
Bourdeto fish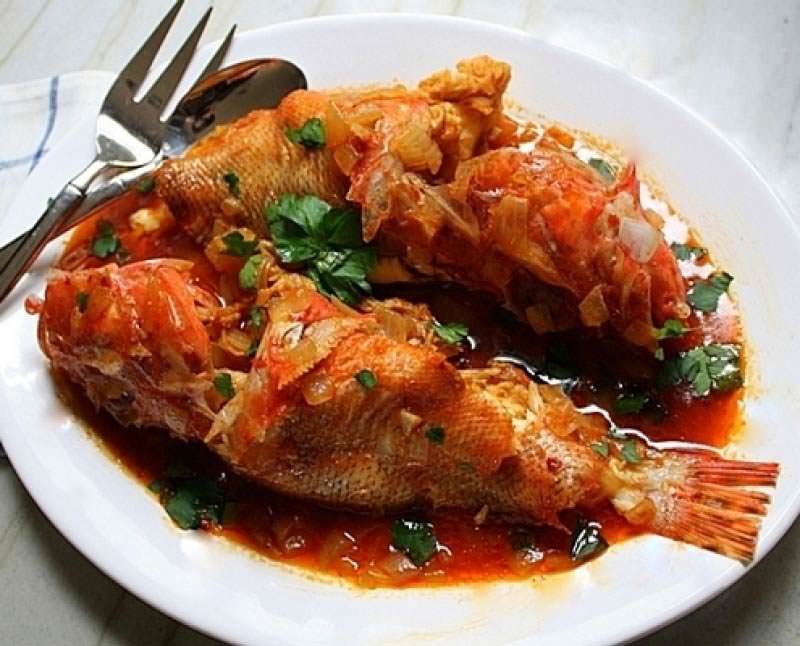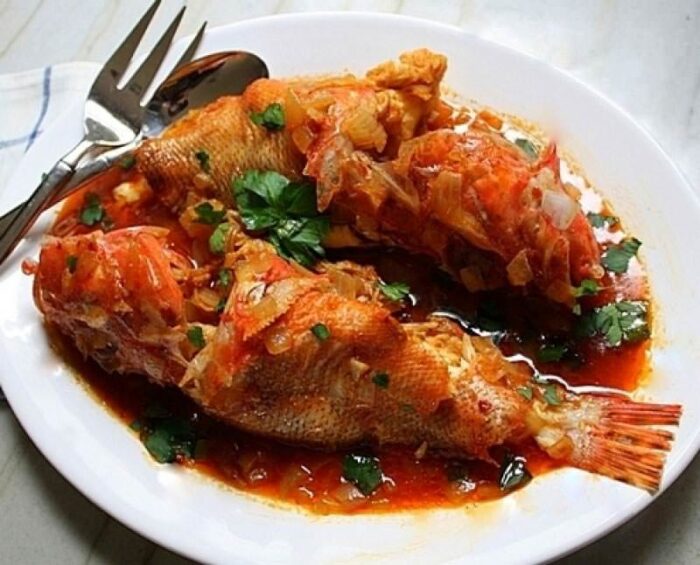 Another dish with fish or other seafood.
The onions are cooked with a lot of red pepper, half sweet and half hot, turn off with lemon.
We never put tomatoes in the Bourdeto, neither tomato sauce.
The best fish for Bourdeto is generally the deep-sea fish such as scorpions and bass, if we have no scorpions we can use yaks. (In Corfu we call them Vopes)
Also, a very nice Bourdeto is made with chestnut or dogfish.
Bourdeto recipe
Bourdeto with octopus
A fantastic dish.
With the same ingredients as on Bourdeto with fishes.
The octopus is cut into pieces and sautéed safely on low heat until it pulls out its liquids.
After a short time, oil, pepper, a large onion cut in four pieces, and water or white dry wine are added until the octopus is covered.
We let it boil until it is dry and then pour in the pieces of potatoes, we add a little water or white wine.
The food is ready for serving when it is dry and left with the oil.
Attention, do not use at all any salt during cooking!
Octopus Bourdeto recipe
Poulenta or else Koronia
It is boiled cornflour with water, looks like a cream.
Savoro
Savoro is a sauce used for a sort time conservation of fried fish, it is spicy as it contains oil, vinegar, garlic, and herbs
Sofrito with beef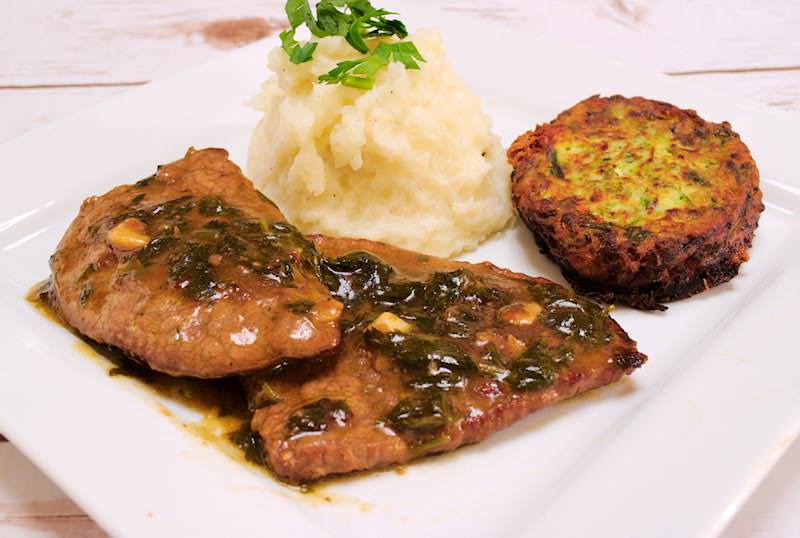 Thin slices of veal meat, after frying lightly, goes in the pan for a while, then garlic grated, parsley, pepper, white wine, and salt is added.
Also, water can be used instead of wine.
Served with french fries or rice or with puree, but also with spaghetti, or anything else you like.
Sofrito recipe
Stacophysy (stock-fish)
From the English stock-fish
Dry hake sautéed with onions and red pepper, cooked with tomato and a little sugar.
Tsigareli
It is no other than wild greens boiled with chopped onion, garlic, red hot pepper, and salt.
Tsilichourda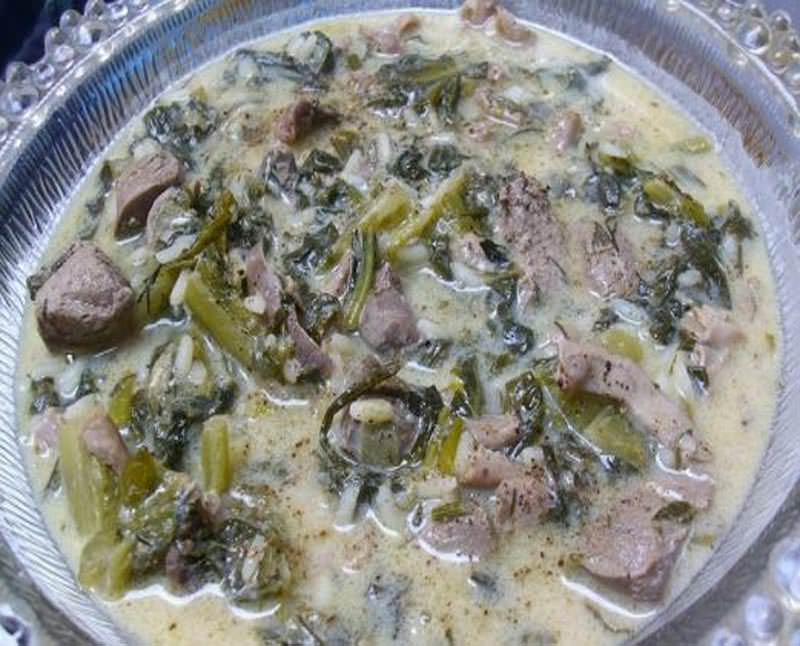 The Easter Magiritsa of Corfu is cut bowls cooked with chopped onions, parsley, dill. It is not a soup, but a thicker one, we straw in a lot of lemon juice.
Figaddelia
Wrapped in slices beef liver with garlic, pepper, oregano, and cinnamon.
Sweets and drinks
Sykomaida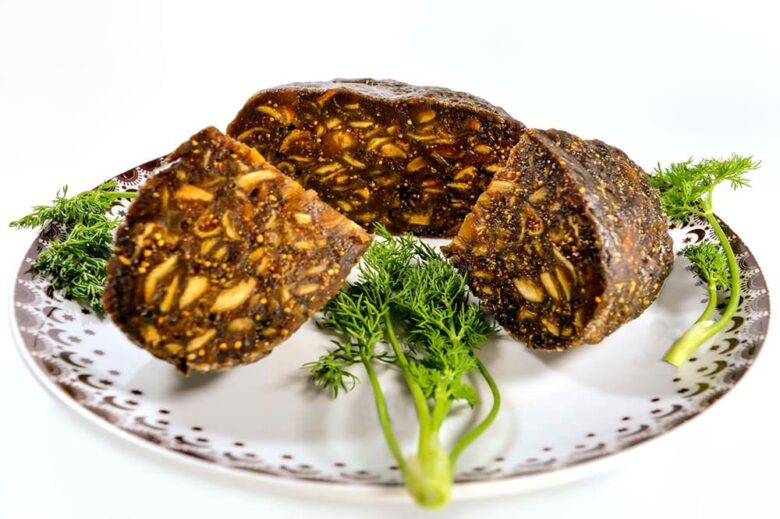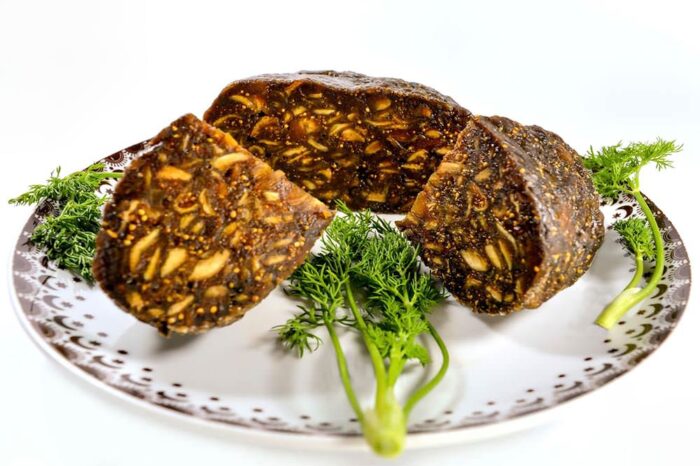 Corfiot sweet from dried figs, figs are spoiled with ouzo, mastic, and sweet wine and with a solid dose of pepper, looks like a big burger, and is wrapped in walnut leaves.
Ginzollas or otherwise Tzitzifa
In fact, it is a tree fruit, red, in size of large olives with a pimple, eaten dried.
Corfu Bolshevikos
Syrupy sweet in the shape of a big melomakarona.
Fogatsa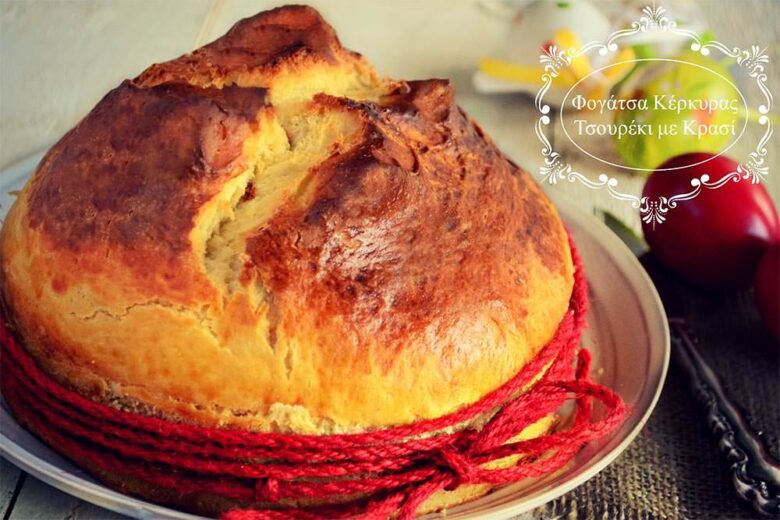 The Easter brioche of Corfu.
Mandolato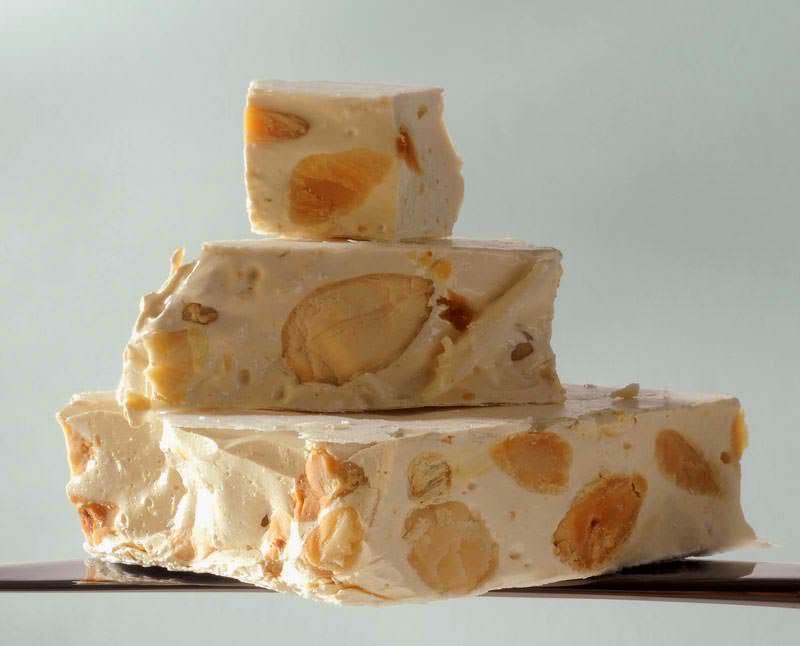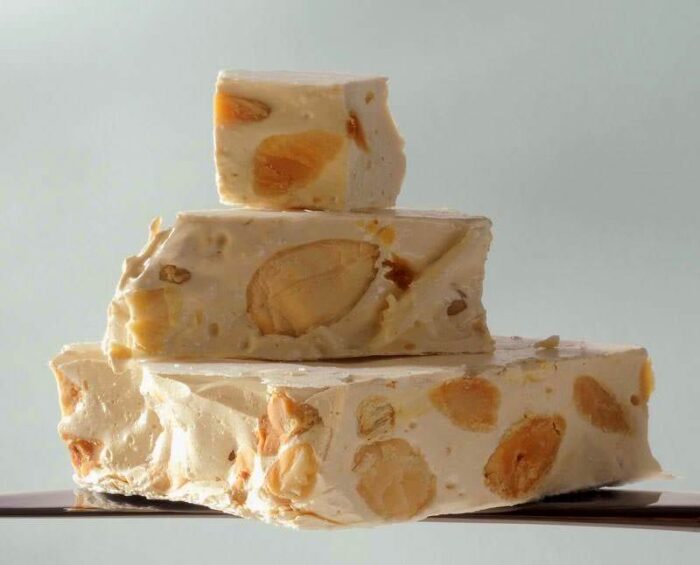 The favorite confection of the Venetians, honey, sugar, and egg whites are made meringue filled with almonds.
The mandolato can be found in all the Ionian Islands, the good mandolato must be very hard, not to be bent but breakable, the name means almond in Italian, the Italians call it Mantorlato.
Tzaletia (from Italian Giallo = yellow)
Shredded fried dough dumplings with sugar and cinnamon, look like the well-known donuts only that they absorb less oil cause they are fried in a shallow pan.
Special local products
Kumquat
Koum quat is a kind of small mandarin that exists in China, came and thrives in Corfu since the British domination.
From this, it produces a very delicious liqueur and also the homonymous sweet spoon.
Cheese Corfu
Spicy cheese made from cow's milk, a copy of the Italian Pecorino.
Read how to Cook these Dishes on your own
Where to Eat delicious Corfu Food – Restaurants