Last updated on May 28th, 2023 at 11:04 am
There is a legend…
That at the Beginning of Time…
God Set Aside Land for each Country…
The Greeks were Last…
Distraught to be left with Scattered Rocks in the Ocean…
As all else had been given Away…
But God looked upon them and smiled…
He said:
"Fear not…As this Land I was Saving for Myself, I have welcomed you into my Home."
This is a Travel Guide for travelers to Greece, one of the most beautiful countries in the world.
Apart from its long history, endless Culture, and Civilization, Greece has distinct beauty characteristics that make it a standout among many other tourist destinations.
Greece is a beautiful country with hundreds of islands to explore. From the sun-drenched beaches of the Cyclades to the rocky cliffs of the Ionian Islands, there is something for everyone. In this guide, we will provide all the information you need to plan the perfect Greek island adventure. So get ready to explore the stunning landscapes, rich history and culture, and delicious cuisine of the Greek Islands!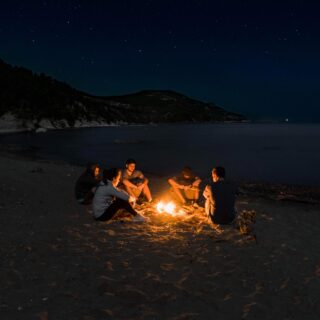 Introduction to a Trip to Greece
When planning a trip to Greece, many travelers are drawn to the country's hundreds of beautiful islands. From the iconic blue roofs of Santorini to the turbulent waters of windy Mykonos, there are plenty of breathtaking wonders to explore.
However, a trip to Greece isn't complete without exploring some of the country's exquisite ancient ruins. From the Parthenon in Athens to the ancient palace remains at Knossos, Greece is a treasure trove of history and culture waiting to be explored.
No matter what your travel itinerary looks like, Greece is sure to provide you with a journey you won't soon forget.
From picturesque villages sheltered in lush green valleys to stunning white-sand beaches and crystal-clear waters, there is something for every type of traveler in Greece. Whether you're looking for an all-inclusive resort experience or a more adventurous backpacking trip, Greece offers a range of experiences for any visitor.
Explore archaeological ruins, discover the rich cultural heritage, and savor the delicious Greek cuisine all while taking in the beauty of the landscape.
The Greece travel guide will help you plan your trip with historical sites, vibrant cities, and stunning natural beauty, and make sure to include all the best spots in this amazing Mediterranean destination.
Whether you're looking for a romantic getaway or an action-packed adventure, Greek islands have something special to offer everyone – making Greece one of the best destinations in Europe! Also, the warm climate of the country makes it a great destination for those looking for tropical weather without crossing the Mediterranean.
From incredible coastal views to outdoor activities that will keep you entertained, Greece provides something different to enjoy every day. If you are looking for a truly magical experience, Greece can provide you with all.
Top Tips for Travel in Greece
A trip to Greece can be a truly memorable experience, so it's important to plan ahead and make sure you have all of the right information and tips before you go.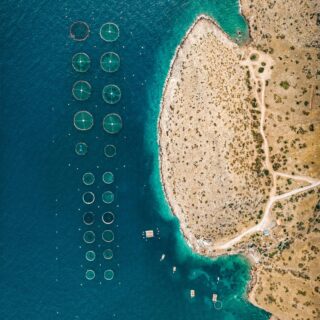 A great first step is to get a comprehensive Greece travel guide, which will provide you with all of the essential information you need to know about the country.
This should include practical advice about transport, accommodation, attractions and activities, local customs and etiquette, and health and safety concerns. With the help of this guide, you'll be able to find the best places to stay, explore exciting attractions, and make the most of your time in this ancient land.
Firstly, when traveling to Greece, it's essential to familiarise yourself with the local customs and culture.
This will help you make the most of your time in Greece and immerse yourself in the experience. From exploring the ancient ruins of Athens to indulging in a local Greek delicacy, such as Souvlaki or Baklava, there is much to experience in Greece.
It's also important to remember to respect any religious ceremonies or cultural norms. Taking the time to research and understand the traditions of Greece before you travel will ensure you get the most out of your trip. With this knowledge, you can explore this beautiful country with confidence and discover all that Greece has to offer.
Additionally, be sure to research whether or not certain items are legal to bring into the country before packing them. For example, it is illegal to bring certain types of food products into Greece due to border controls in place for agricultural purposes. When traveling to Greece, it is also important to research customs laws, visa requirements, and any other important information related to Greece prior to arriving. A good travel guide can provide helpful information about currency exchange rates, weather conditions, popular attractions, restaurants, and more.
Lastly, be sure to plan plenty of time for sightseeing and experiencing all of the wonderful attractions that Greece has to offer, from its amazing historical sites to its beautiful beaches and unforgettable nightlife!
All in all, Greece is a magnificent destination with so much to offer and explore. From its breathtaking historical sites to its gorgeous beaches, sightseeing around Greece is an experience you won't soon forget.
And don't forget – the nightlife in Greece is one of its most attractive features, with plenty of venues to explore and dances to learn. So if you're looking for an unforgettable holiday getaway, Greece is the perfect spot to visit!
Exploring the Islands: Must-See Attractions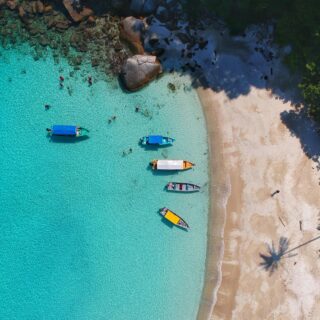 Exploring the islands of Greece is a great way to experience its long history, culture, and incredible beauty.
From the cobblestone streets of Santorini to the vineyards on Crete, there is something for everyone!
Take a tour of the Acropolis in Athens to learn more about the country's ancient history, or spend a leisurely afternoon snorkeling in the crystal blue waters off the coast of Rhodes.
Enjoy traditional Greek cuisine in a seaside taverna or stroll through quaint villages along the coast.
No matter your preference, with its stunning landscapes, vibrant culture, and welcoming locals, Greece is sure to make for a memorable travel experience!
Make sure to visit iconic landmarks like Delos or Delphi. These ancient sites provide an unparalleled glimpse into what life was like centuries ago.
Exploring ancient ruins is one of the most interesting things you can do in this stunning country.
Make sure to include a visit to Greece in your travel itinerary – you won't regret it!
Don't forget to check out some of the smaller islands and towns as well – islands like Hydra and Ios are two that should not be off your list.
Both locations offer a unique atmosphere of Greek character and charm that is perfect for a peaceful holiday away from big cities. Including these smaller islands and towns in your itinerary, you gain a full understanding of the country.
Hydra is known for its picturesque port while Ios is renowned for its vibrant nightlife.
The Beauty of the Greek Landscape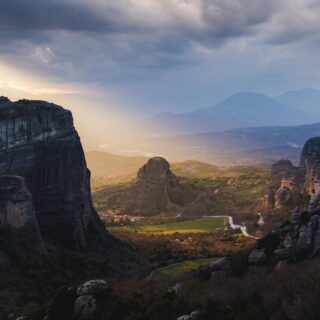 Exploring the Greek landscape allows visitors to experience firsthand the natural beauty of Greece, from sun-drenched beaches to stunning mountain vistas.
The country is known for its deep blue waters on the Aegean Sea, and the breathtaking sandy beaches with the emerald calm and warm water in the Ionian Sea at the west, making it a paradise for beachgoers.
Vibrant cities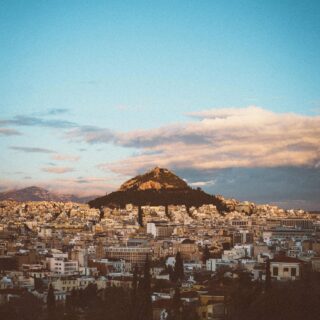 Whether you are visiting the vibrant cities of Athens, Thessaloniki, and Heraklion, or Chania in Crete or exploring the villages of Mykonos, Santorini, and Rhodes, there will be always something new and exciting to discover.
Ancient Ruins and Temples
A tour of the Greek countryside allows the traveler to explore some of Europe's most iconic ancient ruins and marvel at the stunning architecture of historical monuments like the Parthenon.
Greece travel guide can provide tips to help you plan the ideal Greek adventure, to discover Greece's vibrant culture in bustling cities like the capital Athens.
No Greek journey would be complete without a stroll through the awe-inspiring Acropolis with the monumental treasures of classical Greece.
Outdoor activities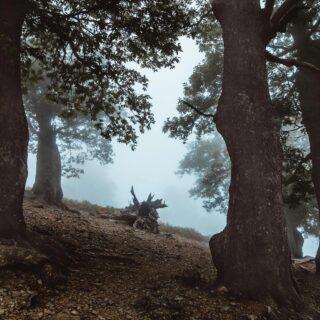 Hiking and mountain climbing are popular activities in the Greek countryside, offering beautiful views of breathtaking landscapes.
If you're an experienced hiker, then you'll find plenty of challenging trails to explore in the mountains of Greece. Or if you're more of a beach person, then why not try your hand at surfing or snorkeling in the warm waters off the coast?
With a wealth of outdoor activities such as hiking, water sports, kayaking, and more, there is something for everyone in this beautiful Mediterranean paradise.
Greece is a unique destination with a mix of activities that make it the perfect place for solo travelers, families, and couples alike.
Greece is a Food and Gastronomy paradise
Additionally, Greece is a great destination for food lovers with its variety of delicious Mediterranean cuisine and traditional Greek dishes.
Exploring the unique culture and food of the Greek islands is a great way to truly experience all that Greece has to offer.
From gyros to freshly caught seafood, local dishes such as moussaka, souvlaki, and spanakopita can take your culinary delight to the next level.
But despite the common food delicacies, each part, island, or even small village has its own distinct culture and cuisine with differences.
From the simple, yet delicious dishes of Crete to the spicy flavors of Corfu, you can be sure to find a dish that appeals to your palate
From creamy Greek yogurt and honeyed pastries on Santorini to freshly caught fish in Mykonos – make sure you indulge in some of the delicious dishes this beautiful country has to offer.
Greece has something to tantalize anyone's taste buds. So why not take a journey to discover the amazingly tasty and healthy Greek cuisine?
Adventure Opportunities in Greece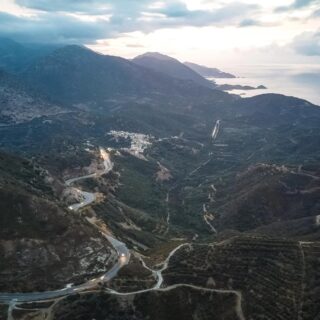 Greece is the perfect destination for thrill-seekers looking for a thrilling adventure. From adrenaline-pumping outdoor activities such as camping, mountain biking, and caving to more relaxed adventures like sailing and island-hopping!
Whether you want to explore the stunning scenery or try out one of the many water sports, Greece is the perfect destination for your next holiday.
There are plenty of activities to enjoy, from visiting ancient ruins and archaeological sites to exploring the many beaches and islands that make up the Greek coastline.
With a Greece travel guide in hand, you'll be able to make the most of your time in this stunning part of the world.
Whether you're looking to discover a hidden beach or just want to learn more about the country's history, there is something for everyone in Greece.
Whatever type of adventure you choose to embark on in Greece, make sure that you take the time to enjoy all of this vibrant country! From its ancient ruins and archaeological sites to its stunning natural beauty.
Exploring Greece is sure to be an unforgettable experience!
Whether you want to take part in exciting nightlife and water sports in the Greek islands or visit ancient ruins and monuments on the mainland – your Greek adventure will be one that you never forget.
Popular Islands to Visit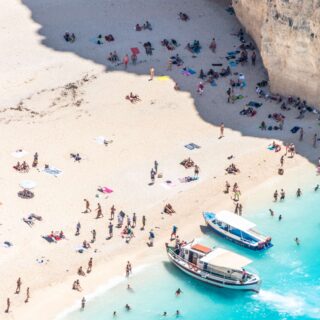 Greece has a total of 6,000 islands, of which only 227 are inhabited.
Among the most popular islands for visitors to explore are Corfu, Santorini, Mykonos, Rhodes, and Crete. Each island has its own unique atmosphere, from the cosmopolitan vibes of Mykonos to the rustic charm of Crete.
No matter which one you choose, you can expect excellent hospitality and stunning landscapes.
Corfu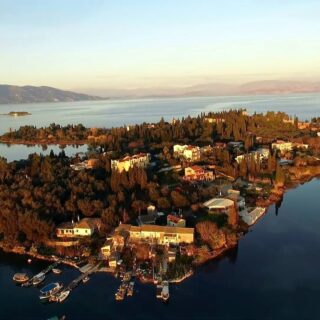 Corfu is located off the northwest coast of the mainland and is known for its exceptionally beautiful majestic beaches and Venetian-style buildings, particularly the old town of Corfu.
The island is ideal for sun-seekers looking to relax on the beach or participate in various watersports activities.
From picturesque coastal hikes to balmy nightlife and delicious local cuisine, Corfu has plenty to offer visitors.
Immerse yourself in the rich history and culture of Corfu by exploring the two Venetian castles or visiting the many museums and sights, numerous churches, and monasteries in the region.
Stroll through the cobbled Venetian-style streets of the old capital Kerkyra and explore traditional villages with medieval mansions or indulge in a spot of retail therapy at one of the many markets.
The possibilities for a memorable holiday are endless when you choose Corfu as your destination.
Santorini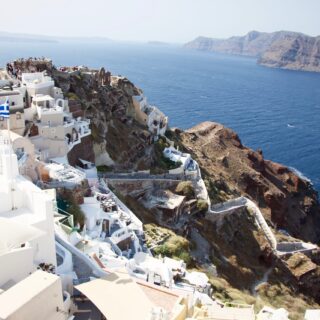 Santorini is the most famous among the Greek islands visited by thousands of tourists every year.
It is known for its dramatic volcanic landscape with white-washed buildings with vibrant blue roofs perched atop cliffs overlooking the azure sea of the caldera below.
And of its romantic atmosphere, it is not luck that this is one of the best honeymoon destinations not only in Greece but Worldwide.
Here visitors can explore wineries and archaeological sites or simply enjoy the gorgeous views of the caldera from any number of vantage points throughout the island that have a clear view of this old crater.
Santorini is the remain of a big volcanic eruption of Thera volcano 3600 years ago, during that eruption 2/3 of the whole island exploded and disappeared under the sea in a matter of days and only the small land around it remained.
The sea in the middle of today's island is the old crater covered by water and this is what we call Caldera today.
Remains and founds of the destruction and total catastrophe that this eruption caused can be seen in the settlement of Akrotiri, somewhere on the south of the island. Akrotiri is considered the Pompei of Greece but much older by 15 centuries.
Mykonos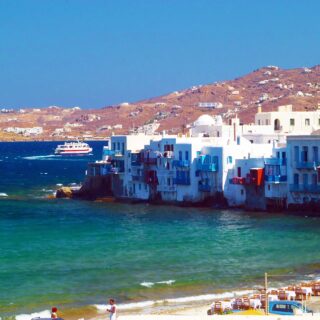 Mykonos is an idyllic cosmopolitan island with quaint cobblestone streets and picturesque whitewashed buildings with vibrant blue roofs, with flowerboxes overflowing with colorful blooms. Also, the strong winds gave it the name "The island of the winds".
It is one of the most famous Greek islands for its intense nightlife which continues during the day nonstop. This vibrant nightlife is offered by plenty of bars, clubs, beach clubs, and restaurants.
There are also plenty of shopping opportunities for local artisans selling their wares on the streets during the day.
Mykonos is a must to explore when considering travel to Greece. This idyllic island is sure to offer an unforgettable experience. Make sure to include it in your Greece travel itinerary!
Culture and History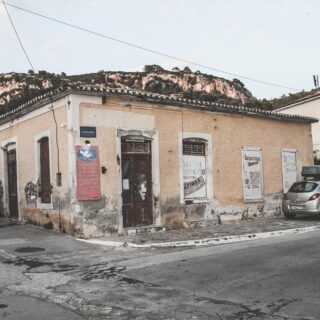 We were breaking our minds to find where this abandoned-looking building was, we had no clue but finally, we found it!
It is in a small village on the west coast of north Euboea called Limni. Here is how Google street view shows it! But this view (Nov 2011) is much older than the pic of 2020. So this traditional old grocery shop, something very very rare and unusual in our times, is abandoned indeed today! Pity.
(We had to find it anyway because…Curiosity killed the cat!)
In addition to local cuisine, you can explore the traditional music and dance of each region.
Greece has a huge culture and traditions, the music forms from syrtos on Crete, nisiotika on the islands, to rebetiko on Piraeus – every part of Greece has its own musical tradition and on top of this there are genres of music common to the entire country, such as Laiko, entechno, elafro, new wave, and the newest forms of skyladiko, and many other modern rythms.
The well-known Sirtaki is not traditional, as you may think, but artificially made only for the needs of the film Zorba the Greek, it's a choreography made in 1960 based on a traditional dance called Syrtos and an older popular dance called Chasapiko.
There are so many music genres and very rich music production, much richer than in any other country, it is not fair to identify Greek music only with bouzouki, our music tradition is much much broader and rich.
Greeks love to sing and live an intense life, in bad or good times either. And they live long indeed.
Here you have plenty of opportunities for a night out with friends! Greece has many vibrant and diverse traditions across its mainland, coastal areas, and islands.
Travel Guide to Greece and the Greek islands
Corfu travel guide includes useful information for today's Greece and the most famous islands, also we don't leave out Greece of the past with our references to history and Greek mythology that can be found on the blog with posts about Greek gods, the creation of Cosmos according to Greek Theogony, and monsters of Greek ancient tales.
Almost all fantastic and famous beaches on the Greek islands are presented here, as well as articles of a large variety about Greece with matters of great interest about this unique country, blessed by her gods and nature.
Don't miss out on our special traveling tips that will make your Greek holidays an unforgettable experience! For instance, see which are the best honeymoon destinations in Greece
To Conclude
After reading this guide, you should have a good idea of what to expect when visiting the Greek Islands.
From the vibrant cities to the secluded villages, there is something for everyone's tastes. Whether you're looking for a laid-back getaway or an adventure-filled journey, the Greek Islands are sure to provide you with unforgettable memories.
So what are you waiting for? Grab your suitcase and embark on an amazing journey of discovery and exploration in the captivating Land of the Hellenes!
Discover more about Greece
As one of the largest islands in the country, Rhodes Island is renowned all over the world for its out-of-this-world wonders of nature, ancient archaeological sites, and lovely beaches.… Read More