Last updated on July 30th, 2023 at 08:12 am
Best restaurants in Corfu
Corfu restaurants probably are among the best in Greece!
And this is not a coincidence, the Corfiot cuisine is unique and a kind of cuisine in itself.
The variety of local food is very rich and capable to satisfy even the most demanding lovers of good food. With the local ingredients that are among the most delicious in the world. And you will find out that we are not exaggerating at all.
That is why in recent years the restaurants of Corfu promote more and more Corfiot food, without of course ignoring the rich Greek cuisine. While there are restaurants for every taste and with traditional cuisines from around the world too.
Your culinary experience in Corfu will take you off with a huge variety of flavors, as specialized chefs, local fresh ingredients, and fantastic recipes, create some of the most delicious dishes you have ever tasted.
Although there are hundreds of good restaurants in Corfu, the AtCorfu team, will try to present you with only a few that we think are capable of making you fall in love with the island from a gastronomic point of view. Restaurants that are famous for their delicious food but also for their cleanliness and personal style that definitely rank among the top restaurants in Corfu.
Keep reading, because the best of the best are following, we can assure you that you will not regret it if you follow our tips.
You don't need to thank us, because our aim is your satisfaction.
But let's start our wandering to every corner of Corfu island, seeking the Best Corfu restaurants.
Captain Octopus in Benitses
Why Captain Octopus? Cause the Restaurant offers Traditional Corfu-flavored cuisine and specializes in fish and seafood as well as many vegan recipes.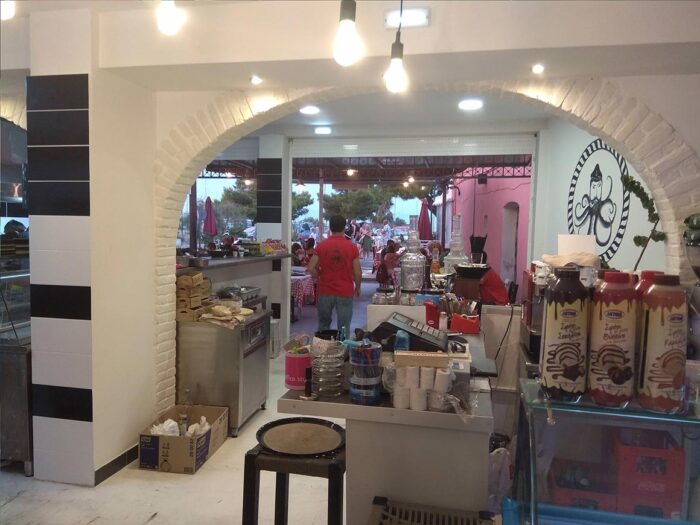 It is the newest restaurant out of the dozens that exist in the very tourist area of ​​Benitses.
And it is known to everyone that Benitses is the best place to eat in Corfu, as it is the gastronomic paradise of the island.
Captain Octopus in a short time managed to stand out and become a great restaurant, that is already listed among the top restaurants in Corfu.
This is due to the quality and deep knowledge of the object that was quickly recognized. Its customers are exciting, both by the taste and the amazing hospitality of the staff.
The captain attaches great importance on the part of the good service and hospitality and not unjustly.
The restaurant specializes in seafood recipes but also in the dishes of Corfiot cuisine. There is also a very rich variety of pure Greek dishes as well as special dishes for vegetarians that make the restaurant suitable for almost everyone.
Captain Octopus restaurant
Benitses, Interior road, opposite the marina.
Tel: +33 693 477 6810
Taverna Limnopoula in Petriti
Go to Limnopoula if you like to combine Traditional Corfu-flavored cuisine and fresh fish food as well as vegan recipes.
Limnopoula fish taverna is located by the sea. In the small village of Petriti on the south of Corfu, which is a hub for trading fresh catches in its port.
It is one of the best taverns in all of Corfu, especially for fresh fish. And in a relatively quiet location without the hustle and bustle of busy tourist centers.
Limnopoula combines traditional cuisine, fresh fish, and all kinds of seafood, wonderful sea views, and amazing service.
What else would a good food lover demand?
Taverna Limnopoula
Petriti 490 80
Phone: 2662 052216
The White House Restaurant in Kalami
In the White House restaurant, you will have dinner in the house of the Durrells, and you will taste some creations by top Greek chefs.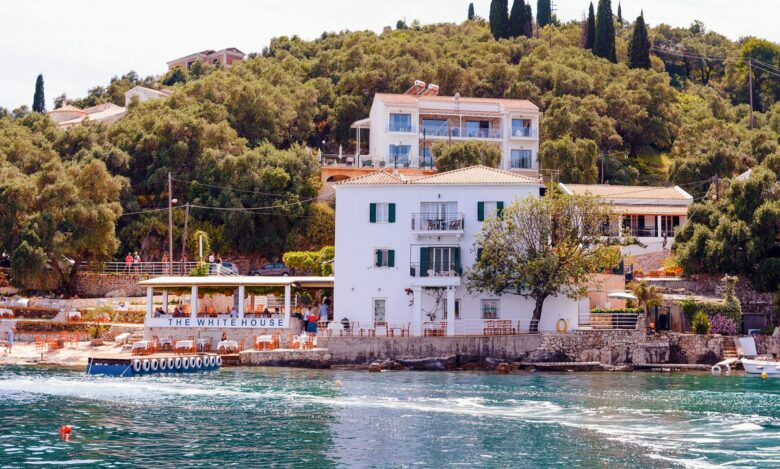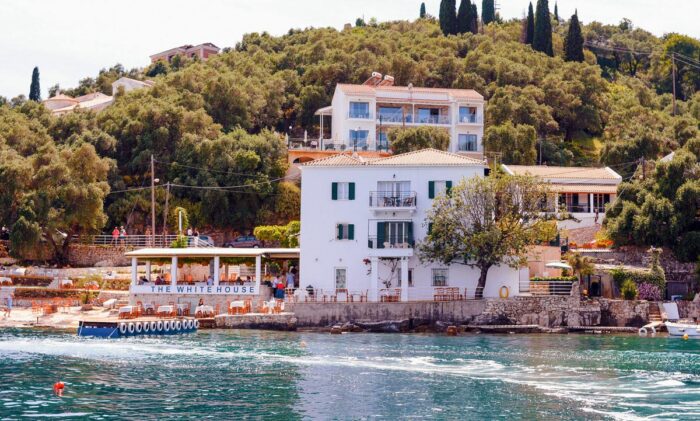 White House is located in Kalami bay, Yes you guessed well, this is the house that The Durrells lived in during their stay in Corfu.
So, this is a historic restaurant as well as one of the best in Corfu.
Among the chefs that served here is Lefteris Lazarou, a multi-awarded Greek chef for "Best Greek Cuisine Restaurant".
In 2002 Lefteris Lazarou and his restaurant has been awarded one Michelin Star, the top distinction that rates him along with the elite of chefs worldwide.
White House restaurant is defined by the salt, sea, and good Greek food, as much as, it is about history, heartwarming hospitality, and the island of Corfu.
Imagine yourself basking in the sunlight, listening to the Ionian Sea splashing at your feet whilst you awaken your sense of taste to our fresh seafood delicacies and white local wine.
You must go! This is where the Durrell's lived and you'll see why.
White House restaurant
Kalami Gimari Kalami Bay, Kerkira 490 83
Health and safety: Reservations required
Phone: 2663 091465
The Venetian Well in the city of Corfu
For a high-class dining experience visit the Venetian well, food cooked to perfection and beautifully presented in a luxury environment.
The Venetian Well is a restaurant for an excellent dining experience. It is located in Sofokleous Dousmani 46 street, inside the old town.
The exciting menu is backed up with food cooked to perfection and beautifully presented, also a list of delightful local wines.
The atmosphere, presentation, and the very friendly and unpretentious staff make this a very special restaurant!
We highly recommend this restaurant, you may have a lot of good dining experiences during your trip to Corfu but this is by far head and shoulders above the rest.
Try the Veal tartare with the mustard seeds. Goat cheese on beetroot as a palate cleanser is awesome. Sweetbreads are crisp on the outside and tender inside.
The Venetian Well restaurant
Sofokleous Dousmani 46, Kerkira 491 00
Phone: 2661 550955
Restaurant "Ta Kokoria" in the old town of Corfu
Why choose this restaurant? In "Ta Kokoria" you will feel a warm welcome and taste the great Greek cuisine with big portions on the plates.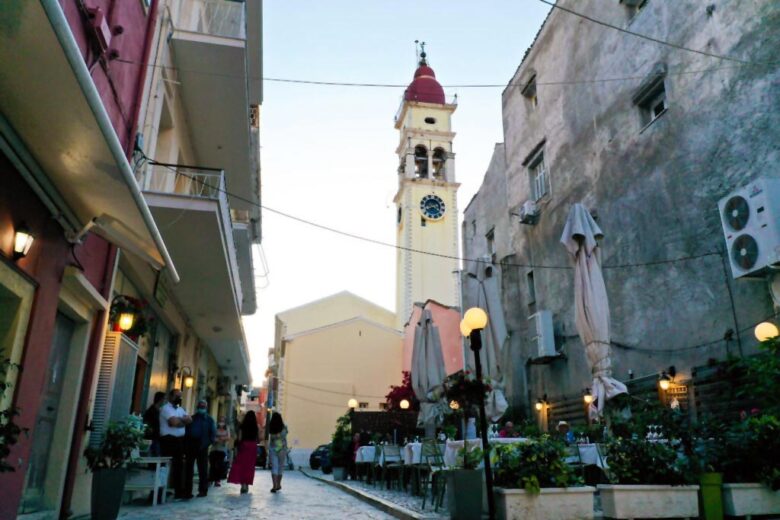 "Ta kokoria", literally means "The roosters", ideally located in the center of the old town of Corfu, very close to the famous Liston and the bell tower of St. Spyridon's church, at Kalocheretou street 12-14.
It has an outdoor as well as an indoor area.
Ta Kokoria offers a warm welcome and great Greek cuisine. Having been serving Corfiots and travelers for over 30 years, this taverna is still one of the best in the town.
The restaurant specializes mainly in traditional Corfiot recipes but also is open to new ideas and food innovations.
This taverna is very popular and provides friendly service, tasteful food in Big portions, at surprisingly low prices
Restaurant "Ta Kokoria"
Kalocheretou 12-14, Kerkira 491 00
Phone: 2661 035002
Rex restaurant in Corfu town
What is the reason to visit "REX"? Because you will find people passionate about the food they prepare and you like the traditional Greek cuisine.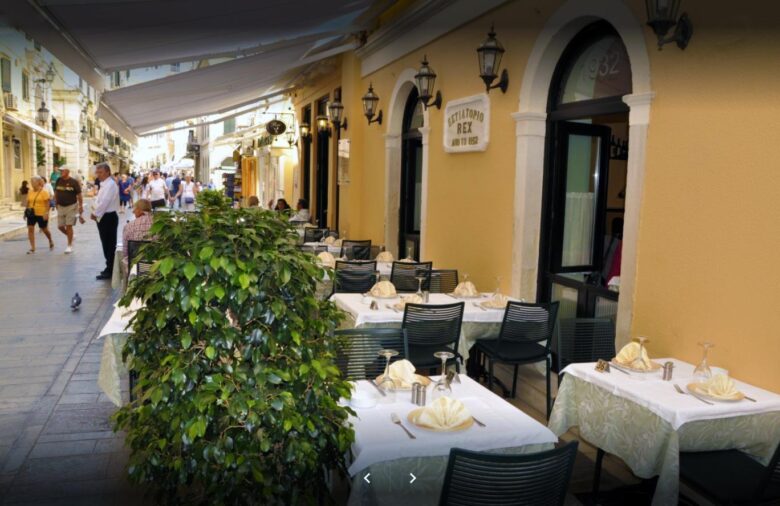 One of the best restaurants in Corfu town, it is located on 66 Kapodistrias street, next to Liston and the Esplanade square, hence in the heart of the old town.
A luxurious restaurant with a beautiful environment in elegant interior design.
Rex Restaurant with its traditional Greek cuisine is a reference point in the gastronomy of Corfu since 1932!
The people in Rex restaurant are passionate about the food they prepare. They use the finest ingredients and apply the most advanced techniques possible.
Each menu creation is meant to become a culinary journey not just a collection of various dishes. It is created with passion and dedication and they love to share it with their customers.
REX restaurant
Kapodistriou 66, Kerkira 491 00
Phone: 2661 039649
Paradosiakon restaurant in Spilia
Why in Paradosiakon? Cause the Corfiot flavors and traditional recipes are taken from grandma's drawer, following the traditional way of cookery and using pure fresh ingredients carefully selected.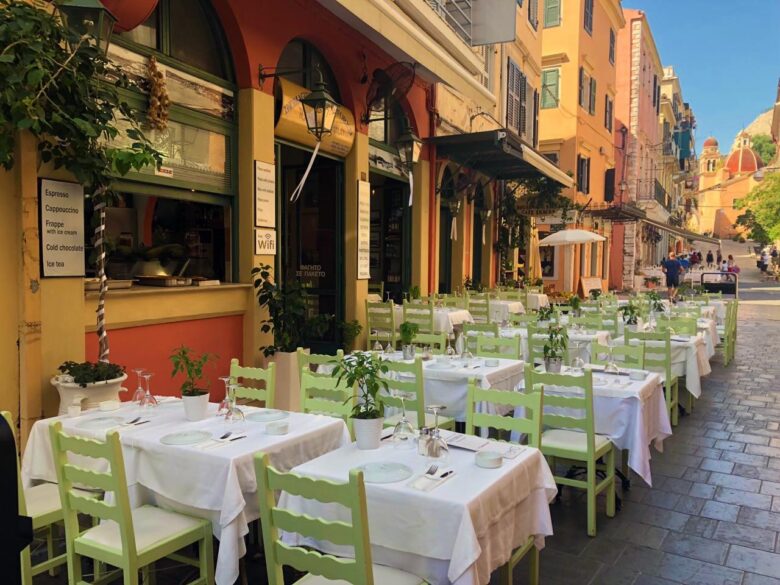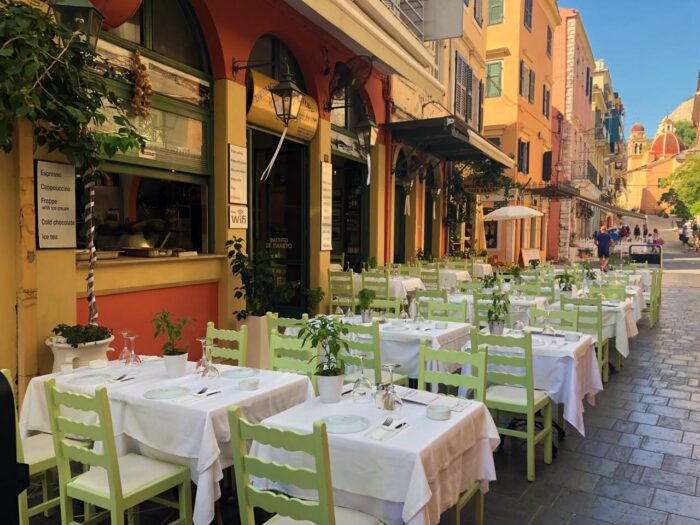 Paradosiakon (is the Greek word for "traditional") restaurant is another historic restaurant inside the heart of the old town of Corfu.
It is one of the best traditional taverns since the decade of the '30s, You will find it in Spilia region of the Old Town.
Here the Corfiot flavors and traditional recipes are taken from grandma's drawer, following the traditional way of cookery and using pure fresh ingredients carefully selected.
Its location creates an ideal atmosphere for a meal in Corfu town.
More specialties worth trying are the fresh fish and the local meat on the grill.
Paradosiakon restaurant
Dionisiou Solomou 20, Kerkira 491 00
Phone: 2661 037578
NINOS Taverna-Grill in the city of Corfu
Why go to Nino's restaurant? Cause you will enjoy the real Corfiot flavors and traditional recipes without compromises in fresh ingredients at very cheap prices.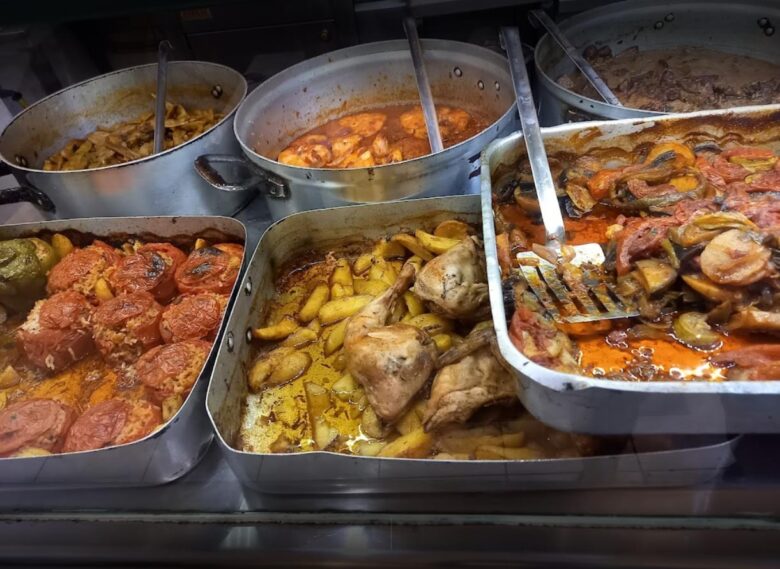 If you want to try real Corfiot specialties such as sofrito and pastitsada, all you have to do is plunge into the enchanting cantons of Corfu, at 44 Sevastianou Street.
Ninos is a Traditional tavern with excellently cooked and grilled food in the city center, 25 minutes walk from the port of Corfu and 10 minutes from the main square.
A story that Mrs. Chrissi, an amazing cook from Corfu, started writing several decades ago, is a must for anyone who comes to the island.
Today the business is run by Nino's family and this can be seen in every aspect. Very warm, family atmosphere, with their own wine, all excellently cooked by Natassa's hands and perhaps the best souvlaki on the island.
Very economical, while maintaining very good quality, in a traditional space, either inside or in the canton outside during summer.
NINOS Taverna-Grill
Sevastianou 44, Kerkira 491 00
Phone: 2661 046175
The Tavern of Nikolas in Agni
Why eat at Taverna Nikolas? Because the variety is endless, the food is very tasty and you can choose between many different kinds of cuisine. Add to these the beautiful seaside location.
Agni is a quiet small location on the northeast coast of Corfu.
Its small beach consists of pebbles and can barely fit three houses, which have been turned into tavernas. The taverna Agni, the Toula's taverna, and the taverna Nikolas, each with its own pier.
As if everyone with their own pool.
Although we have a humorous mood now, we will not deal with the conflicts that they will definitely have with each other, after all, if they did not have them, they would not be Greeks … ok, we do not say anything else and we move on to our essence.
We choose the taverna Nikolas because we really liked the food and the wide variety of fish appetizers.
To eat and not be able to stop, we were also impressed by the great cleanliness of the well-served dishes.
It has everything, Greek traditional cuisine, fish, seafood, grill, even lamb on a spit, and countless appetizers.
Almost forgotten, this place organizes Greek nights with live music once a week, usually on Thursdays, but don't take it for granted, so you better give them a call and ask.
If you ever visit Agni, do not forget to visit the tavern of Nikolas, you will certainly not regret it.
Taverna Nikolas
Agni bay, agni 491 00
Health and safety: Reservations required · Mask required · Staff wear masks · Staff get temperature checks · Staff required to disinfect surfaces between visits
Phone: 2663 091243
Kaiser Bridge Restaurant on a pier
Why Kaizer Bridge Restaurant?  Simply because on some occasions you seek the exceptional environment, on a wooden pier inside the sea, allowing unique and romantic dining, a priceless experience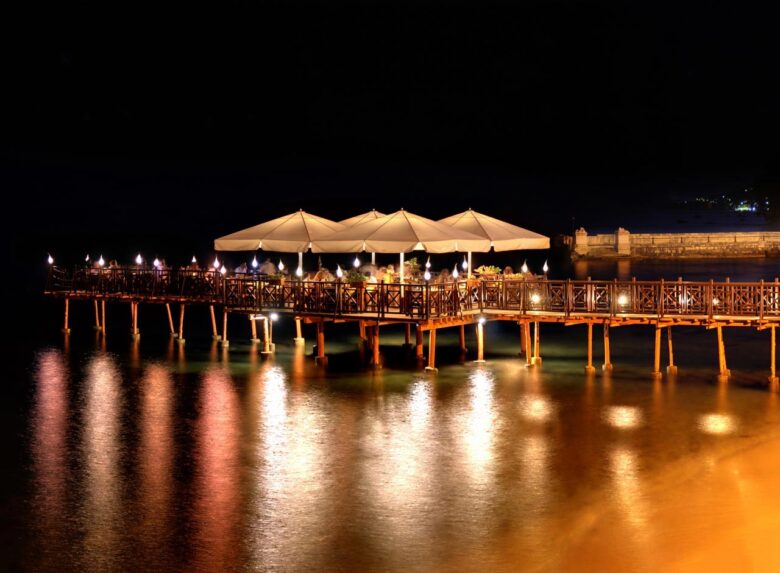 The seaside Kaiser Bridge restaurant is located in the homonymous settlement, 10 km away from Corfu town and 3 km north of the popular tourist resort of Benitses.
In a unique location on the island, where Empress Elizabeth (Sisi) had chosen to build her country manor house; the iconic Achilleion palace.
The very special of this restaurant is its location. Besides the main building that is on the seaside, a part of its "lounge" spreads out on a wooden pier inside the sea, allowing unique and romantic dining, a priceless experience. Naturally, the price is a little high but worth it.
The Greek cuisine is of high class with tasty meals, and the crew is really friendly and professional.
If you think that it is expensive for you, then instead of leaving bad reviews stay at home and eat fish and chips!
Kaiser Bridge Restaurant
Kaiser Bridge, Corfu 490 84
Health and safety: Reservations required · Staff wear masks · Staff get temperature checks · Staff required to disinfect surfaces between visits
Phone: 2661 072032
Taverna Tripa
Why Tripa taverna?  Because at last, you need to meet Corfu's real character concerning the traditional gastronomy, and to try everything the Corfiot cuisine has to offer.
And in the end something out of the ordinary and unique.
We leave the busy and noisy beaches and enter the interior of the island. In an old traditional village where the soul of Corfu lives, in Koinopiastes somewhere in the middle of Corfu, not far from the city.
In Taverna Tripa as we used to call it. (Tripa means a hole in Greek, as it looked like a hole when it first opened, a couple of centuries ago).
This tavern is a remnant of other times because here we will find the authentic flavors of Corfu, definitely one of the best Corfu restaurants.
The place is reminiscent of past centuries, the environment is pleasant and completely peculiar. The decoration has remained untouched since … 1900 CE! Something that will impress you at first, but is just the decoration, reminiscent of something like an 18th-century kafenion.
The interior of the store along with the bottles of rare wines and drinks that seem to have been there for centuries is surreal. There are many photos of famous people from the 19th century who have tasted the flavors of the store.
Watch the photos of old-time visitors
You will see former prime ministers, actors, tycoons, shipowners, Greeks, and foreigners because this taverna has a history … seems that everybody had gone through Tripa…
The staff is very warm and the wine is wonderful. As for the food, it is just uncatchable !! With authentic ingredients and incomparable flavors, it is the ultimate traditional Corfiot cuisine. The authentic Corfiot pastitsada is … Hell.
Some days it has live music in the cozy outdoor area, so some nights it gets even better.
Detail, here you do not eat by menu, they bring you everything that the store has, like the good old days, you just keep on the table as many dishes as you want, or your eyes like, and send back those you don't like.
So, remember a tip to follow: Be sure to go on an empty stomach, for your own good!
Taverna Tripa
Κynopiastes 490 84
Phone: 2661 056333
Yummy Conclusion
Of course, there are hundreds of more restaurants on the island. But we focused mainly on those who specialize in the local cuisine and, most important will leave you happy! We hope that by following our list of the best Corfu restaurants you will enjoy your stay in Corfu more and consider it as an extra reason to visit again our beautiful island.
If you have the opportunity to visit as many of these restaurants as you can, you will not regret it, take our word for granted.
More restaurants