Last updated on November 7th, 2023 at 12:57 pm
When tradition meets quality we have an amazing result in the restaurant – taverna of Captain Octopus.
Corfiot cuisine without interference in its purest form.
This is the restaurant – taverna of Captain Octopus in Benitses, Corfu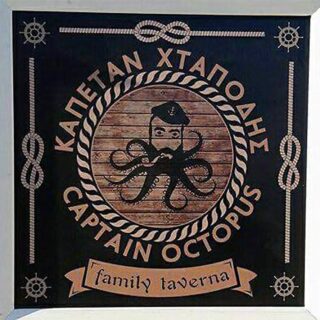 Captain Octopus Restaurant – taverna
The story begins somewhere in 1935, when Grandfather Antonis, a great fisherman of Benitses area, decided to create his own restaurant – kafe to invite his friends to eat the fresh fish, but also a lot of mezedes made by Granny Aspasia who was an amazing cook.
That is how the magical journey started and continued up to today with the third generation of the current Captain Octopus.
The Philosophy of the Captain is to cook the same way his grandparents did.
The main ingredient of the captain's kitchen is virgin olive oil and pure spices, all carefully selected with love.
In our Traditional Corfu-flavored cuisine, the lovely Pastitsada with octopus or beef cheeks is always freshly cooked in our saucepans.
Fish either wild or farmed are always carefully selected with criteria of the best quality.
Squid is crispy and soft as the culinary laws stipulate to accompany the ouzo or the local wine which the captain makes for his guests each year.
The Family Atmosphere is the characteristic of Captain Octopus because there are no clients but guests in his home.
The good Greek music and even the dancing are basic components of the atmosphere of the restaurant.
The guests at Captain Octopus Taverna are invited to feel the Greek flavors in their palate and to get to know the Greek hospitality and culture for which the Captain feels proud.
What Our clients say about us
More Bars and Restaurants