Last updated on November 26th, 2023 at 10:54 am
An Exquisite Travel Guide Teeming with Essential Information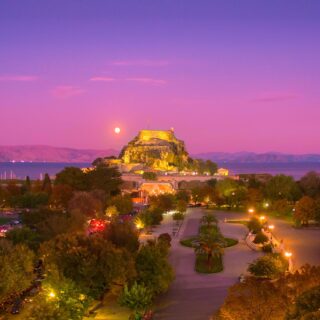 Embark on an Enlightened Odyssey: Discover the Unveiled Treasures of Corfu Island Before Your Arrival
Experience Limitless Exploration: The Corfu Travel Guide presents an unparalleled wealth of information and intricate details, poised to elevate your journey to Corfu and your enchanting Greek vacation.
Insights into Corfu
Every essential nugget of knowledge required by an eager traveler lies within these pages.
Our immersive blog unfurls a tapestry that intricately weaves together insights into the island's tourist infrastructure, accommodations, pristine beaches, captivating landmarks, and cultural celebrations.
Expertise from Locals
Authored by knowledgeable locals who hold the key to Corfu's hidden treasures, this travel guide is a beacon of wisdom that can truly enhance the joy and memorability of your holiday.
Planning Your Stay
Our Hotels and Apartments section – is a portal that affords you the ease and swiftness of securing your spot, accompanied by the convenience of cancellations at your discretion.
Prepare for Your Journey
For your voyage, anticipate meticulously detailed weather forecasts spanning a 5-day horizon, covering both the island and the broader expanse of Greece.
Our cartographic treasures include expansive maps of Corfu, the town, the venerable old Corfu town, and a selection of bustling tourist havens.
Is Corfu a destination of beauty?
Corfu, an exquisite jewel ensconced in the northwestern realms of Greece within the embrace of the Ionian Sea, stands as a testament to captivating history and resplendent landscapes, rendering it one of the most captivating and enchanting corners of the nation.
A Verdant Haven
This emerald haven boasts verdant expanses, enveloping itself in a lush tapestry of cypress trees, olive groves, and wildflowers, all set against the backdrop of an azure sea that mirrors the very heavens.
The Greenest of Greek Islands
As the greenest of Greek islands, it stands as a sanctuary of untouched beauty and crystalline waters, a veritable paradise in Europe's embrace.
Millennia of History
For over three millennia, Corfu has etched its name upon the annals of Greek culture, a living testament to its rich historical tapestry.
A Beacon of Splendor
Today, it shines as a beacon of splendor, beckoning travelers with its opulent resorts, steeped in heritage and culture, and adorned with architectural marvels that remain unrivaled throughout Greece.
A section dedicated to Benitses
We still have this special section with posts about everything in Benitses, a charming village in Corfu, played a pivotal role in the island's tourism history. It was the first to welcome tourists in the mid-20th century, setting the stage for Corfu's emergence as a popular travel destination.
This village's historic appeal, natural beauty, and proximity to Corfu town and the airport made it an ideal starting point for exploring the island. In the 1960s, 70s, and 80s, it attracted the rich and famous looking for a traditional and beautiful retreat.
A Symphony of Wonders
From the Venetian-style allure of the ancient Corfu town to the opulent Achilleion Palace, the majestic fortresses that punctuate its landscape, and the vivacious villages that pulse with life, Corfu offers a symphony of wonders to enthrall visitors of all ages.
Time Capsule in the Midst
In its midst lies a medieval town, a time capsule that resonates with the past, while the bustling villages and vibrant tourist hotspots exude a unique allure, crowned with Greece's most vibrant nightlife.
Diverse Activities Beyond Shores
Beyond its shores, Corfu unfurls an array of activities as diverse as its landscapes. Swim in its crystalline waters, sail upon its undulating waves, paddle through its hidden coves, or even embark on a horseback adventure to explore its hidden corners.
Year-Round Festivals
Throughout the year, Corfu hosts a tapestry of festivals and events, each a gateway to authentic cultural experiences.
An Ideal Holiday
It encapsulates the essence of an ideal holiday, inviting those who seek outdoor pursuits, cultural enchantments, or simply the art of relaxation, to revel in its embrace.
Which are the Gates to Corfu?
The primary gateway linking the island with the world is the Ioannis Kapodistrias International Airport, nestled merely three miles from the heart of Corfu town.
This aerial portal, coupled with the bustling Port, forms the island's vital connection to the global realm.
Additionally, the enchanting island embraces another entrance, the Lefkimi Port in the southern expanse.
From here, ferry routes span towards the mainland of Greece and the alluring islands of Paxos, extending Corfu's embrace beyond its shores.
Your Corfu Adventure Begins
The Corfu Greece Travel Guide envelops you in a treasure trove of insights for your splendid island sojourn.
Delve into a comprehensive compendium, revealing an array of enchanting experiences awaiting every visitor to Corfu.
A Journey through Corfu
Today, Corfu reigns as an alluring haven, beckoning couples and discerning travelers of all ages.
Our resplendent resorts are cocooned in unparalleled natural beauty, entwined with an opulent historical and cultural legacy.
Nightlife in Corfu
As the sun sets, Corfu's nightlife unfurls with a vivacity that's contagious.
From spirited bars to pulsating clubs and delectable restaurants, the offerings are as diverse as they are delightful.
Savor Corfiot Flavors
Dabble in the local cuisine, a tantalizing journey best savored through the authentic recipes we share.
Indulge in a culinary exploration that reveals the essence of Corfiot flavors, perhaps by savoring the culinary artistry at the island's finest dining establishments.
Dive into Corfiot Culture – Celebrate Corfu
The Corfu travel guide offers comprehensive insights into the captivating Corfiot culture.
Explore a wealth of knowledge, including detailed accounts of cultural events and celebrations, and an exclusive page dedicated to the famed Easter festivities.
Immerse yourself in Corfu's cultural tapestry, uncovering a treasure trove of reports and insights that celebrate the island's vibrant heritage.
Don't overlook the wealth of cultural wonders in Corfu. Enrich your experience by attending captivating events like the renowned Corfu Carnival, ensuring your stay is marked by a profound appreciation for its multifaceted allure.
This guide provides a panoramic vista into the island's culture, peeling back layers of heritage to provide a comprehensive understanding, and a presentation of the island's cultural panorama, offering a glimpse into the tapestry of events and festivities that color Corfu's calendar.
The Corfu Dialect
Additionally, our guide offers an abundance of information about the Corfu dialect, replete with a catalog of characteristic Corfiot words that lend a unique charm to the island's linguistic landscape.
Visual Journey Continues through Photos
Behold an extensive gallery, boasting thousands of fresh Corfu photographs that capture the island's contemporary allure.
Delve into history as you browse through hundreds of historical black-and-white images from Corfu, along with iconic snapshots from Greece's early 20th-century milieu.
Engage with our cornucopia of images, where both old and new harmonize, granting you a glimpse into Corfu's past as well as Greece's bygone era at the dawn of the 20th century.
A Glimpse into Corfu's Past
Corfu's harmonious blend of history and beauty is an ode to the perfect holiday, where every taste and every age finds its sanctuary.
In Corfu, history intertwines with beauty, forging a realm where memories are etched in the most resplendent hues.
As you traverse our guide, a captivating historical odyssey unfurls, recounting the island's tumultuous past.
From antiquity to the present day, the exciting history of Corfu comes alive, bedecked with intricate details that chart the island's trajectory through time.
And a Glimpse of Things, and Sights to See on Corfu
Discover the tapestry of Sights and monuments that grace our shores.
Immerse yourself in exhilarating sports activities adorning the island's landscape, and acquaint yourself with the paramount tourist resorts and pristine beaches, particularly those adorning the west coast, where azure waters and golden sands create an idyllic tableau.
Embark on a journey through our repository of enlightenment, which encompasses a comprehensive compendium featuring all museums, monuments, and archaeological sites.
Navigate through the Corfu travel guide's directions to unveil historical gems like the Achilleion Palace, delve into the exhibits of Corfu's archaeological museum, or venture to the commanding fortresses gracing the old town of Kerkyra.
The array of attractions extends beyond, each accompanied by insightful articles that unveil the tapestry of this enchanting destination and its storied history.
Discover Corfu's Activities
The array of activities awaiting you in Corfu is boundless. Whether you're delving into ancient realms like the Old Fortress or unwinding on the stunning expanse of Rovinia Beach, Corfu offers a wealth of experiences catering to all preferences.
If adrenaline courses through your veins dive into thrilling watersports like jet skiing and windsurfing at Paleokastritsa Beach.
Alternatively, venture to Aqualand Water Park for a splash of aquatic excitement. Corfu Greece beckons as the ultimate playground for an exuberant vacation.
Corfu is a Beach Paradise
Corfu proudly showcases some of Europe's most exquisite beaches, their crystal-clear waters, and panoramic vistas bewitching visitors.
Embark on a coastal voyage, revealing hidden coves, snorkeling amidst rare marine life, or indulging in leisurely swims along secluded shores.
From aquatic thrill-seekers to sun-soaked aficionados, Corfu caters to every watersports enthusiast.
Old Corfu Town Charm
Be sure not to overlook a day spent in Kerkyra's old town, where the historic Esplanade square exudes charm, accompanied by a lineup of inviting bars and taverns along Liston.
Wander the cobblestone streets to immerse yourself in the enduring Venetian essence preserved in the old town's fabric.
Corfu's traditional villages
Nestled nearby are old quaint villages, many of which are unveiled in the Corfu travel guide's blog.
It's a compass to unearthing nearly all of Corfu's best-kept secrets, ensuring your journey is a tapestry woven with discovery and delight.
What is this Travel Guide for?
The Corfu Travel Guide offers a comprehensive exploration of Corfu and Greece.
It provides insights into the island's beauty, history, and culture, along with practical information for travelers, both to Corfu and Greece.
You can learn about Corfu's captivating landscapes, rich history, and vibrant nightlife.
The guide covers gateways to the island, accommodations, and activities. It also immerses you in Corfiot culture, offers a glimpse into its heritage, and provides a wealth of images, both old and new, to enhance your understanding of the island's history and charm.
Whether you seek historical sites, watersports, or local gems, Corfu promises an abundance of experiences waiting to be discovered.