Last updated on November 26th, 2018 at 09:58 am
Paleokastritsa resort on west coast – The beauty of nature


Paleokastritsa is located a little further north of the center of the island on the west coast and is about 25 km far from Corfu town.
It is not only of the most beautiful places of Corfu but also of the Ionian islands.
Paleokastritsa has been called the jewel of Corfu, set on a number of bays separated by small promontories, and on the headland farthest out to the sea is the beautiful monastery, still working and occupied by cat loving monks, and containing the famous icon of the Virgin in its church.
There are hotels and apartments in Paleokastritsa area to suit all pockets here, and many tavernas and bars strung out along the road, some on the hillside, and others on the water's edge.
The view from the village on the hill above Paleocastritsa, Lakones, is stunning, and many visitors walk up the old donkey trail which goes between the two villages, and some go on up into the hills above, exploring the inland villages of Krini and Makrades.
A gentler walk would take you south to the village of Liapades, one of Corfu's oldest and prettiest, where life seems to go on in the same way as it has for centuries.
Around Paleokastritsa and particularly to the south there are many secluded beaches, hardly accessible or even isolated.
These are the hidden beaches of Corfu, all beaches with fine pebbles and some sand with crystal emerald clear waters, without tourist development, here you can discover the exotic beauty of Corfu.
In Paleokastritsa resort itself boats can be hired to explore these surrounding beaches, there are boat trips also, and water sports- and a glass bottomed boats to explore the world under the sea.
To the north is the old fortress of Angelocastro- a steep climb but the view makes it well worth the effort, and on the way back you can stop at one of the bars on the Lakones road and look not only down at Paleocastritsa, by across the island's Ropa Valley towards Corfu Town.
All resorts with beaches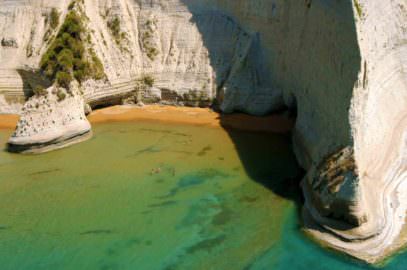 Here we will try to present, in our subjective opinion, the best 10 beaches of Corfu, which is a special challenge and will surely offend many other beautiful places. Finally In order to be as objective... Read More
Resorts with beaches in Corfu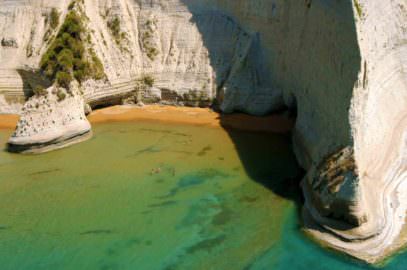 Here we will try to present, in our subjective opinion, the best 10 beaches of Corfu, which is a special challenge and will surely offend many other beautiful places. Finally In order to be as objective... Read More