Last updated on November 11th, 2023 at 05:31 pm
Discover Paleokastritsa on the West Coast
Nestled slightly north of the enchanting west coast center of the island, about 25 kilometers from the bustling town of Corfu, lies a paradise waiting to be discovered – Paleokastritsa.
Picture this: a captivating tourist resort with an allure that's simply irresistible, making it the crown jewel of Corfu. It's a slice of heaven on Earth, and it's yours to explore.
What sets Paleokastritsa apart is its unique feature – a breathtaking view that can only be described as otherworldly. When you gaze upon this coastal wonder from the charming village of Lakones perched in the hills, you'll feel like you've stepped into a dream.
Now, when it comes to accommodations, Paleokastritsa has something for everyone, regardless of your budget. Whether you're seeking the plush comfort of hotels or the cozy charm of apartments, you'll find the perfect place to rest your head. And let's not forget about the culinary delights! Along the meandering road, you'll discover a delightful tapestry of tavernas and bars. Some cling to the hillside, offering panoramic views, while others sit right on the water's edge, providing a front-row seat to the mesmerizing beauty of Paleokastritsa.
So, what are you waiting for? Embark on an adventure to Paleokastritsa, where every moment is a postcard-worthy memory waiting to happen. Dive into the azure waters, bask in the golden sun, and savor the flavors of this hidden gem on the island of Corfu. Your dream vacation starts here.


What does Paleokastritsa mean?
The name "Paleokastritsa" is derived from Greek. "Paleo" (παλαιό) means "old," and "kastritsa" (καστρίτσα) means "small castle" or "small fortress." Therefore, "Paleokastritsa" is literally translated as "Old small Fortress" or "Old small Castle" in English.
This name likely reflects the historical presence of a fortress or castle in the area in the past. And indeed, as you explore the monastery's grounds it harks back to a time when this sacred haven was more than a spiritual retreat, it was a small fortress guarding its piece of paradise.
How do I get to Paleokastritsa?
Getting to Paleokastritsa is a delightful journey filled with scenic landscapes and Mediterranean charm. Here's a guide on how to reach Paleokastritsa:
How far is Paleokastritsa from the airport? – Airport to Paleokastritsa
Once you arrive at Corfu Airport, you have several options to reach Paleokastritsa, which is approximately 24 kilometers (15 miles) away:
Taxi: Taxis are readily available at the airport. It's a convenient but relatively more expensive option.
Public Bus: The KTEL Green Buses operate from the airport to Paleokastritsa. The bus journey takes around 40-60 minutes, and it's an economical choice.
Rental Car: Renting a car at the airport allows you the flexibility to explore Corfu at your own pace. The drive to Paleokastritsa is scenic and takes about 30-40 minutes.
If you're traveling by private boat or cruise ship, you can reach Paleokastritsa via the sea. Corfu is a popular stop for Mediterranean cruises, and many cruise lines include Corfu in their itineraries. If you're docking at the Port of Corfu, you can arrange transportation to Paleokastritsa by:
Taxi: Taxi are usually available near the cruise terminal, and you can negotiate a fare to Paleokastritsa.
Excursion or Tour: Some cruise lines offer shore excursions that include a visit to Paleokastritsa and its beautiful caves. Check with your cruise operator for available options.
Getting Around Paleokastritsa
Once you've arrived in Paleokastritsa, getting around the village is relatively easy:
On Foot: Paleokastritsa is a small village, and many of its attractions, such as the beaches and monasteries, are within walking distance.
Local Buses: You can use the KTEL Green Buses to explore other parts of Corfu if you wish to venture beyond Paleokastritsa.
Taxis: Taxis are available within the village and can be convenient for reaching specific destinations or traveling with luggage.
Car and Scooter Rentals: If you want to explore the wider area of Corfu, including hidden beaches and scenic viewpoints, consider renting a car or scooter from local rental agencies in Paleokastritsa.
How many beaches are in Paleokastritsa?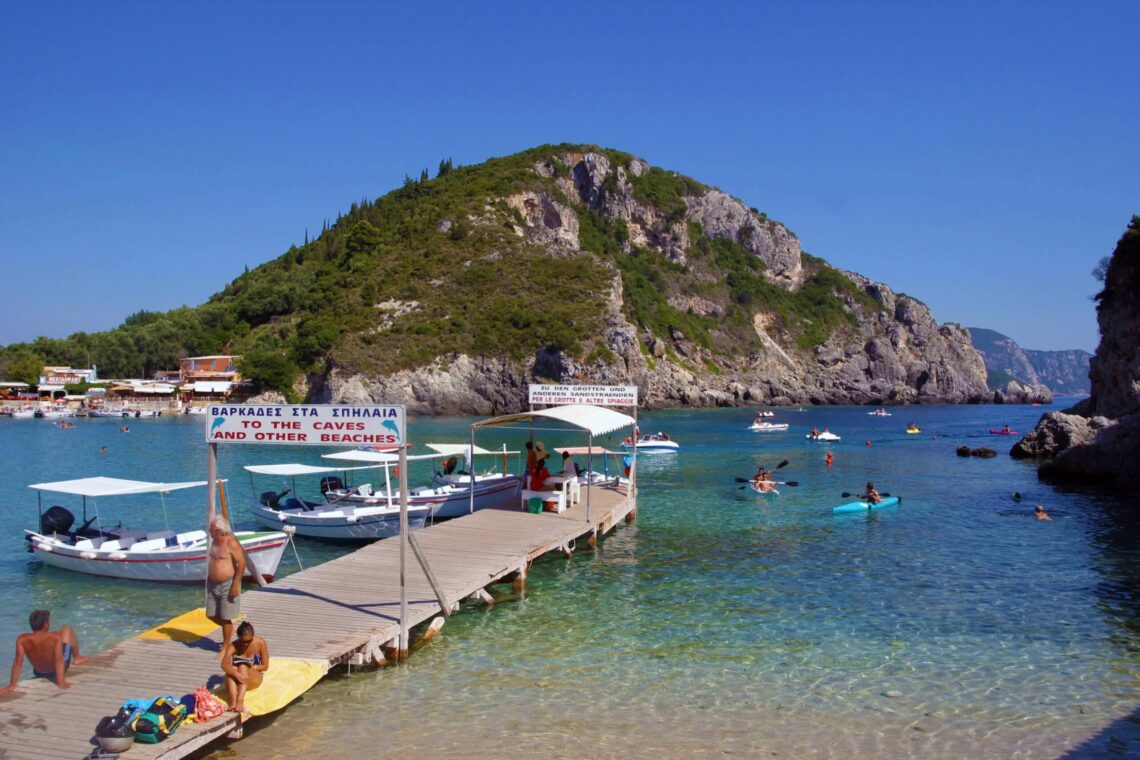 The beautiful shape of the seaside with the capes contains many bays-beaches between, 7 in total.
These beaches are fully organized, especially the central beach called Agios Spiridon. All beaches offer sunbeds and umbrellas, water sports, taxi boats, motorboats, and canoes for rent.
In the settlement's area, we find the following beaches:
Ampelaki Beach is the first on the line as we start from the West.
Agios Petros beach, very close to the first, inside the first cove.
Palaiokastritsa or Agios Spiridon, is the central and larger beach, in between the two capes
Alipa or Alypa Beach, where there is a small harbor is well known as the Alipa port, suitable for small yachts, speed, and fishing boats. From this port, you can hire a boat to visit the neighboring isolated beaches and remote caves south of Paleokastritsa.
Platakia Beach.
Agia Triada Beach.
The Easternmost beach of La Grotta is close to the beach of Liapades a couple of miles to the East.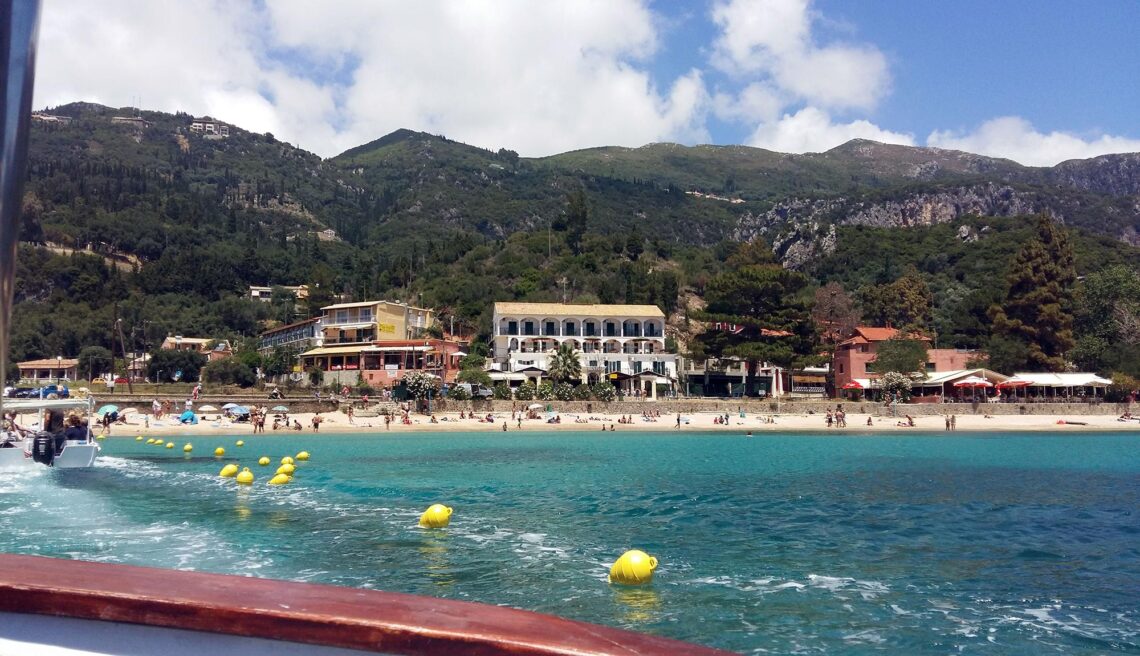 Which beach is the best inside Paleokastritsa?
Agios Spyridon Beach
This is the main beach in Paleokastritsa, located in the heart of the village.
It's a relatively small pebble beach with clear turquoise waters. Agios Spyridon Beach is convenient for those staying in the village, as it's within walking distance of many accommodations, restaurants, and shops.
Is the water in Paleokastritsa cold?
The water temperature in Paleokastritsa can vary throughout the year due to a combination of factors, including its geographic location, the depth of the sea, and the influence of cold underwater currents originating from the northern Adriatic Sea.
It's worth noting that what one person perceives as "cold" water is subjective and can depend on individual preferences and acclimatization.
Many visitors find the sea in Paleokastritsa to be comfortable for swimming, especially during the warmer months of summer and early autumn when the water tends to be relatively warmer.
However, if you prefer swimming in even warmer water, it's advisable to plan your visit during the peak summer season when the sea temperatures reach their highest levels.
Exploring the Enchanting Caves of Paleokastritsa
Nestled on the northwestern coast of the stunning Greek island of Corfu lies Paleokastritsa, a place of breathtaking beauty known for its crystal-clear waters, lush green hills, and a coastline adorned with caves that seem like they're straight out of a fairy tale. These caves are not only a natural wonder but also a testament to the island's rich history and the allure of the Mediterranean. Let's embark on a virtual journey to explore the enchanting caves of Paleokastritsa.
A Geological Marvel
The caves of Paleokastritsa, or "spilia" as they are known locally, are a geological marvel formed over thousands of years. Carved into the limestone cliffs by the relentless forces of wind and water, these caves come in various shapes and sizes, each with its unique charm.
The most famous of these caves is the Blue Eye Cave, also known as Nafsika's Cave, named after the daughter of the sea god Poseidon in Greek mythology.
The name "Blue Eye" perfectly captures the essence of this cave, as the crystal-clear waters reflect shades of blue that seem to gaze back at you like an eye.
A Glimpse into History
The caves of Paleokastritsa are not just natural wonders; they also hold historical significance. In ancient times, these caves were believed to be the home of Nausicaa, the Phaeacian princess who encountered Odysseus in Homer's epic poem, the "Odyssey."
According to the legend, it was in these caves that Odysseus sought refuge after his shipwreck.
As you glide through the caves on a boat or kayak, it's easy to imagine the mythical adventures that might have taken place within these very chambers.
The echoes of history resonate in every ripple of water and every shimmer of light that dances on the cave walls.
A Kaleidoscope of Colors
One of the most captivating aspects of Paleokastritsa's caves is the play of colors that occurs within them.
The interplay of sunlight with the translucent waters creates a mesmerizing spectacle of colors that range from deep blues to emerald greens and ethereal turquoise.
As your boat navigates through the cave passages, you'll witness this kaleidoscope of colors in action.
The water's clarity allows you to see the rocky seabed beneath, which adds to the surreal beauty of the experience. It's no wonder that Paleokastritsa's caves are a haven for photographers and nature enthusiasts alike.
The caves aren't just visually stunning; they also serve as important habitats for marine life.
The cool, dark chambers provide shelter for various species of fish, sea urchins, and crustaceans. If you're lucky, you might catch a glimpse of colorful fish darting in and out of crevices, adding to the underwater charm of the caves.
For those with a sense of adventure, some caves offer opportunities for snorkeling or diving.
Exploring the caves from below the surface reveals a hidden world of underwater tunnels, nooks, and crannies teeming with marine biodiversity.
Keep an eye out for hidden treasures, such as submerged rock formations and ancient artifacts that have found their resting place beneath the waves.
Exploring the Caves
To fully experience the magic of Paleokastritsa's caves, you have a few options.
The most popular choice is taking a boat tour, which allows you to relax while an experienced guide navigates the narrow passages, providing insights into the history and geology of the caves.
You'll have ample opportunities to take in the sights, snap photos, and revel in the tranquility of the surroundings.
For the more adventurous, kayaking is another fantastic way to explore the caves.
Paddling your way through the clear waters, you'll have the freedom to venture into some of the smaller and less accessible caves, creating a more intimate connection with nature.
The Magic of Sunset
While the caves of Paleokastritsa are awe-inspiring at any time of the day, they take on a whole new level of magic during sunset.
As the golden rays of the setting sun bathe the cliffs and caves, the colors become even more vibrant, casting an enchanting glow over the entire landscape.
Many tour operators offer sunset boat tours, allowing you to witness this natural spectacle in all its glory. It's a romantic and awe-inspiring experience that you'll cherish forever, making for incredible memories against the backdrop of Paleokastritsa's caves.
Preserving Nature's Masterpiece
As you explore these caves, it's essential to remember the importance of responsible tourism.
The fragile ecosystems within the caves are susceptible to damage from human activities, so it's crucial to follow the guidance of your guides and be mindful of your impact on the environment.
By treading lightly and respecting the natural beauty of Paleokastritsa's caves, you can help ensure that future generations will have the opportunity to experience the same sense of wonder and awe that these caves inspire today.
Lodging options
There are several options for lodging in Paleokastritsa, ranging from budget-friendly hotels to luxury resorts.
Hotel Akrotiri Beach: This is a budget-friendly hotel located right on the beachfront. It offers simple, clean rooms with balconies overlooking the sea.
Paleopalace: This is a luxury hotel that features spacious rooms and suites with private balconies or terraces, many of which offer stunning sea views. The hotel also has an outdoor swimming pool and a restaurant serving Greek and international cuisine.
Paleo Inn: This hotel is located just a few steps away from the beach and features comfortable rooms with air conditioning, a private bathroom, and a balcony. It also has a restaurant serving traditional Greek dishes.
MarBella Nido Suite Hotel & Villas: This is a luxury hotel that offers elegant suites and villas with private pools or hot tubs. The hotel also has a spa, fitness center, and several restaurants serving Mediterranean and international cuisine.
Bella Vista Studios: This is a family-run hotel that offers comfortable rooms and apartments with stunning views of the sea and the surrounding hills. It also has a restaurant serving traditional Greek dishes and a swimming pool.
There are many other options for lodging in Paleokastritsa, so you should consider your budget and preferences when choosing the best one for your stay.
Paleokastritsa nightlife
While it may not be as renowned for its nightlife as some of the livelier party destinations in Greece, Paleokastritsa still offers some options for nighttime entertainment. Here's a glimpse of what you can expect from Paleokastritsa's nightlife:
Tavernas and Restaurants: Many of the tavernas and restaurants in Paleokastritsa offer a pleasant evening atmosphere. You can enjoy a leisurely dinner by the sea, savoring delicious Greek cuisine while listening to live music in some places. The ambiance is often relaxed, making it a great choice for couples and families.
Beachfront Bars: There are a few beachfront bars where you can have a drink while watching the sunset. These bars usually play mellow music and offer a more relaxed setting, perfect for unwinding after a day of exploration.
Cafés and Patisseries: If you prefer a quieter evening, you can visit the local cafés and patisseries. Sip on Greek coffee or enjoy a sweet dessert while engaging in conversations or people-watching.
Theme Nights: Some bars or resorts in Paleokastritsa occasionally host theme nights or special events, such as Greek nights with traditional music and dance performances. These events can be a fun way to immerse yourself in Greek culture and entertainment.
Karaoke: While not as common as in larger tourist destinations, you might stumble upon a bar or two that hosts karaoke nights. It can be a lighthearted way to enjoy the evening with friends and fellow travelers.
Nightlife in Corfu Town: If you're looking for a livelier nightlife scene, you can take a short drive or bus ride to Corfu Town. The capital of the island offers a wider range of bars, clubs, and discos where you can dance the night away.
It's important to note that Paleokastritsa's nightlife is generally quieter and more relaxed compared to some of the more bustling party destinations in Greece. This is part of its charm, as it caters to visitors seeking a more peaceful and scenic getaway. If you're in search of vibrant nightlife, you may want to consider heading to Corfu Town for a night or two during your stay in Paleokastritsa.
Paleokastritsa monastery
Nestled in the heart of Paleokastritsa, you'll find the enchanting 12th-century Monastery of Theotokos.
But here's the charming twist: this ancient sanctuary is not just any monastery; it's home to a group of monks who happen to have a deep love for feline companions.
Dedicated to the Virgin Mary, the Theotokos Monastery holds a special place in the heart of Corfu's religious landscape.
While its roots trace back to the 13th century, the current monastery buildings proudly wear the architectural splendor of the 18th century. Perched on the headland, it offers you an awe-inspiring vantage point overlooking the mesmerizing sea.
As you step inside, you'll discover a world of serenity within its walls, a vast courtyard, an exquisite church, and a collection of charming small chapels.
The church itself, devoted to the Assumption of the Virgin Mary, is adorned with breathtaking frescoes and icons.
Its interior is a testament to opulence, with gleaming gold leaf and exquisite marble, drawing pilgrims and tourists alike into its embrace.
But that's not all. For those with a thirst for history and culture, the monastery's museum is a treasure trove.
Inside, you'll find an exquisite array of Byzantine icons, rare manuscripts, and religious artifacts that offer a captivating glimpse into the rich tapestry of the Greek Orthodox Church.
And here's a fascinating tidbit: hidden within the museum is a relic from a bygone era, a set of bones belonging to a long-extinct whale.
These ancient remains rest in a grand glass case, waiting to be discovered by curious visitors like yourself.
In essence, the Paleokastritsa Theotokos Monastery beckons all travelers to its tranquil embrace. It's a destination that seamlessly weaves together beauty, history, and spirituality, offering a serene sanctuary far removed from the bustle of modern life. So, come, lose yourself in its timeless charm, and let its secrets whisper to your soul.
Photos from the Monastery
Is Paleokastritsa worth visiting?
Ah, picture this: a stroll through the charming village of Lakones, perched high on the hill above Paleokastritsa. The view? Nothing short of breathtaking. It's the kind of vista that makes you feel like you're on top of the world. Many visitors can't resist the allure of this scene and opt for the old donkey trail that winds its way between these two idyllic villages. Some even venture further into the hills, exploring the hidden gems of Krini and Makrades.
But if you're seeking a more leisurely amble, set your course southward to the timeless village of Liapades. Here, you'll step back in time, where life unfolds much as it has for centuries. It's like a glimpse into Corfu's history book.
Now, let's talk about a little slice of paradise. Just a stone's throw from Paleokastritsa to the south, lie some of Corfu's best-kept secrets—secluded beaches. They're the kind of places that seem almost untouched by time and tourism. With their fine pebbles and crystal-clear emerald waters, these beaches are the epitome of natural beauty. It's your chance to discover Corfu's exotic side, far from the beaten path.
And here's a tip: to truly unlock their treasures, consider hiring a small boat from one of Paleokastritsa's main beaches. These secluded gems are often only accessible by sea, adding a dash of adventure to your beach-hopping escapade.
But wait, there's more! For those with a taste for adventure, Paleokastritsa offers a range of water sports and boat trips. Imagine gliding across the surface of the sea on a glass-bottomed boat, peering into the underwater wonders below. It's a whole new world waiting to be explored.
Heading north from Paleokastritsa, you'll stumble upon the ancient fortress of Angelokastro. It's a bit of a steep climb, but trust us, the view from the top is worth every effort. And on your way back, why not make a pit stop at one of the bars along Lakones Road? From there, you can gaze down at Paleokastritsa below and catch a glimpse of the picturesque Ropa Valley stretching toward Corfu Town.
So, whether you're a nature enthusiast, a history buff, or simply seeking some seaside serenity, Paleokastritsa has it all. It's a paradise waiting to be explored, where every corner tells a story, and every view steals your breath away.
Photos from Paleokastritsa
Wrapping Up
Paleokastritsa is a true gem that beckons travelers with its captivating blend of history, natural wonders, and endless leisure options.
Are you a history buff? Well, you're in luck! This charming village is a treasure trove of ancient ruins and historical sites waiting to be explored. It's like stepping back in time as you wander through the remnants of days gone by.
Now, if you're more of a beach bum (and let's be honest, who can resist those pristine shores?), Paleokastritsa has got you covered too. The beaches here are postcard-perfect, with their golden sands and crystal-clear waters. It's the kind of place where you can simply lay back, soak up the sun, and let your worries melt away.
But it's not just about the past or the beach life. The scenery here is simply out of this world. Imagine lush green hills, rugged coastlines, and breathtaking vistas at every turn. It's like Mother Nature herself decided to put on a show just for you.
So, whether you're seeking a journey through history, a lazy day by the sea, or a feast for the eyes in the form of stunning landscapes, Paleokastritsa is your go-to destination in Corfu. Don't miss out on the opportunity to experience this enchanting village—it's a place where every moment is an invitation to explore, relax, and be awed by the wonders of the world.
More in Northwest Corfu