Last updated on August 3rd, 2023 at 11:57 am
Benitses Nightlife on 2022
Visitors of Corfu seeking intense nightlife will not be excited by visiting Benitses.
The large majority of tourists who are visiting Benitses now are towards relaxing and slumbering holidays, taverns and restaurants are more suitable for them.
Today, nothing reminds the full-of-life and intense nights during past decades, when there were more than 100 bars as well as a dozen nightclubs staying open until early in the morning.
The waves of mass tourism that characterized the decades of the 70s, 80s, and 90s are a distant memory. Witnesses of past decades are the remnants of abandoned discos next to supermarkets and restaurants.
Once upon a time Benitses Clubs, only what is left…
Idiot's guide: Larger image? Right-click on any photo and open it in a new tab or window.
If you are wondering what is this below? It was the entrance of Paradise Club, I mean what is left now, there isn't any better angle to take a good shot as the place is surrounded by uncontrolled vegetation.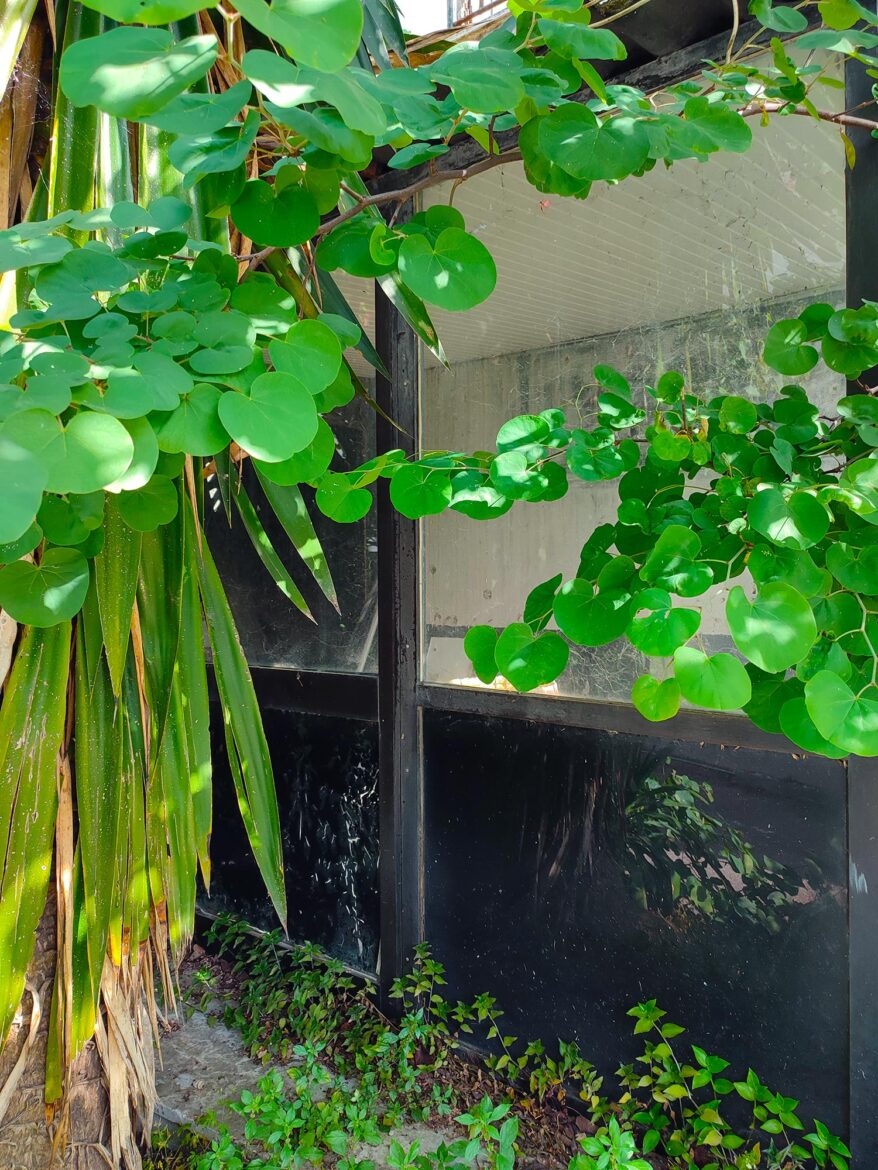 Today's nightlife
Today the nightlife in Benitses is quiet and it takes effort to discover and record the few bars, if any, that offer dancing music and stay open until late.
If you insist on searching the internet to find more bars, simply you will be disappointed because all have been closed or turned into restaurants.
So Benitses nightlife simply follows the habits of tourists, it is a low profile and is offered for couples and quieter customers.
While there are still a few bars around, although counted on fingers, and a big club, that operates on special occasions, the nightlife is not what attracts visitors to the village anymore.
Of course, if travelers want to spend a pleasant evening, there are many options in neighboring places and especially in the city of Corfu, and for the most unrestrained of them in Kavos.
See about Corfu nightlife
Benitses, after going through a difficult transition period, there from the mid-90s and for more than a decade, with a big drop in tourist income, managed to redefine its goal. Finally, it transformed into a tourist center based on culture and the traditional way of life. This was done with the help of the beauty of the landscape and the very good restaurants in the area.
So, Benitses today are aimed mainly at families or couples and offer to visitors only quiet, intimate bars, taverns, and lounges.
Also, many locals stopped their activity with tourism and got involved with more traditional occupations such as fishing which has been revived. This feeds fresh fish to the market stalls along the main road and especially the restaurants that offer fresh seafood in Benitses.
Bars in Benitses
Rainbow Pub (Closed, Now is transformed to Loris restaurant)
Sunshine Bar (Still open, Bar with good music, crepes, and drinks during the day, stays open until late)
Shamrock Pub (Closed, now is a souvenir shop)
Oxygen Bar (Closed since 2013)
Connections Internet Cafe (Still a bar, open until late)
Casanovas (Closed after 2012)
Stadium Club (The only Club, Open on special events only)
Barbayannis Cheers bar (Restaurant and bar, the loved spot of British visitors)
These are all we know about the nightlife in Benitses, we may be missing some, as shops and bars are changing names and owners very frequently and we heard that some more new bars are opening.
NOTE: The bars-shops above are not clickable! they are just there for informational reasons.