Last updated on January 13th, 2023 at 07:22 pm
Benitses has some of the best for its food quality and flavors restaurants on Corfu island.
Are you looking for Cheap and Best restaurants? Just remember though: Best and Cheap don't fit together!
So, where are the Best restaurants in Corfu? Undoubtedly most of them are all concentrated in Benitses.
In a relatively small piece of the main road in Benitses, someone can count too many restaurants one next to another offering any kind of food, from Traditional Greek to Italian or Chinese.
Restaurants dedicated to Seafood aren't missing too.
We could say that Benitses today is a culinary paradise with more than 50+ restaurants, snack bars, and takeaway food places!
Of course, in most of the restaurants in Benitses, you will find all the delicious traditional dishes of Corfu.
See here for Corfu food cuisine and recipes.
We live in Benitses and know every little secret about the place, so on this page, we present only the Best Restaurants with quality food you can find in Benitses.
The cost for a complete lunch or dinner in most restaurants is about 20€ per person, this is for a good meal with salad and wine or a drink.
Of course, if you want to eat fresh fish or fresh seafood and special delicacies, expect much higher prices.
Anyway, wherever you go they will tell you if the fish is fresh or frozen, wild or from a fish farm, restaurants in Benitses are run by real professionals and honest people and offer everything!
There are also some gyro shops where you can fit your hunger by eating a gyro (pork meat, french fries, sauce, tzatziki, onions, and tomatoes all inside a pita bread) at a very low price of 2-3€, But remember; Gyro is tasty but not the best food, it contains a lot of fats and is made not with the best quality of meat.
Best restaurants in Benitses and Corfu
Captain Octopus: Seafood Restaurant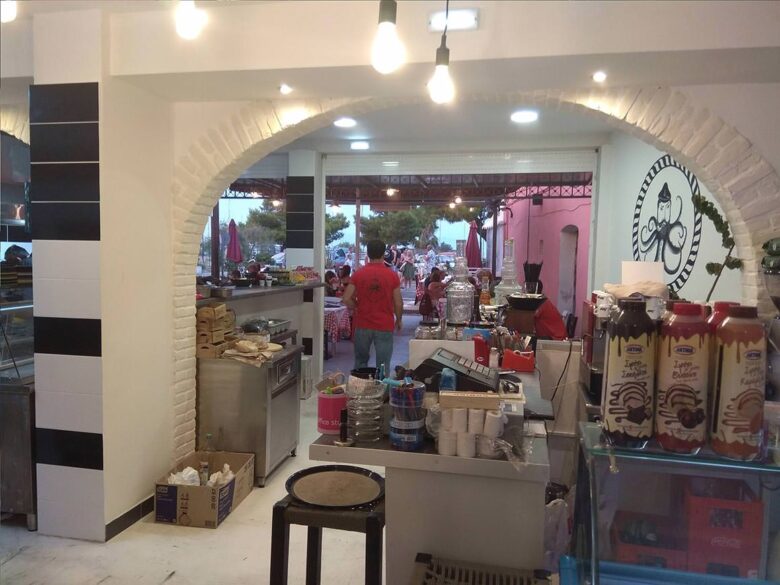 The story begins somewhere in 1935, when Grandfather Antonis, a great fisherman of Benitses area, decided to create his own restaurant – kafe to invite his friends to eat the fresh fish, but also a lot of mezedes made by Granny Aspasia who was an amazing cook.
That is how the magical journey started and continued up to today with the third generation of the current Captain Octopus.
The Philosophy of the Captain is to cook the same way his grandparents did.
The main ingredient of the captain's kitchen is virgin olive oil and pure spices, all carefully selected with love.
Read more about Captain Octopus
Restaurant Klimataria – Nikos Belos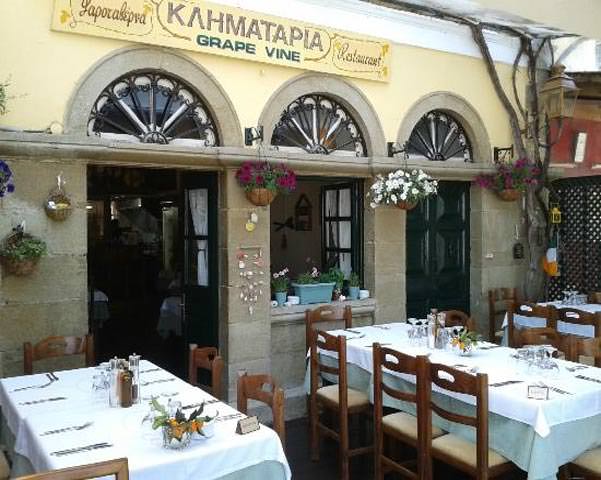 Located in the center of the picturesque village of Benitses, across the new marina, housed on the ground floor of a beautiful, historic building.
The restaurant was born through our love for traditional food, everything is made out of our hands with the best and fresh quality ingredients that Corfu generously offers.
Nick and Lily cook all restaurant dishes daily: Nikos cooks fresh fish and spicy and hot dishes, and Lily the salads and all the fluffy pastries.
Fresh and quality ingredients
In the restaurant-tavern Klimataria, a top priority is the high quality of our food and the freshness of ingredients we use – in this matter we make no compromise!
More about Klimataria
Paxinos Restaurant, Grill Room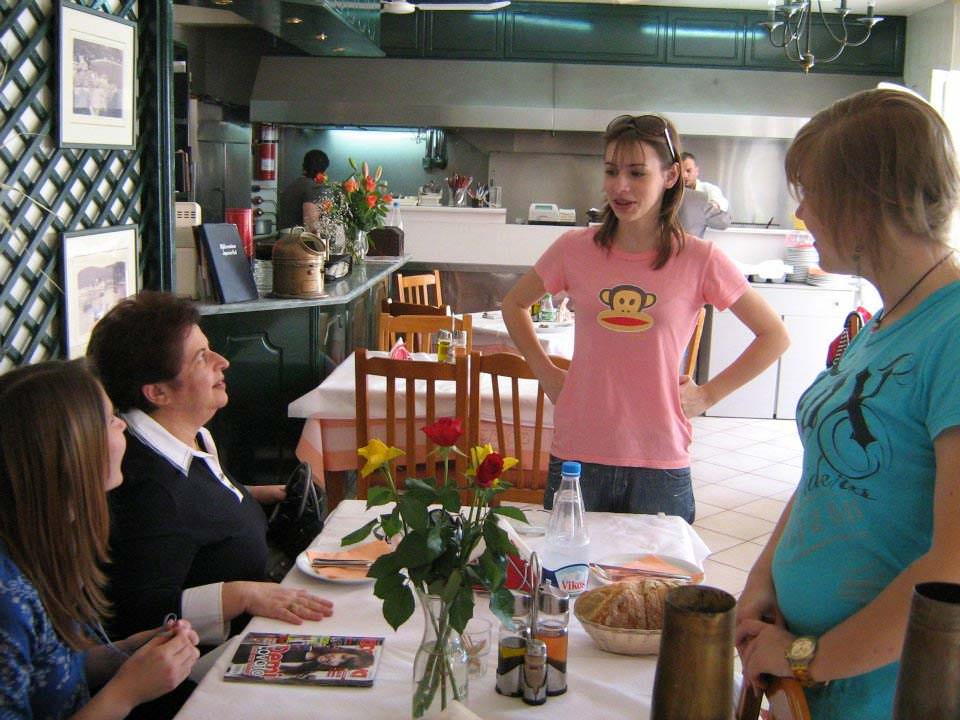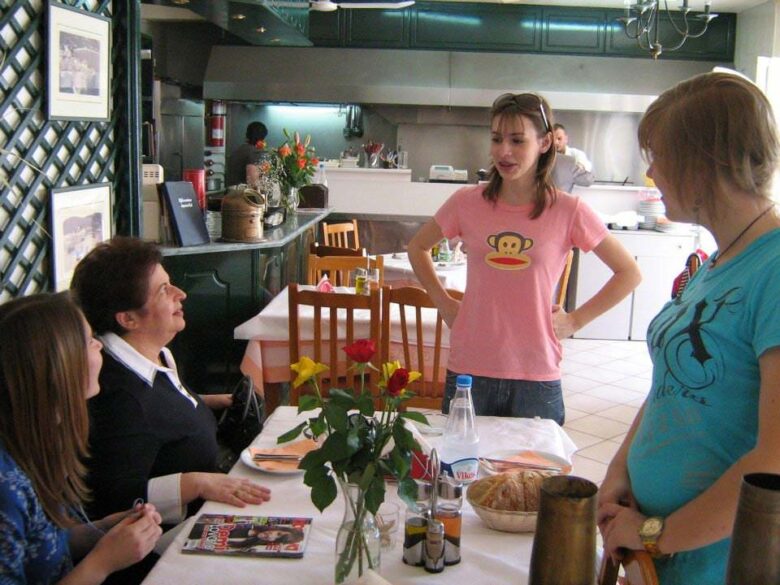 One of the best restaurants in Corfu, restaurant and grill specializing in the delicacies of local Corfiot cuisine and fresh fish.
We have our own production of wine and fresh vegetables from our garden.
PAXINOS restaurant is a family-run in cozy traditional surroundings, decorated so that it blends perfectly with the flavors and keeps unaltered in time all old Corfiot recipes.
It operates all year round and is located right at the entrance of the village of Benitses and just 50 meters from the main road.
Visit Paxinos restaurant
Stratos Taverna – Restaurant – Grill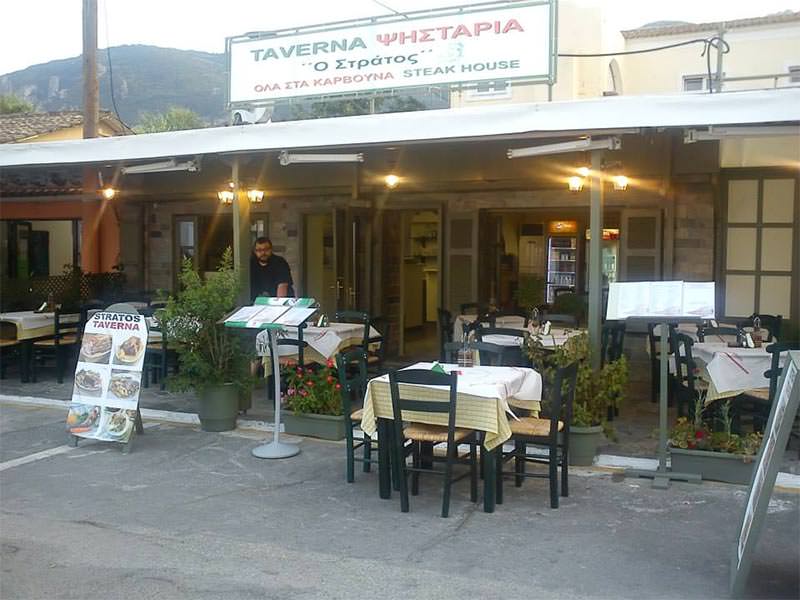 In Benitses, 50 meters from the entrance to the marina, on the highway.
With a nice interior room and a comfortable summer flower-filled courtyard.
Enjoy your meal overlooking the sea at 20 meters from your table.
In our tavern you will find:
Homemade cooked food
Corfiot pastitsada
Pot roast
Muse
Sofrito
Tsigareli
and many other
Various appetizers made by us.
Fresh seafood Time
Cooked bourdeto
Octopus and Fish
Squid
Shrimp
Spaghetti with clams
Shrimpspaghetti
Varius Meat on the grill
Greek local wine (white and black), retsina and cold beers, and many options with ouzo and raki.
More about Stratos
Pizza House Kavouras
It is a restaurant for pizza lovers and is specialized in Italian pizza type, the menu is dominated by many kinds of pizza and special pasta.
The dough is opened in front of the customer, the toppings are placed and pizza is baked in a wood oven situated between the tables.
Kavouras knows what to put in the dough, what and how much toppings will use, how warm the oven should be and how to cook.
The result, as all customers say is the best pizza in Corfu.
More about Pizza Kavouras
Sunshine Cafe Bar, Creperie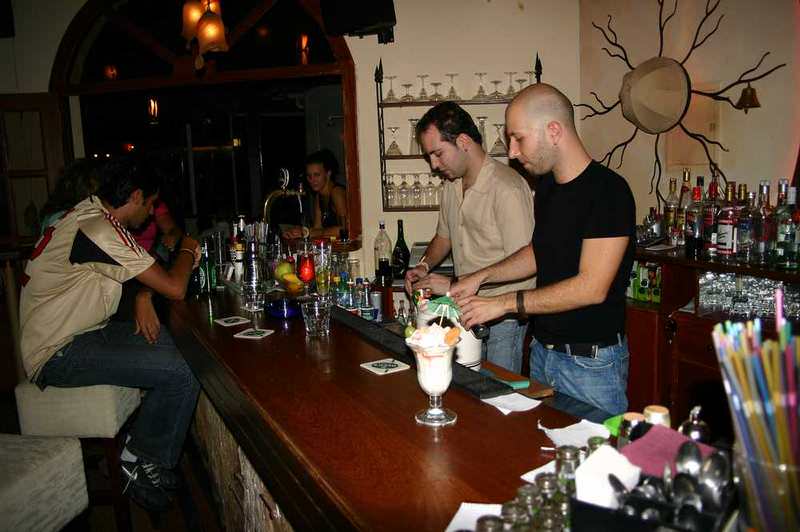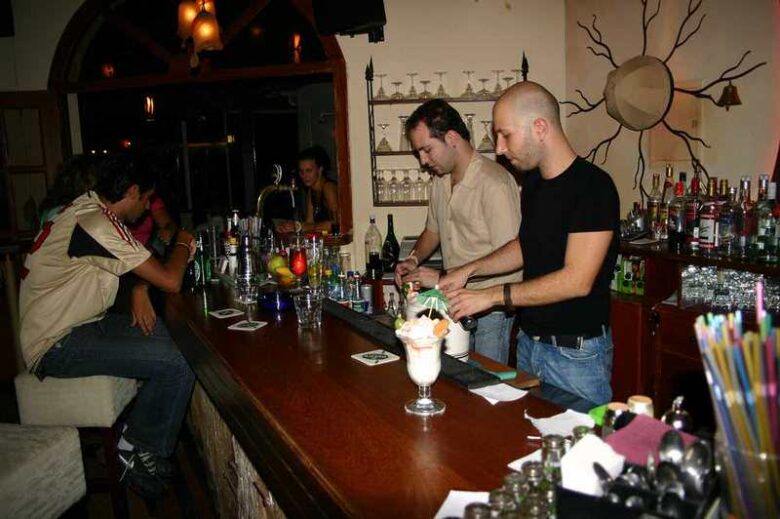 A quiet bar during the daytime where you can relax and enjoy your coffee by the sea turns into a lively bar at night where inside are served unique cocktails in a beautiful environment with unique music that differs.
In the center of the village, 10 meters from the beach next to the marina of Benitses.
Sunshine bar - Creperie
Lotza Lounge Cafe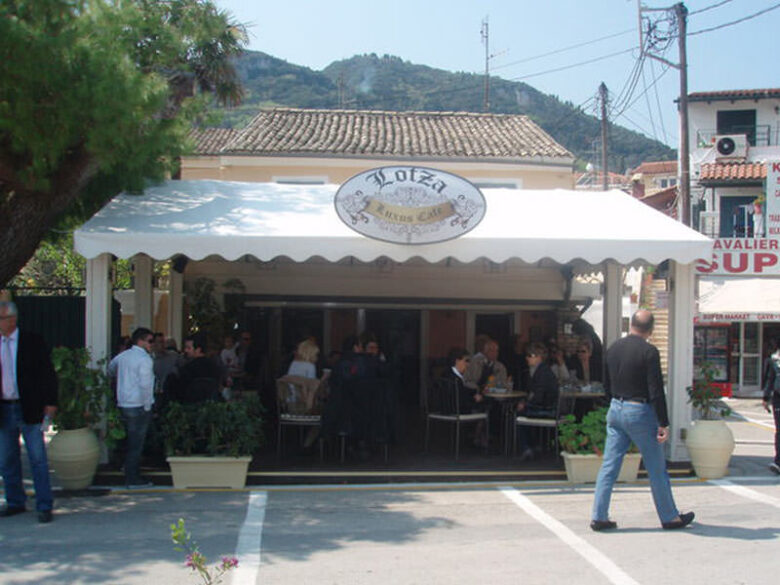 A busy cafe in the center of Benitses Square.
See more
More restaurants