Last updated on August 23rd, 2023 at 01:12 pm
Corfu airport code
Address:
Corfu International Airport I.Kapodistrias
491 00
Corfu Greece
Code name (IATA: CFU, ICAO: LGKR)
Contact:
Tel: +30 26610 89600 & +30 26610 45829
Telex: 0332319 LGKR GR
More info:
Runway Length 7792.00ft – (2.375,00 m)
Runway Elevation 6 m
Distance From Corfu Town 3.0 km.
In operation since 1962
Visit the official website
Get real-time flight information for Arrivals & Departures of the next 12 hours
Access the airport
Contact the airport
Corfu Airport, "Ioannis Kapodistrias" (IATA: CFU, ICAO: LGKR), is an international airport situated around 3 kilometers (1.9 miles) to the south of Corfu town, the capital of Corfu island in Greece.
The travel time between Corfu Airport and Corfu town is approximately 10-15 minutes, depending on traffic conditions.
Currently, Corfu Airport handles domestic flights by Olympic Airlines and Aegean Airlines. However, the majority of traffic during the summer months consists of charter flights operated by European tour companies.
Travelers have various transportation options to reach Corfu town from the airport, including taxis, rental cars, and public buses.
How many terminals does Corfu airport have?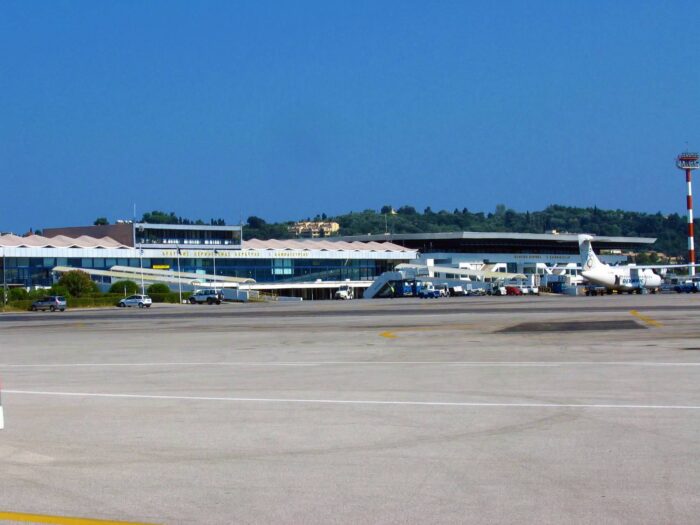 Corfu International Airport (CFU) features a solitary terminal building that serves both domestic and international flights. While smaller in size compared to larger international airports, the terminal is modern and well-equipped to efficiently manage the flow of passengers.
The terminal is divided into two levels. The ground floor hosts check-in counters, baggage drop-off points, security checkpoints, and arrival zones. Moving upstairs, passengers will find departure gates along with an array of shops, restaurants, and amenities.
Despite its single-terminal status, Corfu Airport has experienced a noteworthy surge in passenger traffic, especially during the bustling summer season when tourists flock to the island for vacations. Consequently, the airport has undergone numerous enhancements to enhance capacity and streamline operations. These include expanding the check-in and security areas, introducing new boarding gates, and integrating cutting-edge technologies to enhance the overall passenger experience.
Which airlines operate at Corfu airport?
Corfu International Airport (CFU) operates as a key hub for various airlines, notably Aegean Airlines, Olympic Air, and Ryanair. Moreover, several other airlines maintain regular flight operations to and from Corfu Airport, including:
British Airways
easyJet
TUI Airways
Jet2.com
Wizz Air
Eurowings
Lufthansa
Air Serbia
Scandinavian Airlines (SAS)
Norwegian Air Shuttle
Transavia
Volotea
The roster of airlines operating at Corfu Airport can fluctuate based on the season and flight demand. Hence, it's advisable to verify the latest flight schedules and availability by reaching out to your airline or travel agent.
Experience awe-inspiring landings and take-offs against stunning backdrops
Absolutely, the area around Kanoni, Perama, and the bridge that connects them offers an incredible vantage point to witness the spectacular takeoffs and landings at Corfu International Airport.
The airport's close proximity to Mouse Island, Vlacherna Monastery, and the lagoon creates a breathtaking backdrop for aviation enthusiasts and onlookers alike.
As planes gracefully ascend and descend, the combination of the airport's operations and the picturesque surroundings adds an extra layer of wonder to the experience.
So, if you're seeking a spot to enjoy the thrill of takeoffs and landings while also appreciating the natural beauty of the area, Kanoni, Perama, and the connecting bridge provide a front-row seat to this captivating spectacle.
Facilities in Corfu Airport
Are there any ATMs at Corfu airport?
Indeed, you'll find several ATMs (Automated Teller Machines) strategically placed within Corfu International Airport. These ATMs are conveniently situated across the terminal, close to the check-in counters, departure gates, and baggage claim areas.
Operated by major banks, these ATMs accept a variety of cards, including Visa, Mastercard, and Maestro. They dispense euros, the official currency of Greece.
Before you use your card at these ATMs, it's wise to consult your bank or card issuer to understand potential fees or charges. Also, keep in mind any daily withdrawal limits that your card might have to ensure a smooth experience and avoid any unexpected inconveniences or charges.
Can I exchange currency at Corfu airport?
Absolutely, you'll discover a variety of currency exchange offices at Corfu International Airport, where you can conveniently convert your currency to euros or other currencies. These exchange offices are usually located in the public areas of the terminal, often near the check-in counters or arrival sections.
Additionally, you'll find numerous ATMs spread across the terminal, offering the option to withdraw euros using your credit or debit card. Typically managed by major international banks, these ATMs accept various card types like Visa, Mastercard, and Maestro.
Before you proceed with any transactions, it's a smart move to review the exchange rates, as well as any fees or commissions imposed by the currency exchange offices or ATMs. Such factors can differ between providers. To optimize your expenses, consider exchanging a small sum of money at the airport and then utilizing your card for larger transactions or withdrawals during your travels. This approach often proves to be more economical.
Are there direct flights to Corfu airport from the UK?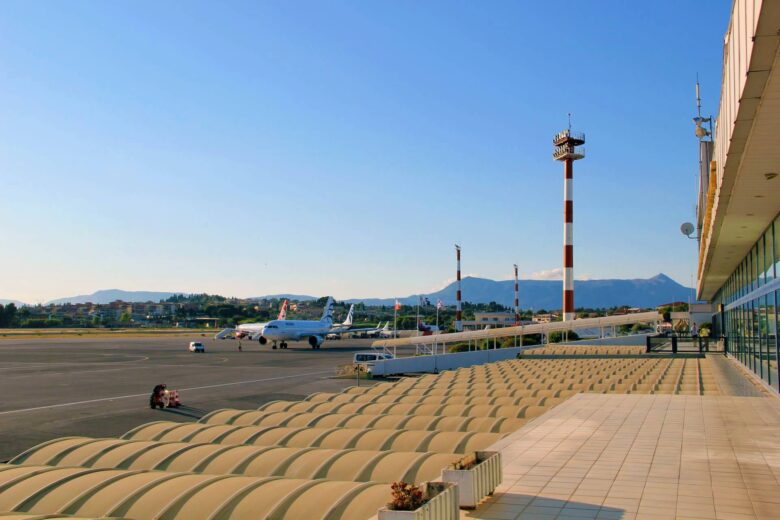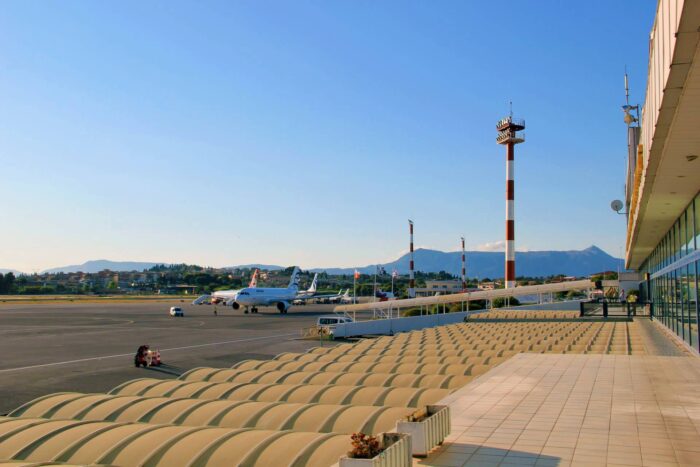 Absolutely, there are convenient direct flights to Corfu International Airport from multiple airports in the United Kingdom.
Major airlines like British Airways, easyJet, Ryanair, TUI Airways, and Jet2 offer direct flights to Corfu from the UK.
These direct flights usually take off from key airports such as London Gatwick, Manchester, Birmingham, Bristol, and Edinburgh.
The flight duration for direct journeys from the UK to Corfu typically ranges from 3 to 4 hours, varying based on the specific departure airport and airline you choose.
Is there free Wi-Fi at Corfu airport?
Indeed, there's complimentary Wi-Fi waiting for you at Corfu International Airport. You can tap into this network throughout the terminal building, from the departure and arrival spots to the eateries and cafes.
To get connected, simply pick the "Airport Free Wi-Fi" network from the list of available options on your device. Follow the on-screen instructions, which might ask for your email address or phone number to register for the Wi-Fi service. Once done, you'll be granted access to the network.
The best part? It won't cost you a thing, and you're not restricted by data limits. Keep in mind, though, that during peak times, the network might get a tad slow or experience hiccups due to high demand. So, having a backup plan for staying online could be a clever move.
Are there any hotels near Corfu airport?
Absolutely, there are a handful of hotels conveniently situated near Corfu International Airport, providing seamless accommodations for travelers. Here are a few of the hotels you'll find in close proximity:
Aktion Airport Hotel: This hotel is located just 500 meters from the airport terminal and offers comfortable rooms with air conditioning, flat-screen TVs, and free Wi-Fi.
Bretagne Hotel: This hotel is located about 1.5 kilometers from the airport and features an outdoor pool, a restaurant, and a bar. Rooms include air conditioning, flat-screen TVs, and free Wi-Fi.
Corfu Luxury Villas: This villa complex is located about 2 kilometers from the airport and offers spacious accommodations with private pools, kitchens, and balconies with sea views.
Bella Venezia Hotel: This hotel is located in Corfu Town, about 2.5 kilometers from the airport, and offers elegant rooms with air conditioning, satellite TVs, and free Wi-Fi.
Moreover, you'll find numerous additional hotels and guesthouses just a short drive away from the airport, catering to various budgets and preferences, and ensuring a diverse range of accommodation choices.
Corfu International Airport Facts
Here are some facts about the airport:
The airport is named after Ioannis Kapodistrias, a Greek politician and diplomat who served as the first Governor of Greece.
Corfu Airport is the only airport on the island and serves as a gateway to Corfu for international and domestic travelers.
The airport is located about 3 kilometers south of Corfu town and is easily accessible by road.
The airport has a single terminal building that handles both domestic and international flights.
The airport serves as a hub for airlines such as Aegean Airlines and Ryanair and operates flights to several major European cities including London, Amsterdam, Berlin, Rome, and Vienna.
The airport has a capacity of approximately 3 million passengers per year.
There are several facilities at the airport including duty-free shops, cafes, and restaurants.
The airport has a single runway that is approximately 2,400 meters long.
The airport is open 24 hours a day, 365 days a year.
The airport has parking facilities for cars and buses, and there are also taxi and bus services available for travelers.
Distances from the Airport to Corfu Resorts
Here's a list of distances from the airport to various resorts and major villages, presented in alphabetical order:
Acharavi 41kmGastouri(Achilleion) 10km
Afionas 39km
Afra 9km
Agioi Deka 10km
Agios Georgios Argyrades 30km
Agios Georgios pagon 33km
Agios Gordis 16kms
Agios Ioannis peristeron 14km
Agios Mattheos 20km
Agios Spiridon north 46km
Agios Stefanos at northeast 34km
Agios Stefanos northwest 41km
Agni 27km
Agros 27km
Antinioti lake 42km
Argyrades 29km
Arilas 41km
Arkoudilla cape 44km
Asprokavos cape 46km
Astrakeri 37km
Avliotes 42km
Barbati 20km
Benitses 11km
Boukari 32km
Chalikounas 25km
Chlomotiana 23km
Dassia 15km
Doukades 24km
Ermones 15km
Gardenos 38km
Garitsa 1km
Garounas 15km
Gialiskari 17km
Gianades 19km
Glyfada 15km
Gouvia 10km
Ipsos 16km
Issos 27km
Kalami 29km
Kanoni 2km
Kanoula(Lakka) 40km
Karousades 35km
Kassiopi 38km
Kastelani 10km
Kavos 45km
Kerasia 32km
Komeno 13km
Pelekas 14km
Kontokali 9km
Korakiana 19km
Korission lake 25km
Kouloura 31km
Kynopiastes 8km
Lakones 27km
Lefkimi 39km
Alikes Lefkimi 41km
Lefkimi port 40km
Liapades 23km
Mandouki 2,5km
Marathias 32km
Messoghi 17km
Mirtiotissa 16km
Moraitika 17km
Nissaki 23,4km
Nymfes 34,2km
Paleokastritsa 26,5km
Paramonas 16km
Kontogialos 16km
Perama 7km
Perivoli 34,1km
Peroulades 38km
Petriti 34km
Pirgi 15,5km
Potamos 5km
Roda 38,5km
Sidari 36km
Sinarades 14km
Skripero 19km
Stavros 14km
Stroggyli 17,2km
Tzavros 10,5km
Vitalades 37km
Vrioni 4km
What is the distance between Corfu Airport and Paleokastritsa?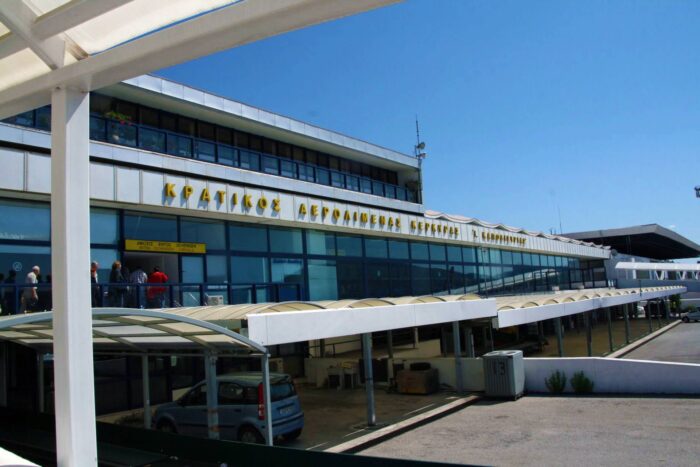 The distance between Corfu International Airport and Paleokastritsa is approximately 24 kilometers (15 miles). The driving time can vary depending on traffic conditions and the chosen route, but it usually takes around 35-40 minutes to reach Paleokastritsa by car.
When it comes to transportation from the airport to Paleokastritsa, you have a few options to choose from. Taxis are readily available at the airport and provide a direct route to your destination. Alternatively, you can opt for a rental car, which can be picked up at the airport and driven to your accommodation in Paleokastritsa.
Shuttle buses are also an option, though they might have multiple stops along the way, potentially extending the travel time. To ensure you have smooth transportation, it's a good idea to research your options ahead of time and consider booking in advance for the best deals and availability.
Are there any duty-free shops at Corfu airport?
Absolutely, Corfu International Airport boasts several duty-free shops that cater to a range of preferences. From cosmetics and fragrances to tobacco, alcohol, confectionery, and more, these shops offer a diverse selection of products. If you're departing from the EU, you can enjoy tax-free prices at these duty-free stores.
Aside from duty-free shopping, the airport also features various other retail shops and dining establishments. Whether you're seeking last-minute gifts, souvenirs, a quick meal, or a refreshing beverage, you'll find options to suit your needs. These outlets span a variety of categories, including clothing, accessories, and electronics.
To access the duty-free shops and other retail destinations, head to the departure area of the airport terminal after you've cleared security checks. It's an excellent opportunity to make the most of your time at the airport while indulging in some shopping and dining experiences.
How early should I arrive at Corfu airport for my flight?
To ensure a smooth departure process, it's wise to aim for an early arrival at Corfu International Airport. For international flights, a recommended window of 2-3 hours before your scheduled departure is advisable. Meanwhile, for domestic flights, allocating 1-2 hours should suffice. This timeframe grants you ample opportunity to complete check-in procedures, drop off your luggage, navigate security screenings, and make your way to your departure gate.
Especially during high-travel periods, like the bustling summer season, it's even more prudent to arrive well in advance. This cushions you against potential lines and wait times during both check-in and security processes. Opting for an early arrival provides the luxury of extra time to unwind before your flight, eliminating the stress of last-minute rushes and the prospect of missing your flight.
In case you're uncertain about the optimal arrival time, feel free to reach out to your airline. They can offer insights into their recommended check-in windows, allowing you to organize your schedule accordingly.
How long does it take to get through a security check at Corfu airport?
The duration needed to clear security at Corfu International Airport is subject to various factors, including the time of day, the season, and the overall passenger volume. Notably, security lines tend to extend during peak travel times, particularly in the bustling summer months.
In a general context, it's advisable for travelers to arrive at the airport approximately 2-3 hours prior to their scheduled departure. This cushion of time accounts for essential activities like check-in, baggage drop-off, security screening, and boarding. Adhering to this guideline ensures that you can pass through security smoothly and reach your gate without a sense of urgency or undue stress.
During quieter intervals, you might experience shorter security wait times. Nonetheless, it's always prudent to allocate ample time, especially when traveling during busier periods. This practice alleviates the risk of time-related anxieties and facilitates a more relaxed journey.
Can I rent a car at Corfu airport?
Absolutely, you'll find multiple car rental companies stationed at Corfu International Airport, providing the option to secure a rental car for your island exploration. Notable car rental names at the airport encompass Avis, Budget, Europcar, Hertz, and Sixt, among others.
To embark on a car rental adventure from Corfu airport, make sure you possess a valid driver's license, a credit card under your name, and adhere to the minimum age requirement. Typically, this age limit stands at 21 years, though it might differ depending on the rental company. Additionally, you'll need to furnish a valid passport or national ID card for identification verification.
Booking your rental car ahead of time is a savvy move, especially during peak travel periods, to secure availability and optimal rates. Booking can usually be accomplished online or through a travel agent. Upon your airport arrival, swing by the car rental desk to collect your vehicle and handle any requisite paperwork.




Is there a shuttle service from Corfu airport to the hotels?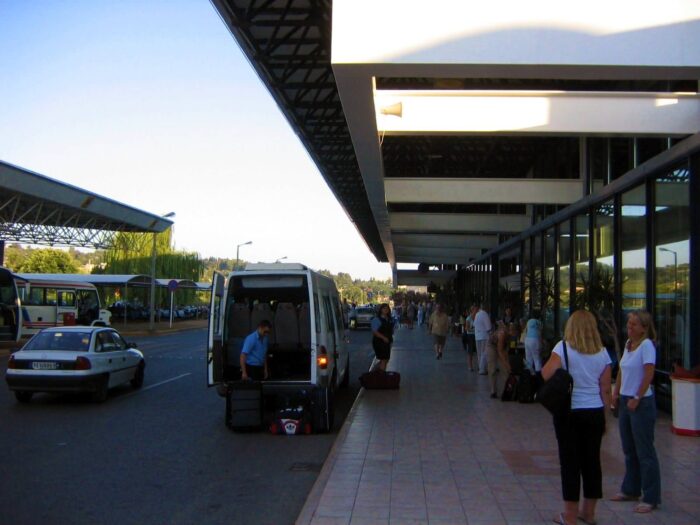 Indeed, Corfu International Airport boasts a range of shuttle services to whisk you away to your chosen hotel or island destination. Among these options, you'll find private transfers, shared transfers, and shuttle buses provided by various companies. These services can be arranged ahead of time or secured upon your arrival at the airport.
Private transfers offer a personalized and adaptable experience, with direct pick-up from the airport and transport to your designated hotel or destination without any detours. Conversely, shared transfers and shuttle buses might involve multiple stops along the route to accommodate passengers at various hotels or spots.
For a seamless experience, it's wise to research and secure your shuttle service in advance, ensuring availability and favorable rates. Additionally, you can touch base with your hotel to explore whether they offer shuttle services or assistance in arranging transportation.
Luggage Storage and limits
Regrettably, International Airport Ioannis Kapodistrias does not provide luggage storage services.
Please note that the permitted limits for both checked and carry-on baggage can differ between airlines. To obtain precise details, we recommend reaching out to your travel agent for accurate information.
Transportation – Corfu Airport Buses
There is a convenient option available for transportation from the airport to the town center and harbor: the blue bus, designated as line no. 5. This bus route conveniently stops just outside the main entrance of the airport.
Upon arriving at the Corfu bus station, which is the final stop of this line, you will find both blue and green buses available. These buses offer transportation to various destinations across the island, providing you with options to explore beyond the town center and harbor.
Taxi in Airport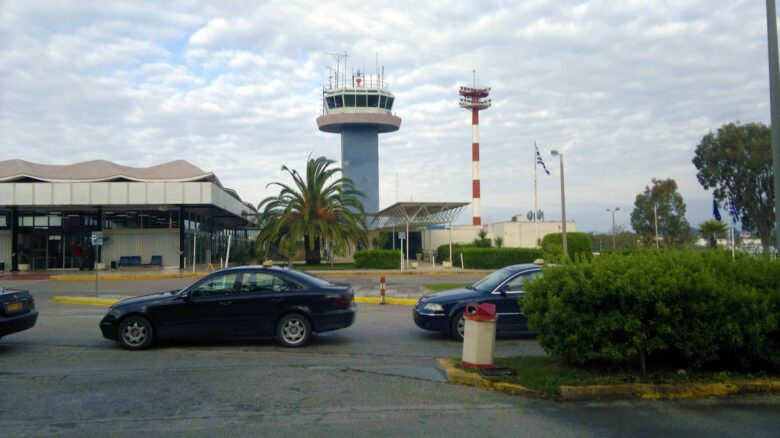 Outside the terminal building, you'll find a taxi rank where taxis are readily available around the clock.
Taxis can be conveniently booked online or via phone. Although it might come at a slightly higher cost, opting for a pre-booked taxi provides both safety and the assurance of a private ride without sharing with others.
Helpful Taxi Tips
When making online taxi reservations, it's a wise practice to use a credit card to prevent any potential scams.
For a trip from the airport to the center of Corfu town, the fare is approximately 10€, and the journey typically takes about 10 minutes.
Is there a parking lot at Corfu airport?
Absolutely, Corfu International Airport (CFU) provides a convenient parking facility for both travelers and visitors.
The airport's parking lot is situated conveniently adjacent to the terminal building, covering an expansive 7000 square meters and offering 271 parking spaces. This ample capacity caters to various parking needs, whether short or long-term.
The needs of individuals with special requirements are well-attended, ensuring easy access for all. The parking area is thoughtfully designed, and designated free spaces are available for those requiring special assistance.
To facilitate quick drop-offs or brief visits, a complimentary parking period of up to 20 minutes is offered, enabling hassle-free stops without incurring any fees.
The short-term parking section, located closest to the terminal, suits those seeking parking for a few hours or less. Meanwhile, the long-term parking area, situated farther from the terminal, caters to travelers needing parking for extended periods.
With security in mind, the parking lot is equipped with surveillance cameras and is vigilantly monitored by airport personnel, guaranteeing the safety of parked vehicles at all times. Payment for parking can be conveniently made at automated payment machines within the lot, accepting both cash and credit/debit cards.
It's important to be aware that parking fees at Corfu airport can be relatively high, particularly during busy travel seasons. To avoid surprises, it's advisable to check the current parking rates and availability beforehand. Exploring alternative transportation options such as public transit, taxis, or shuttle services might be worth considering, especially if you're seeking a more budget-friendly approach.
Parking Tel: +30 26610 39542
Corfu Airport historical memories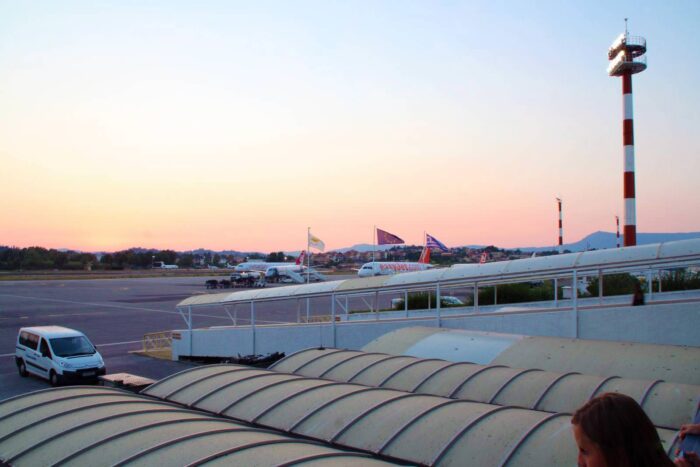 The initial, relatively modest runway of Corfu Airport, spanning nearly 600 meters, saw its inaugural use on March 22nd, 1937. This historical moment was marked by the landing of a Heston Phoenix aircraft, under the guidance of pilot Efstratios Xidis.
Post World War II, a creative approach was employed to expand the runway by approximately 200 meters. The remnants of homes destroyed during bombings were repurposed to reclaim parts of Halikiopoulos Lake, fostering growth. This undertaking took place until April 1949.
The subsequent and final runway extension phase transpired between 1957 and 1959, culminating in a now 2400-meter runway that nearly reaches the span connecting Kanoni and Perama, adjacent to Mouse Island.
Inaugurating the era of flight, the first flight accommodating seven passengers embarked on April 19th, 1949. This journey was facilitated by an Avro Anson aircraft owned by the AME company. Subsequent flights by TAE and HELLAS using DC-3 planes ensued.
Amid competitive pressures, the AME and HELLAS companies amalgamated under the banner of TAE. Eventually, Aristotle Onassis acquired TAE, sowing the seeds for the establishment of Olympic Airways in 1957.
The embryonic phase of the Corfu Airport's passenger terminal was marked by the construction of a modest building in 1962. A more comprehensive terminal was realized in 1968 and brought to completion in 1972. This transformation into an international airport occurred in 1972.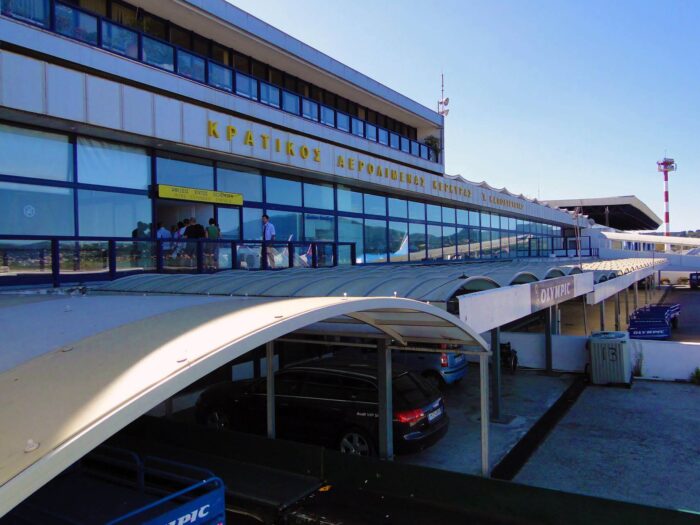 Wrapping up
Corfu International Airport (CFU) stands as the sole airfield on the picturesque Greek island of Corfu.
Positioned approximately 3 km to the south of the island's capital, Corfu Town, it operates as a welcoming portal for tourists and explorers venturing to the island's charms.
A solitary terminal structure accommodates both domestic and international flights, boasting an array of amenities for passengers. These encompass dining venues, shops, duty-free emporiums, ATMs, and car rental facilities.
Navigating travel logistics, Corfu Airport extends a diverse assortment of transportation modes for swift access to and from the terminal. Options span taxis, shuttle buses, and public transit.
The airport's flight network extends across Europe and the Mediterranean, with numerous carriers providing direct routes between the United Kingdom, Germany, Italy, and other countries.