Last updated on 10th June, 2018 at 01:48 pm
Make your reservation with confidence, we cooperate with Booking.com, No Booking Fee.


Use this reservation form or go now to Booking.com
In Corfu there are hundreds of hotels, from cheap and affordable to luxury hotels for demanding tourists.
Especially in the picturesque tourist village of the east coast, the green Benitses there are dozens of hotels that can meet all demands and tastes for comfortable pleasant vacation in this famous tourist location.
Hotels in Benitses Corfu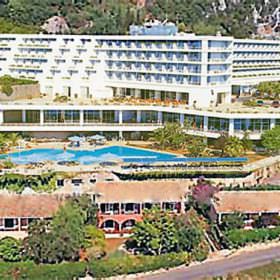 The Corfu travel Guide presents the hotels absolutely as they are, with the amenities they offer and the qualities of each one.
Benitses combine several advantages, many hotels with experienced staff that offer cheap holidays for all ages, especially for families and couples.
Located in the center of the island, providing easy access to Corfu Town and to all large sandy beaches.
They have many and good restaurants, therefore is a culinary paradise for all tastes, while infrastructures such as the port and beaches have been upgraded, became more comfortable with possibilities of water sports, but mainly with crystal clear waters.
They offer easy and fast access to the Continental coast, to the island of Paxos and opportunity for day cruise through the harbor that exists in the region and is the only of the east Coast after the Marina in Gouvia in the north.
Nature lovers and hikers will find that this is the ideal place for them … the mountain paths and locations with unsurpassed views are countless.
Almost all the two, three, four and five-star hotels in Benitses wider area are here.
See where they are, their phone numbers, and details for all of them.
Through the hotel pages there is the possibility for online reservation, you can cancel anytime without any charge.