Have you ever heard of the hidden gem that is called Stelari Beach?
Stelari Beach is a beautiful, secluded paradise nestled along the west coastline of Corfu. It belongs to the beautiful hidden beaches of west Corfu just to the South of Paleokastritsa.
With its pristine waters, majestic cliffs, and stunning sunsets, it's the perfect destination for anyone looking for a peaceful and deserted getaway.
But what makes Stelari Beach so special? Read on to find out the secrets behind this hidden gem and start planning your perfect visit to this gem today!
Overview of Stelari Beach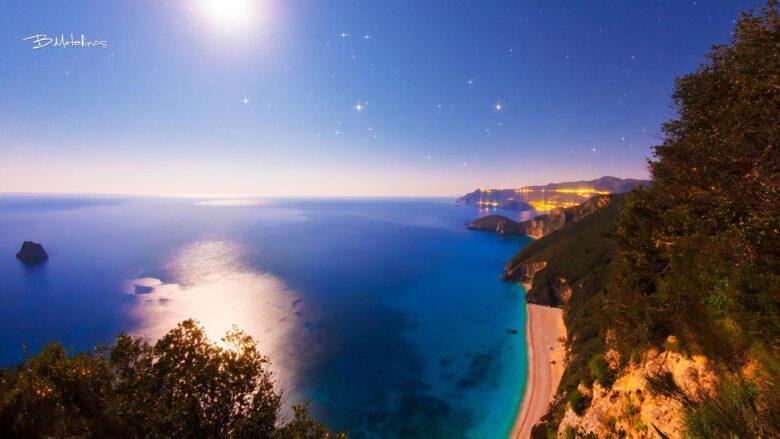 This stunning beach is a true paradise, with crystal-clear waters, and white sand, completely isolated from Corfu's inland as is covered by high cliffs on its east side.
It's a great spot for those looking to get away from the crowded and packed beaches.
Stelari Beach is the perfect destination to escape the hustle and bustle of everyday life and just relax.
To ensure a stress-free day at Stelari Beach, be sure to bring all of your essentials – sunscreen, bug spray, beach towels, and anything else you may need. With these tips in mind, Stelari is waiting for you!
In the evening you can watch the sun as it sets over the horizon, or take in the beauty of the night stars that can be seen from this beautiful beach. No matter what you choose to do, a visit to Stelari Beach will leave you feeling rejuvenated and refreshed!
By day, its white sand and shallow waters create an idyllic place to relax and take in the beauty of Corfu, while at night its serene atmosphere makes it the perfect place to witness breathtaking sunsets.
Imagine the night sky illuminated only by the stars, the sound of the ocean lapping against the shore, and the warmth of the sun on your skin. The stars can be seen very clearly here due to the lack of light pollution, therefore they gave the name to the beach, Stelari is the Italian word for Star.
Stelari Beach is known for its untouched beauty and is totally unspoiled by tourist development, the beach is surrounded by crystal-blue waters and majestic hills, making it a beautiful piece of paradise that you will never forget.
Stelari also offers plenty of opportunities for the more daring adventurers. There are plenty of opportunities to explore nature, take in spectacular scenery, and maybe even spot some wildlife!
How to visit Stelari?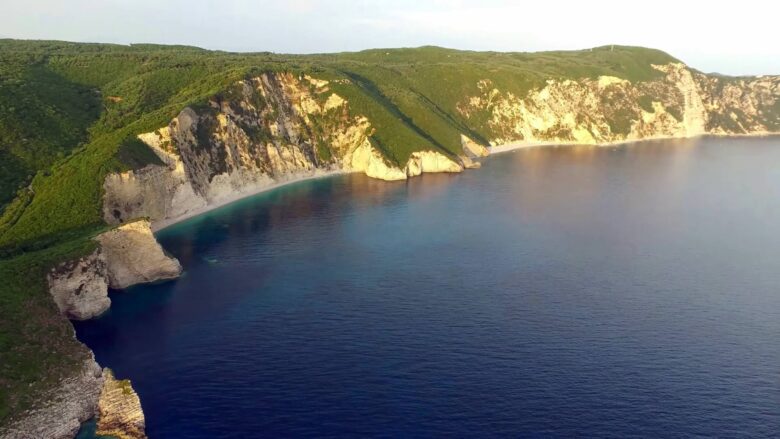 The easy way to get to Stelari beach is via a small boat from any of the beaches in Paleokastritsa, there are small boats making small tours to this beach, and the rest of the area, and return back after a couple of hours. The distance from Paleokastritsa anyway is only a mile or so.
Or if you can afford it and you wish to stay longer in Stelari or any other of the equally fantastic beaches of the area, you may hire your own small boat and use it as long as you like.
If you are skillful enough and young you can rent just a sea petal and get there in minutes, It depends on you!
In any case, before attempting to do the route either alone or with a company, and despite the short distance, we advise you to get informed of the weather conditions because the weather even in summer can become unpredictable, and safety must be your priority.
Wrapping up
In summary, Stelari Beach is the perfect destination for a peaceful day by the sea. With its crystal clear waters, lush vegetation, Majestic rocks that cut it from the island's inland, and amazing sunsets, it's no wonder why so many people want to visit it every year. If you're looking for a romantic escape make sure to uncover the secrets of Stelari Beach and start planning your perfect day under the sun!