Last updated on September 14th, 2023 at 07:04 pm
Beaches inside Kassiopi
Bataria and Pipitos are the most famous beaches in Kassiopi at the Northeastern tip of Corfu island. This area shares the same geology as Erimitis, after all, it is in the same part of Corfu, with many small bays and perhaps the clearest waters on the island.
These beaches boast some of the clearest waters you'll find anywhere on the island. Crystal-clear, turquoise waves that beckon you to take a dip. The kind of water that makes you think you've stumbled upon a slice of paradise.
What sets these two beaches apart, though, is their charming seclusion. Instead of sprawling shores packed with tourists, you'll find yourself in a cozy, intimate setting. These gems are nestled in small isolated coves, hidden away like treasures waiting to be discovered.
So, if you're the type who enjoys a bit of tranquility, these beaches should be high on your Corfu itinerary. Whether you're seeking a romantic escape or a peaceful spot to unwind with family and friends, Bataria and Pipitos have got you covered.
1) Bataria Beach
Embark on a Scenic Journey to Bataria Beach.
Alright, adventure seekers, picture this: a quaint little road that's so narrow, that it's practically a secret passageway for just one big car. This charming road starts on the left side of the port and winds its way around the northern peninsula, leading you to a hidden treasure – Bataria Beach.
Now, let's talk about Bataria. It's like something out of a postcard, an idyllic pebble beach that's only partially organized. So, what's the deal? Well, there are just a handful of sunbeds and umbrellas, which means you're the captain of your beach day! Don't forget to pack your own beach gear for the ultimate seaside experience.
But here's where it gets interesting. Those rocky cliffs surrounding the beach? They're not just pretty to look at; they're your natural sunshade heroes when the sun's at its fiercest.
Now, let's address the elephant on the beach – crowds. If you're the type who likes their beach day with a side of peace and quiet, Bataria is your haven. It's your escape from the bustling beach crowds.
But wait, there's more! When it comes to describing Bataria, some folks have said it's like a slice of paradise, neatly ripped from the heavens. Why, you ask? Well, the place is as serene as your favorite meditation spot, and the water? Oh, it's like dipping your toes into liquid sapphire. Yes, you heard right, the waters here are an amazing shade of blue azure, a sight that'll leave you utterly mesmerized.
So, summing it up, Bataria Beach is like a tranquil oasis, patiently waiting for you to discover its beauty. If you're on the hunt for a peaceful day by the sea, this place is your golden ticket. Don't let this hidden gem slip through your fingers – pack your sunscreen, your picnic, and your sense of adventure and head to Bataria Beach.
2) Kanoni Beach
Discover Paradise at Kanoni Beach in Kassiopi.
Alright, fellow beach aficionados, get ready to have your socks knocked off because we're about to spill the beans on a little slice of heaven: Kanoni Beach, perched at the northern tip of Kassiopi.
Now, let's talk size first. Kanoni Beach may be small, but it's small in all the right ways. Think of it as a hidden treasure waiting for you to uncover its magic. It's so petite that you can practically have it all to yourself, and trust us, that's a rare find in the world of beaches.
But what truly sets Kanoni apart is its beauty. We're talking drop-dead gorgeous, folks! Imagine crystal clear waters that are so pristine, they look like they've been Photoshopped by Mother Nature herself. The setting? It's nothing short of amazing, a picturesque backdrop that'll have you snapping photos left and right.
Now, here's the kicker – words often fall short when people try to describe this gem. When you set foot on Kanoni Beach, it's like stepping into a dream. You'll find yourself speechless, mesmerized, and head over heels in love with this place.
It's the kind of spot that leaves an indelible mark on your heart, a memory you'll cherish forever. So, if you're craving a beach experience that's nothing short of enchanting, Kanoni Beach in Kassiopi should be at the very top of your bucket list.
Don't just take our word for it; go and experience this coastal paradise for yourself. Whether you're a seasoned beach bum or just in need of a little slice of tranquility, Kanoni Beach is ready to welcome you with open arms.
3) Pipitos Beach
Okay, beach lovers, hold onto your sunhats because we've got another hidden gem for you, Pipitos Beach, Your Slice of Serenity.
Pipitos Beach! Nestled on the western coast at the base of the North Kassiopi peninsula, it's like a secret treasure waiting to be discovered, right across from the famed Bataria Beach.
Now, Pipitos isn't just beautiful; it's a jaw-dropping masterpiece of nature. In fact, some folks even dare to say it rivals its neighbor, Bataria, for sheer beauty.
Picture this: a pebble-strewn shoreline embraced by lush greenery. Olive trees and cypress trees create a natural oasis that surrounds you with Mediterranean charm. And the water? It's a clear, mesmerizing azure – perfect for a dip that'll make your soul sing.
But here's the deal, folks: Pipitos Beach is a bit of a DIY affair. No sun loungers or umbrellas in sight, so it's a good idea to pack your own beach gear. But hey, that's the price you pay for seclusion and untouched beauty.
Speaking of seclusion, Pipitos thrives on it. It's relatively small and tucked away, making it a haven for those who crave peace and quiet. No noisy beach bars, no rowdy crowds – just you and nature having a blissful tête-à-tête.
Now, when it comes to snacks and sips, you're in charge. There are no facilities or beach bars here, so pack your own picnic and quench your thirst with your favorite drinks.
Getting to Pipitos is an adventure in itself. You can opt for a leisurely stroll from Kassiopi harbor, soaking in the coastal vibes along the way. Or, if you prefer to drive, there's a small parking lot nearby. And trust us, the journey is worth it. As you make your way down, you'll be treated to breathtaking views of the surrounding landscape.
So, there you have it – Pipitos Beach, a hidden paradise where nature's beauty takes center stage. It's the perfect spot for those seeking solace, a quieter alternative to the more bustling beaches in the area. Don't miss your chance to bask in the serene allure of Pipitos – your piece of tranquil heaven on the coast.
4) Kalamionas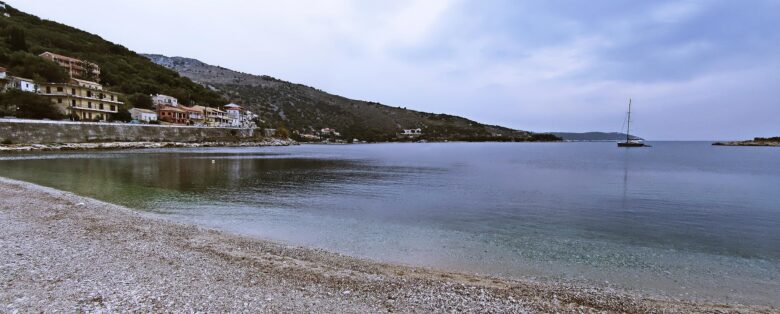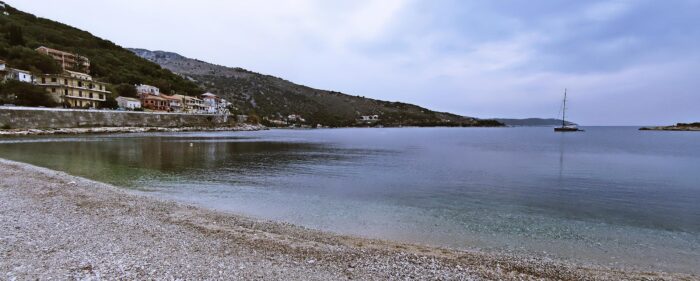 Discover Kalamionas Beach: Where Fun Meets Sun!
Hey, beach enthusiasts, we've got another sandy surprise for you – Kalamionas Beach! Located just a stone's throw away from the main road on the west side of Kassiopi, it's the perfect blend of convenience and coastal charm.
Now, let's talk size. Kalamionas is a bit roomier compared to its smaller neighbors, but don't let that fool you. While it may not be equally beautiful to some, it's got its own unique allure that's sure to capture your heart.
The beach vibes here are alive and kicking, thanks to the cozy tavernas and bars that line its perimeter. Imagine sipping on a cool drink with your toes in the sand – it's that kind of place. And speaking of sand, the water here is a crystal-clear invitation to dive right in. It's shallow, making it a top spot for swimmers of all levels.
Ever wondered about the name? "Kalamionas" is derived from "Kalamia," which means reed. Once upon a time, there must have been a whole lot of reeds swaying in the breeze around here.
Kalamionas plays a crucial role in the Kassiopi scene. In fact, it's considered the main beach of the town, conveniently perched on the west side of the settlement. Accessibility is a breeze, and it's your go-to spot for a dose of sun and surf without any hassle.
So, whether you're in the mood for beachside eats, a refreshing dip, or simply soaking up the sun, Kalamionas Beach has got you covered. It's the place where fun meets the sun, and it's calling your name. Don't miss out on the good times waiting to be had on this lively stretch of sand!
5) Imerolia
Experience Tranquility at Imerolia Beach in Kassiopi
Hey there, beach seekers! Today, we're taking you on a journey to the serene shores of Imerolia Beach, the westernmost gem in the Kassiopi crown. Tucked away on the west side of the main resort, this place is a beach lover's paradise.
So, let's set the scene. Imagine strolling just a few minutes from the vibrant heart of Kassiopi, and voilà, you've arrived at Imerolia Beach. It's a popular hangout for those who want to soak up some sun and take a refreshing dip in the clear waters.
Now, size-wise, it's on the smaller side, but don't let that deter you. What it lacks in space, it makes up for in charm. Imerolia is like nature's little secret garden, surrounded by lush greenery and embraced by rocky cliffs. The water here? Crystal-clear perfection for a rejuvenating swim. But remember to pack your own beach gear; no sun loungers or umbrellas are in sight.
What truly seals the deal is the breathtaking setting. The beach is nestled in a picturesque nook, offering you Instagram-worthy views of the lush landscape and the nearby Kassiopi castle. It's like stepping into a postcard.
Hungry or thirsty? No problem! Several cozy tavernas and cafes are just a stone's throw away, so you can savor a delicious meal or a refreshing drink while gazing at the stunning scenery.
Getting to Imerolia Beach is a breeze – you can take a leisurely walk from the center of Kassiopi or opt for a quick drive, with a small parking lot nearby. Be prepared; this place can get a tad busy during peak season, but that's a testament to its undeniable charm.
In a nutshell, Imerolia Beach is the perfect recipe for a peaceful day by the sea. Its proximity to Kassiopi village means you can seamlessly combine beach bliss with village exploration. So, grab your beach gear, head over to Imerolia, and let the soothing waves wash your worries away.
How to come to Kassiopi
Unlock the Adventure: Getting to Kassiopi Made Easy!
Hey, fellow adventurers, if you're itching to explore the captivating village of Kassiopi in Corfu, we've got the inside scoop on how to get there, hassle-free!
Now, let's address the elephant in the room – Kassiopi isn't just around the corner; it's about 36 km from the island's center. But fret not, we've got some cool options up our sleeves!
First up, there's the dedicated green bus route from Corfu town to Kassiopi, chugging along a couple of times daily. It's a fantastic way to sit back, relax, and soak in the scenic beauty as you make your way to this charming village.
But if you're all about embracing your inner explorer, here's the real kicker – you can rent your own car or bike! Yup, that's right, you can be the master of your own adventure. Take your time to visit Kassiopi and leave whenever your heart desires. The open road is yours to conquer.
And here's a little insider tip: if you're staying in other resorts around Corfu, consider hopping on one of the boat trips to the north tip of the island. It's like getting a two-for-one deal! You get to explore Kassiopi and enjoy a mini daily cruise. Talk about combining the best of both worlds, right?
So, whether you're a bus traveler, a road warrior, or a sea explorer, Kassiopi is within your reach. It's time to unlock the adventure and dive into the magic of this enchanting village. Pack your bags, pick your mode of transport, and let the exploration begin!
In brief
Kassiopi's Hidden Beach Treasures: Your Ultimate Relaxation Spots!
Hey there, beach lovers, get ready to discover a little slice of paradise in the charming village of Kassiopi! This place is a gem waiting to be uncovered, with several small, beautiful, and oh-so-remote beaches. And guess what? They're mostly covered in pebbles, adding to their unique charm.
Now, picture this: a collection of beaches, each with its own personality and beauty. It's like a beach buffet where you get to pick your favorite flavors! Whether you're into secluded hideaways, crystal-clear waters, or a bit of both, Kassiopi's got you covered.
And here's the best part – these beaches are a breeze to access. No need to embark on a treacherous quest to find them. They're right there, waiting for you to plop down and soak up the natural beauty of Kassiopi.
So, if you're all about relaxation and unwinding in a tranquil setting, Kassiopi's remote beaches are where you want to be. Grab your sunscreen, your beach towel, and your sense of adventure, and let the beach-hopping begin!