Last updated on October 23rd, 2020 at 06:19 pm
Bourdeto with Scorpion fish
Bourdeto is another Corfiot fish dish that also comes from Venice.
It is made with fish from the deep, mainly scorpions with two or three perches together for better taste, but also with rhubarb or octopus.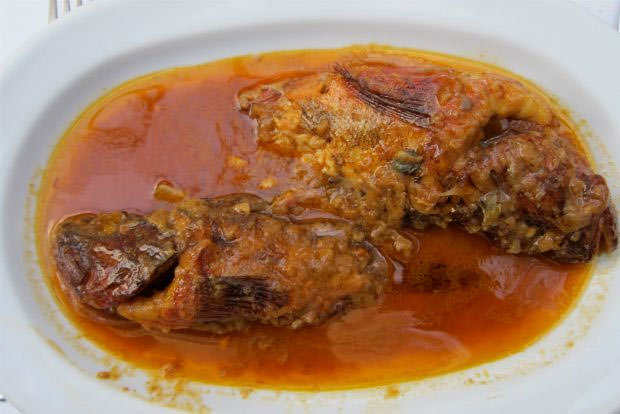 We are lovers of Bourdeto with skate-fish or octopus but here we will present you the authentic recipe made with scorpions which is delicious.
The Recipe is for 4 people.
Ingredients
10 to 12 scorpions cleaned by lentils and offal only, whole with their heads.
2-3 small perches for variety in taste, both cleaned and whole.
1 big Onion chopped with a knife
A large soup spoon of sweet red pepper
A pinch of hot red pepper
Olive oil
100 grams of fresh lemon juice, from then-laced lemons!
We never use tomato in bourdéto, neither fresh nor preserved, the red color comes from the pepper.
If someone puts a tomato this is not called bourdeto.
How to do it
Put the finely chopped onion in the saucepan with some oil and let it boil.
Add the large spoonful of red sweet pepper and a pungent hot red pepper.
Continue cooking it
Put a large glass of water
When it boils and is near to stick, we add two more glasses of water until it covers completely the fishes.
We care for fish to be completely covered with water
Allow to boil on a normal fire until it is almost dry
Put the lemon juice inside
Wait for another minute and remove it from the fire cause it's ready.
We choose for you