Last updated on September 6th, 2023 at 04:34 pm
Halikounas Beach is a pristine and natural paradise on Corfu, offering a peaceful escape with its golden sands, tranquil lagoon, and opportunities for water sports.
Chalikounas Beach from above
Chalikounas is located in southwest Corfu near the village of Agios Mattheos, at a distance of about 17 miles from Corfu town and 16 miles from the airport.
It has brown fine golden sand and permanent waves, perfect for sailing and water sports, and is definitely the largest beach in Corfu as is enormous, and endless, with variations in the landscape, with a forest, a lagoon behind the sand dunes, and above all, it is pristine – no hotels or uncontrolled tourist development.
The beach is known for its natural beauty and unspoiled environment, making it a favorite destination for nature lovers and those seeking a serene beach experience.
This strip of sand in southwestern Corfu stretches for several kilometers between the open sea of ​​the northern Ionian Sea and the Lake of Korission, in some spots, it tends to thin, and in others, it becomes quite wide.
About the Beach of Chalikounas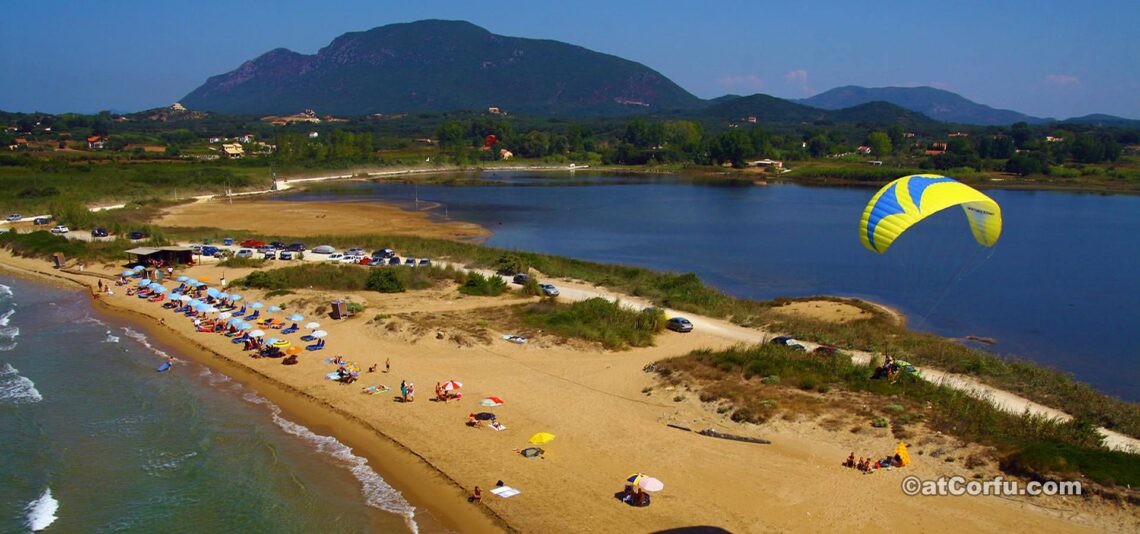 This part of the island looks like the Sahara desert in Corfu, that is because of the dunes and the lack of mountains, at least nearby.
Because the Korission Lagoon, is a protected nature area, it has no hotels or restaurants. There is a canteen in the middle of the beach for those who want to spend some unforgettable hours, but nothing beyond that.
Therefore is better to bring with you all the equipment you may need.
This beach caters to adventure enthusiasts, those who love sailing, and surfing, and are not bothered by winds and waves.
Adventure can occur all of a sudden even on the bumpy alley that runs alongside and behind the beach, for example, your car can be stuck in the sand.
It happened to us many years ago, but we managed to get out of it by using rocks under the wheels, rocks that happily are not missing.
The landscape is wild, virgin, and does not look like the rest of Corfu, it is like a desert on the most fertile island of Greece, There are cacti and dunes reminiscent of the Sahara.
In addition to water sports such as water skiing and paragliding, mini-motocross races are often organized, and the ups and downs of the ground are helping.
Key Facts about Chalikounas Beach
Beach Features: The beach is characterized by its long stretch of golden sand and crystal-clear turquoise waters. It is backed by sand dunes and surrounded by a natural landscape of olive trees, shrubs, and lagoons, which are part of the protected Natura 2000 area. Chalikounas Beach is a nesting ground for several species of sea turtles, including the loggerhead turtle, and is recognized for its ecological significance.
Water Sports: Chalikounas Beach is a popular spot for water sports enthusiasts. The shallow waters and gentle winds make it ideal for windsurfing and kitesurfing. There are also facilities for renting equipment and taking lessons for these activities.
Facilities: While Chalikounas Beach is relatively untouched, it does offer some basic facilities for visitors, including sunbeds and umbrellas for rent, as well as a few beachside tavernas that serve refreshments and local cuisine.
Accessibility: Chalikounas Beach is easily accessible by car, with a parking area nearby. It is also possible to reach the beach by public transportation or by walking along the footpath from the nearby villages.
Nature Reserves: Chalikounas Beach is part of the Korission Lagoon, which is a protected nature reserve. The lagoon is home to a variety of bird species, including flamingos, and is a popular spot for birdwatching and hiking.
Photos from Chalikounas Beach
Summary
Chalikounas Beach is known for its tranquil and untouched natural setting, making it a peaceful escape for those looking to relax and enjoy the beauty of Corfu's coastal landscape. Visitors are encouraged to respect the beach's natural environment and follow local regulations to protect the delicate ecosystem.
Chalikounas is a beach that you definitely must visit, you will feel closer to nature and you will easily leave behind your flat everyday life.