Last updated on June 28th, 2022 at 01:30 pm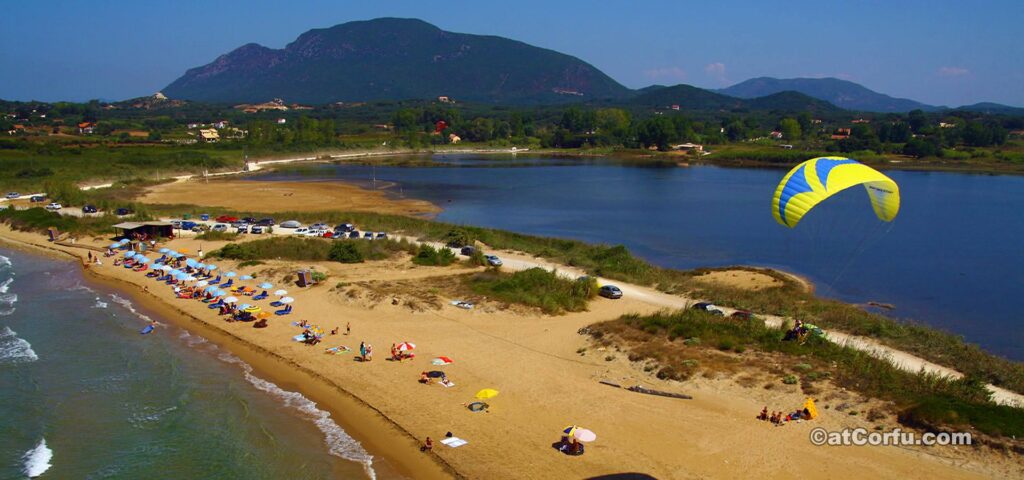 Chalikounas beach may not be the most beautiful, after all this is relative and according to everyone's tastes, but it is definitely the largest beach in Corfu.
A strip of sand in southwestern Corfu stretches for several kilometers between the open sea of ​​the northern Ionian sea and the Lake of Korission, in some spots it tends to thin and in others, it becomes quite wide.
Chalikounas beach is enormous, endless, with variations in the landscape, with a forest, a lagoon behind the sand dunes, and above all, it is pristine – no hotels or uncontrolled tourist development.
This part of the island looks like the Sahara desert in Corfu.
It is located in southwest Corfu near the village of Agios Mattheos which is a part at a distance of about 17 miles from Corfu town and 16 miles from the airport.
It has brown fine golden sand and permanent waves, perfect for sailing and water sports.
Because the Korission lagoon, is a protected nature area, it has no hotels or restaurants, there is a canteen in the middle of the beach but for those who want to spend some unforgettable hours, there is better to bring with them all they need.
It is a beach that caters to adventure enthusiasts, those who love sailing, and surfing and is not bothered by winds and waves.
Adventure can occur all of a sudden even on the bumpy alley that runs alongside and behind the beach, for example, your car can be stuck in the sand.
It has happened to us many years ago, but we managed to get out of it by using rocks under the wheels, rocks that happily are not missing.
The landscape is wild, virgin, and does not look like the rest of Corfu, it is like a desert on the most fertile island of Greece, there are cactus and dunes reminiscent of the Sahara.
In addition to water sports such as water skiing and paragliding, mini-motocross races are often organized, and the up and downs of the ground are helping.
Chalikounas is a beach that you definitely must visit, you will feel closer to nature and you will easily leave behind your flat everyday life.