Last updated on May 29th, 2022 at 02:20 pm
Beaches in Crete
Being the largest of the Greek islands, Crete has plenty to offer. Many small islands around and especially some of the best beaches in Greece.
Crete is separated into 4 prefectures, as we go from west to East; the Prefecture of Chania, Prefecture of Rethymnon, Prefecture of Heraclion, and Prefecture of Lashiti.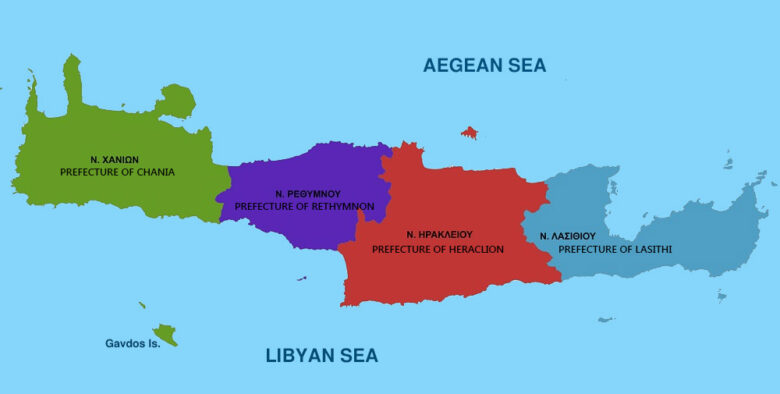 Beaches at Chania
1- Balos beach Chania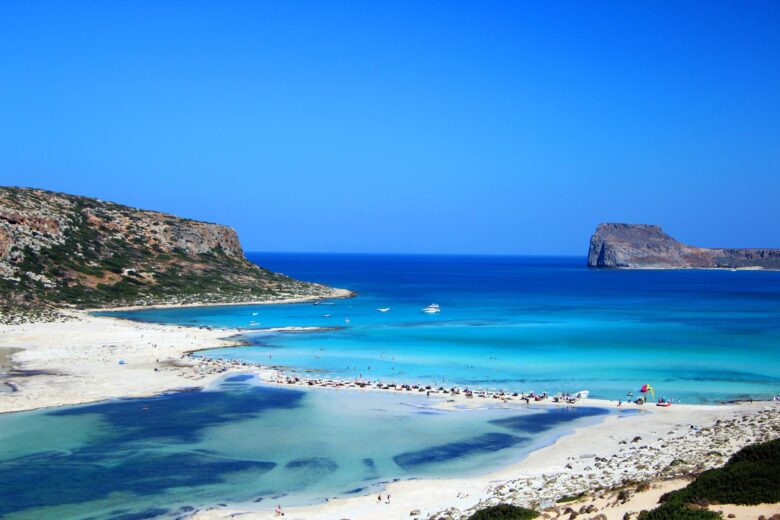 Sandy, very busy beach-lagoon in Chania, Crete
One of the most beautiful beaches in Greece.
Imagine, a lagoon with white sand, emerald shallow waters between the western tip of Crete, and a small round shaped island closing lagoon's west side. Two more tiny islets called Gramvousa lay at the north. The closest is the mild Gramvousa and the farther wild Gramvousa.
This is Balos, one of the nicest beaches in Crete.
Tip: Balos is a folklore dance of the Aegean.
If you go there you may not feel like dancing Balos but you will definitely feel that you want to remain there forever.
2- Elafonissi beach in Chania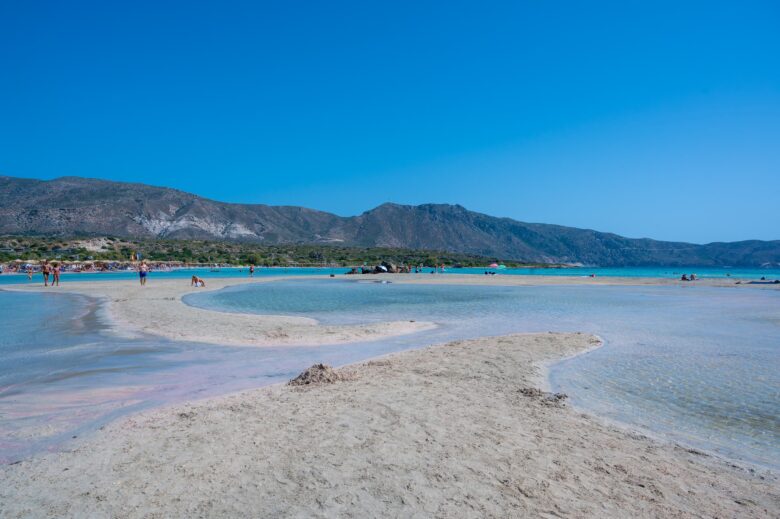 Sandy large beach in Chania, Crete
Another gem in the south and west end of Crete.
A white sandy beach connects Elafonissi island with Crete and forms a beach in between.
A scenery similar to Balos but with its own magical beauty. Another Nature's miracle and a NATURA protected area.
Go there and visit the island by walking on the sand, it's a kind of magic.
Elafonisi means deer island, as Elafi is the Greek word for deer
3- Falasarna beach Chania
Sandy organized, beach party beach in Chania, one of the best beaches in Greece
The beach at Falasarna is a huge beach on the west coast of Crete in the prefecture of Chania. It is considered the most beautiful in Crete and is included in the top 10 beaches in Europe, it has wonderful white fine sand and warm, crystal clear waters.
The area of ​​Falasarna has a great variety of flora and fauna, but also a special natural beauty. Therefore is a protected Natura 2000 plan area.
The southern part of the beach is Pachia Ammos. Fully organized, with umbrellas and sunbeds, and gathers a large number of visitors.
Of course, due to the size, there are also quieter pieces where you can lay on your towel away from the crowds.
Choose the beach if you love windsurfing and don't mind the winds but also if you are young since beach parties are often organized in the evenings.
4- Sougia beach in Chania
5- Glika Nera beach in Chania
6- Krios beach in Chania
7- Marathi beach in Chania
8- Loutraki beach in Chania
Beaches at Rethymnon
1- Preveli beach Rethymno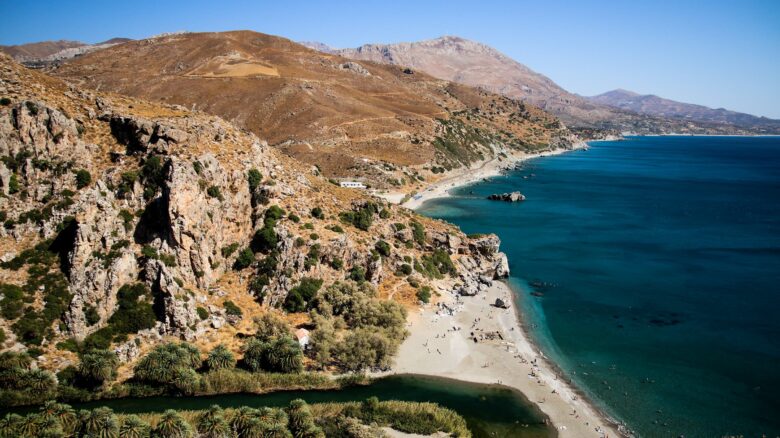 Sandy remote beach in Rethymno, Crete, Perfect for families
A uniquely beautiful sandy beach 38 km from Rethymnon, on the south coast of Crete.
The river Kourtaliotis flows into the beach, on the banks of which there is a forest of palm trees that offer rich shade and special beauty in the landscape.
It is a very popular destination for families and a fully organized beach with water sports, sunbeds, umbrellas, pedal boats, restaurants, cafes.
At a distance of 20 minutes is the historic Monastery of Preveli from where it got its name.
2- Rodakino beach in Rethymno
3- Plakias beach in Rethymno
4- Agios Pavlos beach in Rethymno
Beaches at Heraclion
1- Matala beach Heraclion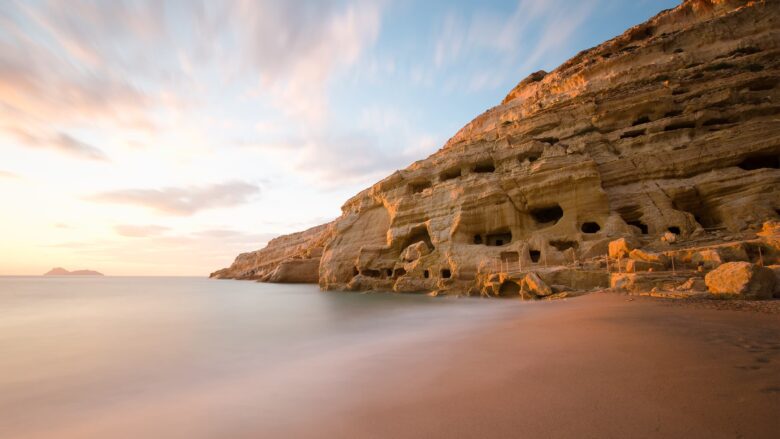 Sandy beach in Heraclion, Crete
Somewhere in Southern Crete, in the bay of Messara, near the archeological site of Phaistos and 71km south of Heraklion are Matala. Today it's a typical tourist village.
Next to the beach, there are the clay rocks that hide the intense history of this place.
The holes seen in the rocks were the homes of 1960s hippies.
When Janis Joplin, Joan Baez, Bob Dylan, and others spent their days and nights under the Cretan sky when the slogan "Peace Man" prevailed, and the hippies of 1960 after protesting in Woodstock ended up here.
Tourists today come to see a legendary place and maybe to get a taste of the past charm.
But Matala today is nothing more than a small village with a beautiful sandy beach, There is some tourist traffic with lowkey nightlife thought and the place doesn't remind anything of the Matala of the 60s.
2- Agiofaraggo beach in Heraclion
3- Tymbaki beach in Heraclion
Beaches at Lasithi
1- Sissi beach in Lasithi
2- Agia Fotia beach in Lasithi
3- Makris Gialos beach in Lasithi
4- Vai beach in Lasithi
5- Istro beach in Lasithi