Last updated on July 30th, 2023 at 09:29 am
Being the largest of the Greek islands, Crete is a great destination for beach lovers.
With its crystal-clear waters, pristine shorelines, and postcard-worthy sunsets, it's no surprise that Crete has some of the most beautiful beaches in the Mediterranean.
Here, we'll take a look at the top beaches in Crete and give you tips on how to make the most out of your visit.
Beaches in Crete
Crete has plenty to offer. Many small islands around and especially some of the best beaches in Greece.
Crete is separated into 4 prefectures, as we go from west to East; the Prefecture of Chania, Prefecture of Rethymnon, Prefecture of Heraclion, and Prefecture of Lashiti.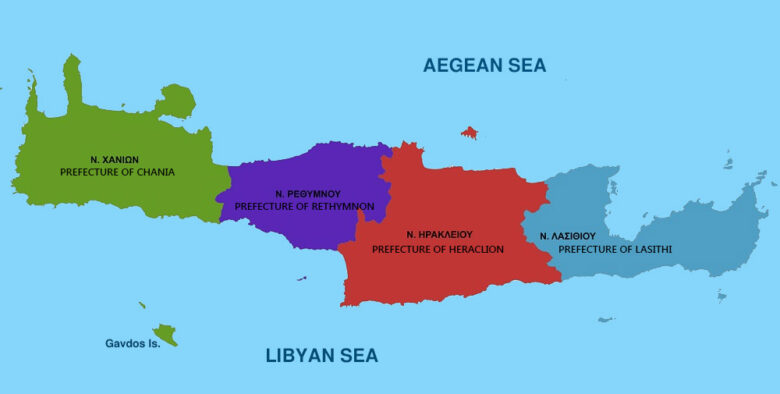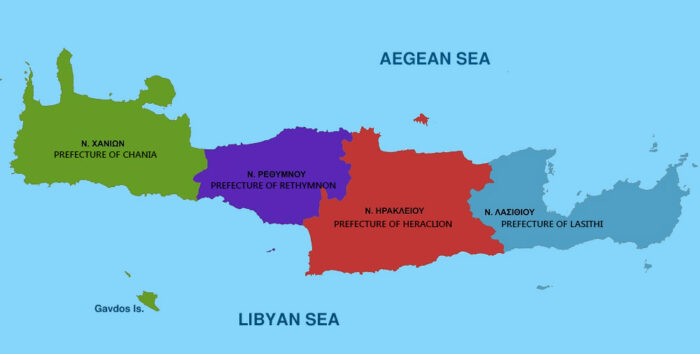 Beaches at Chania
1- Balos beach Chania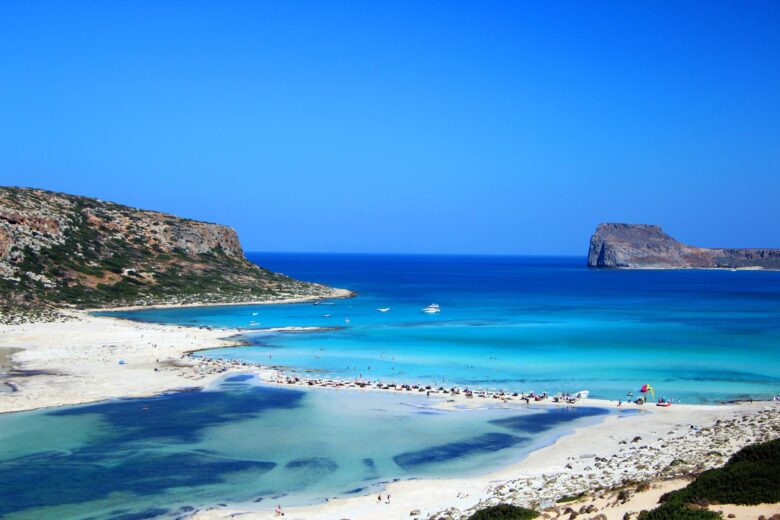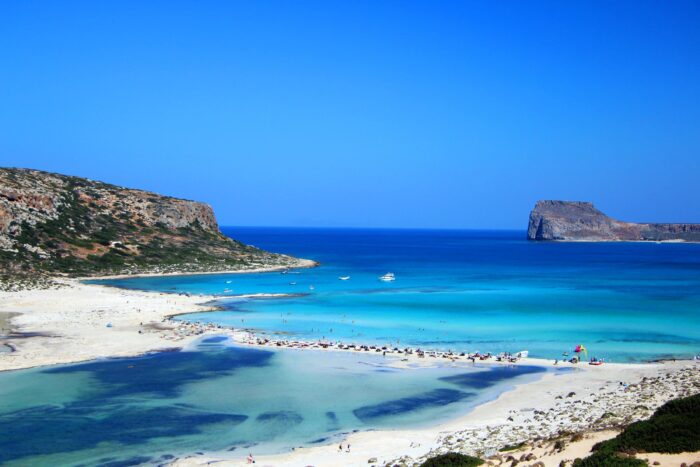 Sandy, very busy beach-lagoon in Chania, Crete
One of the most beautiful beaches in Greece.
Imagine, a lagoon with white sand, emerald shallow waters between the western tip of Crete, and a small round-shaped island closing the lagoon's west side. Two more tiny islets called Gramvousa lay at the north. The closest is the mild Gramvousa and the farther wild Gramvousa.
This is Balos, one of the nicest beaches in Crete.
Tip: Balos is a folklore dance of the Aegean.
If you go there you may not feel like dancing Balos but you will definitely feel that you want to remain there forever.
2- Elafonissi beach in Chania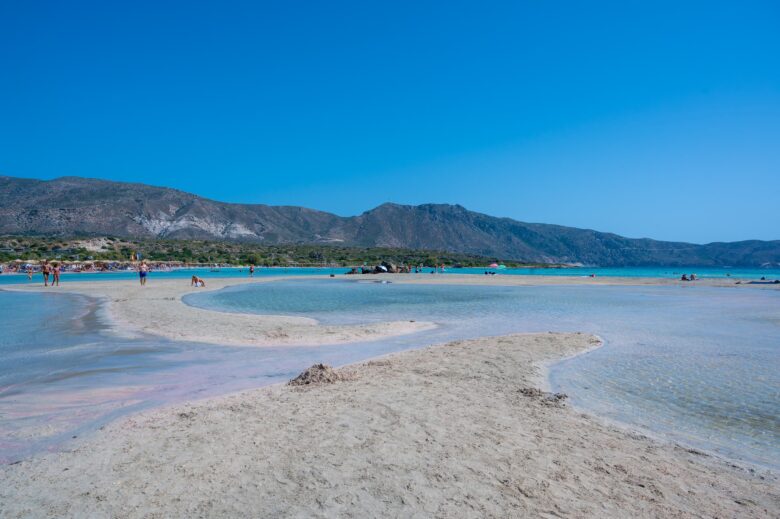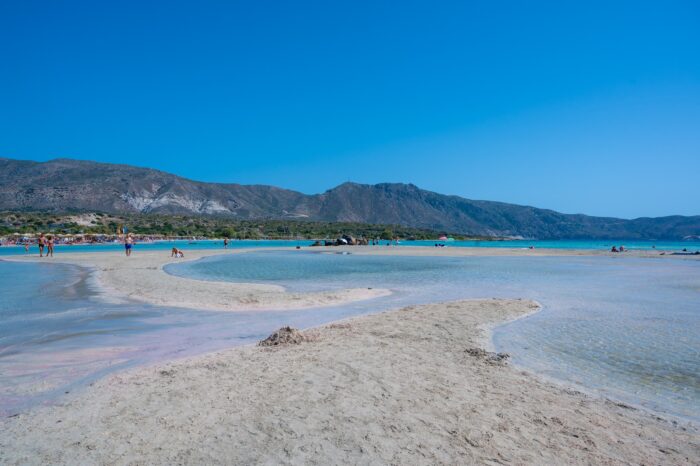 Sandy large beach in Chania, Crete
Another gem in the south and west end of Crete.
A white sandy beach connects Elafonissi island with Crete and forms a beach in between.
A scenery similar to Balos but with its own magical beauty. Another Nature's miracle and a NATURA protected area.
Go there and visit the island by walking on the sand, it's a kind of magic.
Elafonisi means deer island, as Elafi is the Greek word for deer
3- Falasarna beach Chania
Sandy organized, beach party beach in Chania, one of the best beaches in Greece
The beach at Falasarna is a huge beach on the west coast of Crete in the prefecture of Chania. It is considered the most beautiful in Crete and is included in the top 10 beaches in Europe, it has wonderful white fine sand and warm, crystal clear waters.
The area of ​​Falasarna has a great variety of flora and fauna, but also a special natural beauty. Therefore is a protected Natura 2000 plan area.
The southern part of the beach is Pachia Ammos. Fully organized, with umbrellas and sunbeds, and gathers a large number of visitors.
Of course, due to the size, there are also quieter pieces where you can lay on your towel away from the crowds.
Choose the beach if you love windsurfing and don't mind the winds but also if you are young since beach parties are often organized in the evenings.
4- Sougia beach in Chania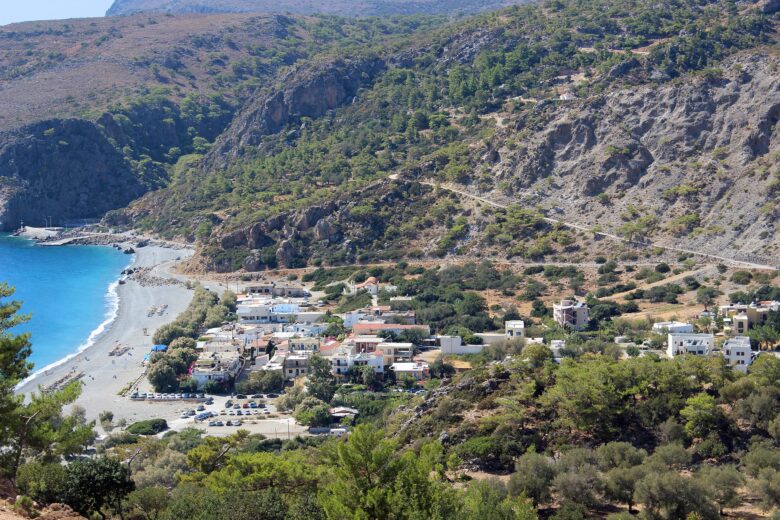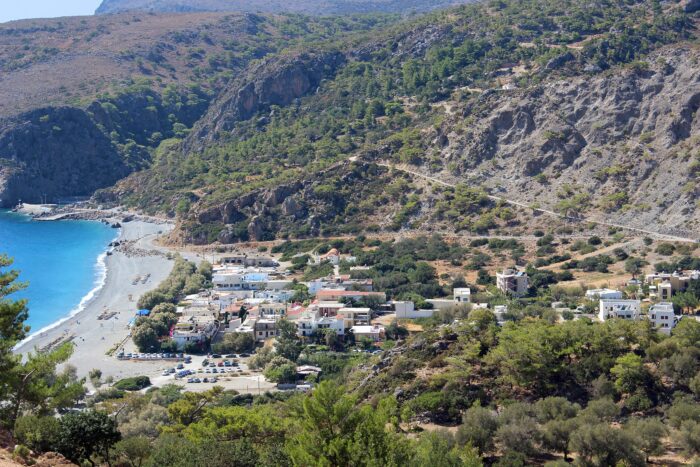 Sougia beach is located in Chania, Crete, Greece.
The beach is one of the most beautiful beaches in the area. The wide, sandy beach is an ideal location for relaxation and swimming in the crystal clear waters of the Mediterranean Sea.
The beach is well-stocked with lounge chairs and umbrellas, making it a perfect spot to relax and enjoy the sun.
There is also a selection of bars, restaurants, and cafes to choose from should you desire something more than just a day at the beach.
Sougia beach has something for everyone and is ideal for families looking for a peaceful and relaxing day at the beach.
5- Glika Nera beach in Chania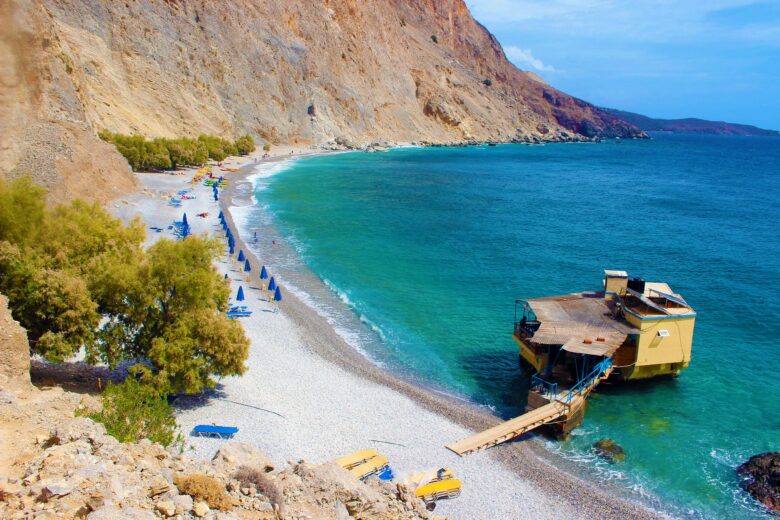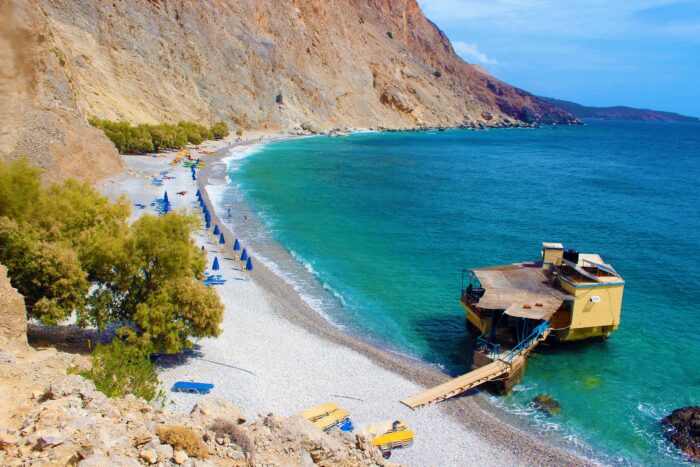 Glika Nera beach is a beautiful beach located in Chania, Greece.
It is a shallow sandy beach with crystal clear waters and breathtaking views of the Greek coastline.
The beach is quite secluded and can be accessed by taking a short walk down a rocky path.
The sand here is mostly made up of fine pebbles and the waves are gentle and suitable for swimming. There are also a few restaurants and cafes in the area for those wishing to take a break from the sun.
6- Krios beach in Chania
Krios beach is located in Chania, a city on the Greek island of Crete.
It is known for its crystal-clear waters, white sand, and stunning scenery.
The beach is perfect for those looking for a relaxing day of swimming, sunbathing, and soaking up the beautiful views of the Mediterranean.
Krios beach is an ideal spot for families and young couples who want to escape from it all and enjoy a peaceful day steeped in nature and beauty. There are many amenities nearby such as restaurants, bars, and shops to explore.
7- Marathi beach in Chania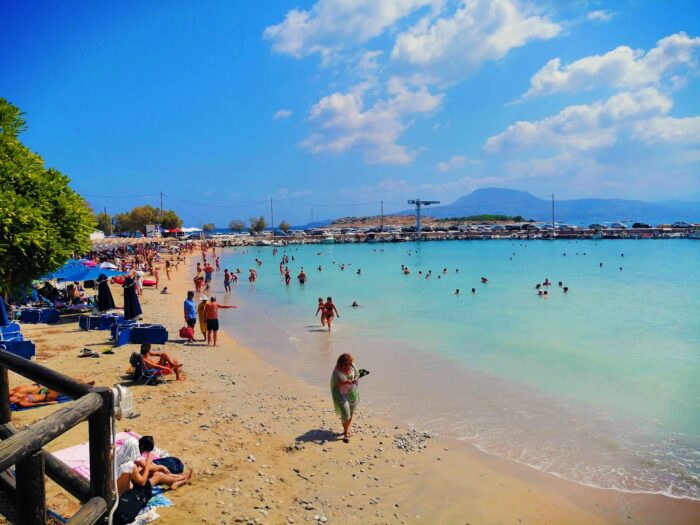 The Marathi Beach is a beach located in the Akrotiri Peninsula of Chania Crete, located just 5km east of the city of Chania.
It is a large beach that offers a breathtaking view of the sea, as well as a large sandy beach with crystal clear waters. The beach is considered one of the most beautiful in the southeastern side of Crete and is popular with locals and tourists alike.
Marathi Beach is also popular with scuba divers and snorkelers due to its excellent visibility underwater.
The surrounding area is home to lush green forests and rocky mountains, making it a great spot for exploring, it is accessible by car or bus from Chania, with parking available nearby.
8- Loutraki beach in Chania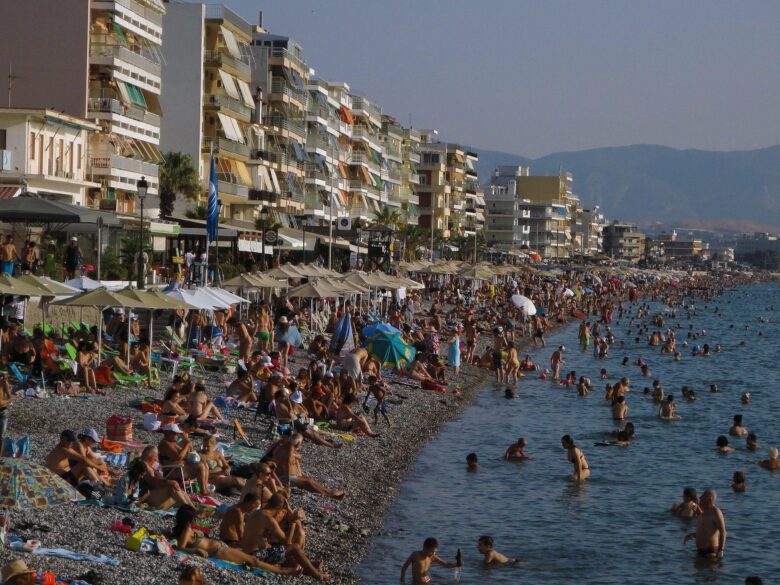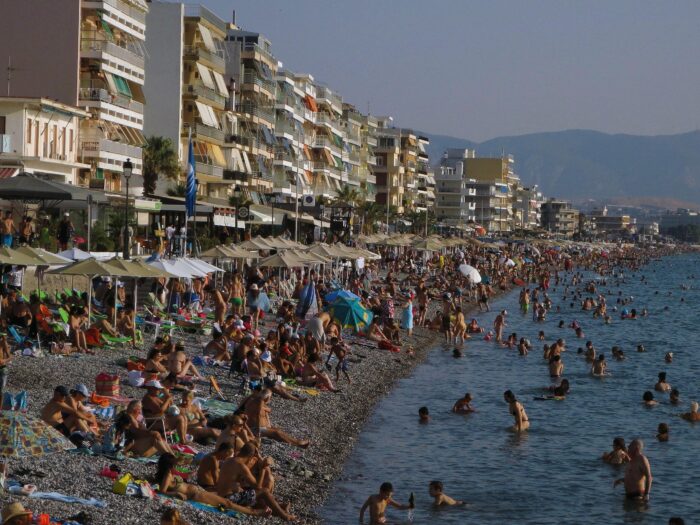 Loutraki beach is located in Chania, Crete, Greece. It is a wide, long beach with pebbles, but very busy at times, certainly packed. It is located in front of a very busy resort, and it boasts stunning views of the White Mountains and the sea. The calm waters are perfect for swimming in. There are also plenty of nearby restaurants and water sports attractions, making it a popular destination for locals and tourists alike.
Beaches at Rethymnon
9- Preveli beach Rethymno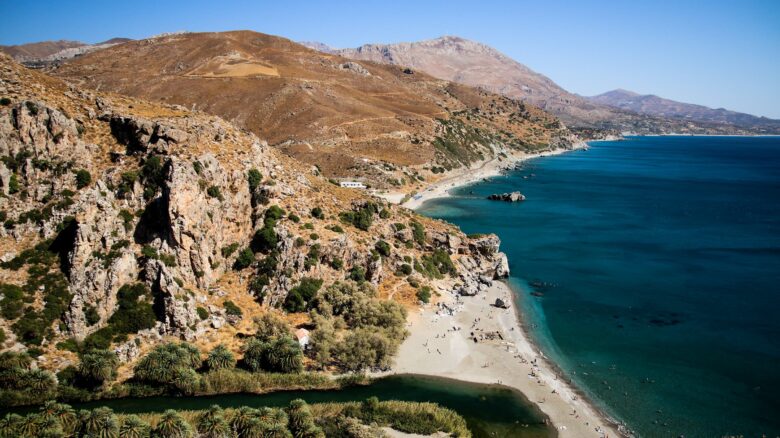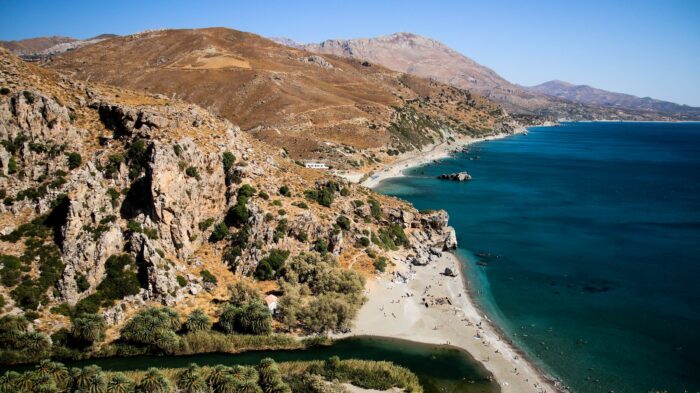 Sandy remote beach in Rethymno, Crete, Perfect for families
A uniquely beautiful sandy beach 38 km from Rethymnon, on the south coast of Crete.
The river Kourtaliotis flows into the beach, on the banks of which there is a forest of palm trees that offer rich shade and special beauty in the landscape.
It is a very popular destination for families and a fully organized beach with water sports, sunbeds, umbrellas, pedal boats, restaurants, cafes.
At a distance of 20 minutes is the historic Monastery of Preveli from where it got its name.
10- Rodakino beach in Rethymno
Rodakino beach is located in the southeast corner of Rethymno, a city on the Greek island of Crete.
It is a small, secluded beach with crystal clear water, surrounded by rugged mountains and cliffs. The sand is white and fine and there are plenty of rocks for all kinds of activities like snorkeling, sunbathing, and swimming.
The beach is popular with locals but rarely crowded, so you can enjoy a peaceful time by the sea.
The view from the beach toward the sea is quite impressive too. The nearby village of Rodakino offers a few restaurants and cafes where you can have lunch or snacks
11- Plakias beach in Rethymno
Plakias Beach is located on the southern coast of Crete, in the Rethymno regional unit of Greece.
It is a long, sandy beach that is popular for swimming and sunbathing.
The beach has shallow crystal blue waters and is surrounded by lush vegetation, creating a beautiful natural landscape.
There are several restaurants and bars that offer refreshments throughout the day as well as shops and plenty of parking for visitors.
Plakias Beach is ideal for relaxing and enjoying the Mediterranean sea breeze and stunning scenery.
The beach is also a well-known spot for scuba diving and snorkeling, with great visibility and plenty of marine life to explore.
Visitors can also enjoy the nearby Cretan Mountains or take part in various water sports.
Plakias Beach is an ideal destination for anyone seeking an unforgettable summer vacation in Greece.
12- Agios Pavlos beach in Rethymno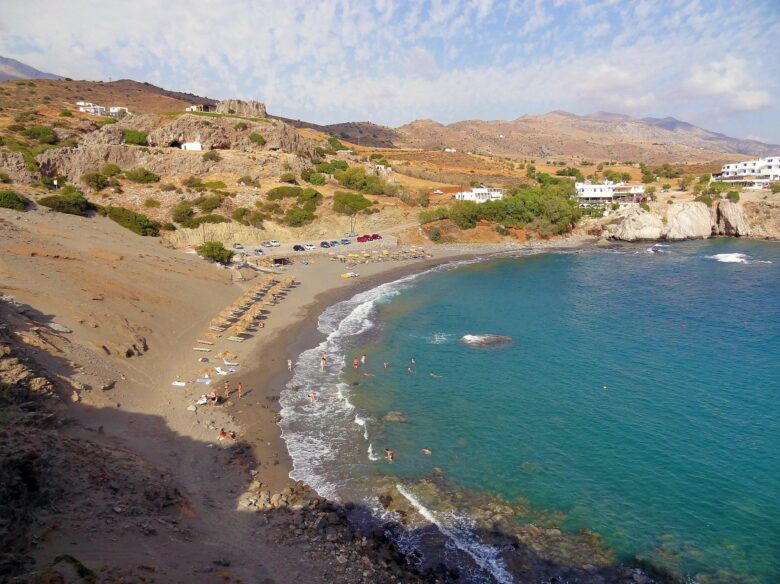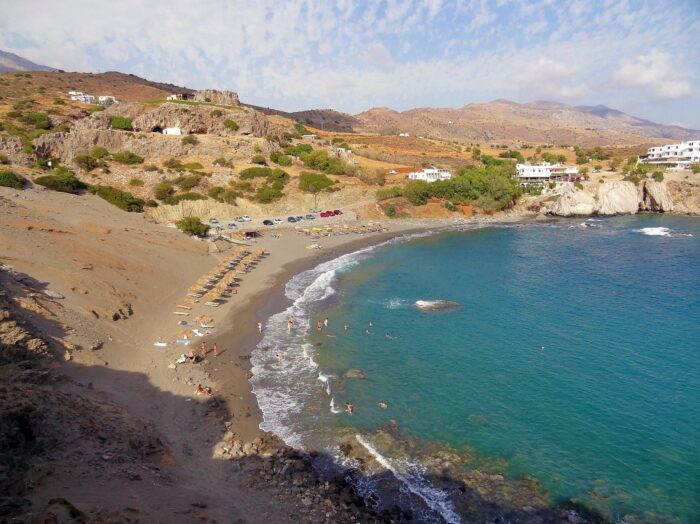 ​Agios Pavlos Beach is located in Rethymno, Crete, Greece.
It is a long stretch of soft, golden sand and crystal-clear waters, making it one of the most popular beaches in the region.
The beach is situated on the east side of the town, making it easily accessible for locals and tourists. The beach has been awarded a Blue Flag for its clean environment, safety, and excellent amenities.
Amenities
Agios Pavlos offers an array of facilities and amenities for visitors to enjoy.
The beach has well-maintained toilets, showers, and changing rooms. There are also umbrellas and sunbeds available for hire. Restaurants, cafes, and snack bars can be found next to the beach where visitors can grab a bite to eat or drink. Other services such as beach volleyball and water sports can also be found nearby.
Activities
Agios Pavlos is an ideal spot for swimming and sunbathing. There are also a number of water-based activities available in the area such as windsurfing, sailing, kite surfing, and kayaking.
Visitors can also explore the nearby area on foot or bike.
Getting There
Agios Pavlos has located just a short drive from the center of Rethymno. There are regular buses running between the beach and the city center. Visitors can also take a taxi if needed.
Beaches at Heraclion
13- Matala beach Heraclion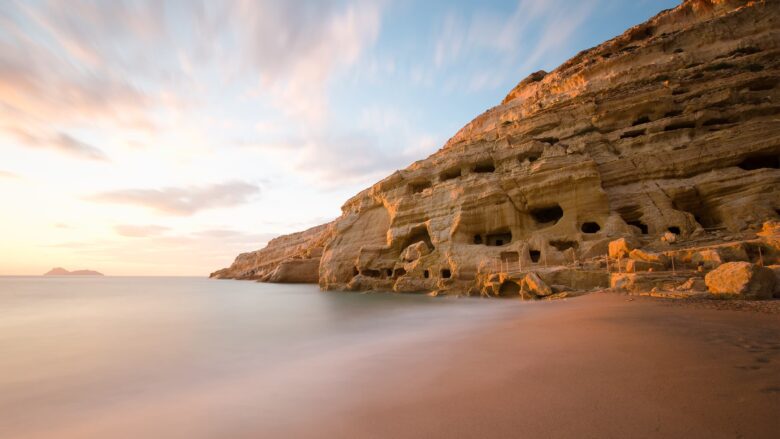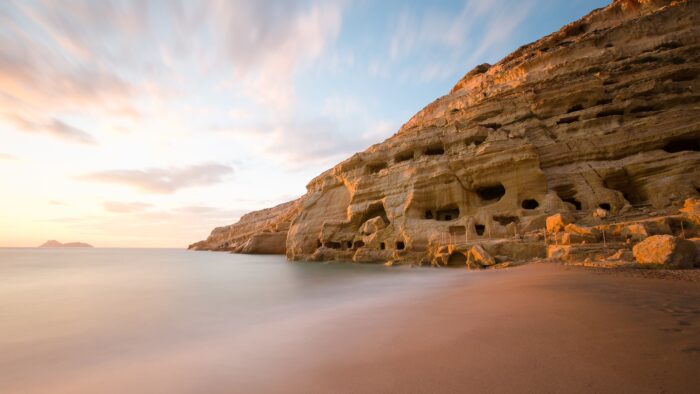 Sandy beach in Heraclion, Crete
Somewhere in Southern Crete, in the bay of Messara, near the archeological site of Phaistos and 71km south of Heraklion are Matala. Today it's a typical tourist village.
Next to the beach, there are the clay rocks that hide the intense history of this place.
The holes seen in the rocks were the homes of 1960s hippies.
When Janis Joplin, Joan Baez, Bob Dylan, and others spent their days and nights under the Cretan sky when the slogan "Peace Man" prevailed, and the hippies of 1960 after protesting in Woodstock ended up here.
Tourists today come to see a legendary place and maybe to get a taste of the past charm.
But Matala today is nothing more than a small village with a beautiful sandy beach, There is some tourist traffic with lowkey nightlife thought and the place doesn't remind anything of the Matala of the 60s.
14- Agiofaraggo beach in Heraclion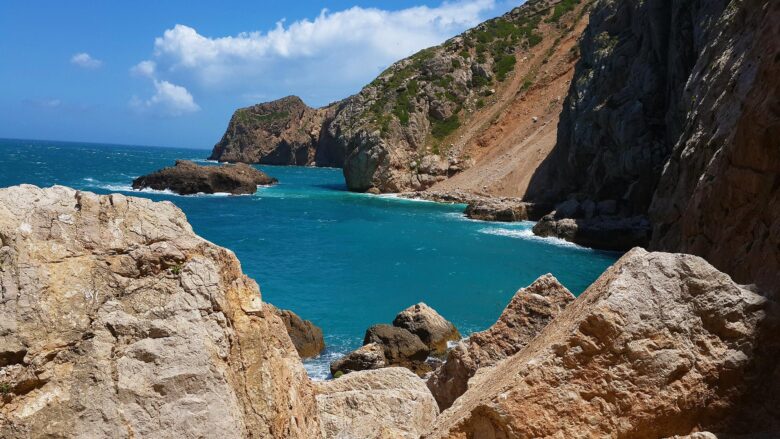 Agiofaraggo beach is located in Heraklion, Crete, Greece.
It is a secluded beach off the beaten path, boasting crystal-clear waters against a backdrop of rugged mountains.
The beach is part of a protected area and is usually quite peaceful. The area abounds with local vegetation, including fig, olive, and almond trees.
There is an abundance of sea life in the waters surrounding the beach and it is popular with snorkelers and scuba divers.
Agiofaraggo beach is an excellent spot for sunbathing and swimming, as well as for enjoying the natural beauty of Crete.
15- Tymbaki beach in Heraclion
Tymbaki beach is a popular beach located in Heraclion, Greece.
It is situated on the north coast of Crete and is known for its crystal-clear waters and white sand.
The beach is divided into two sections: the eastern side is a more secluded spot perfect for swimming and sunbathing, while the western side has much more activity with beach bars, restaurants, and various water sports.
Tymbaki is a great place for families to relax and enjoy the stunning views of the surrounding landscape.
Beaches at Lasithi
16- Sissi beach in Lasithi
Sissi beach is located in the geographical region of Lasithi, Crete in Greece.
It is a popular beach for locals and tourists alike. It offers an array of activities including snorkeling, swimming, and sunbathing, as well as a range of restaurants and bars.
The beach is surrounded by stunning views of the Mediterranean Sea and the stunning landscape of Lasithi.
17- Agia Fotia beach in Lasithi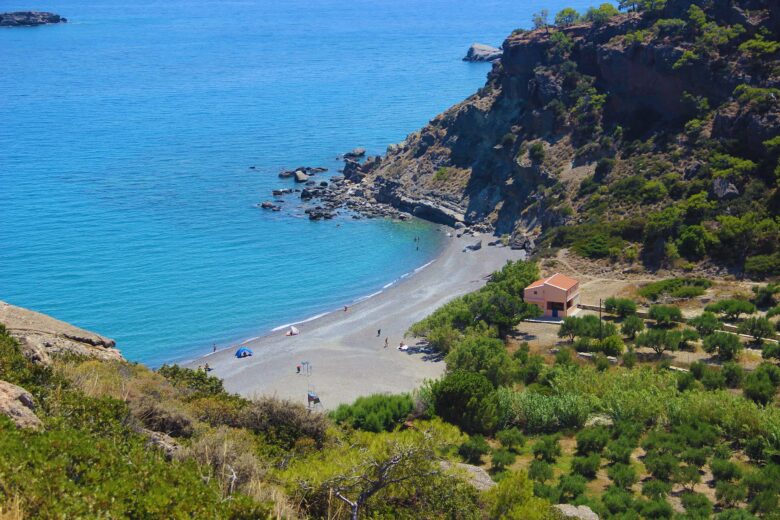 Agia Fotia beach is a sandy beach located on the east side of the Lasithi prefecture of Crete, Greece. It is situated approximately 3km away from the village of Agia Fotia.
The beach is a popular summer destination for tourists, as it features crystal clear waters and a long stretch of white sand along its shore.
The water is shallow and generally calm, which makes it ideal for swimming and other activities. The area also has many restaurants, bars, and cafes just a step away from the beach.
The beach also offers activities such as parasailing, windsurfing, banana boat rides, and more. Additionally, there are plenty of sun loungers and umbrellas available to rent.
Visitors to Agia Fotia beach will also find some archaeological ruins just a short distance away, including a Minoan ruin that dates back to the 16th century BC.
18- Makris Gialos beach in Lasithi
Makris Gialos is a beach on the Greek island of Crete in Lasithi, located near the towns of Ierápetra and Sitía.
The beach is situated on the southeastern end of the Sitia Region and is a popular spot for sunbathers and those wanting to take a swim in crystal clear waters.
Makris Gialos is surrounded by sand dunes and pine trees, offering tranquility and unspoiled beauty as well as a safe place to swim.
Visitors to the beach can also take advantage of nearby amenities including restaurants, tavernas, cafes, raki bars, and car rental services.
19- Vai beach in Lasithi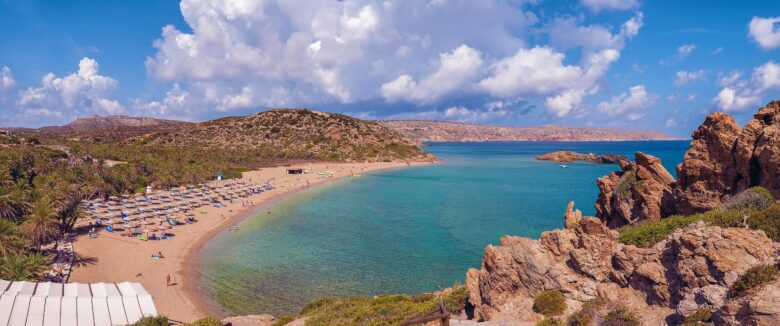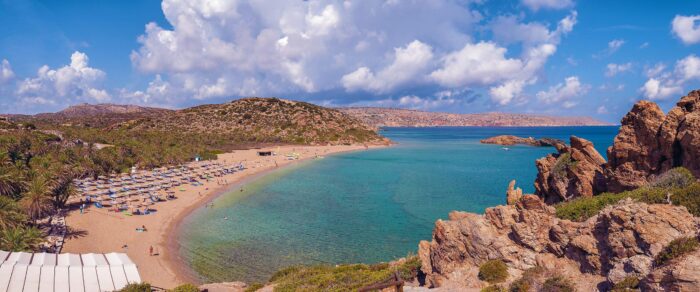 Vai beach is a popular beach located in the Lasithi prefecture of Crete.
It is known for its sandy beach, crystal clear water, and lush natural setting, making it an ideal spot for swimming and relaxing.
The beach is located near the village of Vai and is easily accessible by car or motorbike.
Many tourists flock to the beach to enjoy the amenities on offer, such as umbrellas, sun beds, and watersport activities. Visitors can also find restaurants and cafes nearby for a bite to eat.
20- Istro beach in Lasithi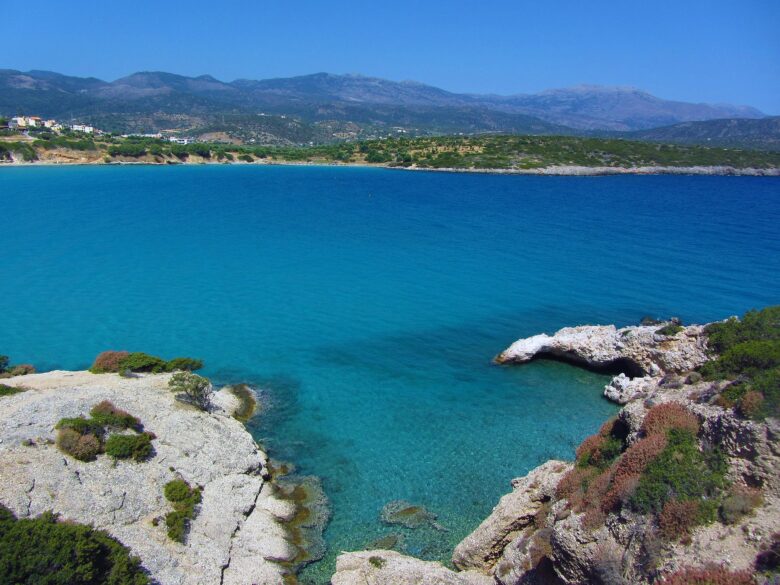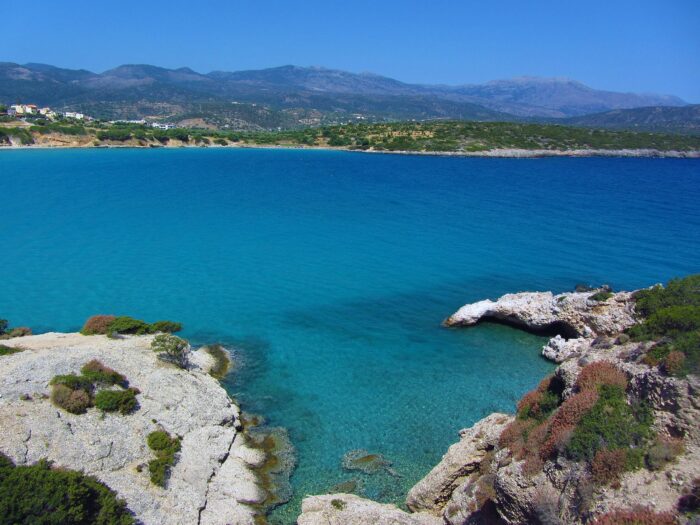 Istro Beach is a large beach located in Lasithi Prefecture, on the island of Crete in Greece.
It is around 10km long, stretching from the village of Istro to the nearby village of Kalo Chorio.
The beach is known for its golden sand and crystal-clear waters. It also features a wide range of amenities, including volleyball courts, children's playgrounds, bars, restaurants, and water sports facilities.
Istro is popular with holidaymakers due to its peaceful atmosphere and stunning views.
Summarizing
In conclusion, Crete is a paradise full of pristine, powdery beaches that are perfect for just about any type of getaway.
Whether you're looking for a quiet hideaway, an activity-filled playground, or a romantic spot to watch the sunset, there is something for everyone in Crete.
With the varied range of beaches around the island and activities to keep you busy, Crete is undoubtedly one of the best places to spend your summer vacation.