Last updated on October 10th, 2023 at 09:49 am
Saturday 15 March 2014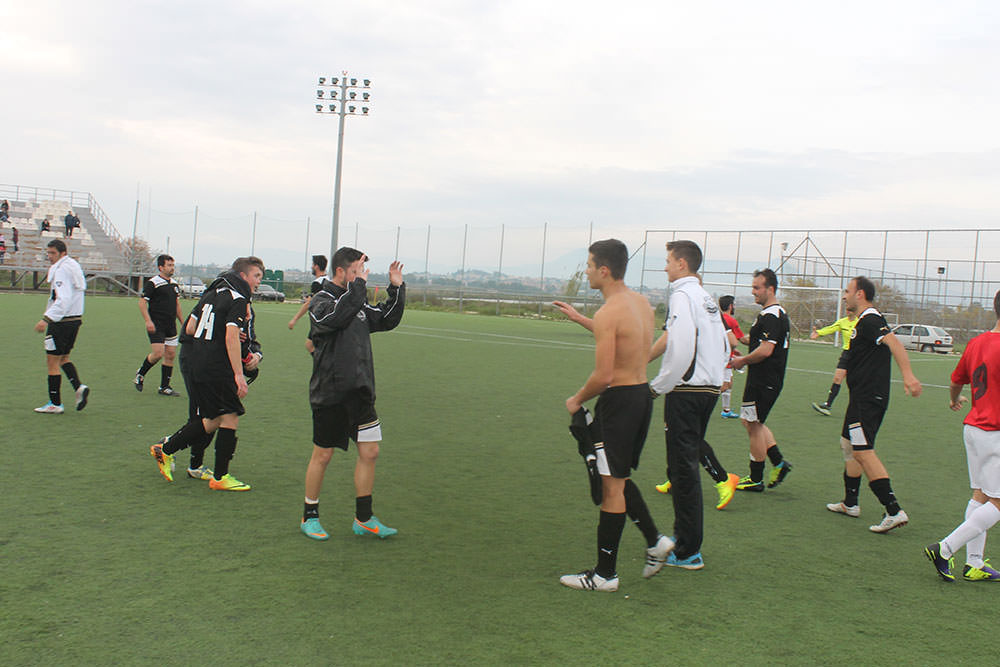 After 3 games without a win, at last, a victory for our team over the first in ranking F.C Kavos with a score 3-2,
was a full thrills game where both teams claimed victory playing attacking football.
The match started perfectly for Benitses who was preceded in the 8th minute after a header from Tranakas.
The first half went by the FC Kavos that had a slight lead chasing an equalizer but Benitses were the team that lost the best opportunities for more goals.
Benitses lost at the beginning of the second half the best chance to double the score when Tranakas failed to score while he was alone with the keeper Makantanis who managed to ward off the ball.
Kavos tied the score in the 48th minute with Dimitris Vlassis who defeated goalkeeper Mastoras with a middle range shot.
Another great opportunity for Benitses was lost in the 55th minute when the header from Gianniotis hit the right post.
Seven minutes later the second goal for Kavos after distant foul kick by Natsis and a tragic mistake from keeper Mastoras who left the ball through his hands to end into the net, 1-2 for Kavos.
At this point coach Giannoulis threw in the game the young player Katsoulis who with his passion dragged his teammates to believe in tipping, Benitses team staged performance and closed Kavos in the penalty area.
In the 75th minute a foul for Benitses about 10 yards outside the area, Demetriades shot an unreachable shot that sent the ball in the right window of Makantanis for the equalizer, 2-2
Benitses continued with the same passion, and about 4 minutes before the end Katsoulis chased a seemingly lost ball forcing the keeper to come out of the area to clear, the ball hit Katsoulis legs and ended slowly into the net for the final score: F.C Benitses – F.C Kavos 3 – 2
After today's results in the rating of A EPSK division, F.C Kavos remains in 1st place with 50 points, followed by lefkimi with 43, while ​​third position is shared by Eagle of St. Athanasius and FC Benitses on 39 points, Hercules of Agioi Deka follows with 38 points but one match less.
Everything is still open even for second place that leads to upper-division.
Read More