Last updated on July 30th, 2023 at 10:42 am
Alexa service closes down But… Still Counts!
How? We don't know how but those who can't live without it, can install this Firefox plugin and still get access to the Alexa ranking system, which is still alive and counting! We don't know though for how long.
Alexa toolbar closes down – What was Alexa Toolbar?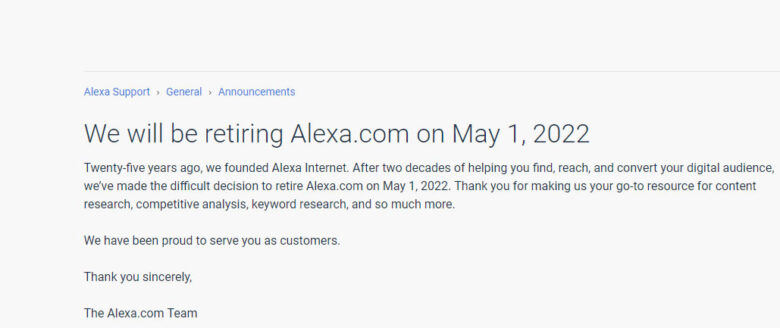 Alexa was a global ranking system that compiled a list of the most popular websites utilizing web traffic data. This was the Alexa Rank.
To collect the data it used a toolbar, the Alexa toolbar.
But until recently, Amazon, the company that developed Alexa, claims that they use more tools and sources to achieve this, a claim that is not confirmed by our observations anyway.
Alexa, thus, was a global ranking system. The lower the Alexa rank number, the more popular the website was.
Alexa was supposed to show how each site ranks on the web compared to the rest of the websites. Depending on how many visitors it received in conjunction with the pages of the site that each visitor seed and the time spent on the site.
It was a compare tool rather than a web traffic tool.
The ratio of Alexa ranking was not the number of visits, but a combination of different quality traffic characteristics. It didn't show the traffic for any website but was particularly useful to compare two or more sites.
The Alexa number showed the standing for each site compared with the rest. A smaller number means a higher position, with the number one being at the top. While new and unknown sites with little to no traffic rank at several million or were not ranked.
An Alexa rank of 10.000, for instance, means that the site was 10,000th in the world and so had many more visitors than a site that ranked at 1,000,000.
Alexa data and rankings were updated daily.
Needless to say that Google stands at number 1 and Facebook at number 2, and this was still going on unchanged for years.
Some more estimations about possible traffic. If a site had an Alexa number inside a few million that meant it was getting no more than 10-15 visitors per day. If it was around one million then its traffic was estimated to be around 100 visits per day. While if it was less than 500,000 it received around 1,000 daily visits.
Numbers below 100,000 could be a sign, although not accurate, of high traffic of several thousand users per day.
Anyway, all these estimations later proved nothing more than false estimations, VERY FALSE!
If you cared about such important details of the websites you visited, then you had to install the Alexa toolbar extension into your browser. it was recommended to use either Chrome or Firefox.
Alexa toolbar installation was easy. You could download it from their website (Alexa toolbar download) and follow the instructions.
The toolbar claimed that offered more features as well. Such as protection from pop-up windows, extra info about the site, page history, page's earlier versions, and other features.
It was not spyware as some people thought. It collected data from many sources so it could provide some data about traffic statistics. It didn't collect or use personal data.
All this would be nice and useful if it were true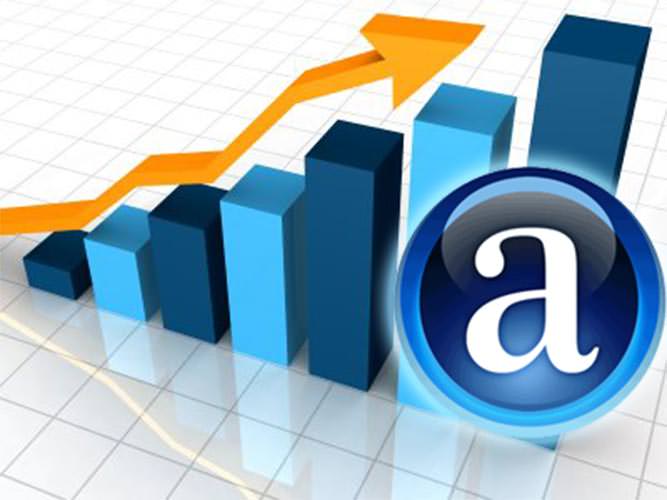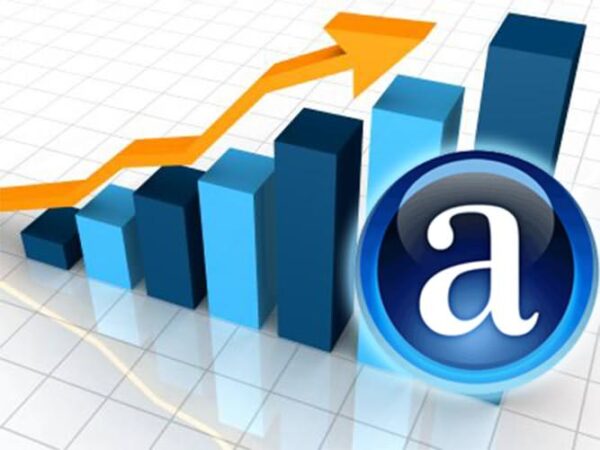 But the truth was that the numbers provided by this system were unreliable, away from reality.
Except for the very large websites, where statistics were more accurate, the rest of the system was almost a failure.
We have seen this over and over again during the last few years. By comparing the real stats of websites and cross-referencing data from other webmasters too.
We found websites with few visitors in the top 500,000 or 100,000. and on the contrary, websites with thousands of visits rank very low under the million spot.
There were hundreds of such examples that prove what we are saying.
Even after so many years, it was the nature of this system that made it unable to approach the depiction of internet reality. This made it completely useless, and thus unfair.
Many advertisers still used it until recently to choose between websites for their advertising campaigns. Unfortunately, that was a huge mistake.
Every serious SEO should know this weakness and not take Alexa into consideration.
So, to the question: what should I do to improve the ranking of my website on Alexa? The answer is simple, do nothing, forget about Alexa as it doesn't exist anymore.
But why Alexa was unreliable?
So the question arises: How come a web-based ranking system that has been in place since 1996 and developed by a large company like Amazon was so unreliable?
Alexa claims that they used more than 25.000 different toolbars to collect data! Wow…what a number! But they never mentioned which toolbars, not even one of them, and anyway, our 5 years of observations showed that only data from their toolbar were affecting their rankings, so, clearly, they lied!
So, regardless of their claims, this system was mainly based only on the statistics collected by their own toolbar.
And it is well known that very few internet users used this toolbox. For the sake of accuracy, a very small percentage who are mostly advertisers or webmasters used it. While the others avoided it and the overwhelming majority seems to never even heard of it altogether.
It's obvious that, if a website due to its niche had visits from technicians and SEO experts, it would very likely have a very good place in the rankings. It could be in the top 100.000 even if it did not receive more than 40 -50 visits a day.
On the other side, a tourist site visited by thousands who did not have the toolbar could rank very low down in the millions.
But the Alexa system was also useless because it could be easily manipulated or altered.
At a very low cost, one could decrease this number by paying for fake visits with the toolbar enabled. At least this happened a couple of years ago! And still worked until the system's end.
Also, one or two people using the toolbar and visiting the same site several times daily could affect the results.
We did it on another website a few years ago and we managed to get a very low-traffic website at the 100,000th spot!!!
No serious webmaster will ever participate in such stupid practices. Thus jeopardizing its prestige and good position in Google results that bring quality traffic.
So Alexa's system was perforated and manipulated easily. Therefore was completely unreliable, the best thing to do was to IGNORE IT!
Update 2020, Alexa was somehow closer to reality but only for the Top 50,000 Websites
Meanwhile, some attempts to improve their algorithm have been made. Also, some data seems to be collected from other sources too, and are not based solely on the toolbar. As a result, the statistics during 2020 were based on broader observations and were a little closer to reality.
Especially for websites that were in the top 50,000, the statistics seemed slightly closer to accuracy.
So Alexa as a comparison tool was almost useful but only for the top sites and could only be a relatively weak indication of a website's value. But still easily manipulative as it was in the past.
The conclusion is that Alexa ranking in 2020 was a tool that deserved only a quick look and nothing more.
Update 2021, The first signs that many things have gone wrong
2021 is probably the year that the Alexa traffic rank system starts its course to death.
Towards the middle of the year, the system just stopped counting traffic from most countries. When the mouse hovered over the Alexa extension in the vast majority of countries it showed Alexa traffic rank: #NaN and the extension sent no data anywhere.
Therefore, a website with tons of traffic from countries like the UK, Germany, and most European countries simply didn't exist for Alexa.
The only way to count traffic from Europe was to use one of Alexa's paid plans, that was, literally money thrown in the trash.
As a result of this, websites were sinking in the millions in a matter of days, and generally, results seemed like coming out from "One Flew Over the Cuckoo's Nest", remember the 1975 movie? Υes, that's exactly how Alexa rankings were during 2020 and 2021.
Countries that seemed to continue to provide data through Alexa extension almost to the last months were the US, Canada, India, Japan, and a few others, which was completely peculiar.
That is why, when a website was checked through their toolbar, there were data only for US or India, and some manipulation packages were sold to increase rank only for those countries, strange wasn't it? (It was a common secret that Alexa was easily manipulated throughout its entire lifespan!)
Some could claim that malfunction happened due to the COVID-19 pandemic, but we didn't think that was the case, or at least not the only one!
Also, its use was heavily declined year after year and some of its features were removed from time to time.
Alexa toolbar has never been properly promoted, so almost none other than webmasters knew its existence, nor ever heard anything about it! Therefore the global toolbar's pull was always extremely small and not at all representative of the average user, That was a fact!
Seemed that Amazon had lately focused exclusively on paid subscription packages for certified results, or something more radical was hiding, they had decided the end of Alexa!
It was obvious that they decided to drop it altogether. Ιn the end, it was a system totally unfair as it didn't count data from all sites equally.
At last, Alexa closes down. This disgrace will become history in May 2022
Finally, we proved right! From their site, we read:
We will be retiring Alexa.com on May 1, 2022
Twenty-five years ago, we founded Alexa Internet. After two decades of helping you find, reach, and convert your digital audience, we've made the difficult decision to retire Alexa.com on May 1, 2022. Thank you for making us your go-to resource for content research, competitive analysis, keyword research, and so much more.
We have been proud to serve you as customers.
Thank you sincerely, The Alexa.com Team
This was a surprise for many webmasters, but not for us, we have seen the signs and expected them.
We hoped that sooner or later this 25-year-old ranking system will stop misleading webmasters and advertisers all over the world.
Conclusion
Alexa's traffic rank is over, and the best thing that advertisers can do is to ignore it and uninstall Alexa's browser garbage even before the official end, May 2022.
There are much more reliable ways to compare websites anyway, no one is and will never be perfect, but sites like SimilarWeb for instance show a relatively much more accurate picture of the internet.
We strongly believe that Alexa's toolbar fate was decided years ago, and we just see the inevitable ending now.
Our belief is that without this disgrace, the internet will become a better place. At last, we get rid of something completely useless, unjust, and harmful.
Thank you, Amazon for taking the right decision, if you can't keep a responsible service you better cease it.