Last updated on April 3rd, 2023 at 04:18 pm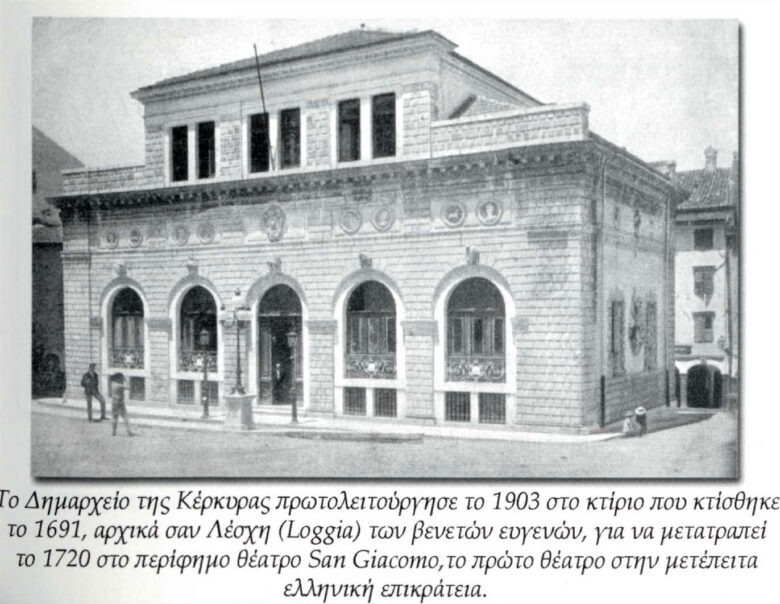 At the junction of Eugeniou Voulgareos and M. Theotoki streets, there is the City Hall building that dominates the homonymous square.
The building began built in 1691 and was originally the gathering place for the Venetian nobles of Corfu, loggia di Nobili in Italian.
In 1720 it transformed into a theater. The theater of San Giacomo. It was the first theater in Corfu and the first in the later Greek territory.
Between 1733 and 1893 it became the center of Greek opera, attracting many Italian musicians and composers, many of whom were residents of Corfu and contributed to the local music scene.
The theater was the center for the creation of the Ionian Scholl of Music, its cultural influence was catalytic.
The mixture of Italian and Corfiot music traditions was cultivated by the musicians played in this theater with the prominent figure of the Corfu composer Nikolaos Halikiopoulos Mantzaros, who later musically composed our national anthem in poetry by Dionysios Solomos.
The theater mainly performed operas and usually a light type of comic opera known as opera buffa, less demanding and therefore less expensive.
Performances also continued in difficult times, such as in situations of siege, when the performances became tools of propaganda and revitalization of the morale of the inhabitants.
Needless to say, the actors of the theater such as professional musicians, performers, and teachers were mainly Italians from southern Italy, of course missing the Greeks.
This is where the first Greek musicians and composers emerged and started at a time when music was unknown in later Greek territory.
At that time Corfu was the capital of the Ionian state, it was considered a political and spiritual center, and especially the San Giacomo Theater had a prominent place on the cultural map of Europe.
The theatrical audience of Corfu had an infallible criterion, in order for a theatrical work to succeed on the European stages, it had to first be able to be applauded in Corfu.
The expression "applauded in Corfu" gave the author informal permission to present his work in other cities.
Antonio Vivaldi presented here the oratorio Juditha Triumphans written on the occasion of the repulse of the Ottoman siege of Corfu in 1716, and then went to Milan and toured all the major European theaters.
It was the composer's first major oratorio.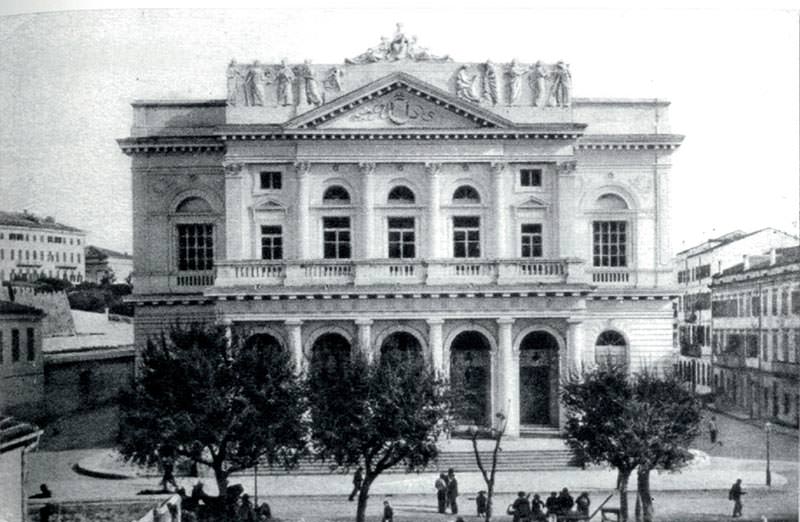 In 1892 the San Giacomo Theater stopped its performances after moving its stage to the old Municipal Theater of Corfu, which in turn unfortunately suffered enormous damage after being bombed by the Germans in 1841 and later demolished to be replaced by the New Municipal Theater, this ugly building we see in the next photo.
The building of San Giacomo in 1903 become the City Hall of Corfu.