Get ready to be wowed by the transformation of Benitses' beaches – they've blossomed over the years, stretching wider and longer than ever before.
And they're not just spacious, they're all about comfort too. Lifeguards are on duty, and these sandy havens are impeccably maintained to ensure your beach days are nothing short of a breeze.
But that's not all – these beaches come with a splash of excitement. Water sports fanatics, you're in for a treat! Brace yourself for the most jaw-droppingly clear waters on the entire Eastern coast of Corfu.
Picture a blend of shingle and sand that's just perfect for lounging. And when we say well-organized, we mean it. Sunbeds are ready to embrace you, and if you're feeling adventurous, water sports are at your fingertips. The water? Oh, it's so clear that it's like gazing into a dream.
Whether you're in the mood to kick back and soak in the rays or dive into thrilling water sports, these beaches have got you covered. It's like paradise tailored to your every whim.
And guess what? Along the main road, there's a whole array of these beach treasures waiting to be explored. So, let's turn those beach daydreams into reality!
1. Laopetra Beach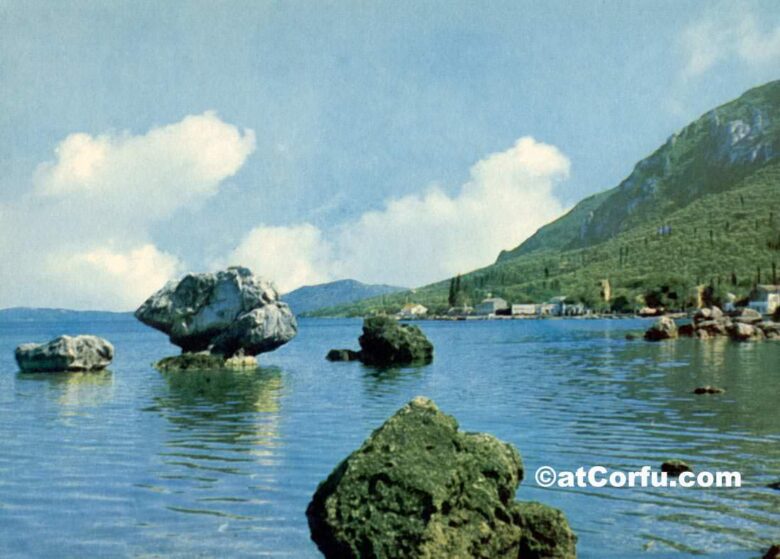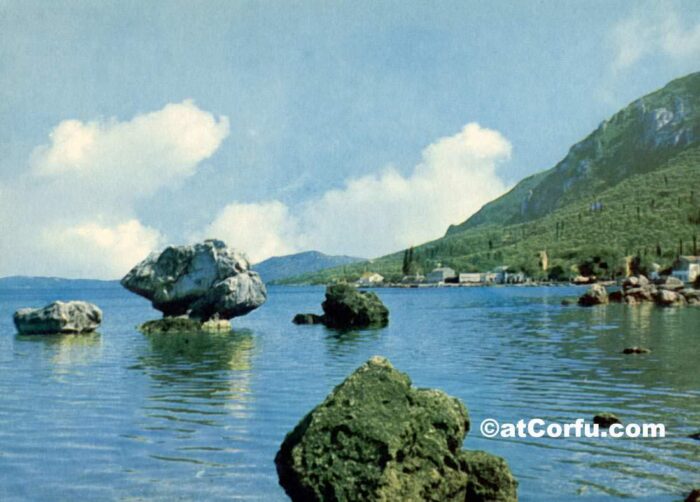 Let's kick off our beach tour with a visit to Laopetra Beach, right at the north entrance of the village. You'll find it just a stone's throw away from the yachting marina port.
Get ready to dive into tranquility itself. This beach is all about serenity, making it the calmest spot in town.
Picture pebbles and a sprinkle of sand right at the water's edge, creating a serene escape for those seeking a little shoreline bliss. You won't spot any high-octane water sports here, but what you will find is a sparkling clean sea that invites you to take a leisurely dip.
And oh, the views! Prepare to be swept away by the sheer magnificence of the landscape. Behold the grandeur of the colossal Laopetra rock that takes center stage, commanding the scenery like an ancient guardian.
So, if you're in the mood for quiet bliss, Laopetra Beach has your name written all over it. Grab your towel, and your favorite book, and let the waves of tranquility wash over you in this spectacular coastal haven.
2. The Beach at the port area
Right beyond the harbor, or as we like to put it, just a skip away from the port's embrace, you'll stumble upon the heart and soul of the village – its main beach.
This sandy haven boasts crystal-clear waters that practically twinkle with cleanliness. And for those craving a dash of adventure, you're in for a treat.
Imagine gliding over the waves on skis or hopping onto a pedal for a leisurely cruise. And if you've got a bit of a skipper in you, there's even the option to rent a boat and captain your own mini adventure.
So, whether you're diving in for a refreshing swim or gearing up for some playful water sports, this bustling beach right outside the port's gates has got you covered. It's like a sun-soaked playground where fun meets relaxation in perfect harmony.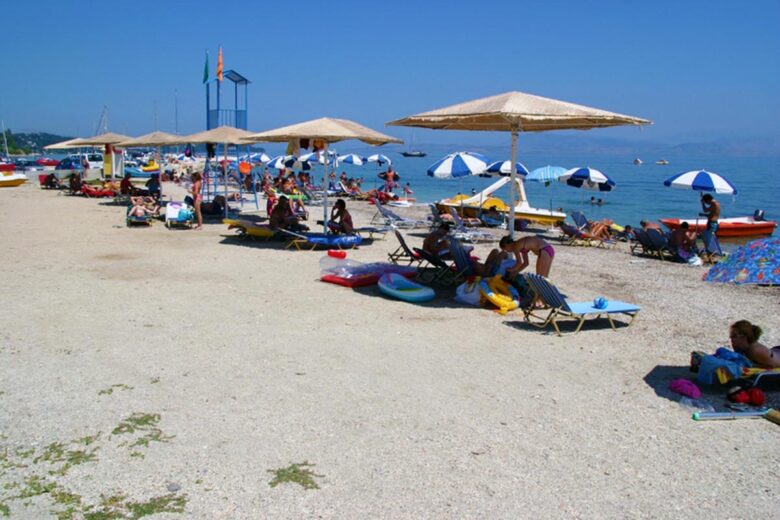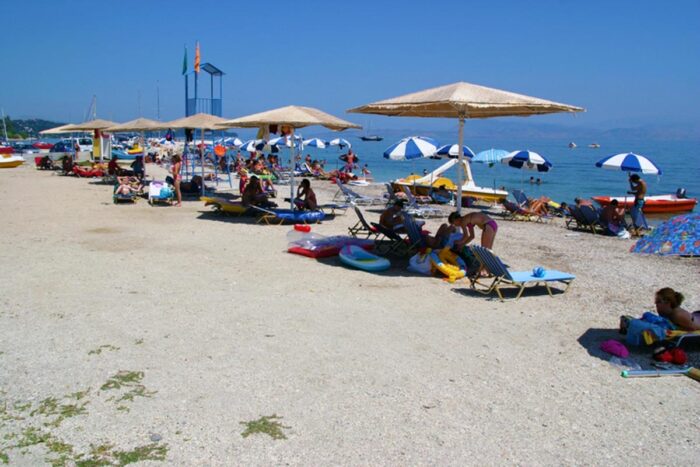 3. Benitses Chontrakia Beach
Venture about 200 yards south to the Chontrakia region, and you'll discover the expansive beauty of Benitses' larger beach – affectionately known as Contrakia or Loutrouvia. Nestled between the inviting embrace of the Potamaki Hotel and the tranquil Koutsomaroula Bay at its southern tip, this beach is a showstopper.
Prepare for a dose of well-orchestrated relaxation, because Contrakia/Loutrouvia stands as the pinnacle of organization. Perched right along the main road, it's the place to be. Think of it as a beach bazaar – shops galore, all at your fingertips. But that's just the beginning of the adventure.
Here, the waves call out to the adventurous souls. From zipping across the water on skis to holding tight on banana rings, there's a watery thrill for everyone. And for those who dream of soaring above the sea, paragliding will have you feeling like a modern Icarus.
So, if you're seeking a beach experience that's both organized and vibrant, Contrakia/Loutrouvia is your ticket. Get ready to dive into a world of shops, water sports, and sun-soaked delight – all framed by the stunning beauty of the Potamaki Hotel and Koutsomaroula Bay.

4. Small Beaches in the Tsaki area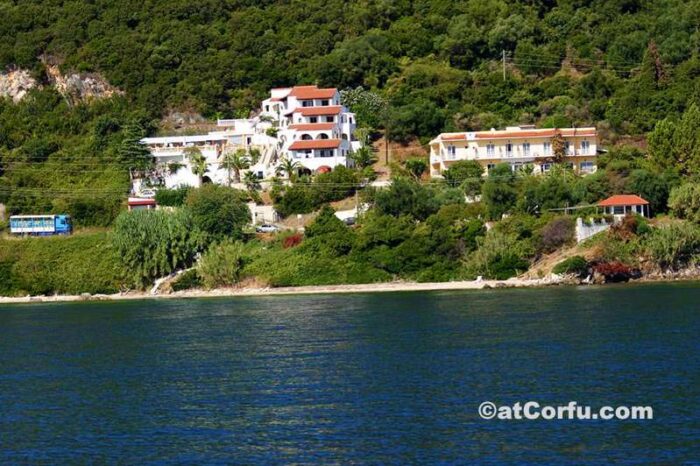 And there's even more to uncover! Venture southward, and you'll stumble upon a treasure trove of quaint, charming coves. Picture this: rocky shores where vibrant greenery mingles with the waves, creating a visual symphony of nature's artistry.
These tucked-away oases are your secret sanctuaries, offering respite from the hustle and bustle of the busier beaches. They're like hidden gems, waiting to be discovered, all while remaining a stone's throw from the settlement.
These serene havens are numerous, stretching all the way down beyond the Tsaki area – the final frontier of settlement. Each cove holds its own enchanting story, a testament to nature's beauty, and a promise of tranquility in a world that's bustling with life.
Overall
These are just a few of the beaches you can explore in the Benitses area. Each offers its own unique charm and character, making the region a lovely destination for beach lovers.
Note: All beaches in Benitses have free access.