Last updated on January 15th, 2022 at 12:03 pm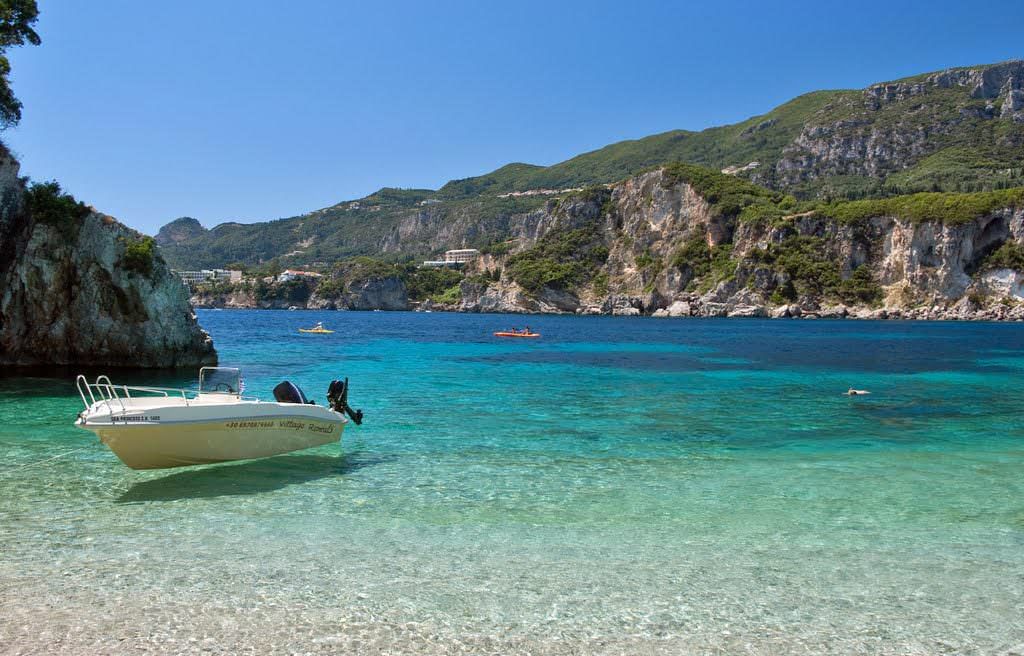 Corfu is one of the greenest and most fertile islands, full of resorts with unsurpassed natural beauty, and plenty of beautiful Corfu villages.
Displaying traces of its turbulent history with old monuments and sights of exquisite beauty, unique architecture, and style, Corfu has welcomed Holidaymakers long before any of the other Greek islands.
Foreign travelers even earlier than 1900 admired its beauty, and by 1950 Corfu was well established as a favorite holiday destination.
Many people have chosen it as a second home or decided to live on the island.
In Corfu, you will find holiday destinations with everything.
Picturesque mountain villages that look like the time had stopped.
Cosmopolitan tourist Corfu resorts in large hotels that offer all comforts.
Places with lively nightlife, huge cosmopolitan beaches, and quieter tourist resorts. With an emphasis on the beauty of the environment.
You will visit emerald sandy coves, multifarious consecutive bays with pebbles, and crystal clear water. Completely secluded beaches, idyllic places for romantics.
The tourist infrastructure is among the best and largest in Greece with hotel resorts for everyone, and a large number of rooms and other accommodation scattered around the island.
Best Corfu Resort Destinations in Detail


It is very difficult to select the best Corfu villages and resorts. But according to our opinion the most important of them are below:
Corfu Villages and Destinations in Brief
There are many more holiday resorts and marvelous destinations on this magnificent island. Suitable for everybody.
Old Corfu town and Traditional villages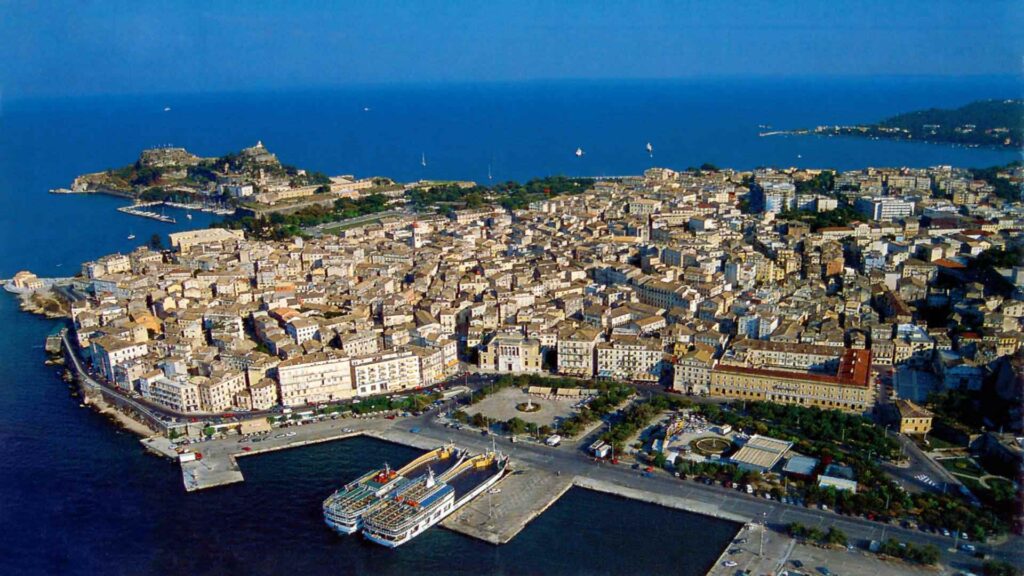 The old town of Corfu, full of vibrant colors and narrow streets between tall medieval buildings will make you feel like you are in another era.
Some other traditional villages that keep their traditional look are tourist attractions too. Especially attractive in our opinion are Spartilas and Strinilas at the Mount of Pantokrator.
Old Sinies village, and Lakones above Paleokastritsa. Also various other villages of the northwest interior.
The villages of Stavros and Agioi Deka, near Benitses, are well worth the walk.
Old Perithia village at Pantocrator mountain in the northeast is an abandoned village, now being gradually restored to life and in true Corfu style.
The first buildings to be repaired have become tavernas and cafeneions.
Corfu resorts on the neighboring small islands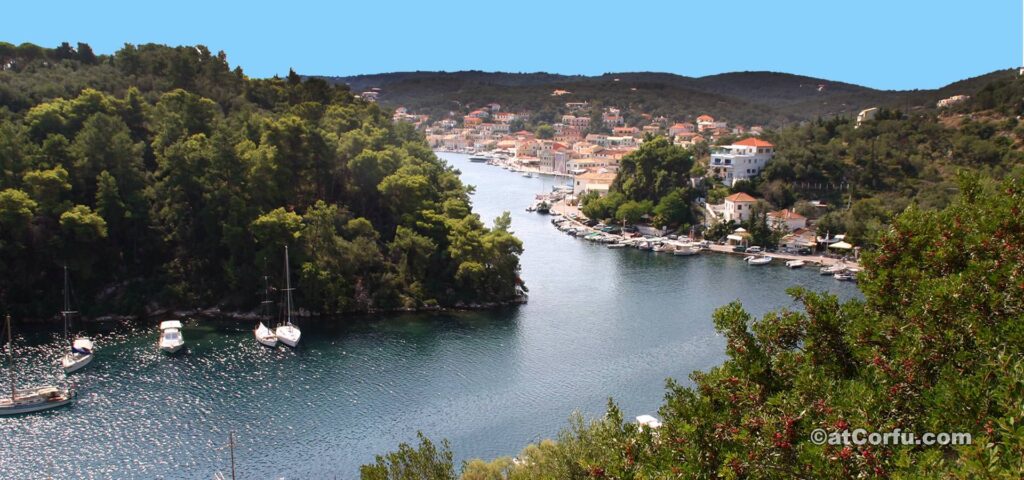 Of course, no one who enjoys a holiday in Corfu should miss a visit to the Paxos islands.
Paxos is an island that has been called one of the 20 most beautiful islands in the world. Here, among other things to see are the huge sea caves with turquoise waters.
Far larger and more beautiful than other similar Ionian islands caves.
Also, a visit to the Diapontia islands, Othoni, Erikousa, and Mathraki, is a real experience. It gives the visitor a chance to glimpse another world, with a slower pace of life – a fascinating world to discover.
There is also the island of Vido, opposite the old port of the city, a small paradise in an area of only 540 acres.
The island is sacred to Serbs as there is a Serbian war cemetery there, containing the bodies of 1st World War soldiers.
On Vido island, there are no roads, but trails for walkers, a restaurant, and a bar. A pleasant beach is popular with the townsfolk.
Camps for children and young people and the historic restored church of Saint Stefanos.
There is a legend that Vido island used to communicate with the old fortress through an underwater tunnel built by the Venetians.
We do not know if this is true, but the Venetians had the ability to do it since underground tunnels linking the two fortresses of the city do exist. But are not accessible to the public.
The name of the island is not Vidos as incorrectly reported by many, but "the island of Vido". Takes its name from a former owner called Guido Malipieri, Guido paraphrased to Vido.
A brief summary of resorts and destinations
At the westernmost cape is Arillas village, followed by Agios Stefanos of Avliotes, and Peroulades and Sidari with the famous Canal d'Amour beach.
Roda, Acharavi, and Agios Spyridon are close to the lake of Antinioti on the north coast.
All these are large beaches and tourist resorts.
They are followed by the northeast village of Kassiopi, and the settlements of Agios Stefanos, Kerasia, Kouloura, Kalami, Agni, Kaminaki, Nissaki, Barbati.
All of them are in an area called Sinies at the northeast of Corfu and are quieter destinations for relaxing holidays, with small taverns in beautiful bays of very clear waters, so they are areas suitable for couples and families.
Going further south the east coast we arrive at Ipsos, Dasia, and Kommeno, all cosmopolitan and of the best Corfu resorts, followed by Gouvia, Kontokali, and Alykes of Potamos.
Around the city of Corfu, you find Pontikonissi (Mouse Island) and the neighboring islet of Vlacherna, connected with Kanoni via a small pier.
South of the City of Corfu, we reach Perama, Benitses, Moraitika, and Messonghi which are large beach resorts very popular among holidaymakers.
Followed by the fishing villages of Boukari and Petriti, with tavernas for fresh fish.
Alykes beach at further south can be visited by boat. There is a sandbank there, only 1 meter deep a long way out at sea, and a wildlife sanctuary on the shore.
At the southernmost point is Kavos offering lively nightlife for teenagers, the same kind of resort as Laganas in Zante and Malia in Crete.
If you are a bit older we suggest that you visit Kavos only for educational purposes. To see how the very young like to behave.
During the day though you will probably have the lovely sandy beach almost to yourselves because young visitors tend to only come out at night and party the night away.
On the west coast from north to south. We find places as Agios Georgios Pagon, Paleokastritsa, Ermones, and Myrtiotissa nudist beach.
Glyfada is very cosmopolitan and always busy, Pelekas and Kontogyalos were popular since the arrival of the first hippies.
Further down is Gialiskari followed by Agios Gordios.
Then there are some undeveloped but magnificent beaches such as Gardiki, Alonaki close to the vast stretch of Halikounas in front of the lake of Korission, and the neighboring Issos that are next on the way to the south.
These are followed by the more developed beach Corfu resort of Agios Georgios(St. George south), and the beaches of Marathia and Vitalades.
Finally, in the far south, we find the small almost deserted beaches of Kanoula and Arkoudila.
Many of these beaches have been awarded a blue flag because of the purity of their water. These long sandy beaches are among the best in Greece.