Last updated on October 24th, 2021 at 12:07 pm
Kassiopi at northeast, the resort with the long history

Kassiopi is a picturesque resort on the northeast tip of Corfu, looking across the narrow channel to the Albanian port of Saranda, in a distance just a little over 36km from Corfu airport.
Kassiopi is an ancient stronghold
Kassiopi is an ancient village and has played a major role in the island's history, as can be seen by the impressive ruins of the castle overlooking the harbor. It is said that Nero watched a play in the theatre and that Antony and Cleopatra stayed there before the battle of Actium, where they suffered a huge defeat.
The castle of Kassiopi was a major stronghold in Byzantine and Venetian times, one of the four castles scattered around the island, with watchtowers in between so signals could be rapidly exchanged. Unfortunately today it's in ruins but still an important archaeological spot for all visitors to see.
Divers say that in the middle of the harbor rises a freshwater spring, and not far offshore is an islet with a well to enable sailors to refill their water supplies.
The port of Kassiopi
All roads here lead to the sea and particularly to the port that seems the center of daily activities in the village. Here are mooring small boats with tourists from all over the island and therefore is quite busy.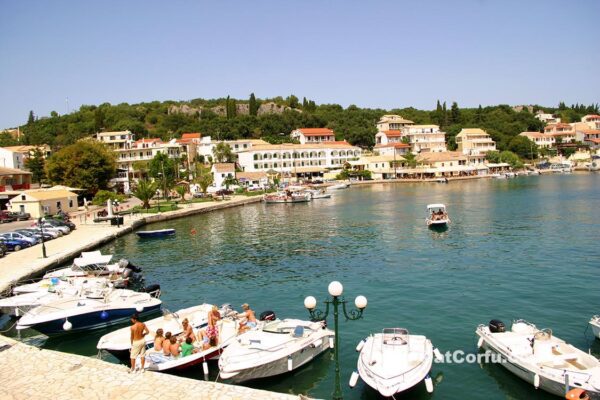 Kassiopi has been a fishing village for generations, and the quayside and surrounding esplanade are the hubs of local life. In the cool evenings, people enjoy strolling and chatting with friends and neighbors, and the harbor is surrounded by attractive bars and tavernas offering welcome shade.
Attractive small bays can be reached in a short walk around the headland, and small boats can be chartered to enable visitors to explore the delightful villages, tavernas, and beaches of the beautiful northeast coast.
A wide choice of restaurants and tavernas can be found in Kassiopi- offering something for every taste and pocket. Local shops sell traditional lace, and also more modern souvenirs.
But Kassiopi remains a very Greek village, welcoming visitors, many of whom return every year, as it retains its traditions and local color.
Beaches in Kassiopi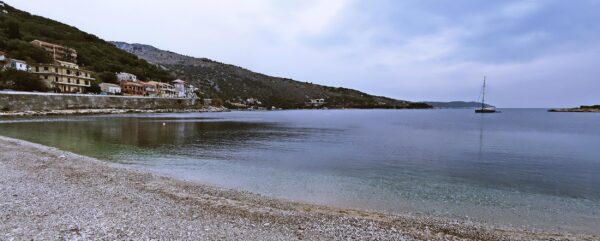 As an extension of Erimitis, Kassiopi shares the same geology, so here there are some nice pebble beaches in small isolated bays all around the area.
See on this page a full list of Kassiopi beaches
More Resorts at Northeast Corfu
Kassiopi is on the northeast tip of Corfu, looking across the narrow channel to the Albanian port of Saranda.
It has played a major role in the island's history, as can be seen by the impressive ruins of the castle overlooking the harbor, It is said that Nero watched a play in the theatre.… Read More