Last updated on February 17th, 2022 at 12:26 am
Corfu City during the quiet winter period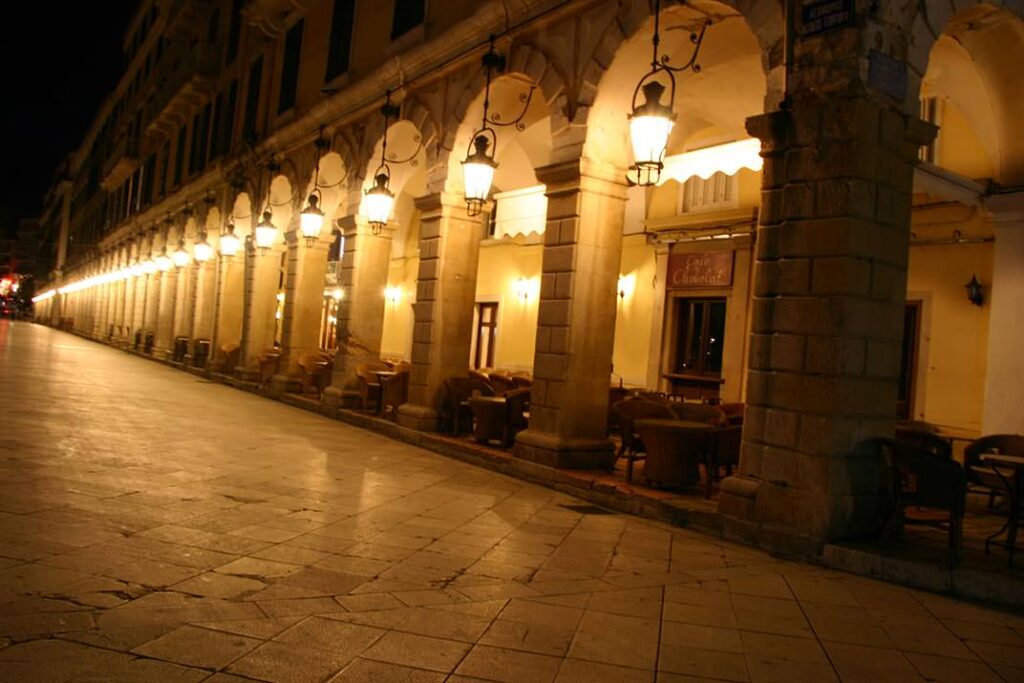 A stroll through Corfu Town in the Winter in the evening once the visitors have departed reveals a completely different place to the thriving metropolis seen on a summer's morning.
Leave the Esplanade and walk along St Spyridon's street, a busy thoroughfare in summer but deserted in winter, with a few cats skulking around.
Worshippers go in and out of the famous church, offering their prayers to the Saint who has protected Corfu for centuries.
Walking down the alleyways of the old town past shuttered shops you realize that the town has not changed in hundreds of years.
You can imagine the serenading that went on in carnival season, under the prettiest girls' windows, the cloaked and masked figures going to a party, and the courting couples wandering down to the harbor.
The few shops are lit up to shine like jewels in the surrounding darkness, their wares appearing exotic to the passers-by.
These shops cater to the local population.
In one window a man can be seen ironing clothes, whilst a few doors away a seamstress is bent over a sewing machine.
Another has a selection of wood-burning stoves for sale, something the summer visitor might be surprised to see.
Emerging onto the steps of the Metropolis is like going into a lighted room.
Houses, churches, and the fort are all floodlit, their architectural features stand out and after the confined passageways of the Campiello district suddenly you are in a wide-open space.
To the left is the old gateway to Corfu Town, the Porta Spilia, through which all passengers and cargo arriving by sea entered the town.
There is a big arch for carriages to pass through, and a small one for pedestrians.
The other gateways were destroyed at different times in the town's history, except for Porta San Nicola which is located below the road, at Faliraki.