Agios Ioannis Peristeron is positioned along the eastern coast of Corfu, the beach is located to the south of the island's capital, 15 km from Kerkyra, between the villages of Benitses and Moraitika. Accessible by the main road, this beach resides within a scenic enclave adorned with verdant foliage, offering panoramic vistas of the Ionian Sea.
The settlement is a breathtaking coastal destination, renowned for its enchanting beauty, inviting shores, and the prominent honeymoon retreat, Hotel Marbella Corfu.
The Beach and Activities
The beach stretches extensively for almost 3 km, boasting a blend of delicate pebbles and a little sand, crystalline emerald waters, and a tranquil ambiance that appeals to both locals and tourists. You can experience plenty of activities on the beach such as water sports, jet skiing, parasailing, kayaking, windsurfing, and more.
Adventure enthusiasts can indulge their thrill-seeking spirits at the "Aqua Funtastic Watersports Park," a hub of excitement featuring an array of inflatable rides guaranteed to set your adrenaline racing.
Alongside this, there's an opportunity for parasailing, skiing, jet skiing, and scuba diving. On its sandy part, the beach is also perfect for engaging in beach games that add to the fun-filled experience.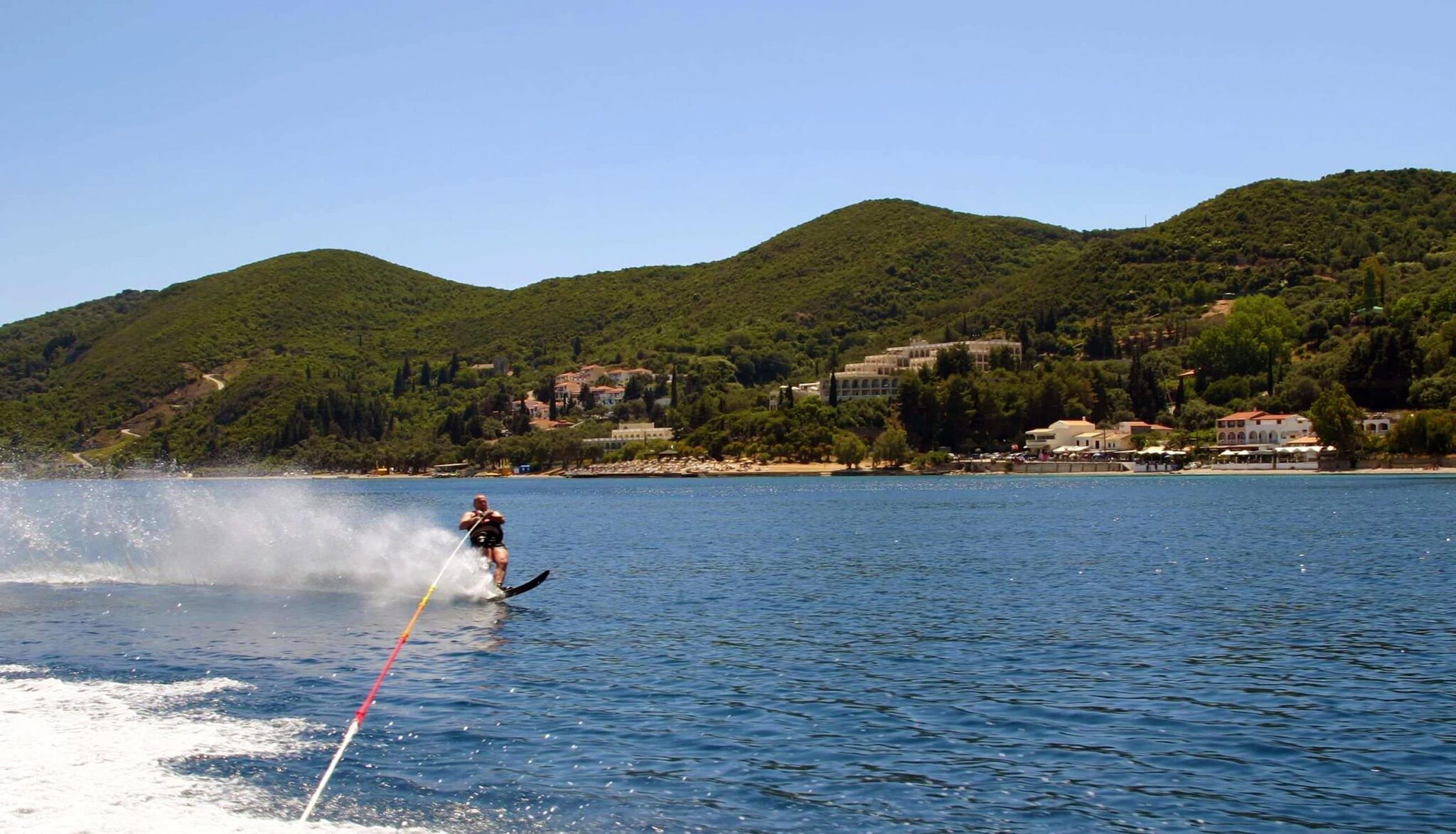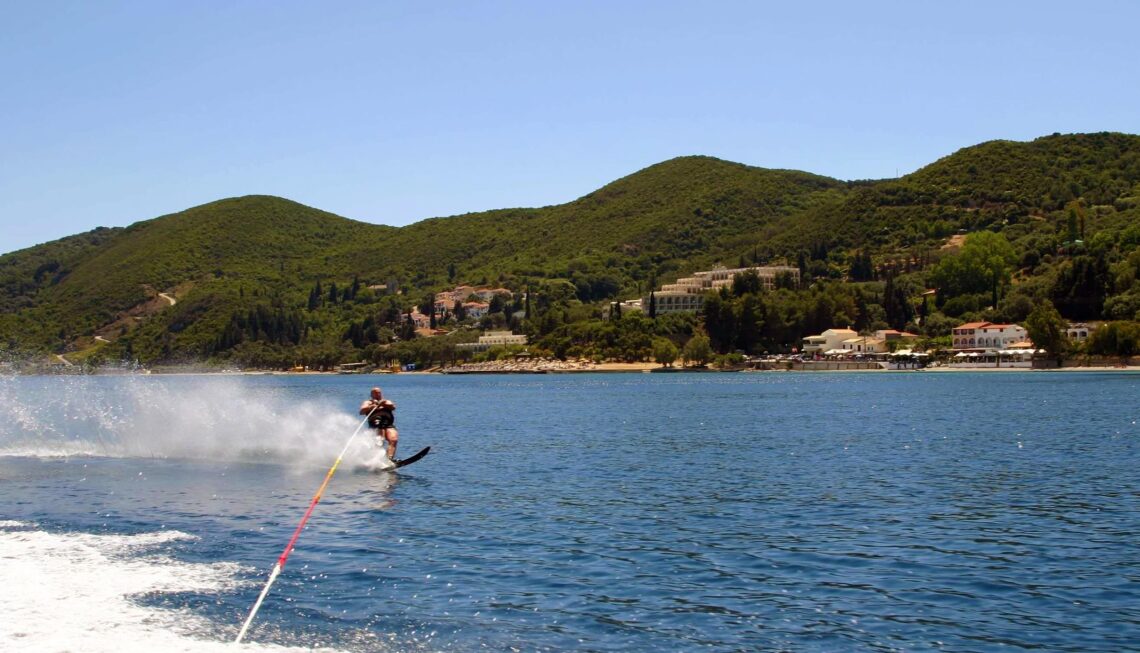 It's noteworthy that Corfu's compact size enables convenient exploration of its various facets, including the captivating Agios Ioannis Peristeron Beach, all within a brief drive.
If you plan to stay longer than a daily visit, there are accommodation options with hotels and rooms to rent, as well as some shops or supermarkets if you plan to stay longer than a day trip.
Whether you're in pursuit of leisure or aquatic activities, Agios Ioannis Peristeron Beach offers an idyllic setting to unwind, bask in the sun, and relish the invigorating Mediterranean waters.
A brief insight into the name "Peristeron"
The name of the settlement is derived from the word "Peristeri," which translates to "pigeon" in English. As a result, the area is occasionally known as Saint John of Pigeons. This name likely stems from a local church in the vicinity.
Getting to Agios Ioannis Beach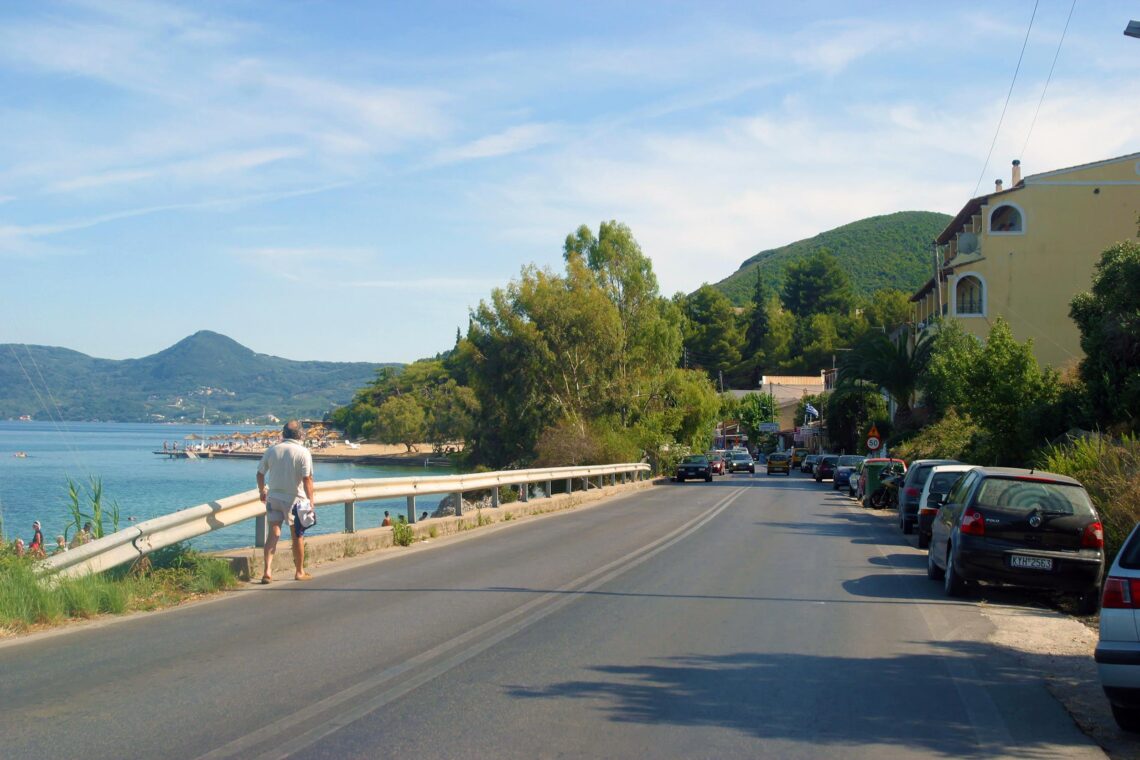 Reaching Agios Ioannis Peristeron from any point on the island offers various transportation choices.
From the airport to Agios Ioannis Peristeron: Approx. 14.7 km or 9.1 miles
From the New Port to Agios Ioannis Peristeron: Approx. 17.2 km or 10.6 miles
From Corfu Town to Agios Ioannis Peristeron: Approx. 16 km or 9.9 miles
Travel options include taking a taxi, minibus, or private VIP car. These can be arranged for pickup directly from the airport, port, or your hotel. Alternatively, you can opt for a local driver or book your taxi online.
Car rental is another convenient choice. Car rentals start at around 12 euros per day (minimum) and allow you to collect the vehicle from the airport, port, or hotel. Renting a car provides the freedom to explore Agios Ioannis Peristeron and other captivating destinations in Corfu at your own pace.
Restaurants along the Beach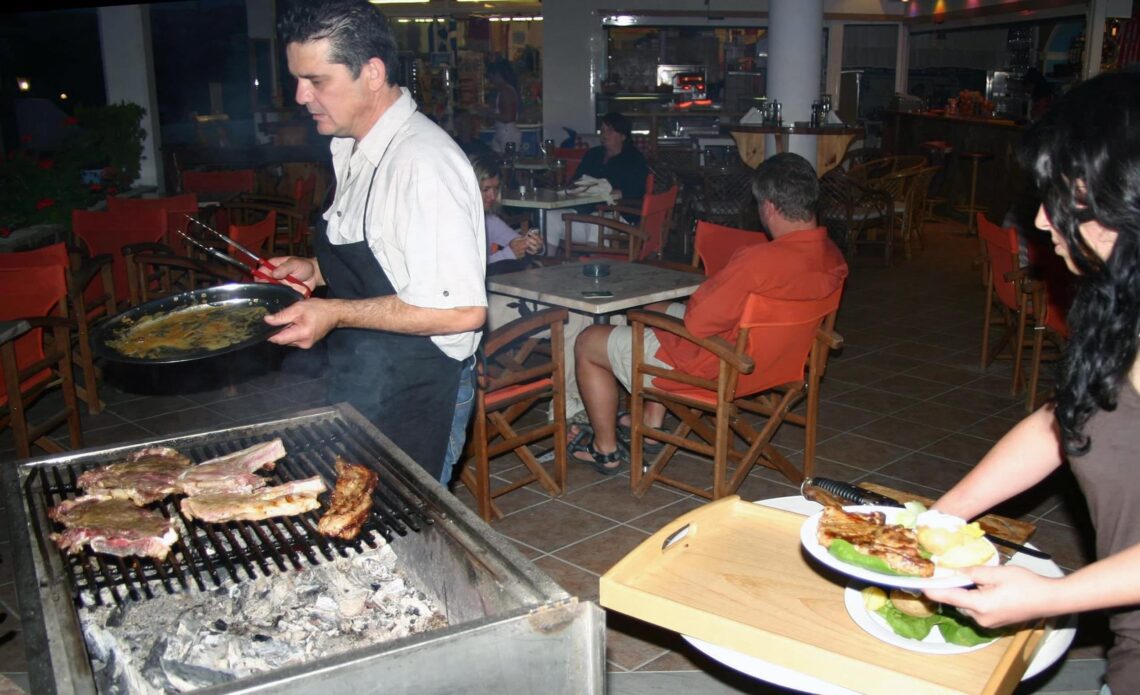 There are a few restaurants and tavernas laying on the side of Agios Ioannis Peristeron Beach, where you can enjoy delicious Greek cuisine and fresh seafood. Some options to consider are:
Akrogiali Taverna Κerkyra: This restaurant lies after the tunnel of Marbella Hotel Beach, on the larger part of the beach. It's a beachfront restaurant that offers a variety of Greek and Mediterranean dishes with a stunning view of the sea. Typical Greek traditional cooking and very fresh ingredients. The setting is lovely, and the staff is great, friendly, and attentive. Highly recommended.
Marbella Traditional Taverna:  This family-run restaurant is located right by the sea, just before the tunnel that connects Marbella Hotel with its beach, offering wonderful views. On the menu, there are fresh fish, shellfish, pasta, moussaka, grilled meat, and vegetarian. Preceded by an array of traditional Greek Starters. The food is amazing and so fresh. The staff is extremely welcoming and friendly. If you have any allergies, mention them to the waiter and they will assist and accommodate without any fuss. In fact, they go out of their way to find you the best dish. Prices are very reasonable and it is like a testament to the family ethos of these Tavernas.
Kohyli Bay: Really friendly taverna is right on the beach, with lots of choices of Greek food, fresh and tasty with lots of choice. Very reasonable prices too. Offering panoramic views of the sea, this restaurant specializes in Greek cuisine and fresh seafood. This restaurant is on the main road, in the northern part of the beach, just before the entrance of the large Marbella hotel.
Summary
With its proximity to Corfu Town and accessible location, Agios Ioannis Beach is a convenient spot for visitors. Additionally, the presence of the Hotel Marbella Corfu adds to its allure.
Adventure-seekers can enjoy the Aqua Funtastic Watersports Park, offering inflatable rides and various water sports. The beach's sandy fringe is ideal for beach games, making it suitable for all kinds of travelers.