Last updated on January 21st, 2020 at 05:53 am
How to get to Corfu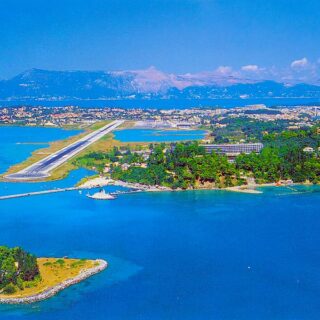 Most people seem to think that all the visitors to Corfu arrive on charter flights to the island.
And certainly, these do come from all over Europe nowadays- looking at the arrivals board there are flights from Hungary, Belarus, Ukraine, Poland, and others in addition to those traditionally associated with Corfu such as Gatwick and Manchester.
The opening up of eastern Europe has indeed introduced the island to a new public, who thoroughly enjoy all the facilities it offers- the beautiful sandy beaches of the north and west, the secret coves of the east, unspoiled hilltop villages, and cosmopolitan town- all to be enjoyed in the sunshine often lacking in their home countries.
Not all these new visitors fly in, however, The new Egnatia highway makes it possible to reach Corfu in one day's drive from Sofia, Bucharest, and Skopje, and Albanian tourists also drive down in only a few hours.
The port of Igoumenitsa opposite Corfu has expanded vastly in recent years and there is a very frequent ferry service to Corfu taking about 1 and a half hours.
The boats are well equipped and comfortable, and the visitor can enjoy sitting on the sundeck sipping a drink whilst watching the island get larger as the ship approaches.
Arriving in Corfu from the sea is the most beautiful way of reaching the island as the ships all sail around the islet of Vido and past the old fortress, giving a panoramic view of the historic part of Corfu Town, surely one of the most photogenic approaches in Europe.
It is not only visitors from the east who enjoy arriving in Corfu this way, Ferries from Italy are always heavily booked in summer, and bring holidaymakers, not only from Italy but also from countries further north who enjoy driving and then relaxing on the boat as they sail south.
The truly adventurous, with time to spare, are those who come down from Italy but return on the eastern Adriatic route, through Albania, Montenegro and up to Croatia, that is really a trip to remember.
Of course, driving means that the visitors are far freer to explore the hidden gems of Corfu, can stop where and when they want to take photographs, and be truly independent, These are the people whose cars can be seen behind the sand dunes of the island's most beautiful sandy beach- Agios Georgios in the south- or at the top of Mount Pantocrator, sipping wine in the shade of the huge tree in the village square at Strinillas.
Try it for yourself – we are sure you will enjoy the experience.
More info for travelers to Corfu