Last updated on July 30th, 2023 at 03:17 pm
Many people who come to Greece for vacation wonder why they see that all the restaurants are full late at night.
Under which circumstances are Greeks used to having this habit?
The answers come from Greek history and the weather conditions in Greek territory.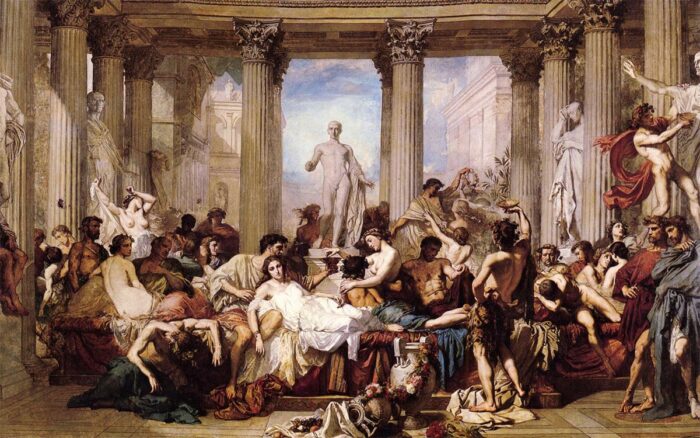 Deepnon in the ancient Greece period
– Ancient Greeks used to have three meals; breakfast (akratismos) a small snack which usually was a slice of barley bread dipped in wine, lunch late in the afternoon which included a bigger variety than breakfast and the main lunch the richest of all late at night called 'Deepnon'.
Usually, Greeks had this 'Deepnon' with the company of some friends hearing music and speaking for political and philosophical issues. They took part in the famous "Symposia".
Small note: "Deepnon" (Greek: Δείπνον) in ancient Greek or 'Deepno" (Greek: Δείπνο) in modern can be translated as "Dinner" in English, although it wasn't dinner at all.
Deepnon in the Byzantine era
– Byzantium included many different ethnicities, and the dominating culture was the Greek one.
Byzantines continued the Greek tradition of eating the "Deepnon' late at night, in big companies families, and with friends.
The dining room was the biggest room of all in the house and for the first time in history, Byzantines used to have fine tablecloth and flatware many of which were silver-made.
After the first crusade westerners came, and they were very surprised as they had never seen those luxury objects before.
It seems that the Byzantines enjoyed their meals at night as the ancient Greeks did before, but from the 10th century, they stopped sitting in small sofas called anaklintra (recliners) and started sitting in chairs.
Ottoman imperial and modern Greek State
– During the ottoman imperial and when the first Greek state formed, the society was mostly agricultural.
Families used to work all day long from morning to sunset, even women and children.
After a long-day working logically, needed many hours to prepare their food. The late-night lunch was unavoidable.
Another reason why Greeks eat late at night is the hot weather, especially during the summer which lasts for about six months.
Latest years
After the 70s Greeks started to work all day long in touristic jobs and the families continued to eat late at night.
Nowadays Greeks use to entertain themselves by visiting a cinema or a theater and finishing with a nice 'Deepno" in a good restaurant. Furthermore, in many Greek live music halls, food is served before the start of the performance.