Last updated on November 7th, 2023 at 10:23 am

Hotel Karina
Tsaki area (300 yards from Benitses)
Benitses – Corfu P.O 49084
Telephone numbers for reservations:
2661072383 – 385
email: karinabe@otenet.gr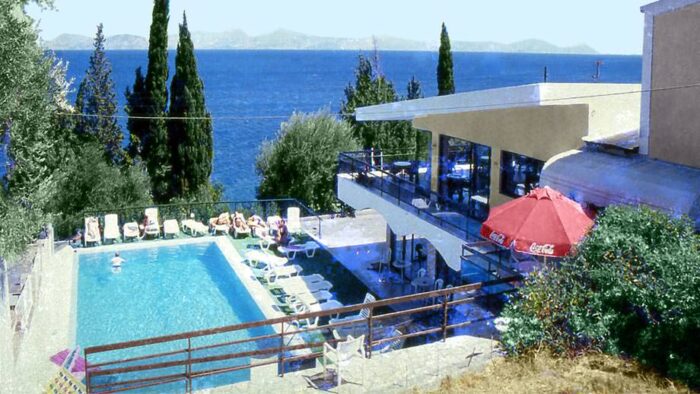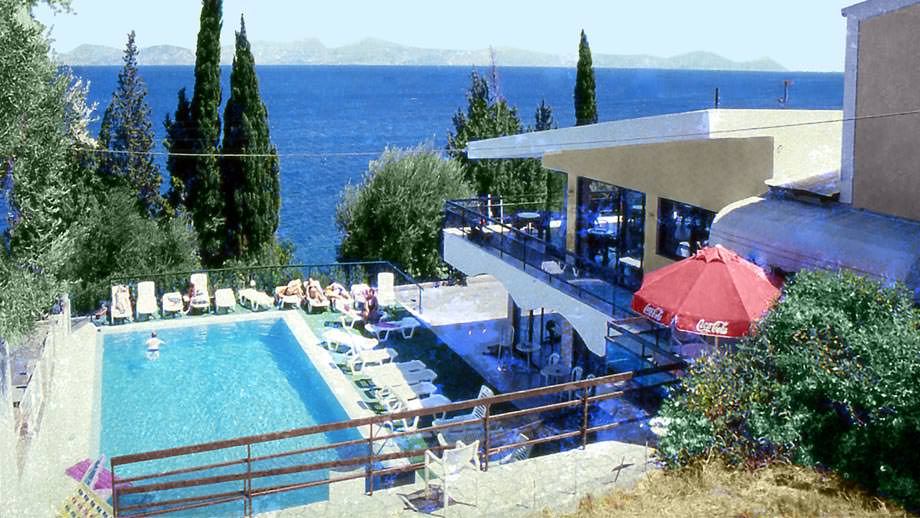 Located 13km from the town of Corfu and only 10 minutes walk from the picturesque fishing village of Benitses.
Built at Tsaki area in the south part of Benitses, on a hill just above the sea, therefore has the privilege to offer the same panoramic views from all rooms.
We offer accommodation in 17 spacious and tastefully furnished twin Rooms and in 6 Triple Rooms, all overlooking the sea.
Our guests have occasionally left the best comments mainly on family hospitality and feel that familiar with and for friends who have created during their stay in our hotel and still confirm with repeated visits.
Amenities provided by Karina Hotel
Other amenities our hotel offers are Maid Service, Bath/Shower, Telephone, Fridge, Kettle, Balcony – Veranda, Sea View, and a large swimming pool in the bar area.
Whether you're after hotel deals for a special occasion or family vacation, we wish you pleasant memories and the sweetest of dreams.
Our cozy family-owned and run hotel and apartments are nestled within a private olive grove.
All rooms and apartments overlook the beautiful coastline of Corfu and the beach of Tsaki which is awarded the European blue flag for its crystal clear waters, is just about 30 meters away.
A perfect getaway for couples and families to relax in solitude and privacy.
The country setting of Karina Hotel affords guests the opportunity to sit on our large veranda observing the spectacular sunrise without a schedule or group breakfasts.
Just wander to the pool site snack bar to find fresh fruits, home-made baked goods, an assortment of hot and cold cereals, specialty teas and coffees, and other goodies. Or, if you prefer, eggs and sausage are available to be prepared when and how you like.
Enjoy the sun by the freshwater swimming pool, in a setting of natural beauty, to help you soothe the stress of the everyday routines.
Take a stroll around the village of Benitses, then enjoy a cocktail with friends at our veranda.
Free from the distractions and stresses of daily life, the Karina Hotel is more than a place to sleep……
Accommodation
17 Twin Rooms – Maximum Occupancy: 2
6 Triple Rooms – Maximum Occupancy: 3
Each bedroom has a character and charm all of its own.
The rooms are spacious and tastefully furnished.
All with balcony, panoramic sea view, and spectacular views of the Sun and Moonrise.
See More Hotels Apartments
The house of San Stefano was built on the hill just north of Benitses, in 1782, by a member of the great Venetian Giustiniani family, on the site of an older house destroyed by an earthquake- so the new one was built on a rock! The house was the center of a large estate and took its name from the private chapel of San Stefano, which is built on the same rock as the house.… Read More