Last updated on October 6th, 2023 at 01:45 pm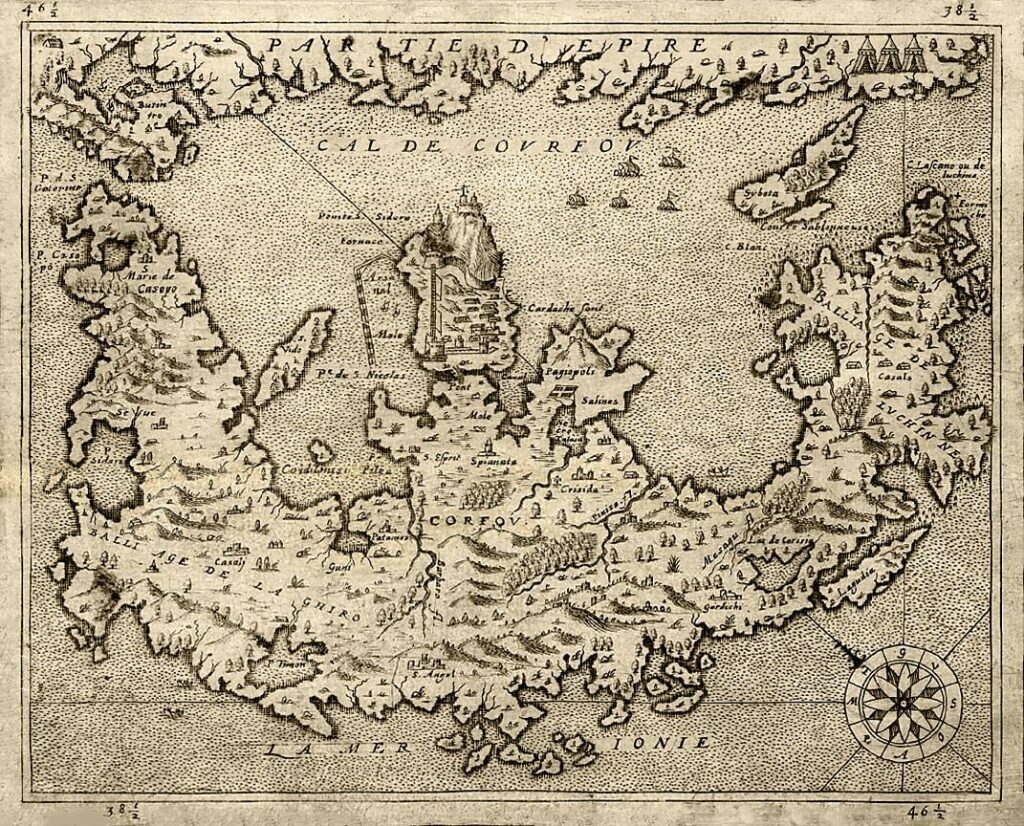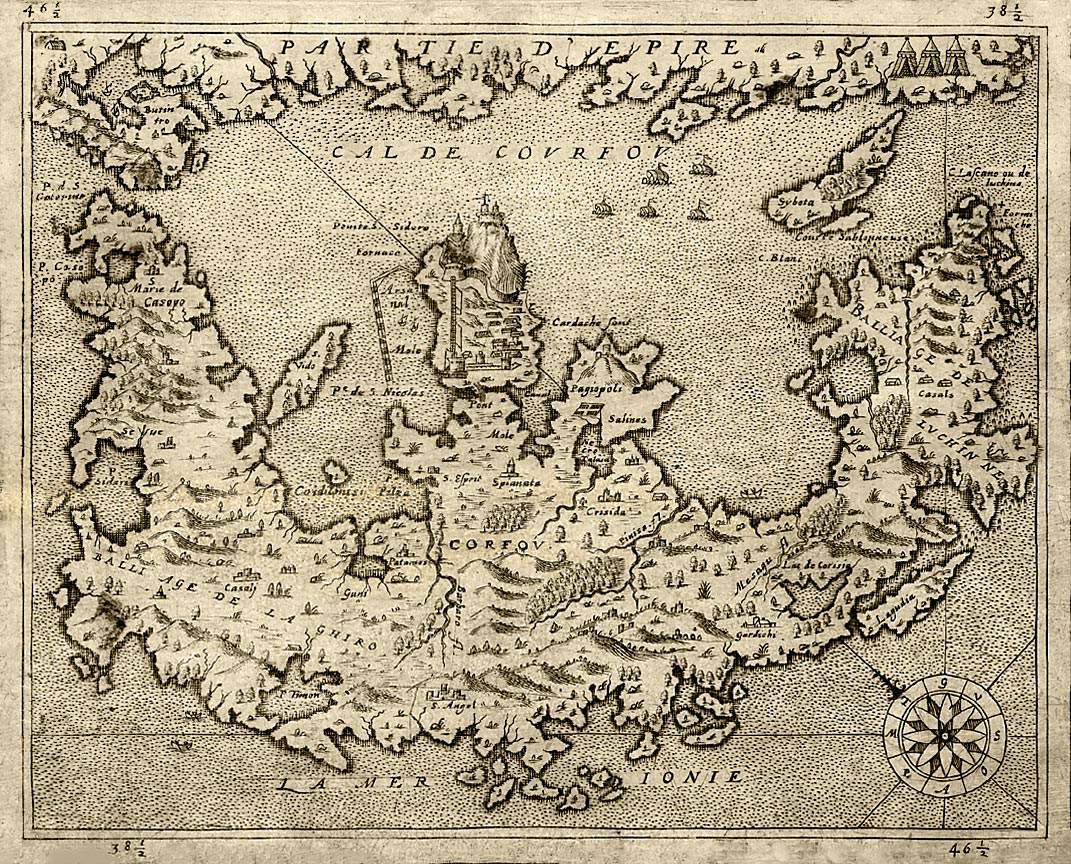 How they saw Corfu in the Middle Ages, a map of 1575
This map of Corfu of 1575 was designed like all medieval maps. According to the sources of that time and lots of imagination by Andre de Thevet (1516–1590).
Andre de Thevet (1516 – 23 November 1590) was a French Franciscan priest, explorer, cosmographer and writer who traveled to Brazil in the 16th century. He described the country, its aboriginal inhabitants and the historical episodes involved in the France Antarctique, a French settlement in Rio de Janeiro, in his book Singularities of France Antarctique.
It is a common characteristic of medieval maps that cities, fortresses as well as small islands are exaggerated and this map is no exception.
So we see otherworldly dimensions for the old fortress and generally for the city while the countryside proportion is too small, on the other side, all small rocks on the west coast have acquired enormous proportions!
While Vido island is five times bigger and climbed until Sinies, the rocks at Sivota Epirus are consolidated on an island larger than Paxos and almost touch the salt marshes of Lefkimi.
Porto Timoni in the north became a lagoon, St. George of Argirades became bay and some new islands are in the area of Arkoudilla cape, there are no islands in there but rather some rocks not bigger than a few square metres each that now are reefs.
Oh, and the Buxardo rock grew and could not fit either on Gouvia bay which is relatively very small.
The entire Kanoni can fit in the port of Mandraki at the old fort, the Antinioti lake didn't exist, instead, Sidari was a big gulf.
We learn that Paleokastritsa had a dozen of small islands as well as the southwest coast had another dozen.
Lagoudia rocks in front of Chalikouna has enormous dimensions, almost larger than Paxos.
It is almost certain that the priest had never visited Corfu or came here only for a few days, a look from the ground level was enough to see immediately that everything on the map was far away from reality and it was funny.
However, such efforts were laudable and beautiful from an artistic point of view, medieval illustrations show us a lot of strange things and mainly entertain as today.
And despite our high banter mood, for not to be completely unfair with the Frenchman, at least we must admit that he gives us historical information relating to names, an example on this map is the confirmation of the origin of the name of Benitses, comes from the river that existed and was called Pinisa.
More about History