Last updated on September 10th, 2023 at 04:03 pm
Are there any Beaches in Corfu Town?
Of course, there are spots where you can swim.
Although Corfu Town is not the best place for swimming, there are a few smaller "city beaches" in the city, They are a bit cramped and not the most kid-friendly but good enough for you to swim while in Corfu town.
But let's find out more helpful details about them.
1) Faliraki Promontory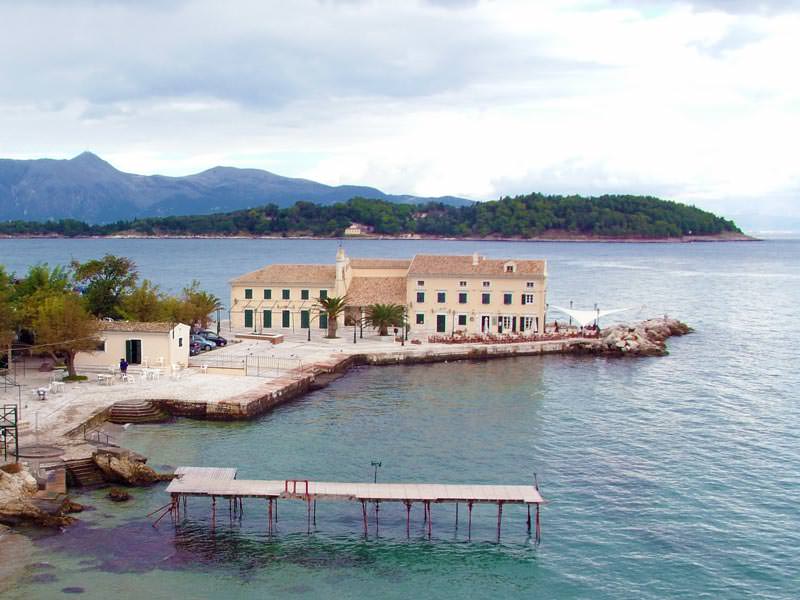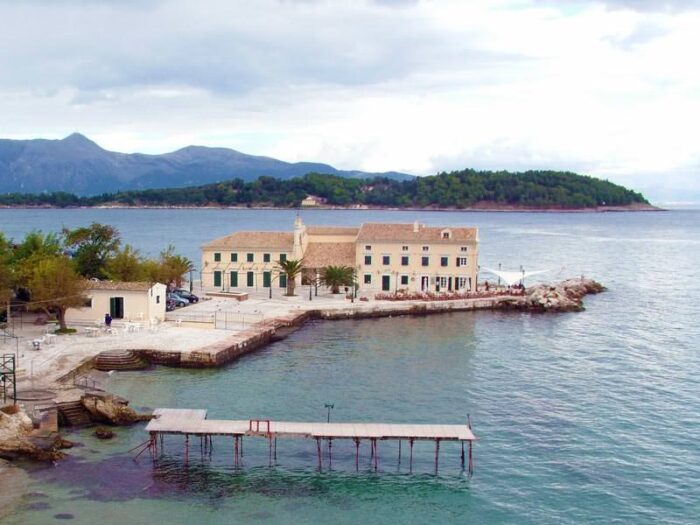 First is Faliraki, a public beach below the Palace at Faliraki promontory, it's also called Aleko's baths.
A small road leads down to it from Arsenios Street.
There's a small entrance fee but lower than that of Mon Repos.
The beach here is small and not as good for swimming, especially when a ship goes by and the waves come crashing in.
Yet, it can be a pleasant spot to sit under an umbrella and look at the spectacular views of the Palace, the Old Fortress, and Vido Island at the sea. There is a bar restaurant that serves food and drinks here, too.
2) The facilities of NAOK (Nautical Sports Club of Corfu)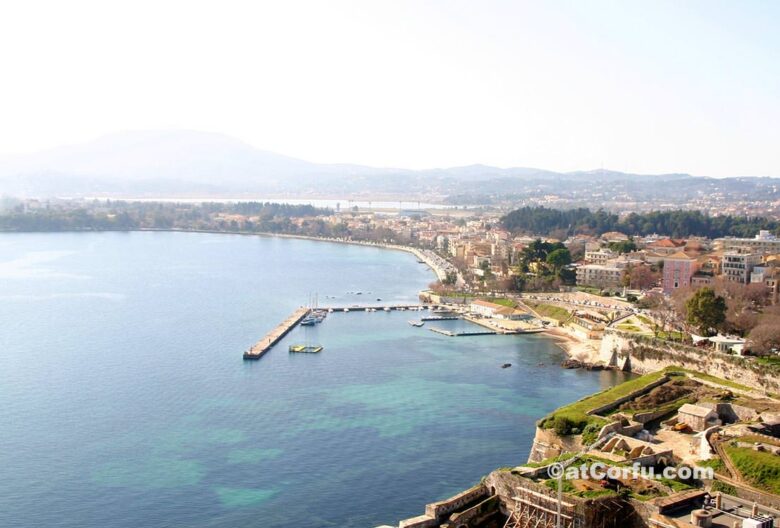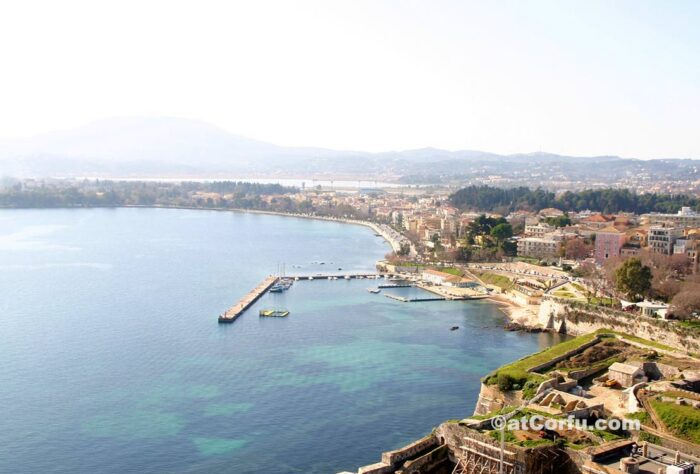 What is NAOK?
Well, it is the Nautical Athletic Group of Kerkyra, an athletic club that deals with water sports such as swimming, rowing, and sailing, and has produced a lot of great athletes in Greek sports.
The Nautical Athletic Group of Kerkyra offers various amenities and services related to water sports and activities. NAOK facilities are situated on the Southside of Old Fortress, The entrance is free and you can use the dock for a dive, it is not a beach though.
Some common facilities you might find at NAOK include:
Sailing School: A place where members can learn sailing techniques and receive sailing certifications.
Boat Rental: Providing members with access to rent boats and equipment for sailing, windsurfing, or other water sports.
Storage and Moorings: Safe storage facilities for boats and watercraft, as well as moorings for members' vessels.
Clubhouse: A social and administrative center with lounges, dining areas, and meeting rooms for members to relax and interact.
Marina Services: If the club has its marina, it might offer services such as fueling, boat maintenance, and boat washing.
Water Sports Equipment: Rental and access to equipment for activities like windsurfing, kayaking, paddleboarding, etc.
Regatta and Racing Events: Organizing and hosting regattas and sailing races for members and participants.
Training and Coaching: Offering coaching and training programs for various water sports disciplines.
Social Events: Organizing social gatherings, parties, and events to promote camaraderie among club members.
Bar and Restaurant: A bar and restaurant on-site for members to enjoy meals and refreshments after their activities.
3) Mon Repos Beach
Another spot used by the locals for a quick dive is under the Mon Repos Palace, This one looks more like a beach, not something exciting though. Is it called Mon Repos Beach and its entrance is at the south end of Garitsa Bay, close to Anemomylos.
Mon Repos Beach is a pebble beach situated near the neoclassical Mon Repos Palace in Corfu. The beach is known for its serene atmosphere and crystal-clear waters, making it a popular destination for both locals and tourists.
Visitors can enjoy relaxing on the shore, swimming in the calm sea, and taking in the picturesque surroundings. The beach is also surrounded by lush greenery, offering a peaceful escape from the city's hustle and bustle.
Aside from its natural beauty, Mon Repos Palace holds historical significance as it was the birthplace of Prince Philip, the Duke of Edinburgh, who was born here in 1921.
Overall, Mon Repos Beach in Corfu offers a delightful combination of history, natural beauty, and a relaxing coastal experience, making it a cherished spot for travelers exploring the old town of Corfu.
4) Anemomylos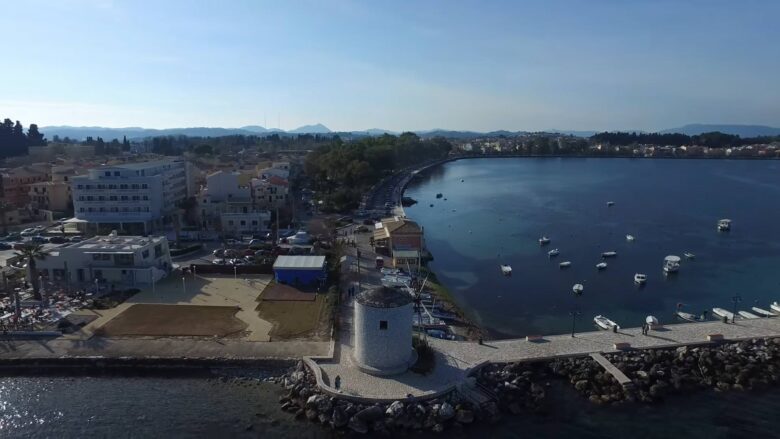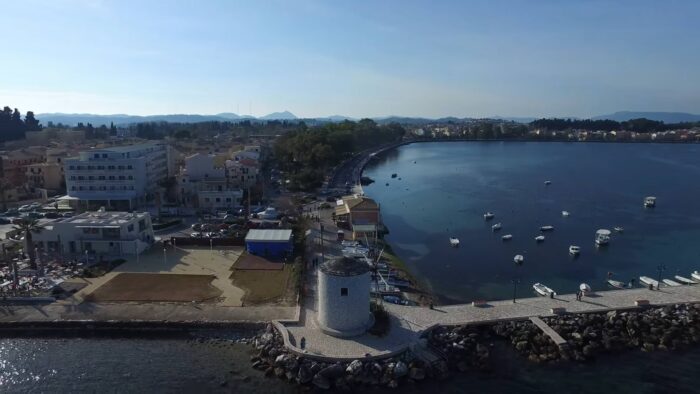 Anemomylos in Greek, translates to "Windmill" in English. It stands proud, overlooking the picturesque Garitsa Bay and the Ionian Sea. This windmill is a reminder of Corfu's rich agricultural history, as windmills were traditionally used to grind wheat and other grains.
Today, Anemomylos serves as a popular tourist attraction, drawing visitors who come to admire its traditional architecture and enjoy the scenic views of the bay and the surrounding area. The windmill is often photographed, and its prominent location near the sea makes it a picturesque spot for capturing memorable moments.
Anemomylos is one of the many historical landmarks that add to the charm and cultural heritage of Corfu, offering a glimpse into the island's past while complementing the natural beauty of Garitsa Bay.
The jetty in Anemomylos is a place for swimming inside Corfu town, Although you can't call it exactly a beach, rather than a rocky area with some shingles, but still beautiful and enjoyable.
5) The Beach at Kanoni Peninsula
In the Kanoni area of Corfu, you will find a small pebble beach with crystal-clear waters, which is often referred to as Kanoni Beach. This beach is not a large sandy beach like some others on the island, but it offers a beautiful setting and a chance to relax by the water.
The main attraction in the Kanoni area is the view it provides of Pontikonisi, also known as Mouse Island. Pontikonisi is a small islet located just off the coast of Kanoni, it lies next to another islet, which is connected to the mainland by a narrow causeway and houses the Vlacherna Monastery.
Apart from the picturesque views of Mouse Island and the Vlacherna Monastery, visitors to Kanoni Beach can enjoy the planes landing and taking off from the nearby Corfu International Airport.
While Kanoni Beach may not be a large and sandy beach, it offers a unique and scenic atmosphere, making it a popular spot for visitors seeking beautiful views and tranquility.