Last updated on June 16th, 2021 at 08:12 pm
Known as Kerkyra by the natives and the Greeks from the mainland, Corfu is truly a slice of heaven on earth.
It is a very popular (and very hot) holiday destination in the Adriatic Sea. Aside from its beautiful beaches and crystal clear water, Corfu also has a UNESCO world heritage site and lots of cultures to discover.
Island's stunning scenery is matched by a fantastic tourist offering with many amenities, restaurants, and bars. The cuisine is authentically Mediterranean, so hopefully, you love olive oil! Now that the world is opening up, you may be planning a trip to this beautiful island paradise.
Read on to find out about five spots you should definitely include in your to-do list whilst you're in Corfu.
In a hurry? Here's the rapid lowdown you need to know.
5 Spots You Must Visit When Visiting Corfu
Achilleion
Palacio Frourio
Corfu's Old Town
Church of St. Spyridon
Scuola Greca
Now read on to find out about each place in detail!
1. Achilleion
Slightly out of Corfu town about 10km in the south, Achilleion is a must-see if you're a fan of history or architecture. Even if you're not, it's no doubt one of the most beautiful areas of the island which is sure to take your breath away.
Achilleion is where the summer palace for Empress Elisabeth of Bavaria and Germany's Kaiser Wilhelm sits. It's a very intricate and ornate construction and you'll find a ton of things to do, whether you want to walk around, go for a picnic, visit the museum, or even just soak up some sun in a stunning place.
You may find that the buses that depart from Corfu town are packed with crowds, which may not feel ideal, but don't despair. It's all part of the experience, or you can rent a car and travel there yourself in your own time!
Lauren Parr, travel writer at Paperfellows gives us her insider tips- "You can book a private tour that is somethings the same price as the public option (and sometimes even less) and you'll be able to get away from the crowds as well as getting a tour by a local. "
2. Palacio Frourio (Old Citadel)
This citadel is separated from the mainland by a narrow moat, but this doesn't stop visitors from venturing out to see it. It was built between 1300 and 1700 to protect the island from invaders.
Its strategic position on the shore made it easier for soldiers to spot unknown boats on the horizon, giving them time to alert everyone on the island of potential danger. When you visit you'll get to see some of the original weapons they used to protect themselves, as well as making the most of a stunning sea view.
You'll be amazed at how close the Palacio Frourio is to the city, which means it's really easy to get to, no matter how you plan on traveling. You can even walk if you've got the whole day free!
3. Corfu's old town
They say the best way to discover a place is to get lost within it. This is perfectly true for Corfu's old town. Mostly built around the 19th century, the old town still has some Venetian touches here and there, you just need to keep your eyes peeled to spot them.
Wander around the cobblestone streets, peer into some shops, enjoy a traditional treat at an artisanal shop or café and before you know it you may have wound up to the hill above Corfu bay, where you'll get some stunning views of the town up above!
To really give you an idea of how amazing this place is, the entire old town area is actually listed as a UNESCO World Heritage Site.
4. Church of St. Spyridon (Áyios Spyrídon)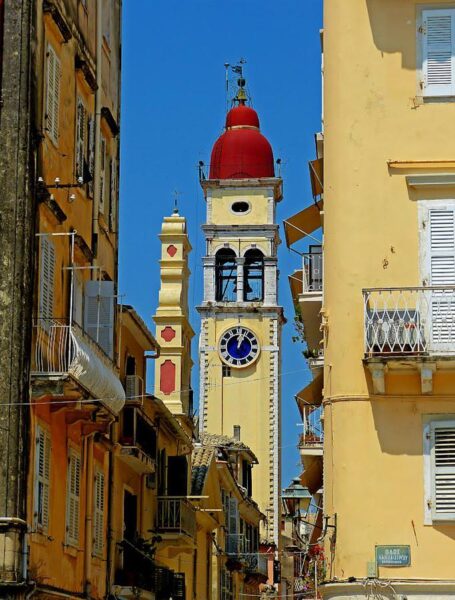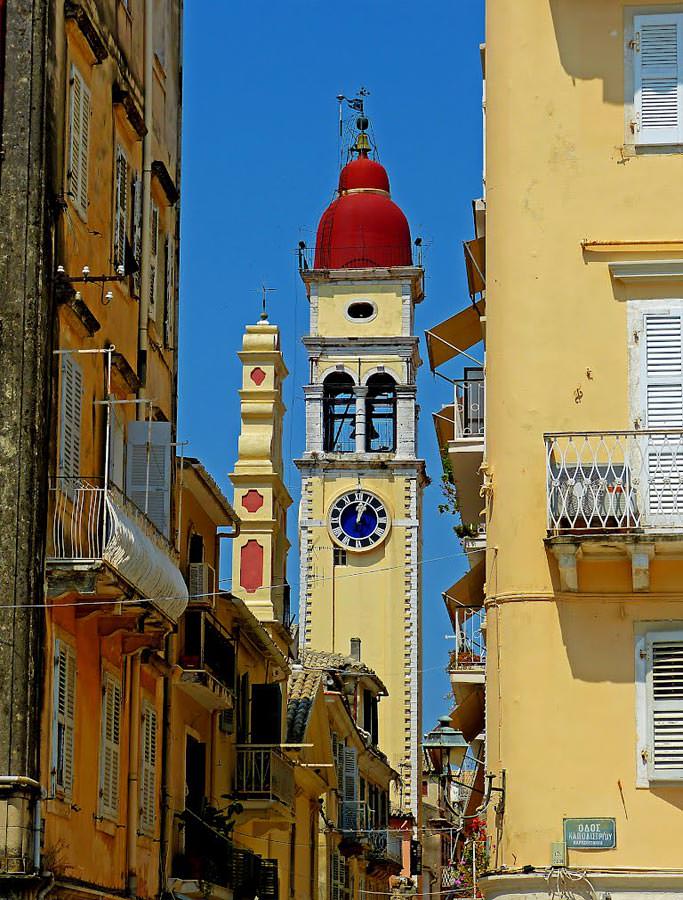 Whether you consider yourself a spiritual person or not, this church is an essential part of the culture and heritage of Corfu, so if you're interested in its history, it's a must-see. The church is decorated with Corfu's patron saint, Saint Spyridon. In fact, in the church's sarcophagus lies the actual remains of the saint, who lived around 325 AD. and played an essential part in the First Council of Nicaea.
This church also has a beautiful bell that stands tall above all buildings in the town, you'll definitely spot it whilst walking around, so be sure to pay it a visit.
5. Scuola Greca
Over the centuries, Corfu has had great Jewish influence and was the host of a rich and dynamic Jewish community, of up to 50,000 members at one point. The size of this community has dramatically decreased, to approximately 50 today. Despite there being four separate synagogues at one point, only one remains today, the Scuola Greca. It's a remarkable yellow construction dating from the 1800s, and the only one to survive the allied bombings from WW2.
The story behind this series of events is surely an interesting and heart-wrenching one. AS bombs were dropped and Jews were commanded to stay in their homes, it's reported that around 200 were able to escape, but the ones who remained were rounded up by Nazis and shipped off to concentration camps like Auschwitz.
Even today, the small Jewish community in this area is made up of around 80 Jews, most of which (as of 2010) were Holocaust survivors. This makes the area such an important memorial area and a reminder of the darker times of human civilization.
If you're looking for a drop of eye-opening perspective in your life, this could be the culturally important place you need to go.
Summary
Overall, Corfu is beautiful and beautifully rich, with its architecture, culture, and of course its scenery. Whether you're looking to hit the beach as soon as possible, cocktail in hand, or whether you're more the kind to get lost in the streets of a new place and wander around till sundown, Corfu has got you covered!
More about Corfu