Last updated on September 10th, 2023 at 03:36 pm
Corfu Island interactive map from Google
Look no further, because right here, you're diving into a treasure trove of the finest, most expansive, and intricately detailed maps of Corfu Island.
And guess what? We've got you covered with not just one, but two languages – Greek and English names for every charming village on the map.
So, whether you're wandering through ancient pathways or seeking out hidden gems, consider these maps your trusty companions on your Corfu adventure. Get ready to explore with precision and flair, because your island journey is about to take an exciting cartographic twist!
Corfu map
Introducing the Premier Corfu Map: Unveiling Main Streets, Top Resorts, and Villages!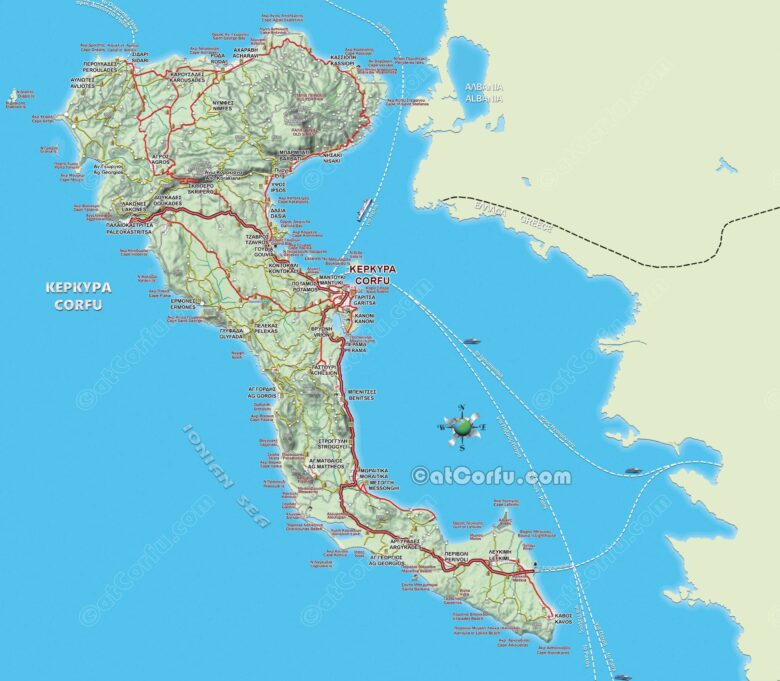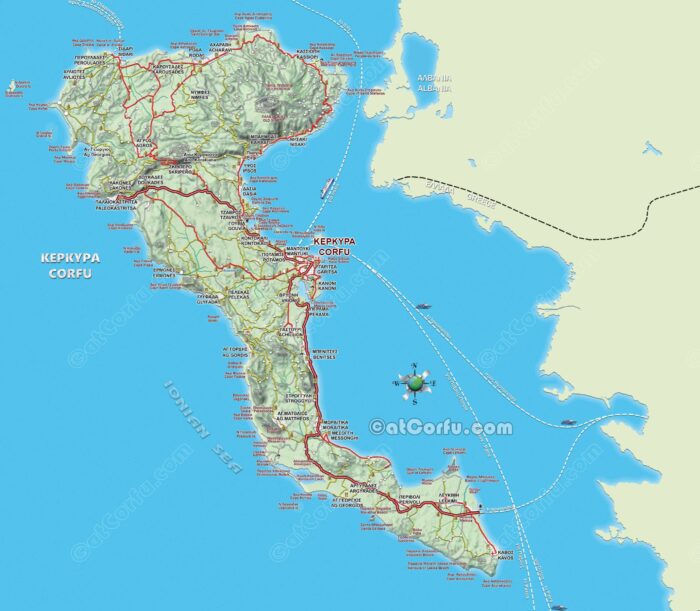 More Corfu maps
You're in for a treat! Click on any map, and watch it spring to life in high-resolution glory in a brand new window.
Our Corfu maps aren't just any run-of-the-mill creations – we crafted them back in 2006, and you bet we've been giving them a fresh coat of updates each year. Think of new additions, tweaks in roads, and changes in spots that make this island tick. The latest touch-up was in 2022, so you know we're on the ball.
But here's the kicker: these maps aren't just designed by some random cartographer. Nope, they're the brainchild of our homegrown locals who adore their turf and know every nook, cranny, and hidden path like the back of their hand. Talk about insider knowledge!
And let's talk precision – we're not messing around. These maps are as accurate as a laser-guided missile, with details that'll make your explorer's heart skip a beat.
Oh, and we're not leaving anyone out – every place name on these maps shines bright in both Greek and English. That's right, a double dose of language love.
Now, what's on these marvelous creations, you ask? Buckle up, because we've got the heavy hitters covered – major hotspots, the juiciest villages, those irresistible tourist haunts and dreamy beaches, plus all the national, public, and agricultural routes that crisscross this island paradise.
So, there you have it – a map extravaganza that's as enticing as a treasure hunt. Get ready to zoom in, explore, and unravel the beauty of Corfu like never before. Your island adventure starts here, with maps that are practically a work of art!
Corfu Island tourist road map with all places
Another Corfu map with all details of the island, large and small roads, all places, and beaches. Always in high resolution, renewed recently.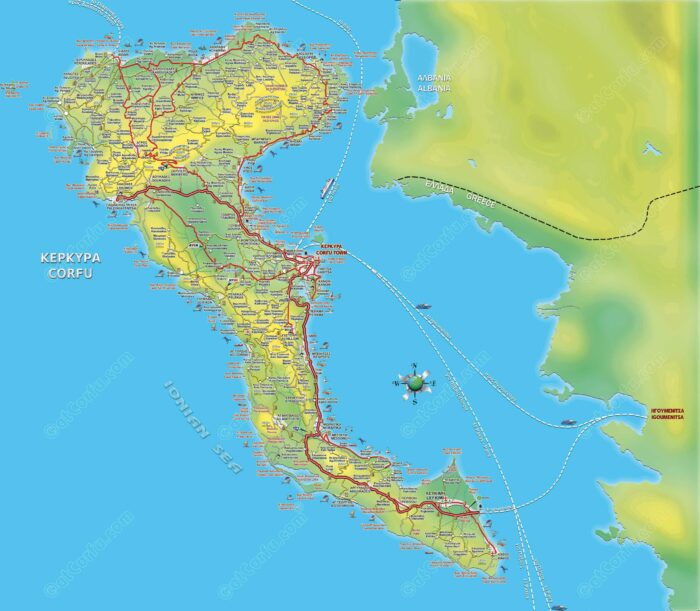 Maps of some Corfu areas
Maps for the town of Corfu
The maps of Corfu town were designed with an emphasis on the old city.
Corfu town map
Explore Corfu's Charm in our first in-line Town Map, Spotlighting the Ancient Fortress!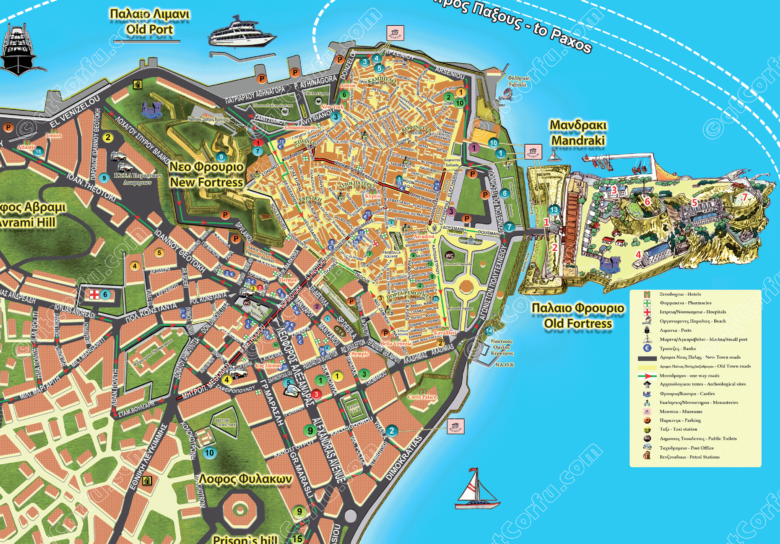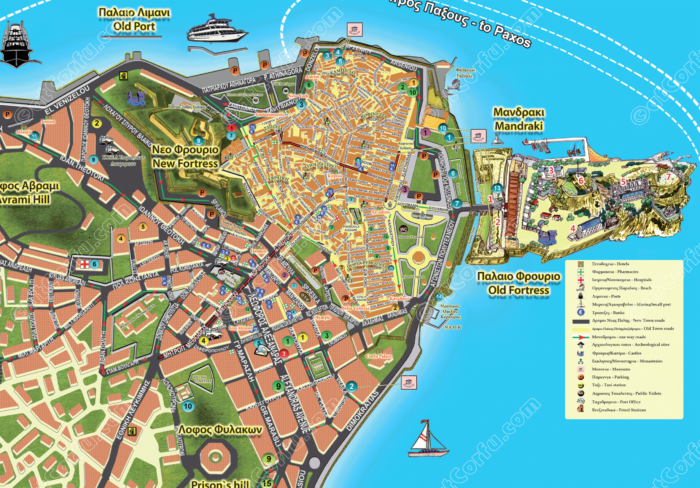 Step into a medieval wonderland that sprouted during the Venetian reign. Streets so narrow and winding, they practically whisper secrets of the past – pathways designed with pedestrians in mind, not cars. In these lanes, your hands could stretch out and embrace both sides, as if the walls themselves shared stories.
In Corfu, these picturesque alleys go by the charming name "Kantounia." But here's the twist that spiced up our map-making adventure: these streets play by their own rules. Triangular or circular, some no longer than a mere 50 meters. Wrapping names around such unique shapes and sizes? It was like a linguistic puzzle, a challenge we gladly embraced.
Yet, amidst the labyrinth, a little oasis awaits – the sprawling Esplanade Square and the space before the ancient fortress. On our map, they're brought to life with an artistic flair that captures their grandeur.
Now, let's talk main stage – the star of the old town, Nikiforos Theotokis Street. It's a journey that begins at Liston, unfolding its story until it finds its end at Spilia, the harbor's haven beneath the New Fortress. These days, the old city's roads are a haven for pedestrians, painting a serene picture. As for cars, they dance on the outskirts, tracing the regional routes that hug the old city's perimeter.
So, there you have it – a glimpse into the medieval tapestry of streets that shaped Corfu's heart. A world where pathways are poetry, and history whispers in every cobblestone. It's a tale of contrasts and character, where old-world charm meets modern convenience. Get ready to explore these winding threads of history on foot, for it's the streets that truly carry the essence of a city's soul.
Click here for a large Corfu town map
Old Corfu town map
Another map of Corfu's old town, the same map with different colors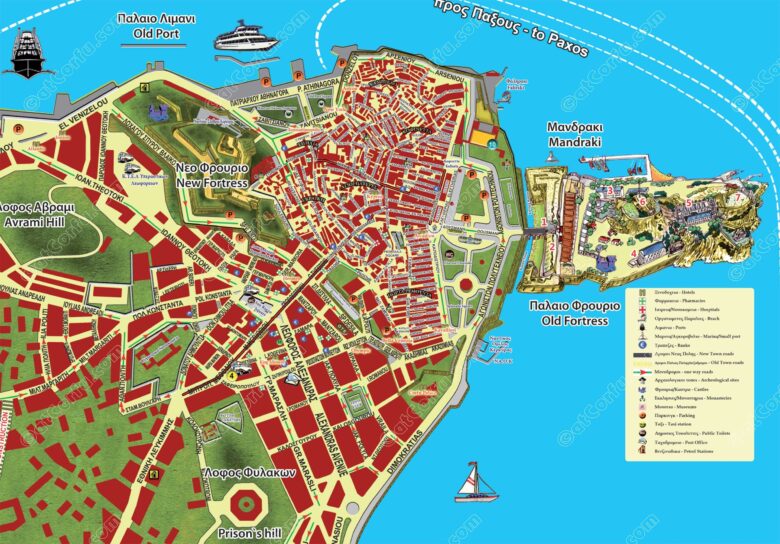 Map of the City of Corfu with the southern suburbs
Another map of the wider area of the city of Corfu includes all the urban fabric with the southern suburbs and the Kanoni peninsula up to Mouse Island.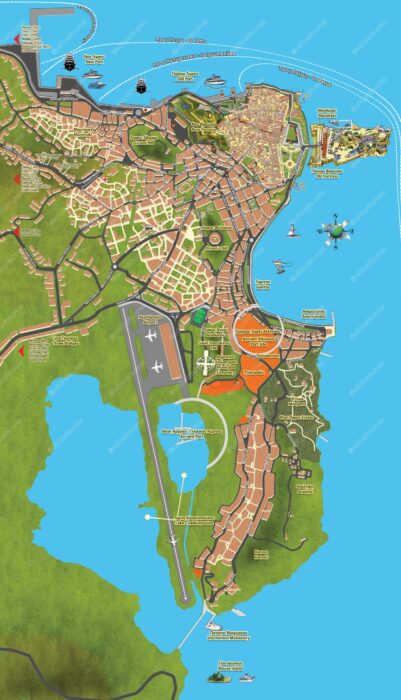 To open the maps at full size, right-click on the map and open a new window or a new tab.
The Landscape of Corfu – Geophysical Corfu map
Unlock the Beauty: Peek at Corfu's Terrain in this Compact Map! Mountains, Plains, and Heights Revealed.
Welcome to the enchanting realm of Corfu – the seventh-largest Greek island, spanning 146,500 acres, and brimming with a treasure trove of culture and natural splendor.
A landscape that's draped in the lushest shades of green you've ever seen. In fact, Corfu might just hold the title for the greenest and most fertile slice of Greece. For decades, its natural wonders have lured wanderers from all corners of the world, weaving tales of its breathtaking beauty.
Here's the scoop: From the charming villages adorned with idyllic beaches and rolling hills to the old town boasting hints of Venetian influence, Corfu has a little something for everyone.
Now, let's explore the lay of the land. Up north, mountains reach for the sky, with Pantokrator standing tall at 2991 feet, reigning over the eastern expanse. To the west, Troumpeta peaks at 2049 feet, casting its shadow.
Venture to the northern tip, and you'll find a flat haven where Sidari, Roda, and Acharavi reside, cradling sandy beaches in their embrace. In the island's heart, where Corfu town holds court, the expansive Ropa Valley stretches out. To the west, a line of gentle hills accompanies the sweeping sandy beaches.
A mere 5 miles south of Corfu town, two more mountains make their appearance – Agioi Deka, standing proud at 1890 feet, and Stavros, reaching for the sky at 1575 feet.
The southern edge of Corfu boasts a predominantly flat terrain, though it's punctuated by the likes of Agios Mathaios, Chlomos, and the hills of Arkoudilas. But oh, the southwest coast is a haven of immense sandy beaches – a sun-soaked paradise.
Here's the kicker – all of Corfu's mountains and valleys are painted in the richest hues of green, a sight that'll leave you spellbound. And those slopes? Dotted with charming houses and bustling settlements, the mountains offer unparalleled views of the sparkling sea.
But there's more! Corfu is a bustling haven, one of the most densely populated islands in the Mediterranean. Amidst the lively resorts, places like Benitses and Paleokastritsa stand as timeless gems, radiating a cosmopolitan charm that resonates throughout the island.
And lest we forget, Corfu holds tight to its traditions in quieter villages that dot the landscape. It's a vibrant tapestry of experiences, waiting for you to unravel.
So, what's the best way to navigate this tapestry? Fear not, for we've got your back. Every charming village, every remarkable beach, every hidden gem – they're all here, beautifully laid out on our Corfu maps. Your island adventure awaits!
The Corfu road network on the map
Corfu's road network weaves an intricate web, possibly the most tightly woven in all of Greece. It all began during British rule (1815-1864), evolving further as rural paths were paved with asphalt.
But, hold on – a dense network doesn't guarantee smooth sailing. Many rural roads are a puzzle of narrow lanes, steep inclines, and sometimes confusing labeling. Driving in Corfu calls for extra caution.
Our advice? Embrace the island's two main highways and sprinkle in smaller roads where needed. While shortcuts might seem tempting, they often lead to confusion, not clarity.
Picture this: Highway 24 as your compass to Corfu's north. It starts in Corfu city, waltzing through Kontokali, the Tzavrou area, and Gkazatika before bowing out in Paleokastritsa.
Oh, the highway from the new port up to Tzavros? It's a triple-lane superstar, shining with convenience. And not to be outdone, the southern route's got its own trio of lanes, especially around the Lefkimi bypass.
Ever heard of the old Paleokastritsa Street? It's no relic – still alive and kicking, winding through the Popa Valley by the golf course.
Northwest, it's all about the branches – the National Paleokastritsa Road, sprouting from Agios Vasileios. After Skripero village, two roads branch off, both leading to Sidari via different villages.
And let's not forget the northeast artery, starting in the Tzavrou region. It shadows the coastline, making pit stops at Kassiopi, Acharavi, and Roda before joining the road to Sidari.
Our maps, oh, they're a treasure trove. Thick black-red-white lines unveil the main highways, while red lines point to the crème de la crème of roads. Trust us, these are the gems.
But a word of caution – electronic navigators can be mischievous. They might lead you down paths where cars can't dance, or through village streets too snug for comfort.
For a smooth southern cruise, take the real Highway 25. Starting from Corfu town, it dances through settlements like Chryseida, Perama, and Benitses. Winding down to Lefkimi's port, it's the real deal – the National Road of Corfu-Lefkimi, your ticket to southern dreams.
A map is like a snapshot of our world, a window into a specific spot on Earth, or a panoramic view of the entire globe. It's like freezing a moment in space on a flat piece of paper, complete with roads, cities, landmarks, and all the juicy details.
Now, maps come in different flavors. Think of geophysical maps as the artists who highlight Earth's contours – the majestic mountains, winding rivers, and hidden valleys. Topographic maps, on the other hand, zoom in on buildings and terrain, giving you the lowdown on dimensions. And political maps? Well, they're like the ultimate guide to a country's personality – borders, cities, prefectures, and all that jazz.
But mapping isn't a new fad. Nope, folks from way back in ancient times were obsessed with putting Earth on paper. Explorers of the Middle Ages rocked their very own cartographers – these legends sketched every new route and uncharted territory they stumbled upon.
Here's the magic: one glance at a map and a traveler can virtually teleport to a new place. It's like a secret key to deciphering your surroundings, plotting routes, and dreaming up journeys to distant cities.
Fast-forward to today and techs swooped in to revamp the map game. Enter electronic charts with 3D graphics, and the GPS wizardry that keeps track of your moves. These gadgets are like your own personal genie, guiding you effortlessly through roads and alleys.
Guess what? You don't need fancy gear. Grab your trusty smartphone with GPS powers and a handy app – voilà, you've got yourself a top-notch electronic navigator.
Cars, you ask? They're catching up too. Soon, every vehicle will have its own navigator, like a travel-savvy co-pilot.
But here's the twist – classic maps aren't going anywhere. They're like timeless pals, always ready to rescue you from tech hiccups. Whether you're cozying up to a high-tech device or flying solo with your paper map, you're set for adventure. After all, a map is more than just ink on paper – it's your ticket to exploring uncharted territories, with or without a digital compass.
More maps