Last updated on 10th June, 2018 at 04:17 pm
Benitses today
Today Benitses is still developing, trying to attract more discerning visitors by upgrading the infrastructure whilst being careful to preserve the traditional look that  it has never lost.
Tourism remains the main source of income for local residents, but a lot of efforts is being made to keep improving the infrastructure in order to attract an increasing number of visitors.
The current priority is to complete the harbour and the new yachting marina so that it will start to bring income to the village.
Other important projects such as a large artificial beach and the paving of internal roads are planned, but unfortunately due to the present  economic crisis we are experiencing these plans are currently on hold and remain a dream.
Despite the current economic problems those of the residents who have the skills and ideas feel obliged to strive to implement the plans and achieve as much as possible.
We must not sit back because of the crisis, but keep trying for a better future because even if it happens that Europe does not exist in the form we know it, Greece, Corfu and Benitses will still be here, it is our home and we must keep it vital and alive.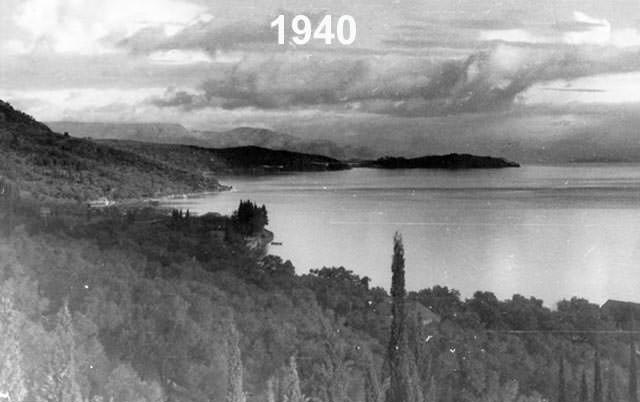 We found an old photo of Benitses taken at 1940, taken from almost from the same position as a current picture, so we thought it is useful to put them together to see at firsthand the huge changes that time has brought.
We see the differences, the current picture is taken from a point about 50 feet ahead and a little more left from this of the 1940, that is the only difference.
The mountains are the same but the coastline has been developed inevitably, the truth is that the picture of 1940 shows a much more pastoral scene …. those electricity wires of today looks terrible anyway….